Titan Minerals (ASX: TTM) Now Weeks Away from Diamond Drill Campaign on 2.1Moz Gold System
ASX gold exploration and development company, Titan Minerals Limited (ASX:TTM) is just weeks away from starting a diamond drilling program at its flagship Dynasty Gold Project in Ecuador.
The Dynasty Project is an advanced stage exploration project that consists of a 2.1Moz at 4.5g/t gold foreign resource estimate in compliance with NI 43-101 standards.
A minimum of 6,000m of drilling will be completed by the end of this year.
In addition to a fresh round of diamond drilling, the company continues to log and assay diamond cores from a recent drilling campaign.
Historically, prior to TTM's acquisition of the project, 201 diamond drill holes totalling 26,734m were drilled at Dynasty. Relogging and sample shipments from this work is also ongoing over the coming two months.
The results to date support an emerging large-scale gold system at Dynasty.
Known mineralisation is being extended, and this mineralisation remains open in multiple directions and at depth.
There remains significant un-drilled potential at Dynasty, and TTM look intent to unlock this potential over the coming months.
Exploration is focused on quickly converting the substantial foreign resource to a JORC Code compliant resource estimate by the end of Q4 2020.
A drilling contract has been awarded, and the re-commencement of diamond drilling at Dynasty will be managed by Titan's experienced in-country team including Exploration Manager, Sinisa Glisic who is now on-site.
Titan recently completed successful capital raise: $12.5 million in a high demand placement followed by a $2 million Share Purchase Plan (SPP) that had to be scaled back.
Applications for the SPP totalled in excess of $4.5 million, highlighting the large interest in this company.
Titan: a brief overview
Ecuador's mining friendly nature and vast amounts of undeveloped resource wealth, has attracted the likes of Hancock Prospecting, Lundin Gold, Newcrest, BHP and SolGold to the region.
Thus, Titan is in good company.
This Australian minerals exploration and development company is focused on gold and copper in Ecuador at a time when the gold price has exceeded US$1900 per ounce and copper is also on the march.
Titan's flagship assets are the 100% owned Dynasty Gold Project and the Copper Duke Project (a 130 km2 tenement in Southern Ecuador with high quality copper-gold porphyry potential), situated in Ecuador's southern Andean copper-gold belt.
Titan also owns the Linderos gold project and is the operator of a gold treatment business in a well-established mining region of Southern Peru.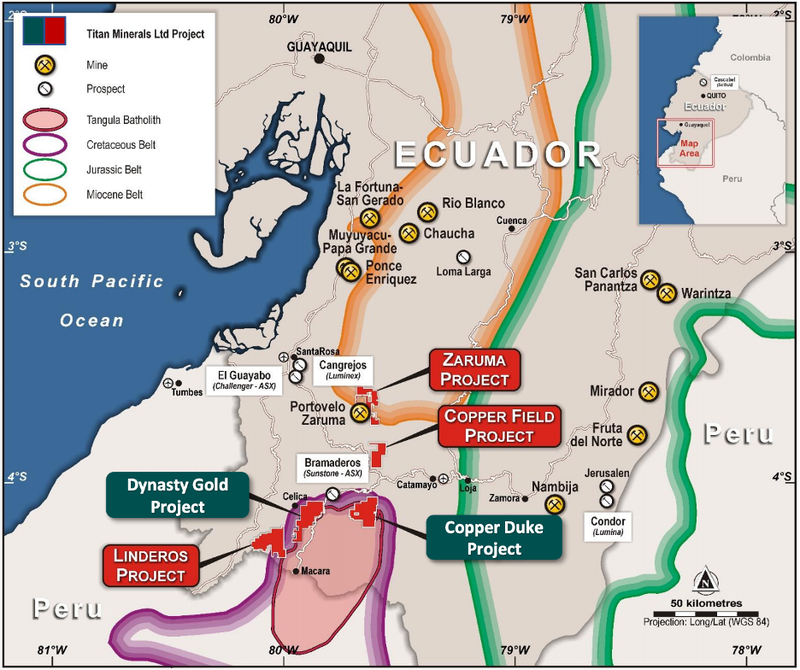 Dynasty is located in the underexplored Loja Province of Ecuador. Copper Duke is a 130 km2 tenement in Southern Ecuador with a high quality copper-gold porphyry potential and the Linderos gold project is where a recent high-grade gold discovery was made.
It should also be noted that Titan is the operator of a gold treatment business in a well-established mining region of Southern Peru. This centralised processing plant produces loaded carbon from a CIP gold circuit, with feed previously averaging 17 to 24g/t gold head grades sourced from licensed third-party operators.
Dynasty, however, is where the current action is.
The Catalyst – Diamond Drilling to start mid-August
Titan's diamond drilling campaign at Dynasty is the first of a steady stream of catalysts and high growth potential milestones highlighted for the back half of 2020.
This project is close to existing infrastructure, has strong local support and the company is fully permitted to begin work here.
With drilling now commenced, we expect to see high impact newsflow over the next six months.
A minimum of 6,000m of drilling is expected to be completed before the end of 2020.
As stated above, drilling will focus on converting the substantial Canadian NI 43-101 Resource (resource estimate of 2.1Moz at 4.5g/t gold) to a JORC Code compliant resource estimate by Q4 2020.
This drilling program follows the release of excellent assay results at Dynasty which gives Titan plenty to work with.
Assay results from the first 10 diamond holes, demonstrated thick intersections of high grade mineralisation as seen by the results below: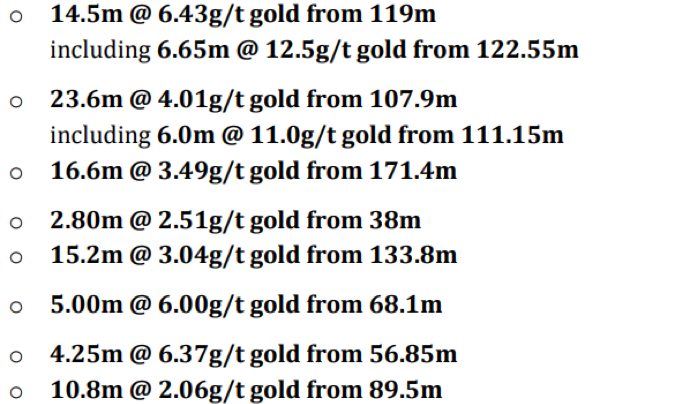 Reported intercepts include sampling outside the previously identified main 'Comanche' vein and current results provide further support for anticipating growth of the resource.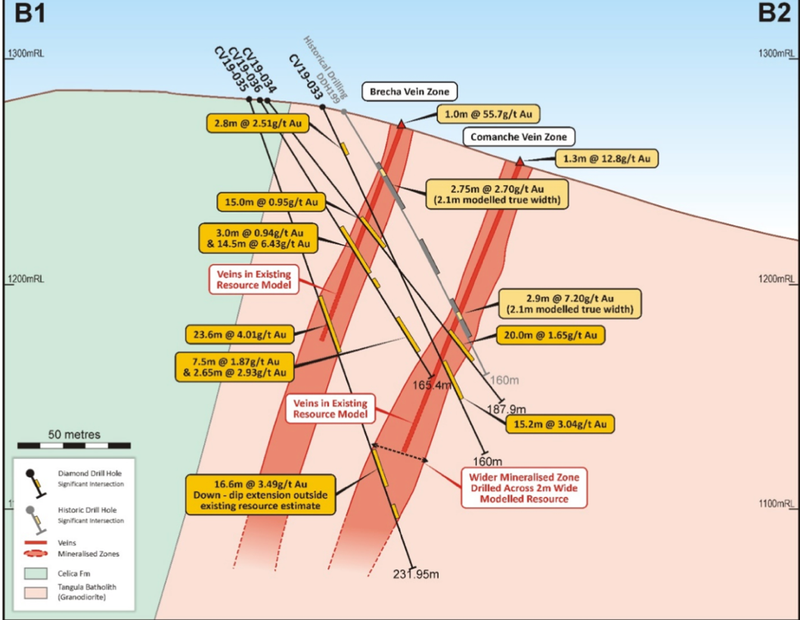 Alongside its drilling campaign, Titan is conducting additional sampling of previously drilled core is as part of a re-logging campaign for Dynasty.
Titan expects future resource growth to come through several key underexplored targets; in fact there has been no significant exploration completed at these targets since 2007. This points to significant un-drilled potential remaining at Dynasty.
Copper Duke to provide further catalysts
Copper Duke is located just 18km east of the flagship Dynasty gold project and is an early stage exploration project, consisting of thirteen concessions totalling 130 km2.
In addition to the work at Dynasty, TTM also have newsflow to come from Copper Duke, with high resolution magnetic and radiometric surveys anticipated to commence in August.
Results are also pending from additional surface sampling completed in recent mapping campaigns.
The focus of these initial exploration programs at Copper Duke is expected to generate a ranking of numerous porphyry and epithermal gold style zones of mineralisation based on scale of system for potential economic viability.
This will lead towards maiden drill testing, most likely after completion of Dynasty Gold Project drilling programs.
Planned exploration at Copper Duke will include airborne geophysical surveys for high resolution magnetic coverage and surface sampling programs extending the coverage of geochemistry across the project, with both geochem and geophysical surveys focused on acquiring systematic data coverage over all the project area.
The 2019 trench sampling completed is an initial step in generating systematic geochemistry with further sampling campaigns planned over the next 6 to 8 months with an emphasis on providing a geologic framework for drill targeting planned to commence in 2021.
Highly active gold exploration and development over the coming months
With drilling set to commence in approximately two weeks at the Dynasty Gold Project, we can expect an aggressive six-month exploration program leading to plenty of newsflow and relevant catalysts to stem from that.
This work is designed to drive the existing foreign resource estimate into a larger JORC resource by Q4 2020.
Work at the Copper Duke project will follow drilling at Dynasty, where the company will conduct high resolution magnetic and geochemical surveys in Q3 of 2020.
With macro events now working in the company's favour, including the gold price exceeding US$1900, the coming catalysts could see further traction gained for this rising gold star.
Titan is shaping up as an impressive news-driven story with the potential for more upside.
---