Potential for large nickel-copper mineral system
Disclosure: S3 Consortium Pty Ltd (the Company) and Associated Entities own 2,631,250 LYN shares and 300,000 LYN options at the time of publishing this article. The Company has been engaged by LYN to share our commentary on the progress of our Investment in LYN over time.
LYN's second drillhole is looking even stronger than the first.
We now have confirmation of a large mineralised system...
Our micro cap exploration Investment Lycaon Resources (ASX:LYN) has now completed its second drillhole at its Bow River nickel-copper project in WA.
Three weeks ago, LYN announced that the first hole hit ~13m of "blebby to disseminated" sulphides.
"Sulphides" are what contain valuable minerals, in this case battery metals like copper and nickel.
This was an encouraging first result so LYN moved a full ~250m to the east to drill a second hole, to see if this mineral system extended.
And it does.
Today LYN has announced that the SECOND drillhole (250m away) hit almost 3.5x more - ~43.5m of "blebby to disseminated" sulphides.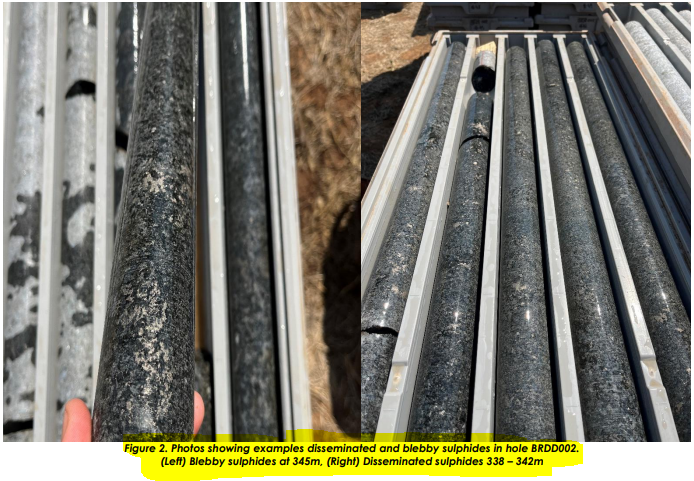 Nickel and copper has been confirmed by handheld XRF devices but we will need to see the assay results to know the grades.
So what does this all mean?
The presence of "blebby and disseminated" sulphides is a clue to the possibility (and probability) that there are "massive" sulphides somewhere in this mineral system.
"Massive" sulphides are generally the host rock for higher grade mineralisation.
The higher the grade of a discovery, the more valuable it becomes, and the more economic to build a mine.
Hitting "blebby disseminated sulphides" typically means an explorer is looking in the right place for a new discovery (of high grade massive sulphides).
Usually the mineral discoveries that become mines are made up of small but very high grade massive sulphide zones surrounded by other sulphides (like the disseminated structures LYN hit).
LYN now has two drill holes and two clues to follow in the search for a company making nickel-copper discovery.
Obtaining a third clue is now in progress with the result of a downhole EM survey expected in around two weeks.
This basically means that LYN will dangle a special tool down the drill hole to send out electro-magnetnic waves deep through the ground.
If the electromagnetic waves hit metals, they will return a big colourful blob which will be the next clue of where to drill....
And hopefully for LYN, make a rare, high grade nickel-copper discovery.
The results of the down hole electromagnetic survey generally take about two weeks, and we will be watching closely for the results.
What we want to see are giant colourful blobs on the map - that give LYN an indication of where to drill next.
LYN's project is next to $110M Panoramic & $9.1BN IGO
Sulphides are the host rock for most high grade nickel-copper deposits - LYN's neighbour's $110M Panoramic Resources and $9.1BN IGO both produce nickel from sulphide hosted deposits.
Most of the big discoveries made in WA are nickel sulphide deposits, the most notable is the Nova nickel discovery which was eventually sold to IGO for $1.8BN.
Right now we know that LYN has:
~1km long gravity anomaly - LYN defined a gravity anomaly ~1km long going into the drill program.
Two holes both hit sulphides - LYN seems to have found a sulphide zone ranging from ~13m - 43.5m in thickness. The structure getting bigger in hole 2 is a good sign.
Visuals confirming nickel-copper - XRF readings showing the sulphide zones have nickel and copper in them.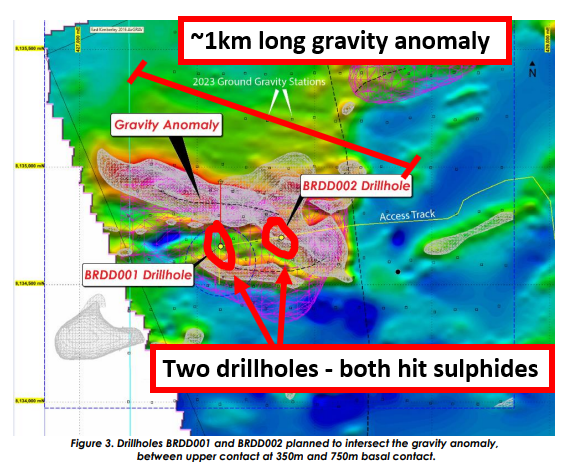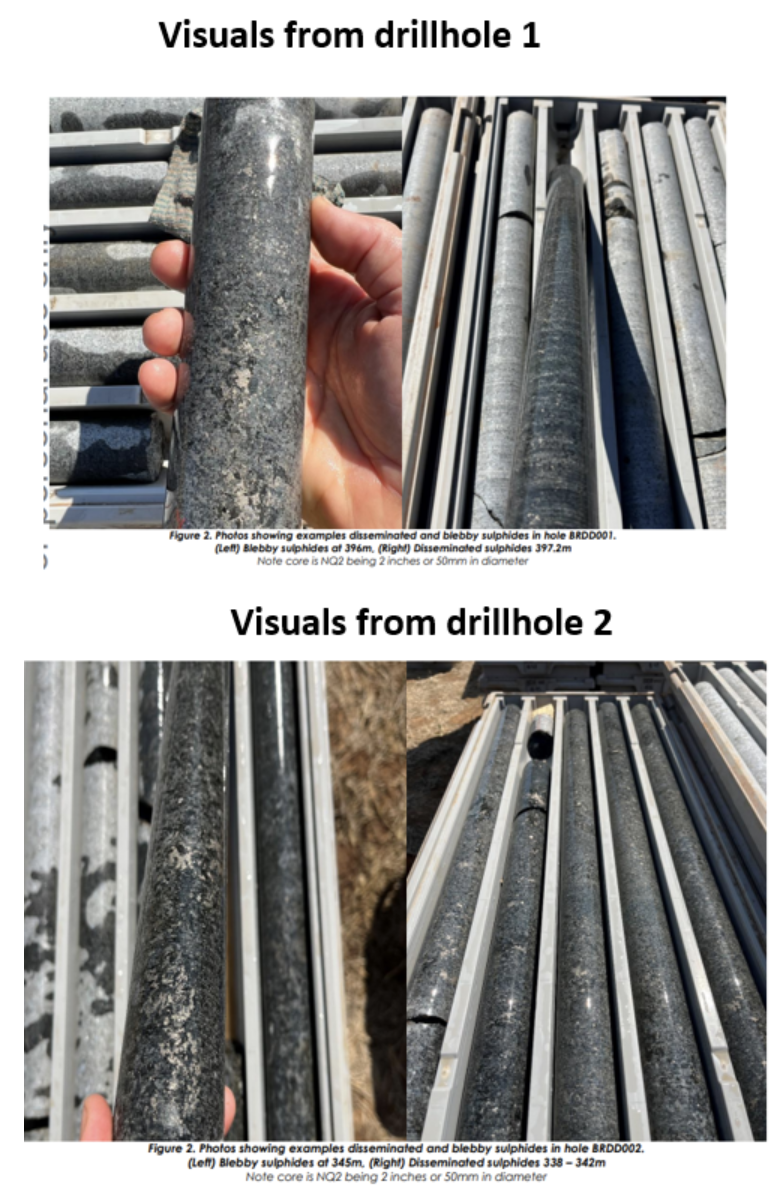 What do we want to see next from LYN?
Up to today, the drill program has thrown up exactly what we wanted to see.
Our base case expectation going into the drill program was that LYN would hit sulphides worthy of following up.
Results from the drill program so far sit inside our base case expectation.
All we need now for LYN to be able to declare a new discovery is high grade nickel and copper from the assay results.
We think that any grades above 0.5%, especially from that ~43.5m intercept, should be strong enough to get the market interested.
For context - the discovery hole from Panoramic at Savannah North (which took it to a market cap of ~$1BN) hit nickel grades of ~1.6% and copper of ~0.76%.
Below is what we wanted to see from LYN going into this drill program:
Bull Case = intercepts with nickel/copper grades >0.5%.
Base Case = Sulphides intercepted worthy of follow-up drilling.
Bear Case = No valuable metals are intersected.

With assays from both holes now pending here is what we are looking forward to from LYN over the coming weeks:
Assay results - Assay results from both drillholes. We especially want to see the assays from the ~13.5m & 43.5m sulphide zones LYN intercepted.
Downhole EM survey results - LYN confirmed in today's announcement that it would have a crew on site running downhole EM surveys next week. Downhole EM results will be important because it helps LYN map out whether or not the EM structures extend out underground and whether or not there are other targets nearby (off-hole conductors).
What is LYN trying to achieve with a downhole EM survey?
Electromagnetic (EM) Surveys are one of the most commonly used target generation techniques to help exploration companies narrow down drilling targets.
They provide a non-invasive sneak peek into the earth's subsurface, offering hints on where a potential deposit might lie, and drilling offers the final confirmation.
At the moment, LYN hit sulphides across holes one and two - the EM surveys help fill in the gaps by showing the company where the rest of the sulphide structure may be underground.
Sulphides are conductive material and will show up in EM surveys - LYN already has information regarding a gravity anomaly from just one angle - the surface.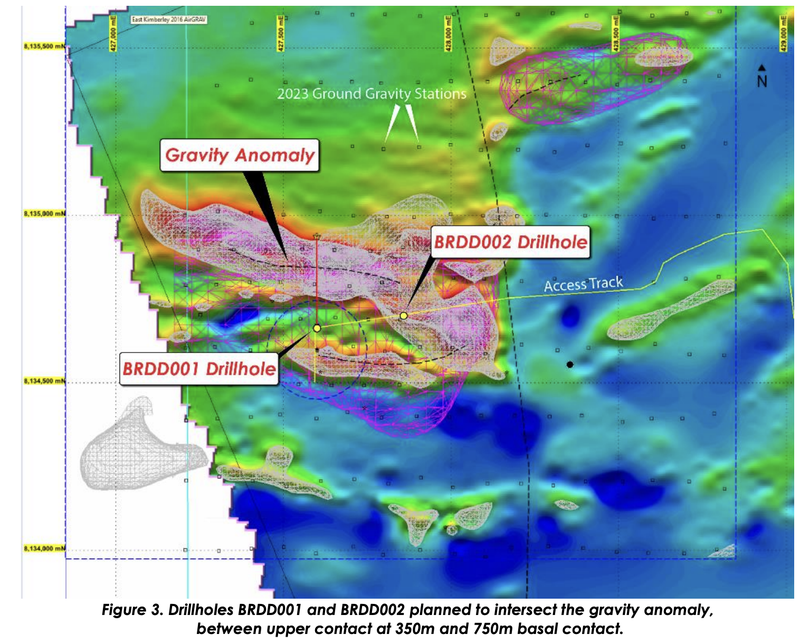 EM surveys are not an exact science and sometimes only provide information on mineralisation from one or two angles.
If the shape of the mineralisation is non-regular, the company could drill into it and completely miss, giving the false impression that the mineralisation doesn't exist.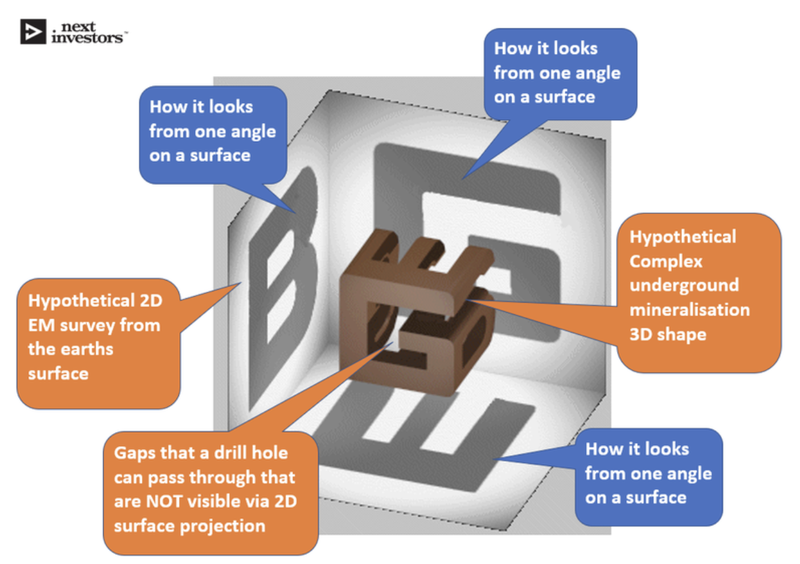 This is why LYN is doing a downhole EM survey.
LYN will effectively dangle an electromagnetic device down each hole to get data on what type of mineralisation exists.
This gives LYN a better insight into where to drill next.
🎓To learn more about EM Surveys read: EM Surveys Explained
We are looking forward to seeing what comes from the downhole EM surveys - hopefully we see a giant colourful blob that confirms what LYN has been hitting in its drill program.
Ultimately we are hoping LYN delivers the perfect storm of newsflow - strong downhole EM results, strong assay results and fingers crossed a new discovery.
Exploration success forms the basis for our LYN Big Bet which is as follows:
Our LYN 'Big Bet':
"LYN's share price re-rates by over 1,000% off the back of a new discovery and the definition of a deposit significant enough to move into development studies"
NOTE: our "Big Bet" is what we HOPE the ultimate success scenario looks like for this particular Investment over the long term (3+ years). There is a lot of work to be done, many risks involved - just some of which we list in our LYN Investment Memo. Success will require a significant amount of luck. There is no guarantee that our Big Bet will ever come true.
To monitor the progress LYN has made since we first Invested, we maintain this LYN "Progress Tracker":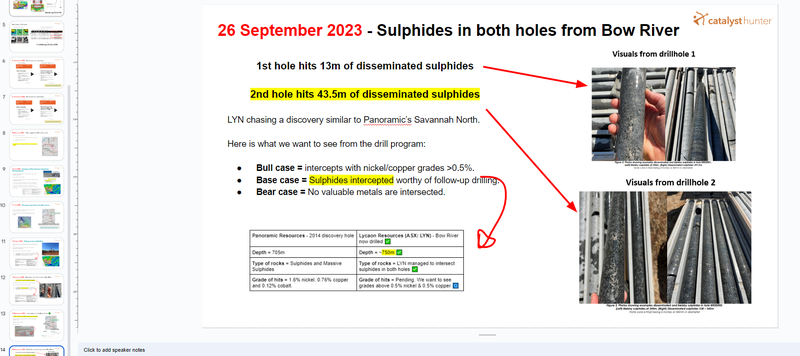 What's next for LYN?
🔄 Assay results from the Bow River nickel-copper-cobalt/PGE project:
Assay results from the two drillholes completed.
Grades above 0.5% nickel or copper would pass our bull case for LYN's first pass drill program.
🔄 Downhole EM survey results from the Bow River nickel-copper-cobalt/PGE project:
Between now and the assay results from the drill program we want to see the results from the downhole EM surveys LYN is running at Bow River.
🔄 Permitting and approvals for rare earths/niobium project:
LYN also holds ground in the West Arunta region next to WA1 Resources & Encounter Resources.
LYN recently got land access agreements signed on the projects and is now cleared to start heritage surveys ahead of a planned drill program in Q2-2023.
See our most recent note on LYN's West Arunta project here: LYN to get to work in the West Arunta - Land Access Signed
What are the risks?
As a microcap exploration company the key risk for LYN is exploration risk. Although the company did manage to hit sulphides with both of its drill holes, there is no guarantee that the assays come back strong.
Also, LYN there is no guarantee that LYN's downhole EM survey will return any drill targets of interest.
As always with junior explorers, there is always a chance the company finds nothing and its projects are deemed stranded.
To see all of the risks we have outlined for LYN read our Investment Memo.
Our LYN Investment Memo
Below is our LYN Investment Memo, where you can find the following:
Key objectives for LYN to deliver
Why we are Invested in LYN
What the key risks for our LYN Investment
Our Investment plan
---