NTI Days Away from Crucial Lab Results – Can its Cannabis Strain Treat Autism?
Hey! Looks like you have stumbled on the section of our website where we have archived articles from our old business model.
In 2019 the original founding team returned to run Next Investors, we changed our business model to only write about stocks we carefully research and are invested in for the long term.
The below articles were written under our previous business model. We have kept these articles online here for your reference.
Our new mission is to build a high performing ASX micro cap investment portfolio and share our research, analysis and investment strategy with our readers.
Click Here to View Latest Articles
ASX cannabis stocks are on the march, buoyed by regulatory environments across the globe opening up significantly in recent months.
It was just last week that we featured CPH as a cannabis stock with an imminent catalyst. In the space of a few days, CPH delivered investors 291% gains, and the stock is still up over 100% since our first alert.
We have just identified another ASX small cap stock in the cannabis space that the market is not yet fully aware of, and it is on the cusp of a potential re-rate.
This $26.6M capped stock has the potential for significant upward momentum off the back of imminent newsflow.
Neurotech International Ltd (ASX:NTI) is focused on the clinical applications of unique cannabis strains to treat neurological disorders.
NTI is currently conducting lab studies, with final results due any day now.
Following that, in early 2021, NTI is expected to move to clinical trials. Confirmation of this step forward, has the strong potential to re-rate the company from its current $26.6M market cap.
If this company can successfully prove its cannabis strains can treat neurological disorders including autism, epilepsy and ADHD, the market is likely to reward investors handsomely.
The size of the prize is large, with GW Pharmaceuticals (NASDAQ: GWPH) and Tilray (NASDAQ: TLRY) being the heavyweight outliers that demonstrate the value of clinical, pharmaceutical grade cannabis products. GW Pharmaceuticals is capped at $3.7BN and Tilray is currently hovering around the $1BN market cap.
Other ASX stocks at a slightly later stage than NTI include:
- Zelira Therapeutics (ASX: ZLD) – capped at $124M
- Cann Global (ASX: CGB) – capped at $44M
- India Globalisation Capital (NYSE: IGC) – capped at US$71M, and
- Botanix Pharmaceuticals (ASX: BOT) –capped at $126M.
All of the above stocks are in the clinical stage or commercial sales, and most are capped at multiples of where NTI is right now.
We would expect NTI to catch up to its peers once it moves to the clinical stage.
The Catalyst – Lab Results Imminent, Clinical Trials to Follow
NTI recently acquired an exclusive worldwide licence to utilise proprietary cannabis strains from Dolce Cann Global Pty Ltd.
Dolce's proprietary genetics are sourced from 13 rare landrace chemovars developed over 20 years using selective targeted breeding techniques.
Genetic profiling of approximately 650 leaf cuttings from Dolce seedlings evidenced high levels of specific cannabinoids which have shown potential in neurological disorders.
NTI recently raised $2.5M with the aim to test this potential via lab studies and clinical trials.
The company has already conducted preliminary in vitro human brain cell studies, using its proprietary DOLCE/NTI cannabis leads.
The leads indicate significant increased potency in repairing brain cells when compared to CBD alone.
In just a few days, final lab results are due – which has the potential to have a positive effect on the company's share price.
Beyond that, the company is gearing up to start clinical trials in early 2021 – another catalyst for investors to look forward to.
Potential to treat neurological disorders – and a very low THC
NTI's cannabis strains have the potential to be used for medicinal purposes in treating neurological disorders including autism, epilepsy and ADHD.
The strains are unique in that they contain minimal THC (<0.3%), which may result in a less onerous regulatory pathway to commercialisation (any cannabis strain with a THC level above 0.3% is regulated as a narcotic).
In fact, parallel to clinical trials, NTI is looking to develop a tincture, spray or oil extract that it hopes to roll out via Australia's Special Access Scheme (SAS).
While, there are very few strains of cannabis that come without a THC component, the Dolce strains have little to no THC at all.
The strains' proprietary genetics have been developed over 20 years using selective targeted breeding techniques.
Promising recent results have been received from the analysis of 80 cannabis samples, licensed by NTI, as part of genetic profiling and analysis.
Neurotech has also commenced human tissue sample trials as part of its current testing, with results due in the coming days. All preliminary testing will lead into the commencement of human clinical trials starting in early 2021
The company appears well-funded through the coming months, having raised $2.5M recently, with the budgeted cost of the Phase-1 trial of approximately $600,000.
NTI's role in CBD studies could deliver a major breakthrough
Due to the unique strains of CBD NTI has licensed, it is well positioned to deliver a product that could have enormous ramifications for autism care not only in Australia, but internationally also.
Here is a look at what we can expect from NTI as it progresses its trials:
As we noted above, NTI will release final test results in the coming days, before launching small scale human trials early next year.
The confirmation that NTI is in the 'Clinical Stage' has the potential to swiftly re-rate the stock.
Our Track Record
Catalyst Hunter seeks to identify small cap stocks with the potential for rapid near term share price movement.
We are looking for a similar result for NTI as some of our most recent features.
Last week, we featured Creso Phama (ASX: CPH) – up as high as 291% since our alert: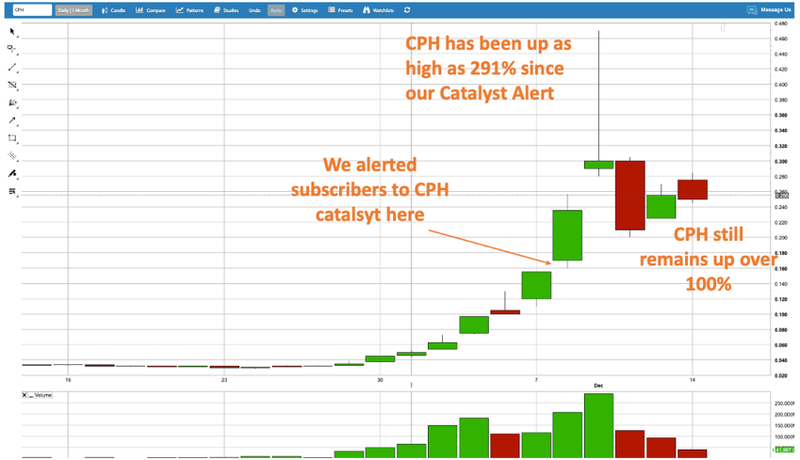 In November, we released an alert on Latin Resources (ASX: LRS) – LRS surged over 43% in the space of two days in anticipation of the company's imminent drilling.
We think NTI is next in line for share price appreciation on the back of imminent catalysts.
The catalyst: Up-coming in-vitro lab results and human trials
NTI is about to begin important Phase-1 trials with regard to how its strains of cannabis can be effective in treating autism.
This will follow results from in-vitro trials due this week.
NTI has already undertaken a series of in-vitro studies to assess the neuro-protective, anti-inflammatory and neuro-modulatory activities of the proprietary DOLCE/NTI cannabis leads which include newly discovered and unique phytocannabinoids CBDP and CBDB.
The studies are being conducted at three leading independent laboratories: Monash University, University of Wollongong and RMIT University.
Preliminary results have demonstrated that the DOLCE/NTI full spectrum leads work through multiple neuronal and anti-inflammatory mechanisms to provide potent neuro-modulatory and anti-inflammatory activity – meaning peace for autism suffers and their carers.
Preliminary results are encouraging
NTI is encouraged by the results so far, particularly with regard to the unique mode of action of its strains compared to CBD alone.
It has been found that DOLCE/NTI leads may have a broader application in relation to the management and treatment of a number of neurological disorders.
NTI's samples contained CBDA levels up to approximately 12%: CBDA can act as a regulator in neuro-modulation, with powerful anti-anxiety and anti-inflammatory properties.
Samples were analysed using well-established and published High Performance Liquid Chromatography Ultraviolet (HPLC/UV) and Mass Spectrometry (MS) methods.
Here is a more in-depth look at results so far:
Studies have indicated that the DOLCE/NTI leads regulate multiple neuronal pathways which are directly involved in cell repair and rejuvenation. These leads indicate significant increased potency in repairing neuronal cells when compared to CBD alone (128.7% +/-2.70 at 2ug/ml versus 81.2% +/-4.255 at 10ug/ml respectively, n=5 95% CI, P<0.05). More importantly, concentrations five times lower of the DOLCE/NTI leads are needed to achieve these results when compared to CBD alone (2ug/ml versus 10ug/ml respectively).
DOLCE/NTI leads work through a novel (different to CBD) mechanism. The DOLCE/NTI leads were shown to work through the powerful anti-inflammatory enzyme known as Arginase -1. Conversely, CBD alone did not produce any significant anti-inflammatory properties.
DOLCE/NTI leads also increased the presence of beta-tubulin (n=3, 175.8+/-1.76 95% CI, P<0.05). Beta-tubulin is an essential protein in the maintenance and healthy survival of brain cells. In these studies, CBD alone did not produce an increase in beta-tubulin. Beta-tubulin is a vital protein in the management of a number of chronic neurological disorders such as Alzheimer's, Huntington's and Multiple Sclerosis.
These studies provide further data to demonstrate the potential uniqueness of the DOLCE/NTI leads in their mode of action and their differentiation when compared to CBD alone.
Cannabis gaining widespread attention
The global market for neurological treatment is estimated to be worth US$122BN per year by 2027, growing at 5% per annum.
Companies that can successfully prove efficacy of their cannabis strains stand to be rewarded by the market.
Right now, many sufferers of neurological diseases in cannabis friendly regions are experimenting with different cannabis plant derived products including dried flowers, resins and oils.
Note, these products are recommended by doctors as one form of treatment, to treat an array of conditions, including insomnia, epilepsy, chronic pain and autism.
There are over four million registered medicinal cannabis patients in the US alone, with other countries following the US adoption of cannabinoid-based treatments.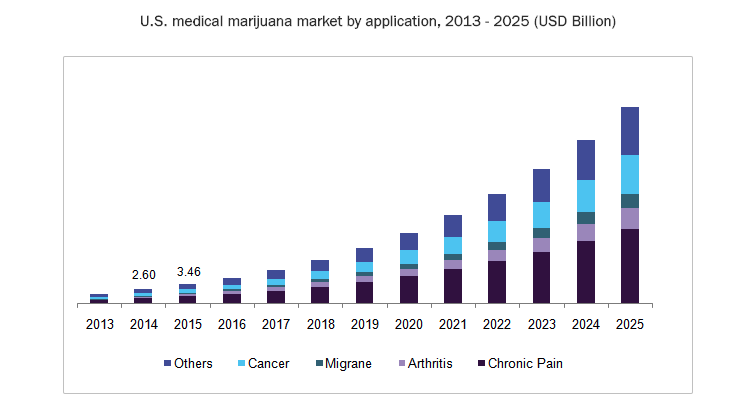 It is a timely adoption as it is estimated that, worldwide, one in 160 children has an Autism Spectrum Disorder (ASD).
According to the World Health Organisation (WHO), some well-controlled studies have reported figures that are substantially higher.
It is thus imperative that workable solutions are found and NTI may have one.
With the potential medical benefits of cannabis now being widely reported, NTI has come to this sector of the industry at the right time.
Even the UN is getting on board, removing cannabis from the list of 'the most dangerous' drugs.

So far, more than 50 countries have adopted medicinal cannabis programmes. Canada, Uruguay, and 15 US states have legalised its recreational use. The US states have done so based on scientific evidence that "safe and effective cannabis-derived therapeutic has been developed."
Of course there is still some work to do in creating wider acceptance and bringing medical cannabis use into the mainstream.
This, as mentioned earlier, is reflected in the fact only one cannabis product has ever been approved by the FDA.
The product is Epidiolex (cannabidiol) and treats a rare form of epilepsy. The FDA, as mentioned earlier, is still reticent about THC and therefore cautious in what it approves.
Epidiolex, made by the $3.7BN capped GW Pharmaceuticals (NASDAQ: GWPH), is only available with a prescription from a licensed healthcare provider.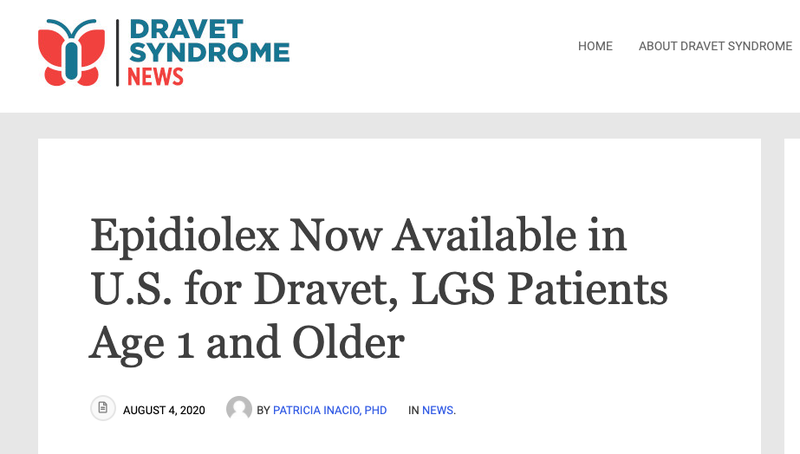 In Australia, Tilray (NASDAQ: TLRY) is currently providing investigational medical cannabis products for trials with the objective of registering them in the region.
Currently, all medicinal cannabis products are regulated as controlled drugs in Australia and New Zealand.
Products that are not registered on the ARTG can only be accessed via one of 3 pathways:
Auscann Group Holdings (ASX: AC8) also has a product – a nasal spray – under the SAS.
The Special Access Scheme (SAS) allows certain health practitioners to access therapeutic goods (such as medicines, medical devices or biologicals) that are not included in the Australian Register of Therapeutic Goods (ARTG) for a single patient.
NTI's clinical trials will involve a well-known paediatric neurologist to conduct them. Although small in scale, with just a handful of children, the goal will be to develop a tincture, spray or oil extract available via the SAS.
If successful, parents of children with ADHD would have an alternative to drugs such as Ritalin and that would be a major development for NTI.
With several catalysts to come, including in-vitro results and human trials due in early 2021, NTI investors have a lot to look forward to.
---