Tiny Retail Analytics Stock FGL Signs Deal with $3.4BN Wholesale Giant Metcash
ASX microcap Frugl Group Ltd (ASX:FGL) has just signed a service agreement with Australian retail giant, the $3.4BN Metcash (ASX: MTS).
Metcash is the country's leading wholesaler, supporting well established retailer networks such as IGA, IGA Liquor, Cellarbrations, Foodland and Mitre 10, amongst many others.
Metcash delivers to more than 10,000 retailer customers supported by distribution centres, as well as supplying around 90,000 wholesale customers across the country.

Metcash made sales of over $13BN in FY20.
Now, Metcash has seen enough of FGL's data intelligence product, that it has signed a Service Agreement with the company.
As FGL investors, this was the commercialisation catalyst we had been waiting for in our first article in early February of 2021, and is a massive milestone for the company.
For those new to FGL, it is a technology company that acquires publicly available grocery data, organises it, enriches it, and utilises it to power two independent tech platforms for shoppers (B2C) and retailers and suppliers (B2B).
The B2B aspect of FGL most attracted us as investors, and today's announcement is a big first validation in the commercialisation of that strategy.
FGL is led by a highly experienced team with CEO Sean Smith and the Chief Data Officer both ex Woolworths Group (a major groceries retailer we are sure you have heard of...) in addition to a number of other exec roles at other notable companies like Ticketek and Vodaphone.
FGL is upending traditional methods of gathering retail intelligence data, and today's deal is evidence that it has an offering that big retailers need.
Currently, typical retail data gathering is done via "secret shoppers" – these are literally paid humans that physically enter a competitor's store, take notes (gathers data) and then send that information back to head office.
This is an archaic process, that sounds very expensive to us - as without harnessing technology, the costs of human labour can be high.
FGL offers extraordinarily more data compared to traditional methods, in real time, 24/7.
No wonder Metcash were keen to sign a data analytics service agreement with FGL.
Now, whilst this first service agreement is not financially material to FGL right now, we see this is as a large stepping stone to bigger and better things for the company.
Importantly it validates that FGL's product has real commercial value.
Retail market research is big business, as evidenced by Nieslen (NYSE: NLSN) an $8BN market research giant.
With Metcash signed up, FGL can work on a 'land and expand' model – the 'land' part is done by getting Metcash to sign the contract, now it's all about 'expanding' – offering more value and getting FGL's data platform entrenched in the Metcash organisation.
The agreement with Metcash is for an initial term of approximately two years, with a further 1 year extension option. FGL has a tiny market cap of less than $10M – and now it's got a commercial agreement signed with Australia's biggest wholesaler, the $3.4BN Metcash.
We are hoping this will translate to additional momentum in the stock and we will be watching closely for material updates as both companies work together on the partnership.
We'll get to the details of the Agreement shortly, but first it's important to understand the Frugl ecosystem...
The Frugl Ecosystem
FGL has developed technologies that incorporate real-time data capture, cloud-based storage and advanced cloud-based data analytics.
Specifically, the group offers a retail intelligence ecosystem that acquires publicly available grocery data, organises it, enriches it, and utilises it to power two independent retail platforms Frugl Groceries (B2C) and InFocus Analytics (B2B).
Its highly detailed retail data analytics are generated through its price comparison technology platform for large retailers and brands that are desperate to see the impact of competitors' promotional tactics on consumers' purchasing decisions.
By leveraging behavioural insights, alongside competitive data, FGL clients can understand and inform long-term product, price strategy and promotional planning.
Frugl Groceries – FGL's consumer facing app
The company's flagship mobile grocery comparison app Frugl Groceries is a free grocery comparison and wellness mobile app for shoppers (B2C).
The app aggregates data in real time, comparing over 40,000 different products from major supermarket chains Woolworths and Coles.
It provides shoppers with up-to-date specials, product and pricing information, and it also has health and wellness tools to help shoppers find healthier products and manage health issues.
Shoppers can compare grocery prices, set up a health profile and receive ingredient and/or allergen alerts, and see 1,000s of weekly discounts.
As both Woolworths and Coles have an online shopping presence, FGL is able to capture their pricing. The company is also looking at adding emerging second tier grocery retailer pricing form the likes of Drakes, Harris Farm and Amazon Grocery.
By providing this value for consumers, FGL gets more app downloads and engagement.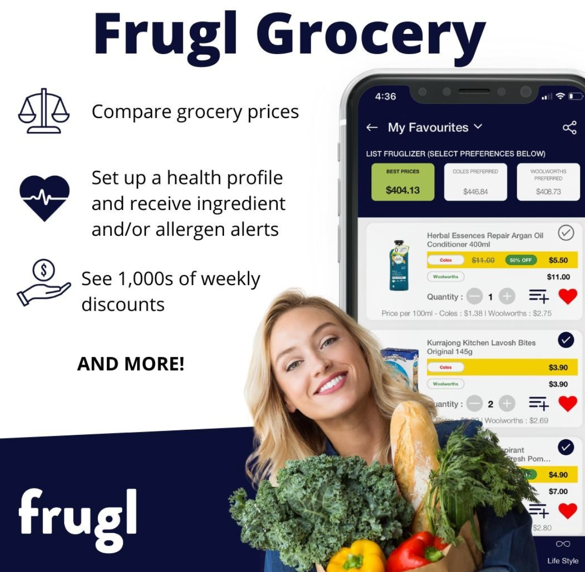 The release of Version 3.0 of the app, expected in the current quarter, could be another catalyst for the stock beyond today's service agreement with Metcash.
This will be the first version of the app that the company properly markets. That said, even without any marketing so far, the company already counts over 24,000 user accounts created on the Frugl app.
You can find the app on the Google Play for Android and iOS App for Apple:
InFocus Analytics – FGL's B2B Platform
FGL's second product and its key commercial focus is InFocus Analytics, a business-targeted retail intelligence platform.
The platform provides clients — retailers, suppliers and analysts (B2B) — with insights into retail ranging, pricing, promotional activities across grocery and associated product categories to help them shape promotional strategy.
InFocus Analytics also offers a growing database of the impacts of retail activities on shopper behaviours and outcomes.
FGL is selling this Analytics platform via a SaaS model, alongside custom solution development.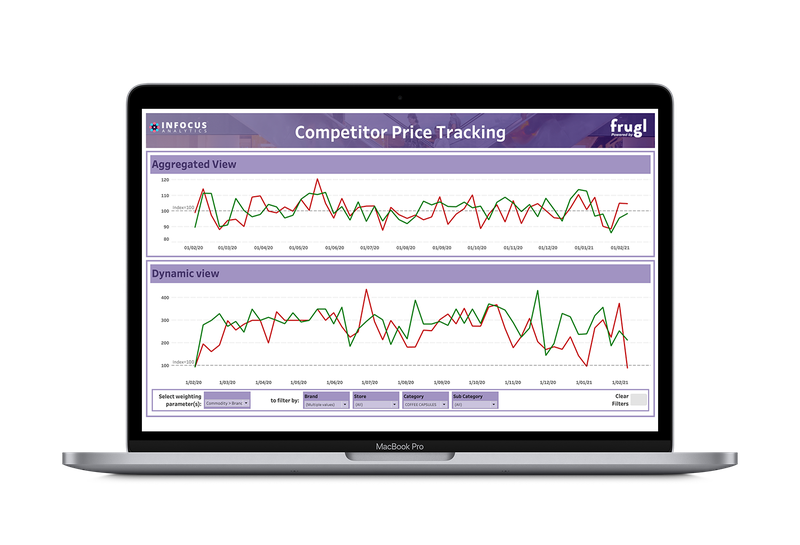 More details on FGL's service agreement with wholesale giant Metcash
Under the agreement announced today, FGL will provide key data and analytical information to Metcash Food through the Frugl and InFocus Analytics platforms to enable intelligence-led retail decision making.
FGL's agreement with Metcash is part of the wholesaler's dedication to ensuring it provides the best level of service to its extensive network of independent retail and wholesale customers.
The Agreement is for an initial two-year term, with an additional 1-year extension available to Metcash. While the fees payable to FGL for the data and analytical information under this initial Agreement are not financially material, the company will seek to develop its relationship with Metcash with a view to expanding the scope of the services provided.
FGL Managing Director Sean Smith explained the significance of the deal, "The agreement between Frugl and such a significant market player in Metcash reflects not only the quality of our retail data asset, but the expertise and understanding of the retail industry that we possess to further unlock business value from it. We are looking forward to working with Metcash on many retail intelligence projects across their business in the years ahead."
Expanding business opportunities
While still in the early stages of commercialisation, FGL is targeting retailers and suppliers and driving revenue from data driven intelligence. Initially that intelligence is focussed on products, pricing, ranging, and promotions.
Over time and with increased volumes of shopper behaviour intelligence, FGL see opportunity to add new revenue opportunities as the company's data products expand their capabilities.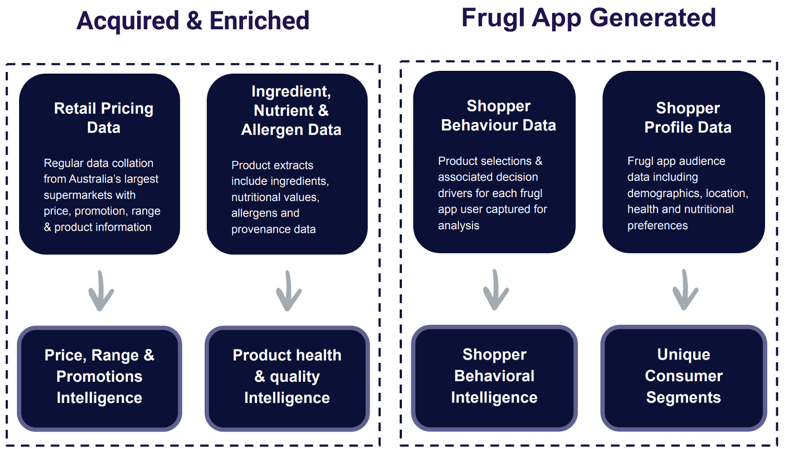 Frugl retail data
The goal is to layer additional revenue streams, such as customer research panels, merchandising, advertising, transactional streams and more.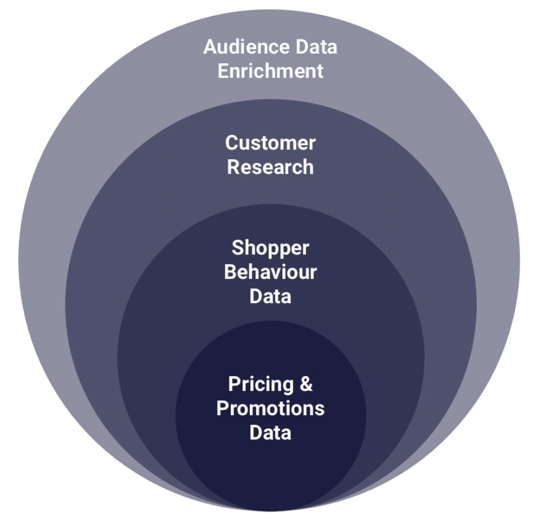 Layering Retail & Customer Analytics.
As detailed in our previous article on Frugl in early February, the company effectively has a flywheel revenue model as follows :
Users of the free Frugl Grocery price comparison app provide valuable behavioural data for the company's B2B data analytics platform.
FGL can sell that data to a host of businesses. Those sales mean the company can spend more money marketing the price comparison app to consumers and getting all important downloads.
The more consumers using the price comparison app, the more valuable the data, and the more revenue FGL can generate.
Armed with its unique data offering to businesses, FGL is well prepared to pursue the vast global retail data analytics market.
The company certainly has the management to back up its ambitions. Drawn from major Australian and International retail organisations, including Unilever, British Telecom, Woolworths, and Telstra, Frugl boasts extensive retail experience and proven expertise in data analytics and strategy, combined with its enterprise-scale retail data sets ready for immediate commercialisation.
The following table outline the group's Revenue Model across its five capabilities. Note the market potential and extensive customer targets.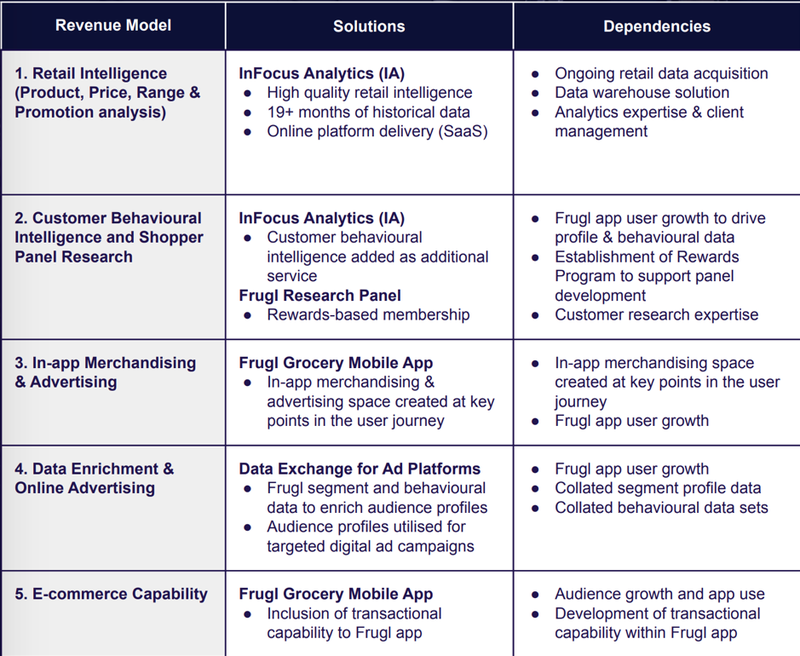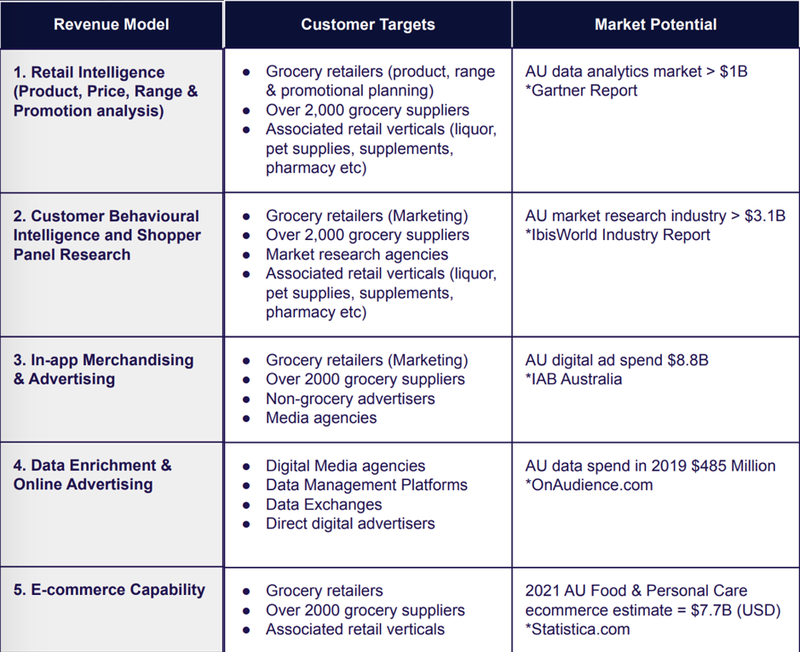 Supportive operating environment
The COVID-19 pandemic fundamentally changed the shopping habits of Australians, with online shopping rates having doubled over the past year — a trend that FGL anticipate will continue.
In this environment, retailers and suppliers recognise that understanding underlying grocery trends is becoming all the more important. That information requires very advanced data analysis which Frugl is positioned to offer.
Also benefiting FGL are changing economic conditions that are likely to have long lasting financial impacts on families who are more price-sensitive when making the weekly shop.
The company had $1.1 million cash as at 31 December and with a relatively low cash burn rate, it should be able to continue product development as it seeks out further commercial opportunities. At some point the group will require a capital raise, however this shouldn't be viewed as a negative, rather a tool to continue its path towards revenue generation.
Now with its first major commercial contract now signed, the second half of the year is expected to see Frugl continue working towards commercial success.
As per the group's timeline (below), this will include:
- Commercial contracts ongoing data services and for InFocus Analytics SaaS product
- Expansion of commercial data and intelligence services to include shopper behavioural data
- Inclusion of customer behavioural data into InFocus Analytics for new and existing customers
- Marketing to accelerate user growth and behavioural data collection, to unlock additional revenue models
- Version 3.0 of Frugl Grocery to launch with substantial feature and performance improvements.
Commercial Timeline – what to expect from FGL: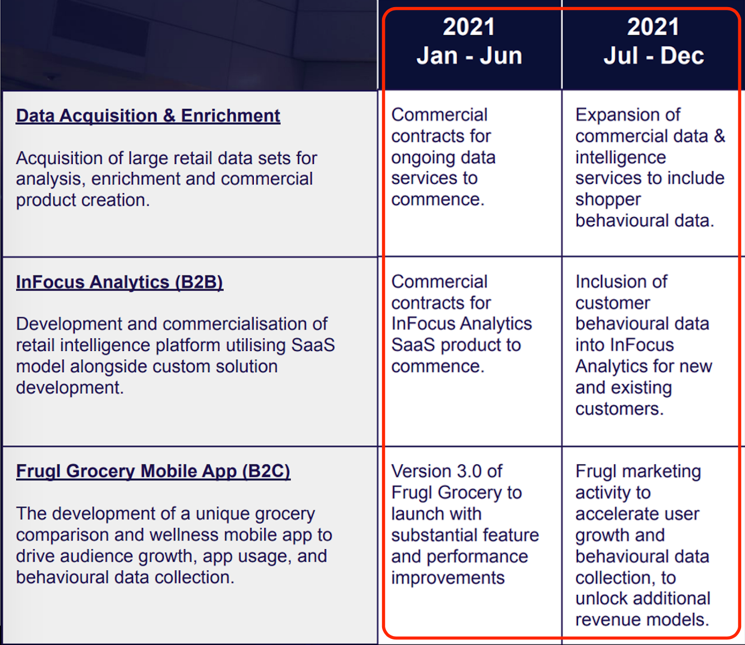 ---