Anchors lifted, drill rig on the move - GLV & PRM Days Away from Binary Drilling Event
Published 18-MAY-2022 13:38 P.M.
Disclosure: S3 Consortium Pty Ltd (the Company) and Associated Entities own 7,000,000 GLV shares, 49,000,000 PRM shares and 11,833,332 PRM options at the time of publishing this article. The Company has been engaged by PRM and GLV to share our commentary on the progress of our investment in PRM and GLV over time.
The price of natural gas is hitting fresh all time highs on an almost weekly basis.
This is great timing for our gas exploration Investments Prominence Energy (ASX: PRM) and Global Oil and Gas (ASX: GLV), who are only days away from drilling the Sasanof Prospect on the North West Shelf of WA
Globally this ranks as one of the Top 20 Most High Impact wells of 2022 - and it's starting next week.
The big drilling event at the Sasanof-1 well is targeting a 2U (unrisked mean) prospective resource of 7.2 trillion cubic feet (Tcf) gas and 176 million barrel condensate.
This makes it one of the biggest oil and gas drilling events done by any ASX junior in recent decades.
Together, our Investments have a 37.5% interest in the Sasanof Prospect - PRM holds 12.5% interest and GLV a 25% interest.
This morning both companies confirmed that the drill rig's anchors had been lifted and the rig had now set sail towards the Sasanof-1 drilling location, with the transit expected to take just four days.
For those wanting to follow the rig's movements, we found this link that is live tracking the movements of the rig: https://www.vesselfinder.com/?imo=8770314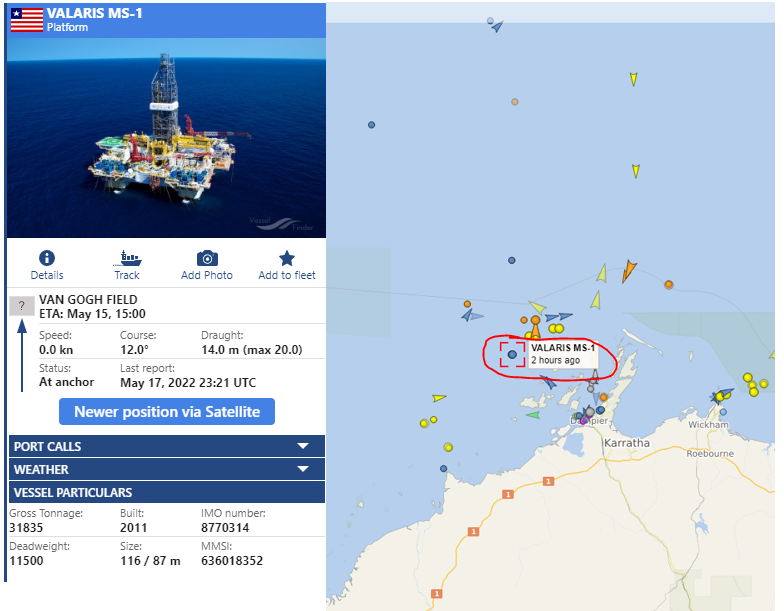 With the rig due to arrive at the drilling location in four days, PRM and GLV both confirmed that the drilling program would commence the week starting 23rd May.
This means we are now a few days out from drilling starting and will soon find out whether or not our Investment has paid off.
This drilling event is taking place in the North West Shelf in offshore WA, home to some of the worlds biggest liquefied natural gas (LNG) export terminals and Australia's biggest ever gas discovery - the Greater Gorgon project.
The Sasanof Prospect sits smack bang in the middle of projects owned by supermajors like Chevron, Exxon, Shell, Woodside and BHP.
This means that if a new discovery is made, the Sasanof prospect could very quickly pop up on the radar of these supermajors who have already invested billions of $ into their existing operations in the North West shelf, WA.
With all of the infrastructure in place, a new discovery could make for the perfect bolt on acquisition opportunity for these supermajors looking to extend the life of their projects.
Or the prospect could result in a new company entering the shelf, such is its size.
Like all high risk oil and gas exploration events, the result from the drilling program will be binary though.
With the Sasanof well having a 32% geological chance of success we think our Investments will either pay off and return multiples of what we have invested, OR alternatively (and more than likely) be a failure in which event we expect to take a significant loss on our Investment.
We are hoping that the well can follow on from what is so far an impressive hit rate in this part of the North West Shelf, where 15 out of the 17 wells drilled (~88%) at the Equus Project have all made discoveries.
The Equus Project has had US$1.8 billion invested in it since 2007 and surrounds the Sasanof Prospect.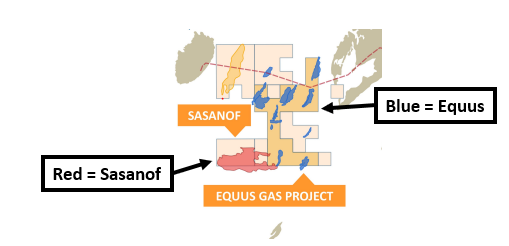 This is high-risk / high-reward investing, so we have only allocated a small portion of our Portfolio to this near term drilling event (less than 2% of our Portfolio).
In the event we are successful, that 2% can multiply into a return that is meaningful enough to grow our Portfolio value, but in the event the drilling program returns nothing, we are risking a loss of only 2% of our entire Portfolio, enough to hurt but not enough to seriously impact our overall Portfolio performance.
Regular readers will also be well aware of our usual approach to investing in oil and gas explorers.
We generally like to take positions in companies months if not years in advance of the big drilling event. Typically at the earlier stage, the companies are at a much lower valuation compared to the eve of drilling.
Over time we look to de-risk our position by at least trying to Free Carry our Investment going into the big binary drilling event.
With PRM and GLV we have adopted an entirely different approach, taking our position in both companies just before the binary drilling event.
This is why we have decided to limit our exposure to this Investment. We have effectively invested an amount that we are comfortable taking a 100% loss on (in the event drilling is a failure).
We clearly outlined our detailed Investment Plan with respect to PRM and GLV in our launch note which you can read here.
Alternatively check out our 2022 PRM/GLV Investment Memo, which details the key reasons we Invested in PRM and GLV, what we want to see the companies achieve with the upcoming drilling program, our Investment plan and the key risks to our Investment thesis.
Check out the memo by clicking on the image below.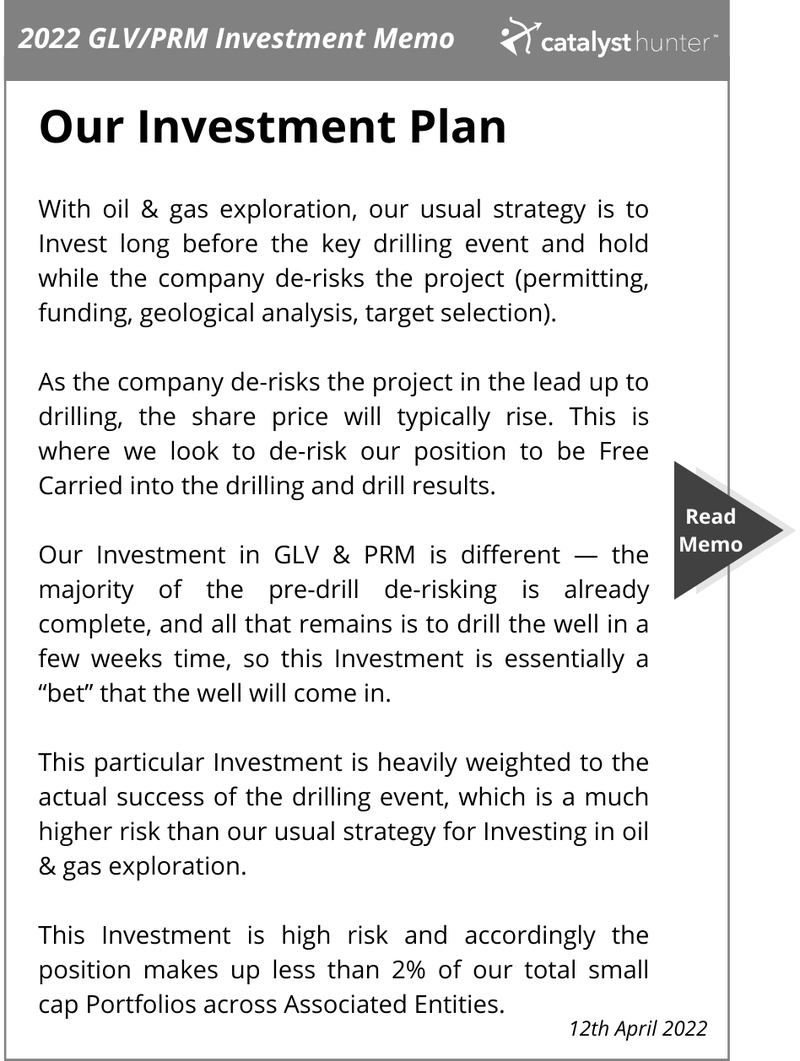 Summary of our coverage so far:
We first launched our initiation note on PRM and GLV just over a month ago on the 13th of April where we outlined just how big of an opportunity PRM and GLV had managed to get some exposure to.
We have since put out three follow up notes which has set the scene for what the success case for PRM and GLV looks like.
For those readers who haven't been following our coverage below is a brief outline of each note and what you can expect to find in them.
1 - Introducing our latest investment (13 April 2022)
In this note we launched our 2022 PRM/GLV Investment Memo and detailed our Investment thesis which highlights the 6 key reasons why we invested in PRM and GLV.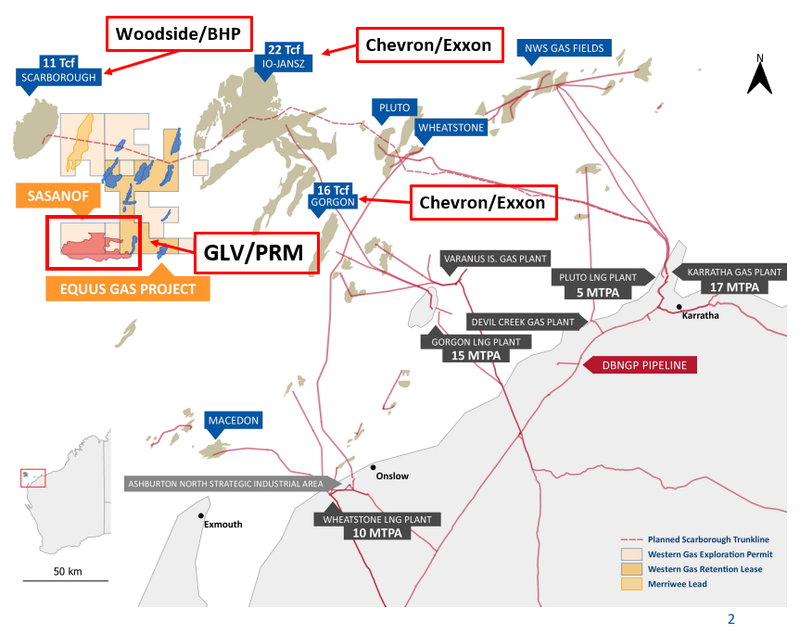 2 - PRM & GLV's well is ranked amongst highest impact wells of 2022 (22 April 2022)
Here we did a deep dive on what makes the Sasanof-1 well a "high impact well" and how the prospect could become a takeover target for oil and gas supermajors if a successful discovery is made.
We specifically do a side by side comparison with previous international takeovers of major Australian gas discoveries.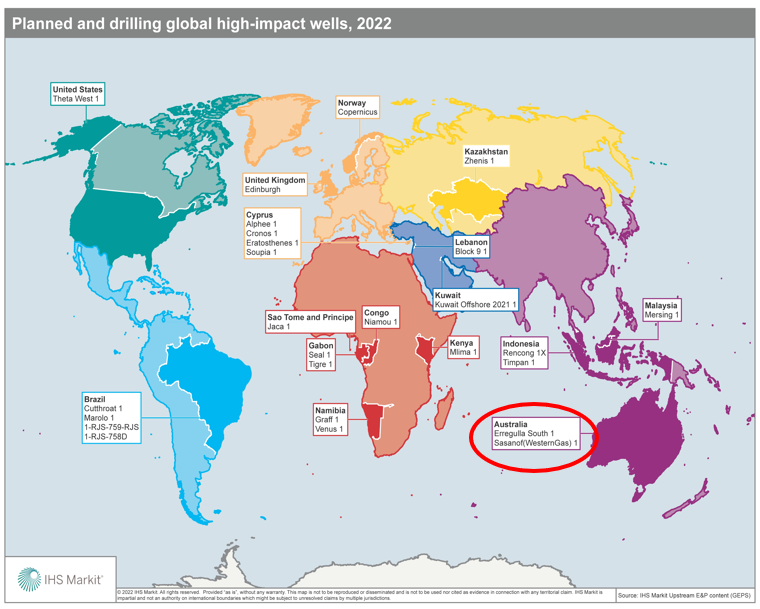 3 - PRM & GLV's Drilling Equipment has been mobilised - Just a Few Weeks til Drilling Begins (5 May 2022) -
Here we do a deep dive on all of the key risks that the Sasanof prospect has already had addressed from permitting, environmental, funding to technical risks.
We also did a side by side comparison of the technicals behind the nearby 378 Bcf and 16.4 million barrels of condensate Mentorc discovery and what that could mean for the Sasanof prospect which sits over a project area ~28x the size of Mentorc.
We also touch on the key risk that remains which is of course the most important - exploration risk.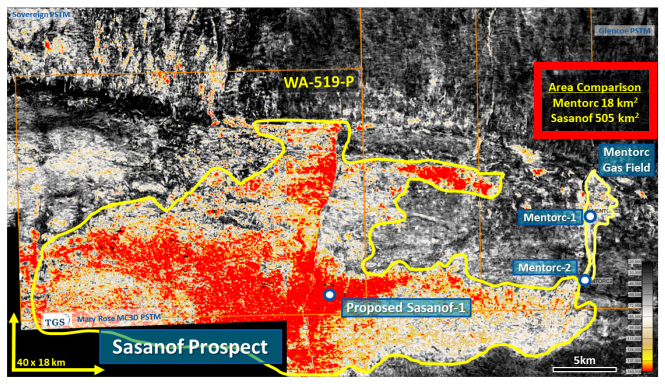 4 - The rig is in the outer harbour - towing to begin in five days (13 May 2022)
Last week we did a deep dive into the current news environment surrounding the global liquefied natural gas (LNG) markets and the upwards pressure on gas prices.
We also looked at how a new major discovery in the North West Shelf in WA (Home to ~47mtpa of LNG export capacity) would fit into the global LNG markets in the event a successful discovery is made at the Sasanof prospect.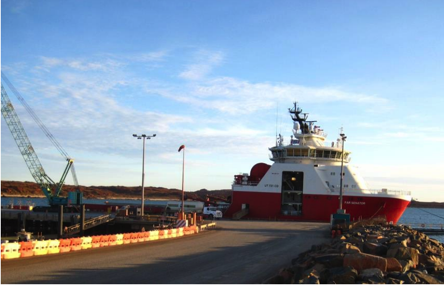 So who has an ownership interest in the Sasanof Prospect?
With drilling now only days away, we think now is the perfect time to lay out how much of the prospect we have an exposure in and who owns the remaining interests in the prospect.
Only recently, we saw Western Gas (who are the operator and majority owner of the project) farm out another 10% interest in the project to UK listed Clontarf Energy.
The deal will see Clontarf fund 20% of the estimated US$20M in drilling costs, and the issuance of 100M shares in Clontarf Energy to Western Gas.
Effectively the terms are as follows:
Clontarf to fund 20% of the drilling costs (US$4M) for a 10% interest.
Clontarf issued Western Gas 100 million shares in Clontarf Energy valued at £580k (US$725k) at current market prices of £0.0058.
Clontarf would also need to issue another 150m shares in the event a successful discovery is made.
Clontarf currently trades with a market cap of ~£14M (AU$25M) at current market price of £0.0058.
The current project interest is now split as follows and below is a comparison of the market caps for the different joint venture parties:
Western Gas is privately owned and holds the majority interest in the prospect owning a 52.5% interest in the Sasanof Prospect.
To add to this Western Gas also hold shareholdings in all three of the joint venture partners meaning the actual exposure is higher than the 52.5% official interest.
Global Oil and Gas (ASX: GLV) - holds a 25% interest and is capped at $55M.
Prominence Energy (ASX: PRM) - holds a 12.5% interest and is capped at $26.6M.
Clontarf Energy (UK listed) - holds a 10% interest and is capped at ~$25M.
At current market prices, our Investments are being valued at a slight discount versus their relative interest in the well compared to its UK peer (Clontarf).
The market has recently been showing an interest in Clontarf shares with the share price rallying ~50% over the last week, we think this is the first sign of market interest in the lead up to the big drilling event that is due to commence in a few days time.
Most importantly, this move has happened during a period of market weakness, which we think shows that the market is willing to pay up for the right opportunities in the right sectors.
We suspect that as the drilling program gets underway, the market will start to become a lot more interested in both PRM and GLV, as investors start to take an interest in the near term catalyst, and potential rewards on offer.
Our 2022 PRM/GLV Investment Memo
Below is our 2022 Investment Memo for PRM and GLV where you can find a short, high level summary of our reasons for investing.
The ultimate purpose of the memo is to track the progress of our portfolio companies using our Investment Memo as a benchmark, throughout 2022.
In our PRM/GLV Investment Memo you'll find:
Key objectives for PRM/GLV in 2022
Why we continue to hold PRM/GLV
What the key risks to our investment thesis are
Our investment plan
---