TYX secures up to $31M in financing from $8BN giant Sinomine
Disclosure: S3 Consortium Pty Ltd (the Company) and Associated Entities own 37,950,000 TYX shares and 10,000,000 TYX options at the time of publishing this article. The Company has been engaged by TYX to share our commentary on the progress of our Investment in TYX over time.
This is big.
Tyranna Resources (ASX:TYX) just delivered the best financing deal we have ever seen for an early stage explorer.
TYX made a lithium discovery last year on its first drilling campaign in Angola.
After today's deal, it will have the financial firepower to take its project from discovery through the resource definition phase.
The $8.3BN capped Chinese mining giant Sinomine is investing up to $31M in TYX, and will have a first right of refusal on an offtake deal for 50% of TYX's lithium production.
And the deal has been done at a big premium to TYX's valuation as of its last trade.
For some context, Sinomine is a global mining powerhouse with operations across more than 40 countries all across the world.
The deal values TYX's project at ~A$100M, while TYX currently trades with a market cap of $60M.
Great stuff from our Catalyst Hunter 2022 Pick of the Year.
The $31M funding deal is split over two phases:
Phase 1:
Sinomine invests $4.5M in TYX at 2.5c per share.
Sinomine invests $10M in exchange for a 10% stake in TYX's Angolan lithium project.
Phase 2 (Sinomine will have the option to exercise this phase):
Sinomine can invest $6.75M in TYX at a minimum of 3.75c per share OR a 25% discount to the 5-day volume weighted average price TYX share price (whichever is higher).
Sinomine can invest another $10M in exchange for a further 10% stake in TYX's Angolan lithium project.
Offtake deal:
Sinomine to sign a binding offtake agreement for 50% of the spodumene and pollucite from the Project within 30 days.
Sinomine also has first right of refusal on the remaining 50% of production.
Here's a diagram we came up with which might make it a bit easier to understand: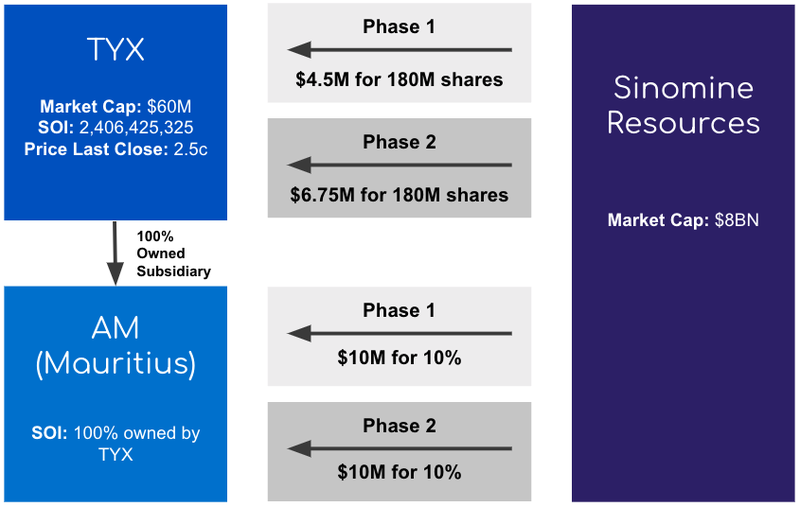 Like any major deal, there are a number of conditions precedent to the deal completing, which we will cover further down.
With this new financing deal and strategic investor, TYX can focus on drilling and growing the resource with no looming capital raise overhang weighing on the share price.
This strategic financing deal has come out of nowhere, and really surprised us... and the market.
The market loves (and responds to) positive surprises.
Why is this such a big surprise?
Like many explorers, TYX was running low on cash with less than $1M in the bank at the end of the last quarter. This wasn't enough to fund its next drilling campaign.
The market was expecting the typical $3M to $5M placement, at a discount to last traded price, with 1 for 2 option, just enough to carry it through a few more rounds of drilling.
When the market expects this kind of capital raise, many will sell their shares in anticipation of share price weakness OR expecting to participate in the cap raise at a discount and get a free option.
So over the last few months TYX share price drifted lower in anticipation of this type of placement.
BUT...
...instead, this morning TYX surprised everyone by announcing a huge strategic financing deal for at least 5x more funding than anyone was expecting, from an $8BN mining company known for developing projects, with no loose stock to come onto the market and weigh down the share price post deal.
Here is why we like this deal so much and why we think the share price will respond:
Market was NOT expecting a large, high quality deal like this. TYX was running low on cash and its share price was drifting downwards because the market was expecting a standard cap raise.
$31M is a huge amount to explore with. No near or mid term capital raise means no "looming cap raise overhang", so the share price is free to respond to good news.
Read through value of $100M on the project: TYX was capped at $60M prior to this deal. Deal terms demonstrate Sinomine is valuing the project at $100M.
No "loose stock" after capital raise. $20M of the investment comes in at TYX's subsidiary entity that holds the project, this is non-tradable stock.
Offtake agreement included in the deal: Binding offtake agreement for 50% of the spodumene and pollucite from the Project.
Very surprising. A big, big investment.
While some headlines are writing off lithium amid a recent price slump, an $8.3BN capped mining giant is tipping in up to $31M in funding for one of our small cap exploration Investments.
The $31M is designed to fund exploration and development of what we hope could be a globally significant lithium resource.
TYX is currently capped at $60M - so getting that kind of money in the door is no small feat.
TYX is effectively getting half of its non-diluted market cap in cash in a single deal which came out of the blue and leaves TYX's project with a read through value of ~$100M.
We take it as a strong signal that validates both the potential of the company's project and lithium's role in a decade-long critical minerals push.
The deal also puts in place the foundations for an offtake of 50% of future production - something that could play an integral role in future financing discussions as and when the project moves into development/production.
When we made TYX our Catalyst Hunter Pick of the Year in 2022, we knew it had 600 pegmatites on its Angolan project. That number then swelled to 800.
Pegmatites are frequently the host rock for lithium bearing spodumene and we got a taste for the project's potential when first assays from drilling came in during late February.
We dissected the implications of the peak result from a first pass drilling program in our most recent note on TYX.
The peak result was a hit of 22.75m grading 2.02% lithium oxide from 20.25m.
That's near surface, very high grade, and extensive meterage by any standard.
We thought this was just scratching the surface of what could be found at TYX's project.
We still think that's the case, except now TYX has access to a large pool of capital.
We think this will play a critical role in overcoming any previous or existing operational difficulties.
With exploration helmed by a leading lithium geologist with deep experience in Africa, Peter Spitalny, our view is that today's funding arrangement gives TYX a springboard for achieving a significant share price re-rate.
A re-rate that reflects not only the capital TYX now has at its disposal, but the sheer scale of the project's exploration, development and ultimately, production potential.
Today, we'll break down what this funding and a soon to be negotiated offtake means for TYX:
Quick reminder on TYX and why we Invested
An introduction to TYX's new strategic investor
The specifics - how TYX's deal is structured
What can TYX accomplish with up to $31M in funding?
Macro theme - how TYX fits into the lithium market
What's next for TYX?
Risks, what could go wrong?
Our TYX Investment Memo
Today's news gives TYX the financial backing to go and achieve our TYX "Big Bet" which is as follows:
Our 'Big Bet'
"TYX discovers and defines a large, simple to process, lithium resource that is on par with world class multi-billion dollar ASX peers such as Pilbara Minerals, Core Exploration, Liontown Resources, AVZ Minerals and Sayona Mining."
NOTE: our "Big Bet" is what we HOPE the ultimate success scenario looks like for this particular Investment over the long term (3+ years). There is a lot of work to be done, many risks involved, and it will require a significant amount of luck. There is no guarantee that it will ever come true. Some of these risks we list in our TYX Investment Memo.
To monitor the progress TYX has made since we first Invested and how the company is doing relative to our "Big Bet", we maintain the following TYX "Progress Tracker":
See our TYX Progress Tracker here: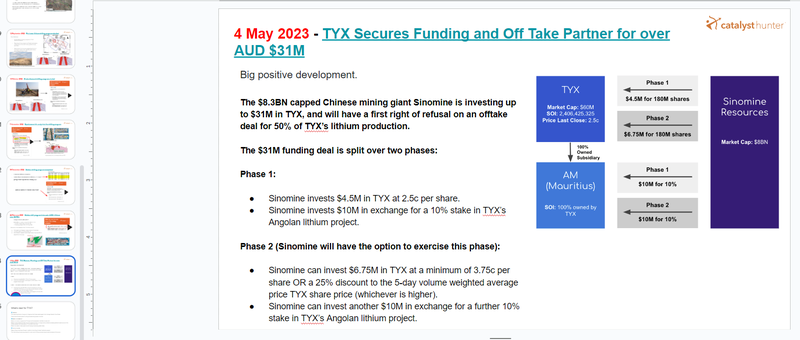 Reminder: Quick refresher on TYX & why it was our 2022 Pick of the Year
Our Catalyst Hunter 2022 Pick of the Year Tyranna Resources (ASX:TYX) is a relatively straightforward lithium exploration story.
TYX's project has over 800 potential lithium bearing rocks sticking out at the surface at its project in Angola.
In February this year, after its first ever drilling program the company officially declared it had made a new lithium discovery.
Below is an excerpt of our TYX launch note from last September with a few small updates:
Why we Invested in TYX last year
Hundreds of outcropping pegmatites - Pegmatites are the main source for hard rock lithium deposits. TYX has over 600 (now 800) different outcropping pegmatites spanning a 25km x 10km strike zone.
Never been drilled and has never been explored for lithium - TYX's pegmatite fields were discovered in the 1960s. The focus at the time was on feldspar and beryl mineralisation. The outcropping pegmatites have never been drill tested, and the project has only had rock chip sampling undertaken on less than 1% of the project's prospects - plenty more analysis to come. (Update: TYX has completed its first drilling program - read about that here)
Spodumene bearing pegmatites included in academic research - TYX has confirmed the presence of high quality spodumene bearing pegmatites in its project. Spodumene presence is generally an indicator for high grade lithium mineralisation. TYX will also benefit from extensive academic research completed investigating spodumene presence across its pegmatite fields.
Sampling of the outcropping pegmatites returned high grade lithium - Recent rock chip sampling returned lithium grades as high as 9.75%. The peak grade across the high quality spodumene bearing pegmatites was 7.88% - very high grades. This is a strong sign ahead of drilling.
TYX Technical advisor worked on AVZ Minerals - 4.3c share price to a peak of $1.35: Peter Spitalny acted as chief technical adviser to AVZ Minerals (capped at $2.7BN, prior to its suspension) for its lithium/tin project in the Democratic Republic of the Congo. Peter Spitalny is TYX's principal technical advisor. Having successfully defined a large multi-billion dollar lithium resource, we hope Peter can do it all again with TYX.
We have had previous success Investing in Angola - We have been Invested in Angolan fertiliser & green ammonia developer Minbos Resources for over two years. During that time we watched Minbos' successful progress its project in Angola seeing its share price rise from 3c to a peak of 21.5c per share (~615%) and more recently we have started to see large investor appetite for battery materials projects inside Angola. (Update: We've recently travelled to Angola - click here to read about what we learned on that trip).
An introduction to TYX's new strategic investor
TYX's new strategic investor is $8.3BN capped Chinese company, Sinomine Resource Group.
Sinomine operates as both an exploration technology services company and a mineral rights company across a range of commodities and specialty chemicals (particularly lithium).
The company operates in over 40 different countries and this isn't the company's first foray into the African lithium space, having invested $200M investment in a lithium project in Zimbabwe.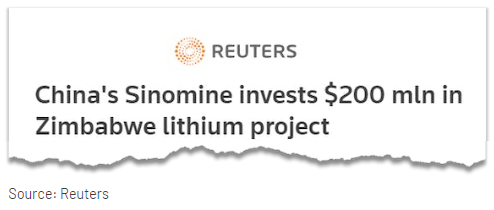 We think Sinomine is an excellent fit as a strategic investor for TYX at this early stage, not just for the cash it intends to commit to the project, but the company brings expertise in developing assets in a range of different jurisdictions.
For example, the US$200M investment in Zimbabwe Simomine previously made was to build new plant infrastructure and expand the projects existing operations.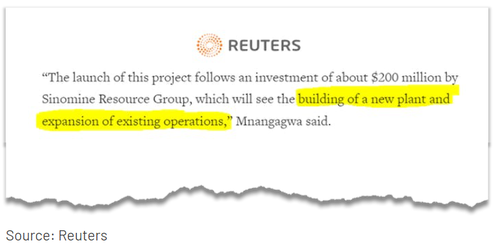 Importantly, the potential TYX offtake deal is for 50% of TYX's future production.
So while that is a large chunk, it leaves TYX with options around securing offtakes for the remaining 50% of production.
Today's deal has a number of elements to it, each of which are important to understand as part of what we hope is a much accelerated forward works program for TYX.
The specifics: the structure of TYX's deal
Phase 1:
Sinomine invests $4.5M in TYX at 2.5c per share.
Sinomine invests $10M in exchange for a 10% stake in TYX's Angolan lithium project.
Phase 2 (Sinomine will have the option to exercise this phase):
Sinomine can invest $6.75M in TYX at 3.75c per share or at a 25% discount to the 5-day volume weighted average price TYX share price (whichever is higher).
Sinomine can invest another $10M in exchange for a further 10% stake in TYX's Angolan lithium project.
Again - here is a graphic to help explain the deal a little further: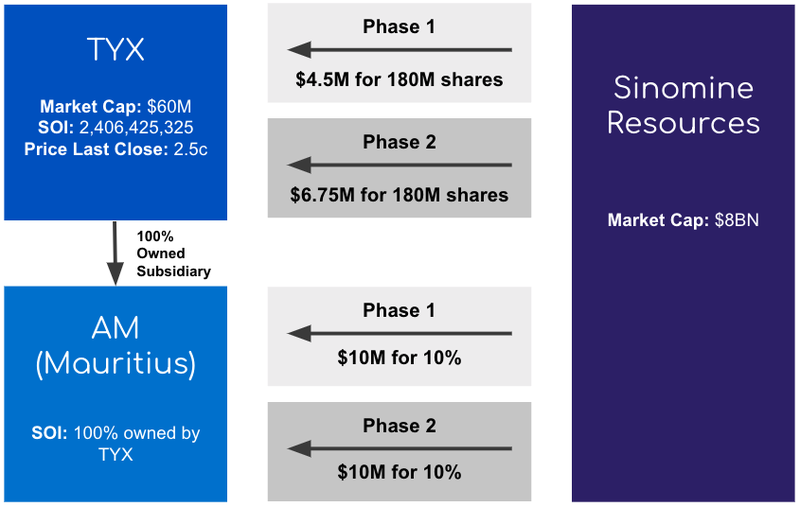 The deal is also conditional on the following being executed:
A binding offtake agreement. TYX will need to execute a binding offtake for 50% of the spodumene and pollucite from the project within 30 days, with Sinomine having a first right of refusal on the remaining 50% of production.
Registration and transfer of the projects licences. TYX's project licences are currently with the Ministry of Mineral Resources, Petroleum and Gas of Angola.
Outbound investment regulatory approvals. Sinomine obtaining all necessary Chinese outbound investment regulatory approvals.
Royalty agreement. TYX subsidiary Angolitio and corporate advisors CPS Capital having entered into a royalty agreement;
Due diligence and all other standard legal processes that are typical of these type deals.
TYX also laid out an indicative timetable for when it expects the deal to be completed. At this stage, TYX expects it all to be wrapped up before the week ending 2 June 2023.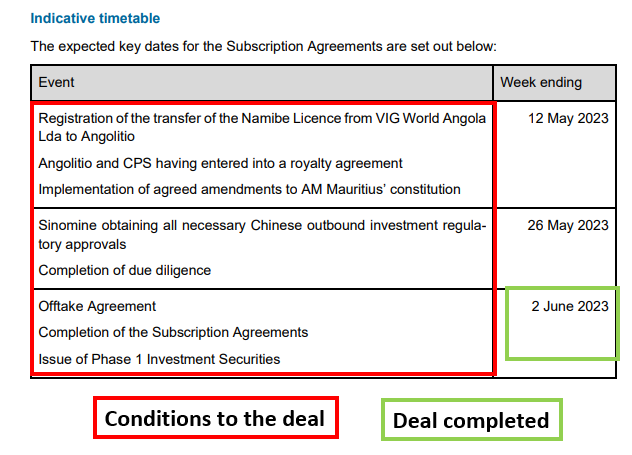 What can TYX accomplish with up to $31M in funding?
One of the main things we want to see in TYX's next drilling program is the ability to drill deeper at the Muvero Prospect.
TYX had some operational difficulties in its initial drill campaign here, but this should be overcome with the additional capital now at its disposal.
On top of that, TYX can aim higher with its next drill campaign — potentially testing different styles of targets than it otherwise could and really start to pursue a resource at the project.
With its recent discovery TYX has moved from the "exploration" phase to the "definition" phase towards development, working out exactly how big its lithium project is.
The funding will support drilling activities with a view to build out a JORC resource in the future.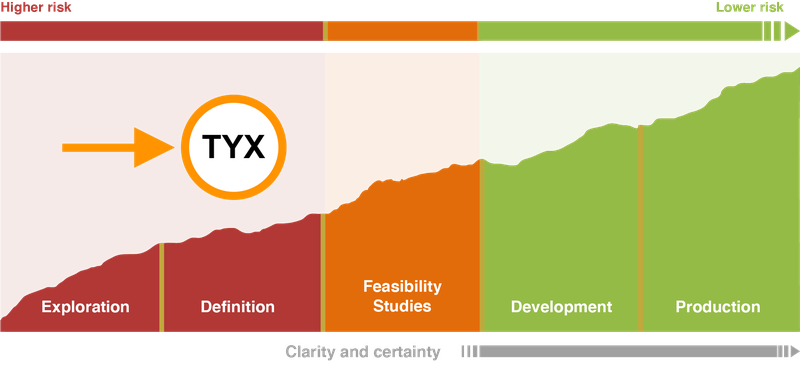 If you would like to learn more about the mining company lifecycle read: 🎓 The Mining Company Life Cycle Explained
Macro theme: How TYX fits into the lithium market
It's a legitimate question: how did TYX secure such favourable deal terms when the lithium price has shed some 65% in recent months?
We think two things are at play:
The potential scale of TYX's project and the opportunity on offer for early investors.
Beyond that, recent M&A activity in the lithium sector (Albemarle's move on Liontown Resources for example) indicates that smart money and big players are confident that smaller lithium companies still represent good value. This is part of what we think will be one of the defining macro themes of this decade - battery materials.
Despite its recent price slump, the lithium price is still ~120% higher than when it was in the pits in 2020, and it has recently edged higher ever so slightly after a sharp slide: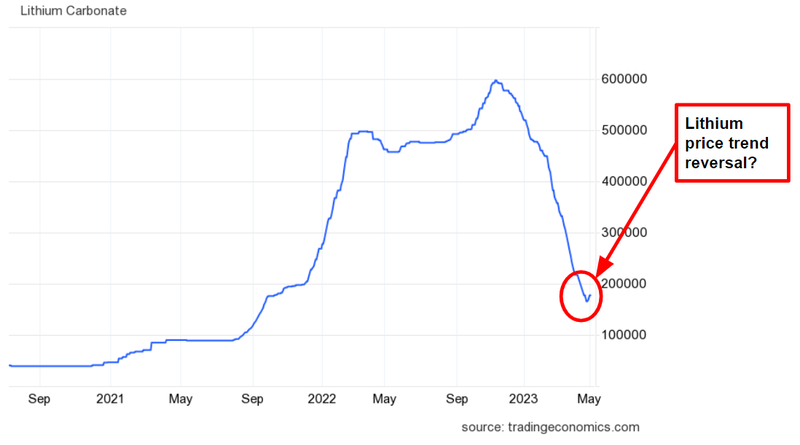 It's very early days, but the potential trend reversal here could draw smaller investors back to lithium stocks in the coming months, while larger investors position themselves for a longer term trend.
We see TYX's deal today as evidence that these larger investors are gearing up to develop more projects and increase supply - even at these lithium prices.
What's next for TYX?
Everything is largely the same in this regard, except TYX now has more funds available so things can move faster at its Angolan lithium project.
🔄 Fieldwork
TYX intends to get back on the ground in Angola and test "some remote targets" at the larger Namibe Lithium Project.
It will also be prepping sites for drilling and establishing access to the sites.
🔄 Metallurgical testwork
Metwork is currently in-progress with results expected in late March or early April.
Metwork involves taking samples from drill programs and running then through industry standard processing methods to see how much valuable material can be recovered (in TYX's case it's the lithium).
Metwork can make or break projects so we'll be eying the recovery grades closely.
🔄 2nd drill program
Deeper drilling at the Muvero Prospect, in addition to drilling at least two additional prospects.
TYX is fast tracking the planning process for its next round of drilling so we are hoping to see the company drill very soon.
Risks - what could go wrong?
Here are the risks that we think are most relevant to TYX right now.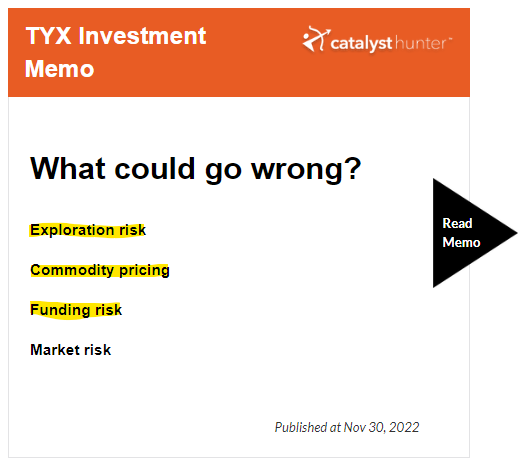 Funding risk
Although the total funding from today's deal totals $31M, Phase 2 of the deal is optional, with both Phase 1 and Phase 2 having a number of conditions precedent.
If these are not satisfied it is possible that funding won't be secured, potentially precipitating a future capital raise down the track for TYX.
Additionally, the funding is subject to "Chinese outbound investment regulatory approvals". China based investment activity is sometimes opaque and there is no guarantee that these approvals will be secured.
Exploration risk
Exploration risk is ongoing until a significant resource is proved out or put into development/feasibility studies.
It's possible that TYX's theory that the pegmatites and lithium mineralisation extend at depth is wrong.
Alternatively, the lithium mineralisation in the second pass drill program is not shown to be economically viable.
Commodity pricing
The lithium price could slumps further, it has already shed ~65% in the last few months from all its time highs last November.
Our TYX Investment Memo
In our TYX Investment Memo, you can find the following:
Key objectives for TYX
Why we are Invested in TYX
The key risks to our Investment thesis
Our Investment plan
---