TYX intersects more than 20m of lithium mineralisation
Our first look at drilling has arrived...
Our 2022 Catalyst Hunter Pick Of The Year Tyranna Resources (ASX:TYX) is right now drilling a large lithium project in Angola, at a time when lithium prices are setting new records.
Drilling is being led by TYX Technical Director Peter Spitlany - who has decades of lithium experience, including delivering AVZ Minerals' lithium discovery which saw the company's market cap peak at ~$4.5 Billion.
Today we got the first material update from TYX's current lithium drilling campaign.
We were hoping to see spodumene in the drillcores - and that's exactly what TYX has shown the market today - mid-drill campaign, with still more holes to come.
This morning TYX reported ~21.75m of lithium mineralisation from just 30m down-hole.
More importantly, TYX confirmed the presence of large zones of spodumene mineralisation.
TYX expects the drilling program to be completed before the end of the year and assay results to be announced between late-December this year and February next year.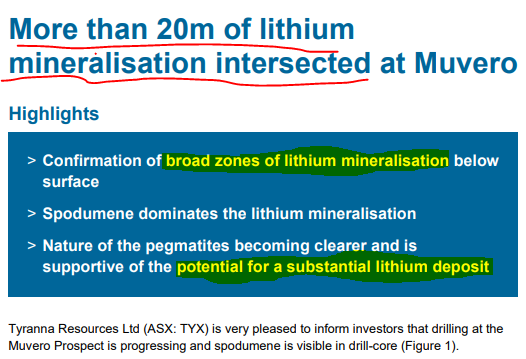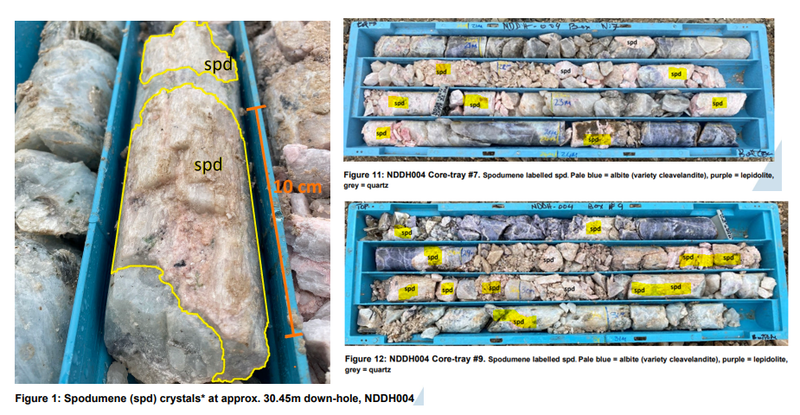 While assays are pending to determine the grades, and despite some solvable drilling issues that slowed down progress, we think this intercept is a great early start. Now comes more drilling to determine what the lithium body looks like underground.
We are also hoping to see some more intercepts like today in new locations. We will be constructing a 3D model to track the progress once the next batch of data comes in (like we have done for GAL).
A few "sell the news" short term holders seem to be exiting this morning, who were likely hoping to take a quick profit on the day of the first result, which has pushed down the share price on open.
We are only half way through TYX's first ever drill campaign and we are holding to see the next few drill campaigns.
Why is seeing spodumene important?
Spodumene is generally the host rock for high grade lithium mineralisation.
So seeing it is a good early indicator that the drilling program may have hit zones of high grade lithium mineralisation - the pending assays will confirm the grade.
For some context, spodumene bearing lithium deposits are what is mined by the likes of Albemarle (capped at $51BN), Pilbara Minerals (capped at $15.5BN), and Allkem (capped at $9.5BN).
Of course - TYX has just announced visuals in drill cores - this is an excellent start but there are still assays and a lot more drilling before they might reach the lofty heights of other lithium companies with discoveries already made and much more.
Interestingly, leading up to this drilling program, TYX said its project was prospective for the "LCT Complex-Spodumene" — the same type of spodumene found at Albemarle's Greenbushes deposit, the world's lowest cost, highest grade operating hard rock lithium mine as of 2019.
TYX is currently drilling its fourth drillhole, and has another four to go.
TYX also completed additional mapping work and has refined the next batch of drillholes based on the learnings from the first three drillholes.
TYX believes that the refined drilling locations and directions will mean it can better prove with drilling its theory that its 'Muvero Prospect' pegmatites are a single body of rock.
While today's early results are promising, we need to wait until the assay results are back before TYX can officially confirm a "new lithium discovery".
Quick insights into the progress drilling update
We like TYX because they are drilling an unexplored area - unexplored areas are where you can still find giant deposits.
But drilling in unexplored areas for giant deposits can come with initial drilling operations problems — like access to drill sites (need to make access roads), unknown geology and other potential surprises — that you don't usually get in mature drilling locations where most problems have already been identified and solved.
As the saying goes, if it was easy, then everyone would do it.
In TYX's case, during drilling it has so far discovered that the fractured nature of the geology means that the drilling process loses a lot of water into the ground - water is critical to reduce heat in the drilling process.
So while the TYX team addresses the water loss issue (for which there are a number of different solutions), drilling has been slower than expected — yet TYX still delivered a 21.75m visual intercept.
Here are some quick insights into the drilling update:
TYX's announcement comes midway through the drill campaign. We take this as a very positive sign, as over the years we have observed that companies will stay silent during a drill campaign if they don't hit anything interesting.
We also note the level of technical detail and explanation provided in the announcement — another positive sign as this is not often included in exploration announcements.
TYX learnt from issues encountered in the first two holes to deliver a 21.75m intercept on just the third hole, while the fourth hole has already encountered mineralisation having only completed a very small amount of drilling metres.
TYX now has a refined theory of the underground structure, which helps refine the next drill targets. The material intercept on the third holes is very valuable for planning the next drills.
As the water and access problems are resolved, we expect the pace of drilling to ramp up, and based on what we have seen so far and TYX's refined drilling targets, we want to see further interesting results in the coming weeks.
With assays pending and drilling ongoing, we are hoping to see the following: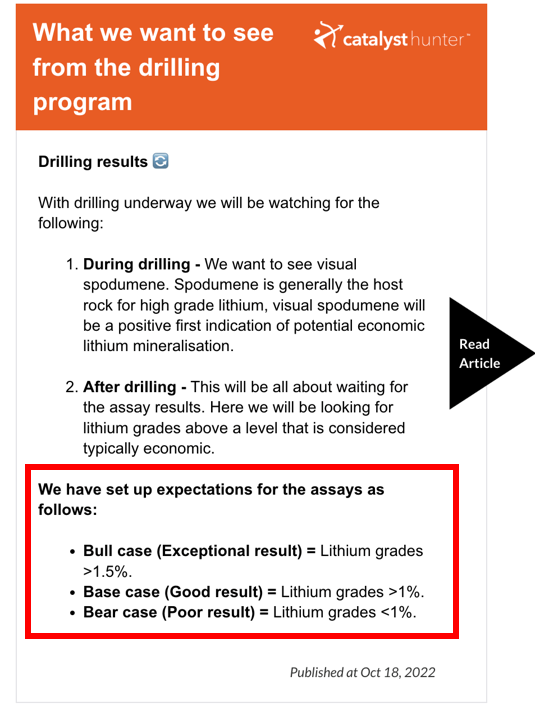 If the assays come in at or above our base case expectations, we think TYX will be able to confirm a new lithium discovery, which should be a good base from which to drill out a large lithium resource.
As most lithium producers trade on market caps in the billions of dollars, and most of the larger capped companies are well known to the markets, we think the real value in the lithium space is in junior explorers like TYX.
We think that backing a junior lithium explorer that makes a discovery and proves up a new resource, has the potential to turn it into a multi-billion dollar company.
This brings us to our "Big Bet" for TYX:
Our 'Big Bet'
"TYX discovers and defines a large, simple to process, lithium resource that is on par with world class multi-billion dollar ASX peers such as Pilbara Minerals, Core Exploration, Liontown Resources, AVZ Minerals and Sayona Mining."
NOTE: our "Big Bet" is what we HOPE the ultimate success scenario looks like for this particular Investment over the long term (3+ years). There is a lot of work to be done, many risks involved, and it will require a significant amount of luck. There is no guarantee that it will ever come true. Some of these risks we list in our TYX Investment Memo.
To monitor the progress TYX has made since we first Invested and how the company is doing relative to our "Big Bet", we maintain the following TYX "Progress Tracker":
See our TYX Progress Tracker here: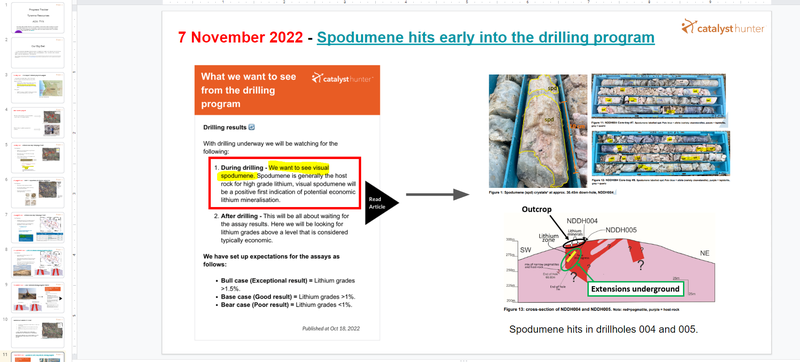 Why today's news matters
Outcropping pegmatites extend underground - TYX now knows that the outcropping pegmatites, where rock chips had confirmed lithium grades of up to 9.74%, do in fact extend underground.

Spodumene bearing pegmatites confirmed - TYX has also shown that these pegmatites underground, similar to the ones that outcrop, are also spodumene rich. Spodumene found in drillholes 004 and 005.
We also note that TYX mentioned that the 5th drillhole (NDDH005), which was currently in progress, had already intercepted spodumene rich pegmatites.
These two hits are particularly interesting because they both sit next to each other and may be indicating a continuation of lithium mineralisation in this part of TYX's project.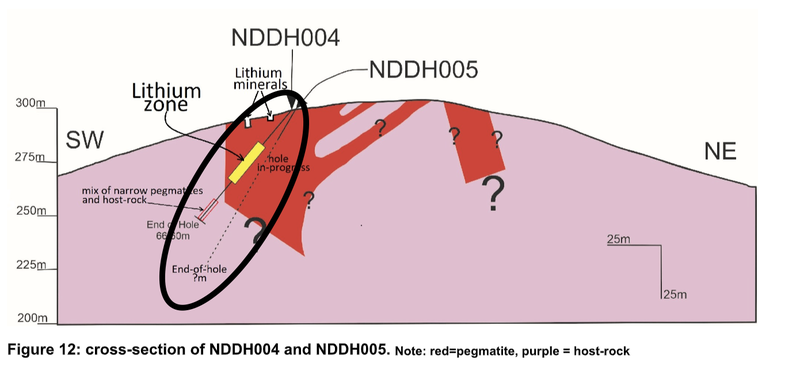 The whole purpose of the drilling program was to follow up on all of the surface level sampling works TYX had done.
As with any exploration program, the company was effectively looking to test whether the outcropping rocks extend underground and if they contain lithium.
After today's news, we know that they do in fact extend underground.
All that is left is for the assay results from this round of drilling to confirm high grade lithium mineralisation and TYX should be able to declare an entirely new lithium discovery.
How might TYX finance future drilling programs?
Only a few weeks ago, TYX's September quarterly report showed a cash balance at 30 September 2022 of $2.8M.
This is relatively healthy and should normally be enough for a small drilling program like the one TYX is now running. However, it's also approaching a level where TYX may look to raise new capital and strengthen its balance sheet at some point in the coming months.
On this front we are tracking the 578 million unlisted options that are exercisable at 1c per share with an expiry of 30 June 2025.

These options are all in the money at the current TYX share price, and could provide an alternate source of funding without having to raise cash by issuing new shares.
TYX did raise ~$491k through these options during the September quarter - and if all of these options were to be exercised, it could bring in a further $5.8M in cash through the door.

Of course, this doesn't mean TYX won't look to raise new capital.
The options don't expire until 30 June 2025 which means the holders of the options won't be in any rush to exercise them.
Remembering that TYX is a junior explorer that will need more capital to drill out what we hope will be a large scale lithium discovery, we're in favour of TYX raising new capital some time in the coming months, especially given where its share price is currently trading.
We track the capital structures for all of our Portfolio companies — to see that information click this link 'Next Investors Cap Structures'.
What's next for TYX?
Drilling results 🔄
TYX is now drilling hole number five but is still planning more drillholes.
This could mean more announcements like today's between now and the all important assay results.
TYX expects the drilling program to be completed before the end of the year and assay results to be announced between late-December this year and February next year.
With drilling ongoing we are still watching for:
During drilling: We want to see more visual spodumene. Spodumene is generally the host rock for high grade lithium, so visual spodumene will be a positive first indication of potential economic lithium mineralisation.
After drilling: This will be all about waiting for the assay results — we'll be looking for lithium grades above a level that is considered typically economical.
We have set up expectations for the assays as follows:
Bull case (exceptional result) = Lithium grades >1.5%.
Base case (good result) = Lithium grades >1%.
Bear case (poor result) = Lithium grades <1%.
Our 2022 TYX Investment Memo
Below is our TYX Investment Memo, where you can find the following:
Key objectives for TYX for the coming year
Why we are Invested in TYX
What the key risks to our Investment thesis are
Our Investment plan

---