Tiny TG1 leveraged to copper discovery - drilling soon …
TechGen Metals Ltd (ASX:TG1) has turned its attention to the next item on its exploration plan: Copper.
TG1 holds a portfolio of 13 exploration licences strategically located in three highly prospective gold and copper regions of WA.
As TG1 investors, we are most interested in the company's copper projects in the Ashburton Basin where TG1 is set to undertake RC and diamond drilling programs by the end of the year.
The copper price hit all time highs in recent months yet we don't have much exposure to the metal in our portfolio, so are looking forward to the upcoming drilling. And trading at just 17¢ per share, we think the stock is highly leveraged to success.
We like TG1's tight capital structure — TG1 has a market cap of just $6.74M, and with $4.3M in cash (at 30 June), has an enterprise value of just ~$3M. We invested in the IPO at 20¢ and continue to hold our entire position.
With the stock coming off a low base compared to the 20¢ IPO price, we think there's potential for a move higher in anticipation of its upcoming copper drilling events that are due to start by the year's end. That's not to mention how the stock is leveraged to exploration success if it hits on something substantial. Remember though, early stage exploration is risky and TG1 might not hit anything at all.
Longer term, we like that we have some copper exposure in our portfolio. Already the third most widely used metal in the world, copper demand is only set to increase. Its use in rapidly growing industrial sectors — such as electric vehicle batteries and semiconductor wiring — sees it leveraged to the global electrification boom and anticipated commodities super cycle over the coming decade. And it stands to benefit from a structural shift in global demand from the green energy transition.
As announced this morning, TG1 is ticking off its to-do list ahead of drilling at two of its Ashburton copper projects (Mt Boggola and Blue Rock Valley) later this year.
TG1 completed airborne electromagnetic (EM) surveying earlier this year and is now finishing up ground EM work ahead of its upcoming RC and diamond drilling programs. (EM surveys, both airborne and ground, use electric or magnetic fields to measure the response of the ground to detect conductive deposits.)
TG1's Ashburton projects have a rich history of high-grade copper production from the 1980s-2010 from the likes of Newcrest and Northern Star, so we know that there's copper in the region - but these projects have seen limited modern exploration.
Rock chip samples from historical work have been sent to the lab now for testing — we expect to see those results in the next two weeks. Here's a sample of rich copper oxide from a historic trench at the Blue Rock Valley project: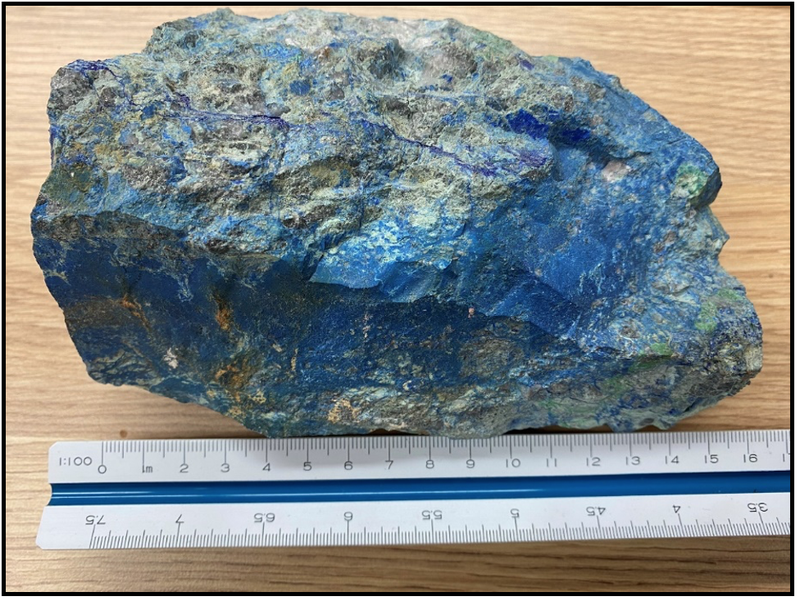 Having first invested in TG1 during its IPO back in April at 20¢, we're looking forward to TG1's upcoming copper drilling. Frankly, the stock's on market performance has been a little boring so far — the share price ran up in the days after the IPO, but has been pretty quiet after that.
But since the IPO TG1 has stuck to its exploration plan, completing gold exploration drilling — exactly as the company said it would — even making a discovery in June. Unfortunately gold was out of favour with investors at the time and that find wasn't well reflected in the share price.
The company has just completed a second round of RC drilling at its WA gold project after its discovery there earlier this year. Assays from this follow up drilling are now likely to take a few months to come in.
Regular readers will know that when it comes to our exploration investments, we try to free carry and to take some profits in the typical share price run that junior explorers tend to experience in the lead up to drilling. This protects against the downside while leaving a significant position for the drilling results.
So while there hasn't been much share price action since the IPO in April, we haven't sold any shares yet. Given the current quiet period, we now look ahead to the anticipated pre-drilling run in the coming months.
We like to invest in ASX explorers during quiet periods when the market isn't paying attention. But we do expect a run as TG1 gets closer to drilling its copper targets, and we may look to free carry and take some profits if this plays out. However we are invested, first and foremost, for the upside potential on a copper discovery.
We invested in TG1 at the IPO price of 20¢, and it is currently trading at ~17¢. With a "copper drilling event" before the end of the year, we hope to see the share price deliver some upside. This could be generated by other early stage investors looking for an ASX copper exploration play to add to their portfolios.
TG1's copper projects: drilling ahead
After many months of planning, TG1 is now building momentum in its copper exploration activities at its 100% owned Ashburton copper and base metals projects.
TG1 is applying specific geophysical techniques within areas of historical high-grade copper and gold occurrences at the Blue Rock Valley and Mt Boggola projects — within its 100% owned Ashburton project — which have seen little to no modern geophysical studies.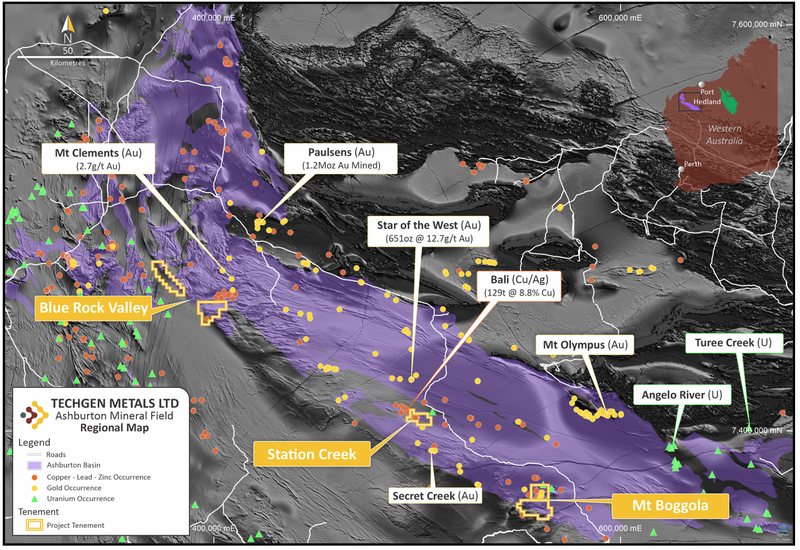 TG1's Ashburton Copper Projects and known mine and prospect areas
Airborne VTEM surveys were successfully completed at the two project areas earlier this year, with strong favourable late-time bedrock VTEM conductors identified at each. The VTEM technology is designed to aid in the detection of massive sulphide orebodies at depth.
VTEM, or Versatile Time Domain Electromagnetic, surveys measure the physical properties of chargeability, conductivity, and magnetic susceptibility in order to better characterise rocks that are hidden at depth.
For some background, we covered that news back in July, explaining that TG1 had detected some pretty impressive copper drill targets at Blue Rock Valley and Mt Boggola.
Several high priority targets have been identified in areas of known copper mineralisation. Other geophysical techniques and geological work are ongoing to advance new targets to a drill ready stage.
Blue Rock Valley Copper Project
At the Blue Rock Valley Copper Project, TG1 has now completed ground EM over VTEM targets. A high priority ground fixed loop EM survey covered one of the two southern airborne VTEM conductors that had been identified at the project. That data is now being interpreted.
In modelling the final VTEM data, a new bedrock conductor was identified, located immediately adjacent to historic workings and following the line of historic surface trenching.
Several rock chips were collected from historical high-grade workings and have been sent for XRD analysis to identify the sulphide species observed and for multi-element testing.
Blue Rock Valley Copper Project Milestones
✅ Airborne EM Surveying
✅ Ground EM Surveying
🔄 Drill Targets Identified
🔲 RC Drilling (Stage 1)
🔲 Assay Results 1
🔲 Assay Results 2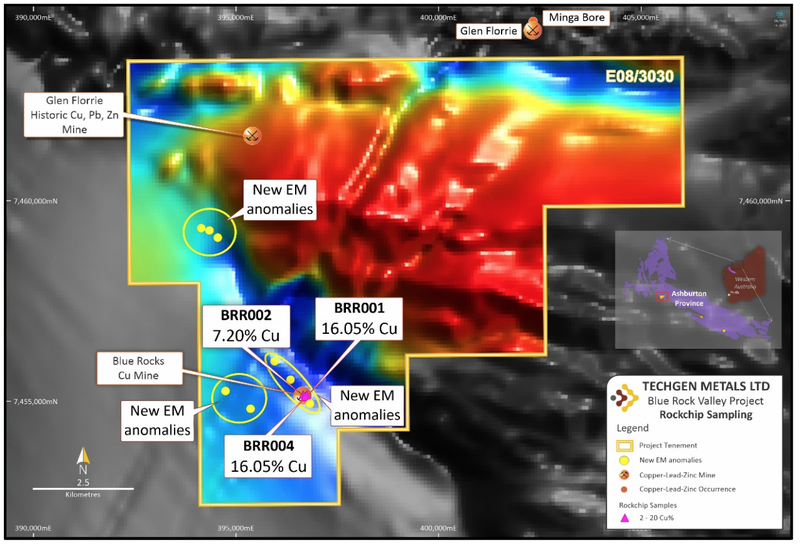 Blue Rock Valley Project - location of new airborne EM anomalies and other prospect areas
Mt Boggola Copper Project
After finishing up at Blue Rock Valley, the ground EM survey teams have moved to the Mt Boggola Project area to undertake fixed loop EM surveys over three strong conductors earlier identified by the airborne VTEM survey.
The Mt Boggola project area has a rich exploration history, including the company's 2019 sampling program which returned high-grade rock chips of copper, gold and silver. The project area was also explored back in the 1980's by CRA and in the 90's by Newcrest, while Northern Star were in the region around 2010.
However, only limited historic drilling was ever completed, with a best result of 4m, grading 2.32% copper in the southern area of Mt Boggola. TG1 intends to drill test copper targets generated from modern exploration techniques.
The more recent VTEM anomalies are in the northwest of the tenement and are favourably bound by a magnetic mafic intrusive. Given the increased power levels and advancements in geophysics since the 1990's, TG1 views these copper/base metal targets as being significant.
Mt Boggola Copper Project Milestones
✅ Airborne EM Surveying
🔄 Ground EM Surveying
🔲 Drill Targets Identified
🔲 RC Drilling (Stage 1)
🔲 Assay Results 1
🔲 Assay Results 2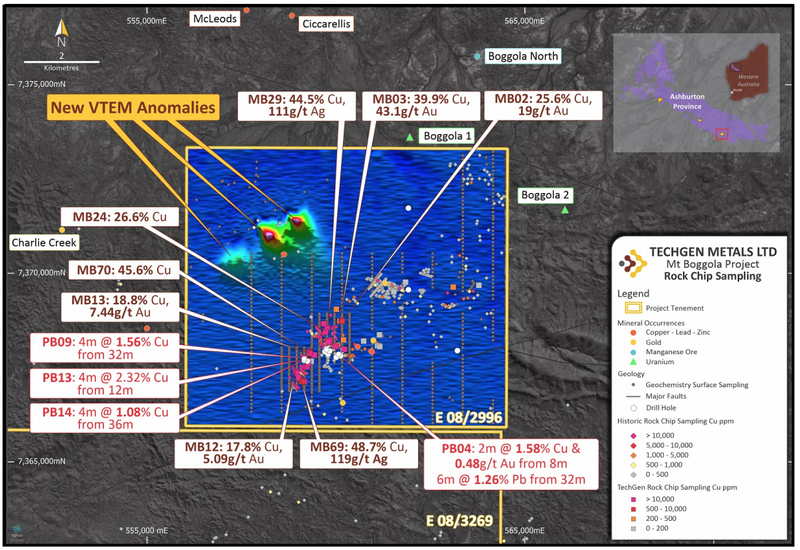 Mt Boggola Project - airborne VTEM anomalies and other prospect areas
RC and diamond drilling is set to commence over the coming months at both Mt Boggola and at Blue Rock Valley — we are looking forward to seeing what results TG1 can deliver.
Heritage access surveys are now being planned ahead of RC and diamond drilling at both projects, which we expect should happen before the end of the year.
TG1's Ida Valley Gold Project
TG1 last week completed stage 2 RC drilling at its WA gold project — the Ida Valley Gold Project.
TG1's project, including 30km of prospective strike extent, is located in the Yilgarn Craton, a highly prospective gold region that hosts several multi million ounce gold discoveries. TG1's project sits within 100km of a lot of them.
This second stage RC drilling program was designed to follow-up on its gold "discovery' as announced in June. The maiden discovery drill results included a 4g/t gold result.
We reported on that discovery in June, which included TG1 confirming the presence of a new gold mineralised greenstone belt.
The assay results from this latest round of drilling are still a couple of months away, but the company says "the geology encountered is highly encouraging". We are looking forward to seeing what those assay results deliver.
Ida Valley Gold Project Milestones
✅ 1,000m RC Drilling Commenced
✅ RC Drilling Complete
✅ Soil Sampling Complete
🟩 RC Assay Results 1
🟨 RC Assay Results 2
✅ Soil Sampling Assay Results
✅ Follow-up RC Drilling Complete
🔄 Follow-up RC Assay Results
TG1 Investment Milestones
When it comes to our exploration investments, we typically look to take some profit in the lead up to drilling in order to protect against the downside while still holding a significant position for the drilling results.
✅ Initial Investment @ 20¢ (months before key drilling event)
🔲 Increase Investment
🔲 Price increases 250% from initial entry
🔲 Price increases 500% from initial entry
🔲 Price increases 1,000% from initial entry
🔲 Free Carry
🔲 Take Some Profit
🔲 Hold position for key drilling event
🔲 Decide New Investment Plan after results of key drilling event
---