Microcap stock TG1 is drilling for gold in a few weeks
Disclosure: S3 Consortium Pty Ltd (The Company) and Associated Entities own 2,331,081 TG1 shares. The Company has been engaged by TG1 to share our commentary on the progress of our Investment in TG1 over time.
The gold price is trading near its all time highs against the US dollar.
Yesterday gold hit a new all-time high against the Australian dollar at A$3,035 per ounce.
Despite record breaking gold prices, the share prices for micro/small cap gold companies have all been trending lower - many trading near their all time lows.
For small cap investors, gold simply remains out of favour, for now...
Major gold producers are taking the current disconnect between gold prices and share prices as a chance to make acquisitions and consolidate their positions in the industry.
On that front, just yesterday Newmont upped its bid to US$25BN for ASX-listed Newcrest Mining in a merger that would create the world's biggest gold miner.
Over the decades we have been investing, when markets are showing this type of disconnect, the highest reward opportunities are often found in junior explorers.
Junior explorers offer leverage to new discoveries which can re-rate the company AND at times they can be the most unloved - offering leverage to a change in broader sentiment as well.
Improving sentiment in small cap gold companies and positive macro news aligning with discoveries (or growth in existing discoveries) - is when companies often re-rate the strongest.
One of the explorers we hold in our Portfolio with this two pronged exposure to a resurgence in the gold sector is Techgen Metals (ASX:TG1).
TG1 is a tiny company, leveraged to the growth of a gold discovery that it made last year, where it hit multiple gold intercepts grading as high as 13/08 g/t, as well as one 94m intercept of gold grading 0.95g/t.
TG1 has a market cap of just $4.2M, and had $1.7M in cash (at 31 Dec 2022), equating to an enterprise value of just $2.5M.
TG1 is now less than a month away from again drilling its NSW gold project in an untested area, potentially extending the gold discovery.
We expect drilling to kick off early next month.
Yesterday, TG1 set the scene for the drill program - announcing soil samples with gold grades of up to ~10g/t to the north of the discovery it made last year.
So far the project has seen only seven RC drillholes over its entire history - all from TG1's drilling program last year.
All seven of TG1's drillholes hit gold with the biggest hit from that program being a 94m intercept with gold grades of 0.95g/t.
With permits in place and a drill rig booked, TG1 plans to drill three holes in the coming weeks: Two RC holes and one diamond drill hole.
We will get a closer look at the March 31st cash balance in the coming weeks, but given TG1 did not do any drilling in the first quarter, we still think it has enough cash to fund its upcoming drill campaign.
Below are the zones to the north and south that have seen no drilling (circled in red) as well as where TG1 has drilled (circled in black).
In short, TG1 has picked up a lot of anomalous gold in soils north and south, but has not drilled deeper - that's what next month's drilling campaign is all about testing.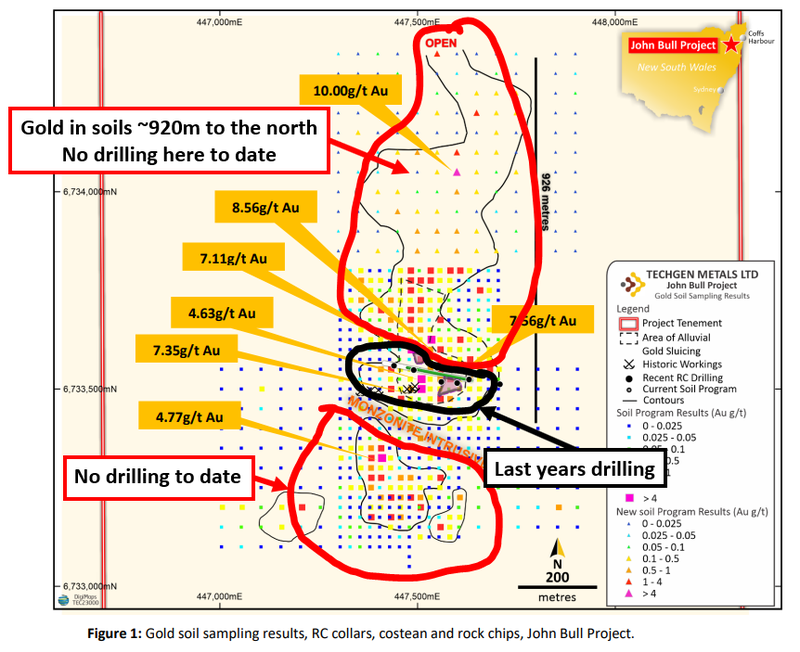 Our TG1 site visit
We had the opportunity to visit the TG1 NSW gold project (the John Bull project) in July last year.
Before the ground was acquired by TG1, John Bull was an old mine, where rudimentary mining and sluicing techniques were used in the late 1880s to get the shallow, near surface gold.
We walked through the old trench with TG1 Managing Director Ashley Hood and visited some of the old mine shafts in the area.
We also watched the rig contractors closely as they drilled the first ever hole in the project.
It was interesting to watch the geos at work, meticulously logging metre by metre the drill results and looking out for geological indications of gold.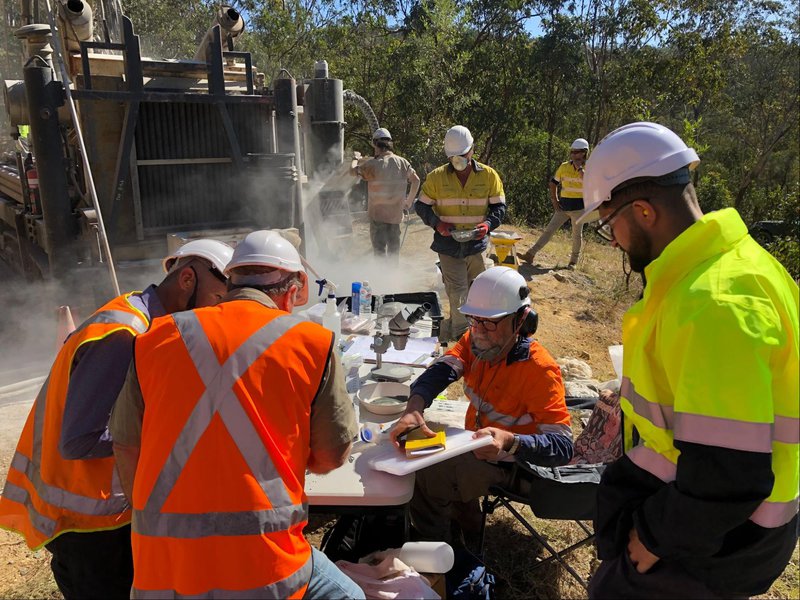 TG1's exploration last year was the first ever drilling on the project - in which it successfully intercepted gold.
Now TG1 is set for round two of drilling.
Does TG1 have an Intrusion Related Gold System on its hands?
Late last year, following some petrology analysis, TG1 modelled a theory that its project was hosted by an intrusive related gold system.
At a high level, this means TG1 suspects that the gold mineralisation found last year could be sourced from a larger host structure.
If TG1 can prove this via continued drilling, we would reasonably expect a large re-rate in the TG1 share price from its current sub $5M market cap.
The image below shows how this would look.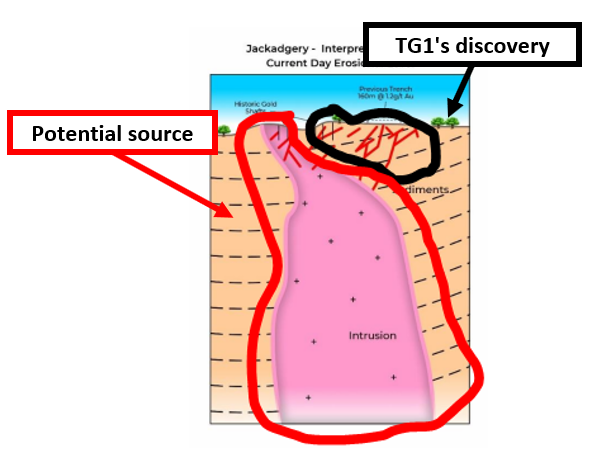 The gold that TG1 discovered last year is circled in black above, and in its upcoming drill program, TG1 will primarily look to test its intrusive theory.
If the theory is proven correct, TG1's project has serious size/scale potential.
Drilling is scheduled for next month, meaning we should soon get a better understanding of whether TG1's theory could eventually prove correct.
know whether the intrusive theory is correct.
Going into the drill program we have set up our Bull, Base, and Bear case expectations as follows:
Bull case = TG1 proves continuity in its discovery to the north/south or at depth with intercepts >10m and gold grades over 1g/t.
Base case = TG1 proves continuity in its discovery to the north/south or at depth with intercepts <10m and gold grades over 1g/t.
Bear case = TG1 hits no significant mineralisation to the north/south or at depth of its discovery.
All of this informs our "Big Bet" for TG1 which is as follows:
Our TG1 Big Bet
"That TG1 will return 10x by discovering and defining a significant enough deposit to move into development studies for one of its projects."
NOTE: our "Big Bet" is what we HOPE the ultimate success scenario looks like for this particular Investment over the long term (3+ years). There is a lot of work to be done, many risks involved - just some of which we list in our TG1 Investment Memo. Success will require a significant amount of luck. There is no guarantee that our Big Bet will ever come true.
To monitor TG1's progress since we first Invested and how the company is performing relative to our "Big Bet", we maintain the following TG1 Progress Tracker: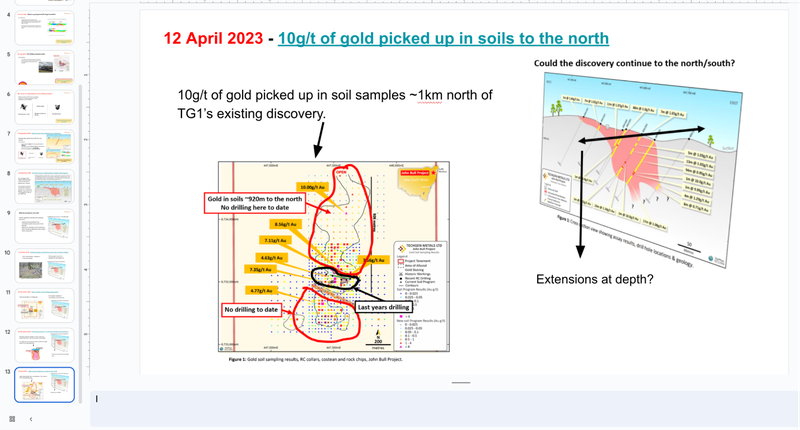 More on TG1's gold project
TG1 bought the John Bull project early last year, which at the time had never been drilled.
The previous owners had done some surface trenching, returning gold grades of 1.2g/t over 160m, and rock chips in the area had returned gold grades up to 17.9g/t.
Those results had not been followed up on because the previous owners, ASX-listed Zenith Minerals were pivoting to focus on lithium exploration at that time.
This is where TG1 took over and ran a 7 hole RC drilling program.
In September last year, TG1 declared a new gold discovery after hitting multiple intercepts grading as high as 13.08g/t.
In one drillhole the company hit over 94m of gold at 0.95g/t gold.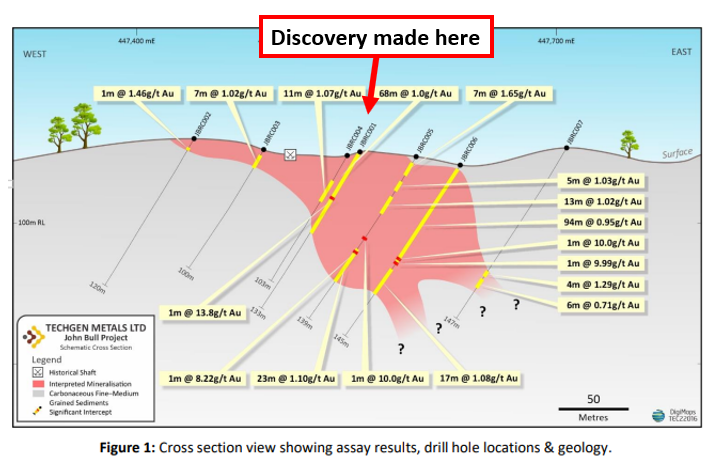 As soon as the assays came back, TG1 kicked off multiple rounds of geochemistry work that mostly focused on the project's northern area.
That geochem work delivered gold in soils with peak grades of up to ~8.56g/t immediately north of the new discovery.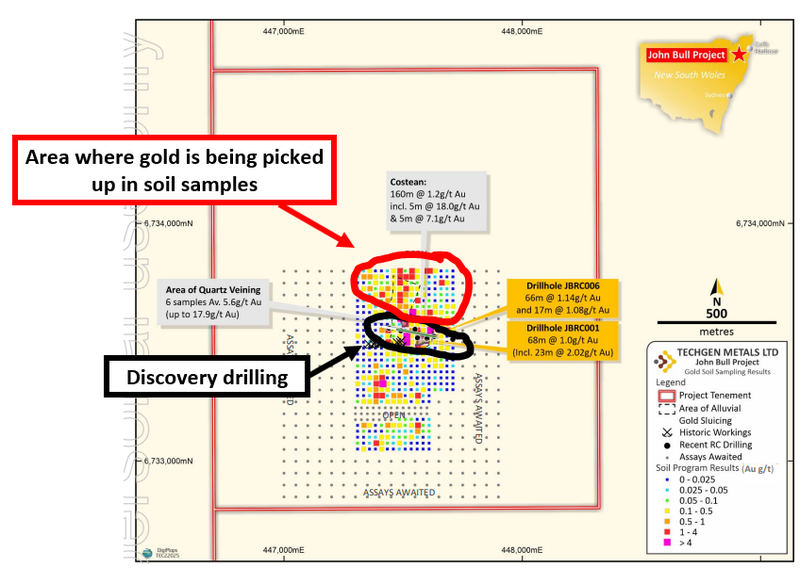 TG1 then ran some petrology analysis, confirming its gold mineralisation may be representative of an intrusive related gold system.
As mentioned earlier, TG1 suspects that there may be a larger source to its discovery.
It's a theory that still needs to be drill tested - a major focus for the upcoming drill program.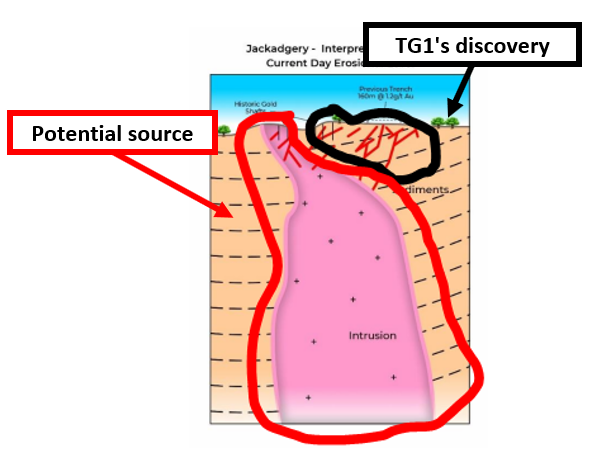 TG1 subsequently did more soil sampling further north, releasing these results yesterday.
TG1 picked up gold in soil samples grading up to 10g/t ~1km north of its discovery drillholes.
TG1 can now drill to test for extensions to its discovery to the north, south, and at depth.
None of these areas have been drilled before, and this is what TG1's drill program in May will be testing.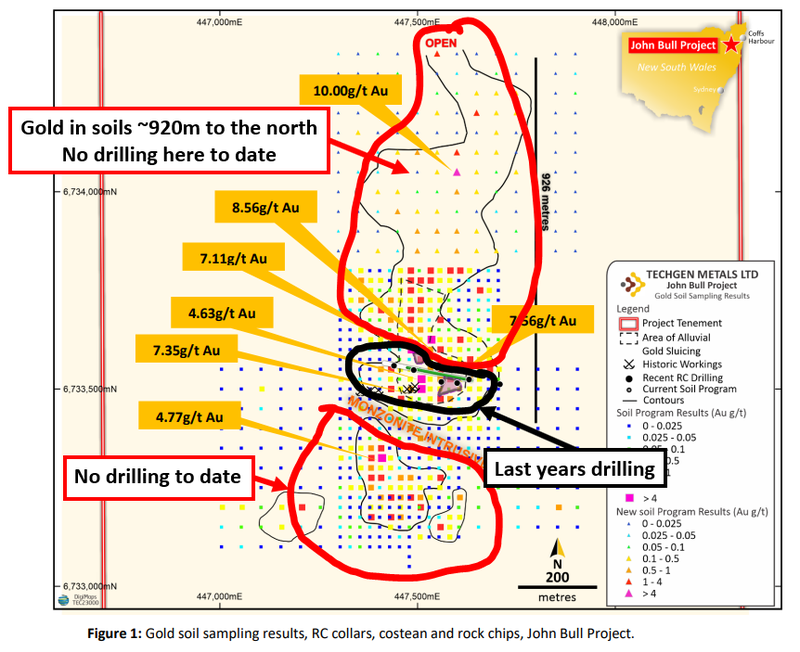 A quick look at TG1's other projects
While the short term focus is on TG1's gold project in NSW, it also has joint ventures with Rio Tinto and IGO Ltd across two nickel-copper-PGE and gold projects in WA.
TG1 is free carried for exploration of both projects, meaning it doesn't need to contribute any capital in the short term and retains a share in the exploration upside.
TG1 also holds other 100% owned nickel-copper-PGE projects that it could drill, but a lot of these are still relatively early stage.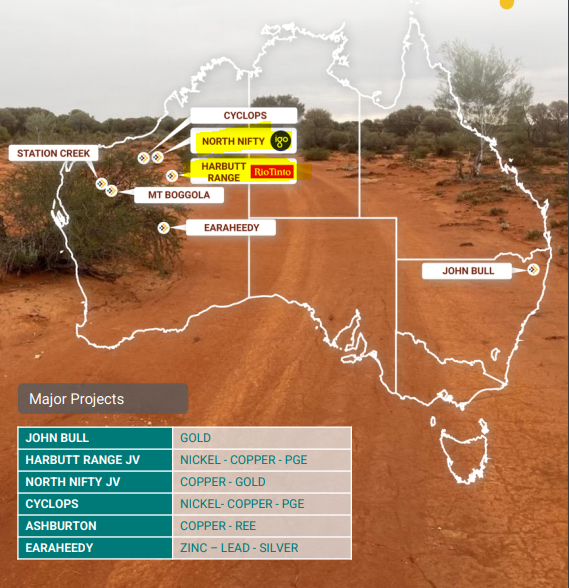 With TG1 trading at an enterprise value of ~$2.5M, these other projects are effectively being priced at nothing by the market, yet they offer the potential for even more unexpected good news.
We see it all as free options on discoveries — in the event anything material is delivered the company's share price has room to re-rate significantly.
At the same time, we note that TG1 does have a lot of projects on its plate and it can be difficult for investors to follow them all.
The positives of having this many projects on the go is that TG1 could deliver unexpected positive news any time, which would catch the attention of new investors. And with such a low market valuation, this has potential to sharply re-rate the company's share price.
As investors we are most interested in those that have planned near term drilling as these have the biggest potential to re-rate TG1's share price.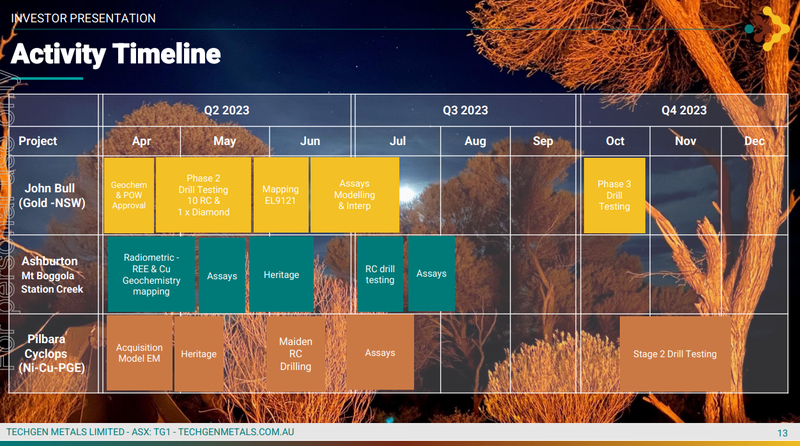 NSW gold project (John Bull) - TG1 is preparing for drilling in May.
WA nickel-copper-PGE (Cyclops) - TG1 has three high priority EM targets ready to drill. The next phase of works will involve permitting, in the lead up to a drill program.
Ashburton Basin Copper projects, WA - TG1 is focused on target generation works focused on copper/rare earths.
Our TG1 Investment Memo:
Below is TG1 Investment Memo, where you can find a short, high level summary of our reasons for Investing.
In our TG1 Investment Memo, you'll find:
Key objectives for TG1 for the coming year - starting from May 2022
Why we are Invested in TG1
What the key risks to our investment thesis are
Our investment plan
With TG1's second round of drilling at its NSW gold project just weeks away we will be launching our second TG1 Investment Memo in the coming weeks.
---