Last weeks site visit - drill results expected in weeks...
Disclosure: S3 Consortium Pty Ltd (The Company) and Associated Entities own 2,331,081 TG1 shares. The Company has been engaged by TG1 to share our commentary on the progress of our Investment in TG1 over time.
We sent one of our analysts up to northern New South Wales to get on the ground and get the scoop from our gold exploration Investment, TechGen Metals (ASX:TG1).
TG1 is in our Catalyst Hunter Portfolio and drilling is underway right now.
Last year assays took roughly 3-4 weeks from start of drilling to results.
So we expect the results from current drilling in the next ~4 weeks.
This could be the big catalyst for TG1 if they confirm more high grade gold mineralisation and extend the existing drill tested strike of ~250m.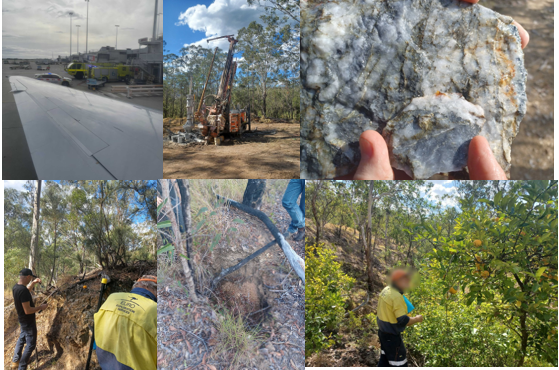 TG1 is drilling for gold at its John Bull project. Last year, the company confirmed a gold discovery with some big hits.
We thought the results from that first pass of drilling were very encouraging, with hopefully more thick, high grade results to come from its step out drilling in its current campaign.
TG1 has a theory that the source of the shallow gold it has already found could be related to an Intrusion Related Gold System.
TG1 could be just hitting the tip of this much larger and deeper system - kind of like the tip of an iceberg, but made of gold.
We named it "the Goldberg".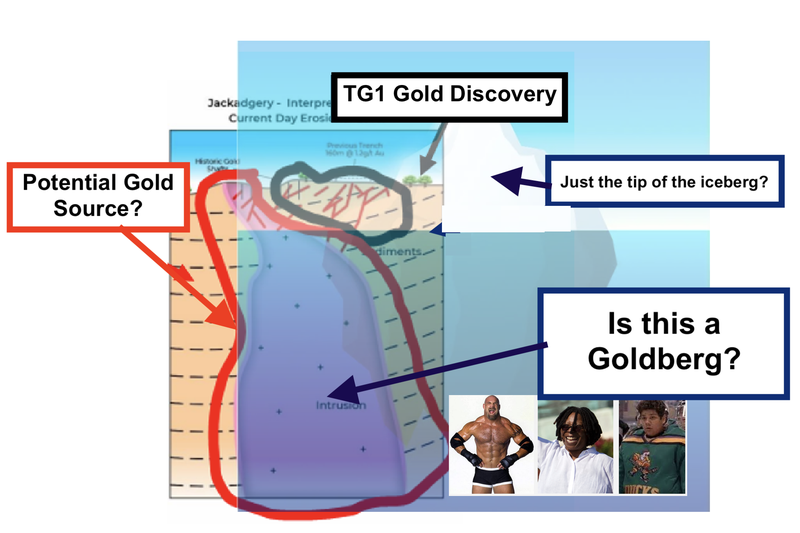 With the gold macro theme gathering pace, here's our analyst's account of last week's trip...
Remember early stage exploration is very risky and many things can go wrong - investors should only invest what they can afford to lose, and always seek financial advice from a professional.
For more about the risks for TG1 see the risks section in our Investment Memo.
So the plane might have almost crashed on the way to Coffs Harbour.
It got halfway there and turned back to Melbourne due to an emergency - we were greeted by firefighters and paramedics at the gate.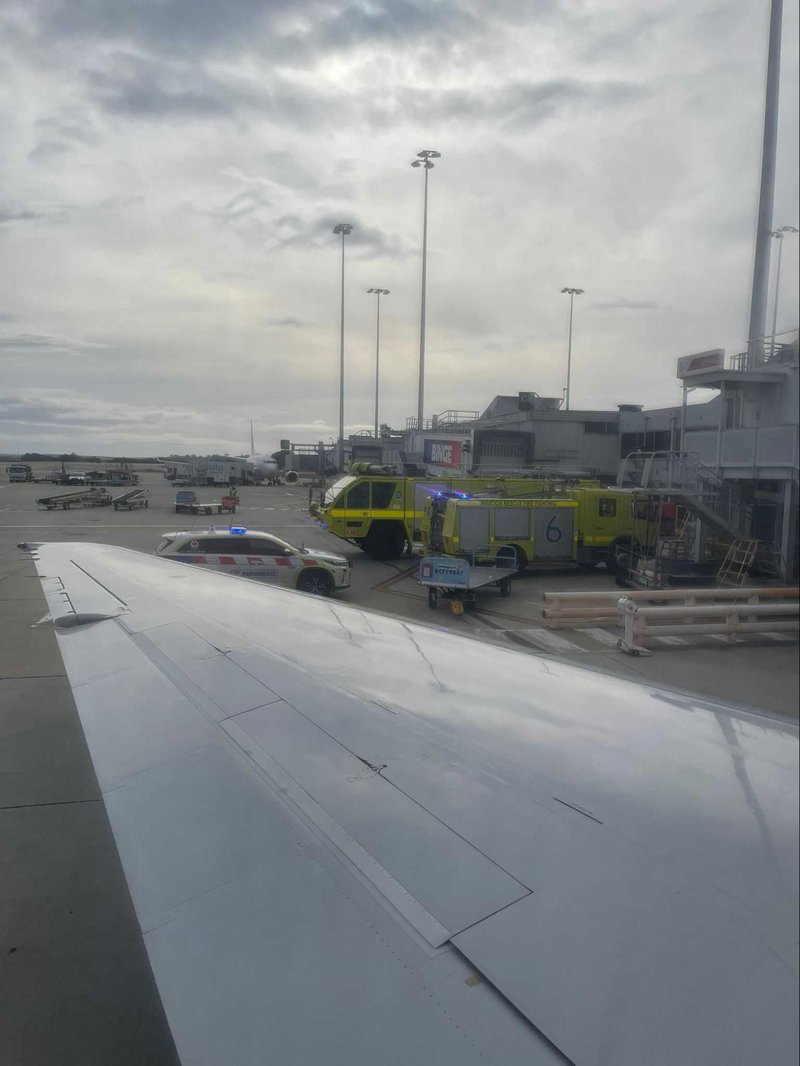 My first plane trip that didn't actually make it to its destination was quite the unnecessary thrill.
The second attempt went a bit more smoothly and I landed in the beach town.
I jump in the first cab off the rank and start spinning a yarn with the local cabby.
The cabby taking me from the airport drives like a lunatic, but you'd have to be crazy to buy Galaxy Resources at 50c eight years ago.
The cabby took the punt on the "penny dreadful" and now says he just drives for fun.
Maybe a bit too much fun.
Fear and adrenaline spike through my veins as he takes corners like an inebriated version of Dale Earnhardt Jr.
By the way, Galaxy Resources merged with Orocobre to form Allkem and is in the process of a $15BN merger with Livent to form a US-listed lithium behemoth.
The cabby knows all about it - lithium is off to the races just like he is.
With some sleep in the tank, Ashley (Ash) Hood the Managing Director of TG1 and Andrew Jones the Executive Director of TG1 pick me up in the morning and we head out into the countryside to scope the John Bull gold project about an hour out of Coffs Harbour.
We stop for a coffee and I spot a lone magpie giving us a firm stare.
An omen perhaps.
As we all know magpies love shiny objects - maybe when it comes to gold, us humans are just as excitable as these birds I wonder?
Gold price is sitting at nearly two thousand US dollars, I mention to Ash.
And doesn't he know it - however the gold juniors haven't moved yet - even when Australia's biggest gold company, Newcrest, is in the process of getting swallowed up by US giant Newmont.
Warren Buffet's sidekick Charlie Munger says gold isn't a "civilised" investment - oh the irony!
Maybe Munger missed the history lesson. Rome through to Nixon, it was arguably the bedrock of civilisation.
Maybe still is to some.
Musings aside, Ash's enthusiasm is palpable when he gets talking about John Bull - something I immediately noticed.
The drive through the windy roads out past Grafton is idyllic and Ash points out a local industrial site roughly 15kms from the project which could be a perfect place to set up a processing facility for any potential John Bull gold ore.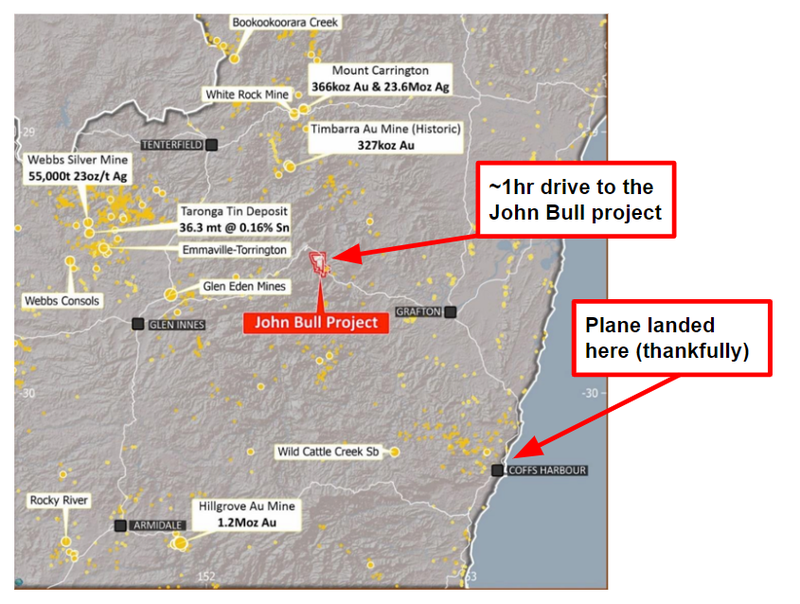 As TG1 firms up how much gold mineralisation the company has - this industrial site will quickly grow in importance, and this drilling would mark a major step towards making that processing facility a reality.
It'd be great if those assays in the next few weeks come in with good results, I think.
We get to the property and go up to meet the local farmers whose property the John Bull project sits on.
They're very welcoming, and they live in a converted church.
A couple friendly dogs circle around seeking attention as the party exchanges introductions and pleasantries.
But we're on a mission to see the project - so we head off down the track.
In tow is the aptly named Rocky, one of the exploration hands and an old-timer we'll call "C".
"C" doesn't want any public profile from a city slicker type like me, but when you hear him talk, you can get the sense this man has a deep knowledge of exploration and probably about 40 years of experience to back it up.
First stop is the drill site where TG1 is drilling the first hole of its second campaign - Ash explains that it's not operating right now.
So no action shots of drilling, but here's the rig in all its glory against the backdrop of the pristine northern NSW sky: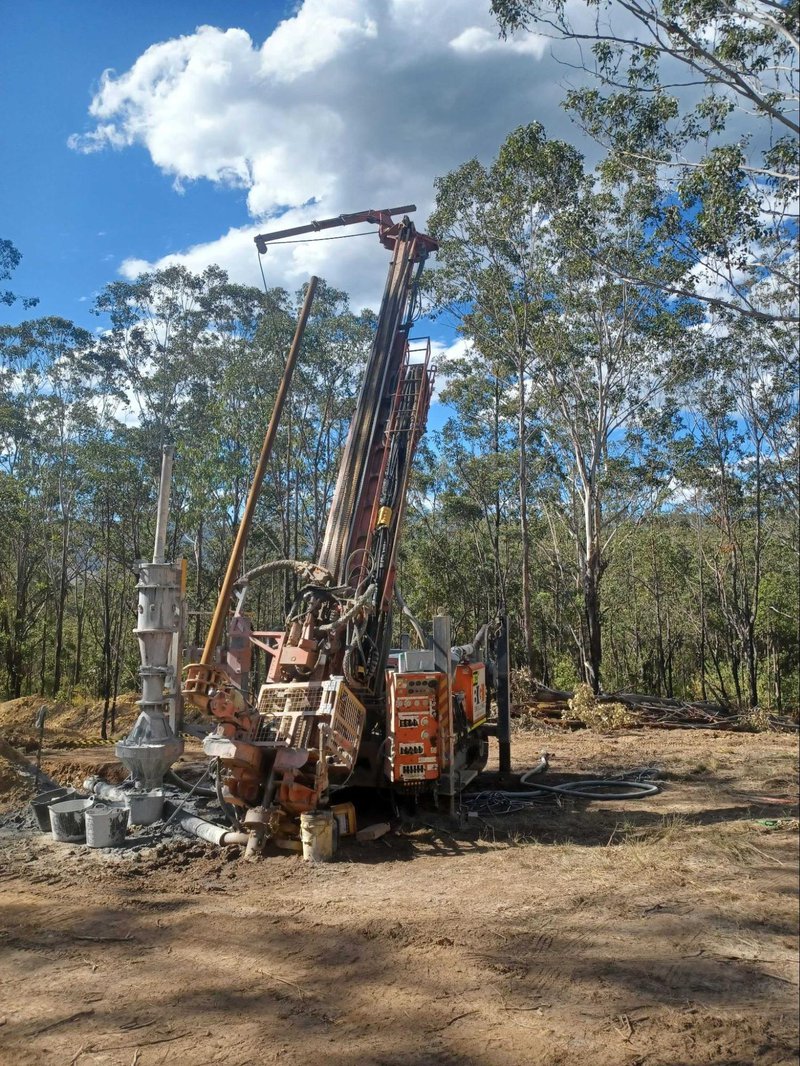 Next we examine some of the rock chips coming out of the RC drill rig.
Mostly brecciated shale "C" says - but what Ash and C say they are really interested in is the layered quartz veins that the drilling has been designed to cut across.
Go between the veins and you get worse results. Cut across the veins and you get more of the magic shiny metal - quartz veins are often associated with gold mineralisation.
Here's a glimpse of what a big chunk of quartz from site looks like: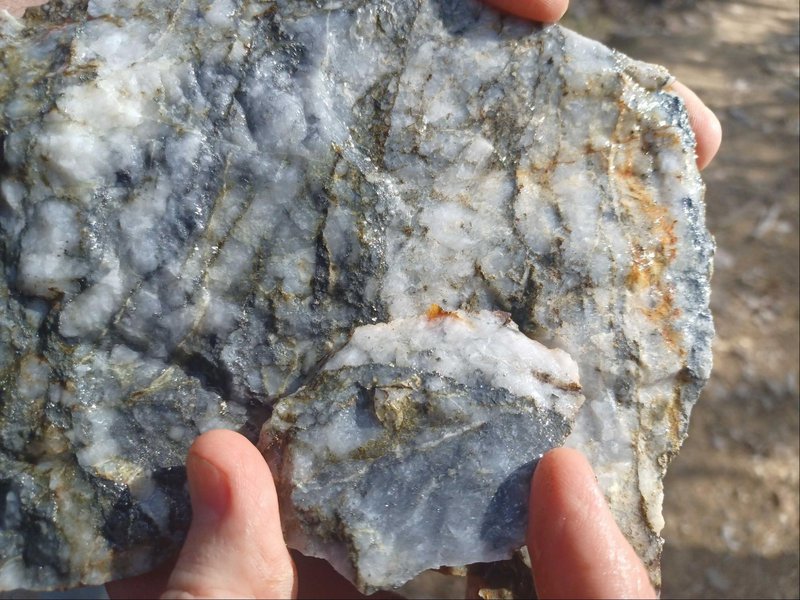 There is quartz at surface almost everywhere we go.
Little specs of pyrite glisten in the sun - fool's gold.
This is actually a good thing as it can signal there is gold mineralisation there:
"In calcite and quartz veins, pyrite oxidises to iron oxides or hydroxides such as limonite, an indicator that there is pyrite in the underlying rock. Such oxidized zones are called "gossan," which appears as rusty zones at the surface. Gossans can be good drilling targets for gold and other precious or base metals."
"C" explains that fools gold is actually a major positive when looking for actual gold.
Meanwhile, all I can think of is the funky bass line in the Stone Roses track.
TG1 has already shown that these stacked quartz veins host gold on the central part of the project.
TG1's working theory now is that there are more quartz veins to the north and (we hope) a large monzonite hosted intrusive related gold system to the south - the "Goldberg".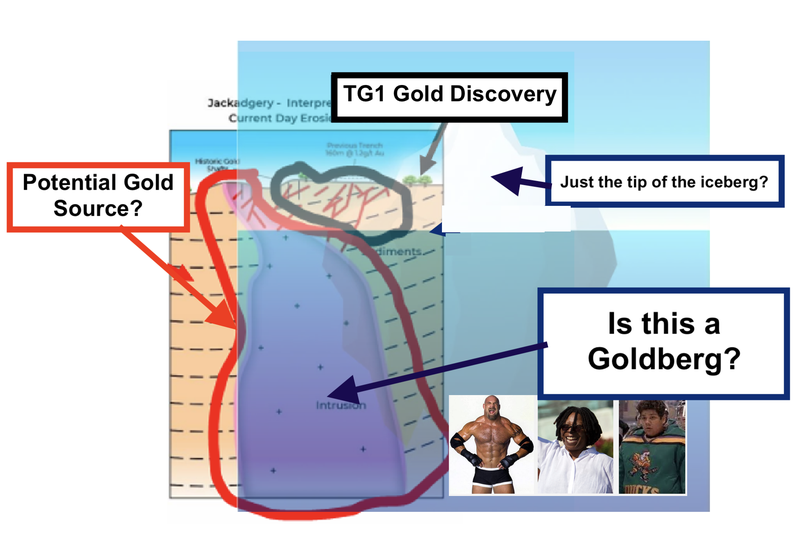 Monzonite is an igneous intrusive rock, formed by slow cooling of underground magma.
Monzonite is rich in quartz and feldspar. These minerals are both good at trapping gold, and they can also help to concentrate gold deposits...
This means that if you find monzonite, there is a good chance that you could also find gold nearby.
It looks like this: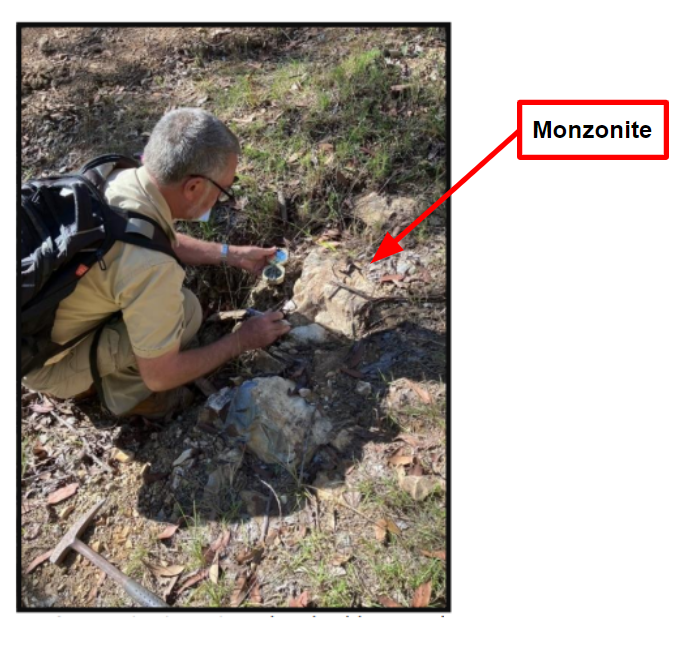 We look at maps and drill plans - I find myself always trying to figure out which direction is north and south as I take notes.
Because we know that the mineralisation appears to move in those directions.
I'm really curious to see the southern end of the project where the monzonite is found.
Below is the map of the John Bull soil sampling:
We frequently refer to this map on the journey - Ash explains how getting this kind of density of high grade soil samples is virtually unheard of in WA - where people get excited when you start talking about parts per million (ppm) results, to say nothing of up to 10g/tonne in this program.
Some notes on the topography of the project and its amenability to a potential mine:
Undulating hills that are easily traversable by car
Mountains to the south (good thing the gold's not up there)
Bush is relatively dense but not so dense you need to hack through it
There's history at the John Bull project too - people have been in the area since the late 1800s digging shafts, explorers came back in the 1940s to do sluicing and there was a third crack with trenches in the 1980s.
So this is the fourth wave of gold exploration in the area - but the first with a drill bit.
Maybe there's an ocean of gold down there, or even a "Goldberg"?
When life gives you lemons...
We start moving south through the bush to what Ash is really enthused about - a zone of monzonite where a big potential intrusion lies.
Along the way we encounter something that looks entirely out of place - a grove of lemon trees.
"C" explains that he's seen lemon trees at other gold deposits before - its a sign of past human activity in the area and he goes to grab a tart snack: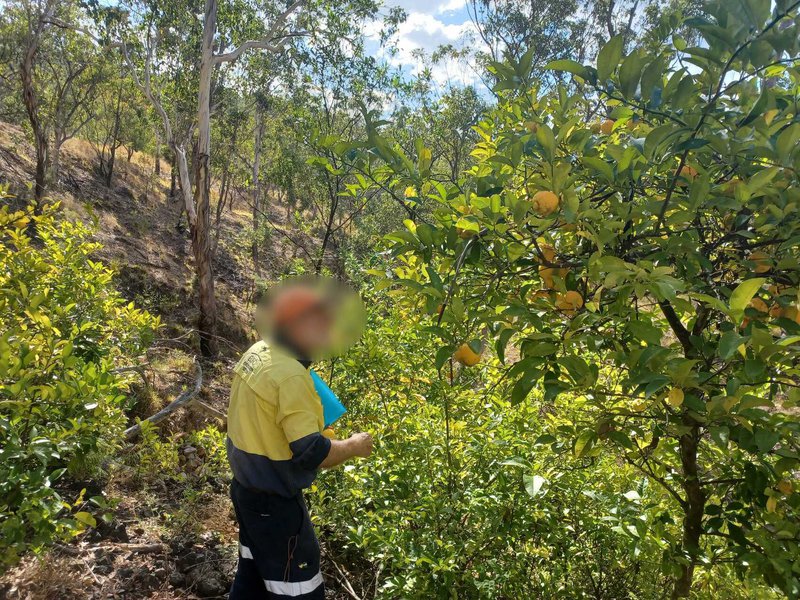 Ash is tucking into a sandwich in the background.
I turn to Ash and say, "When life gives you lemons, start digging."
Ash almost spits out his lunch in a minor fit of hysterics.
Just as pyrite is actually a good thing when it comes to finding gold - lemons are also a big positive.
It's funny how perceptions of what's good and bad get twisted up by language...
As we head in the direction of the monzonite zone, "C" starts talking about how a lot of exploration work from fancy computers just doesn't stack up with actual work on the ground - the answers are in the field.
I'm a desk bound computer jockey most days - it feels good being out here getting little nuggets of wisdom from "C" and soaking up the real world.
What's to the south?
Ash and Andrew say they really want to show me what the ground looks like to the south because they are working on a theory that there is a large monzonite intrusive system there (read TG1 latest announcement on the monzonite intrusive here).
Ah yes, the thing we are calling a potential "Goldberg" - a silly portmanteau of ours from our last TG1 note.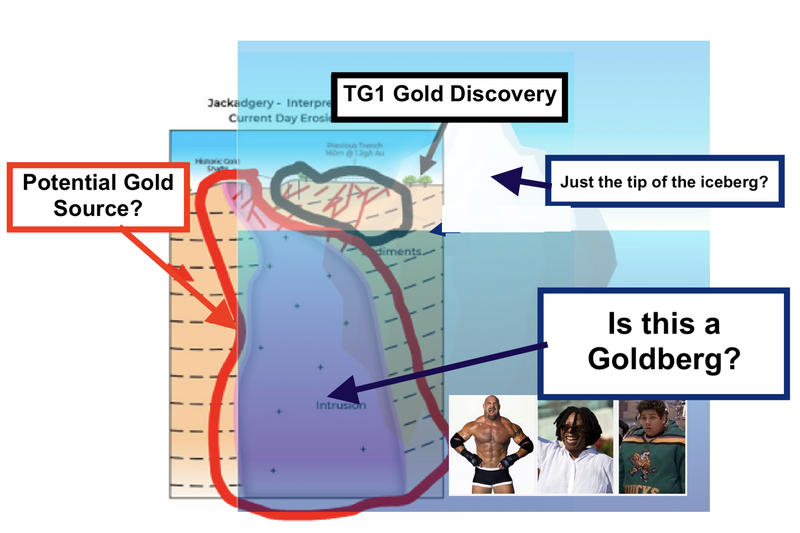 But this is no joke - if that monzonite intrusive is mineralised, then TG1 could be onto something big.
The soil samples point to this being a chance, and sure enough, you can see the surface of the ground change as we head south.
TG1 recently found a new shaft to the south which we are about to go see.
We stop at the John Bull shaft first though, to see what the project is named for.
Note the important presence of a lemon in the centre of the picture (John Bull shaft is to the right, behind "C"):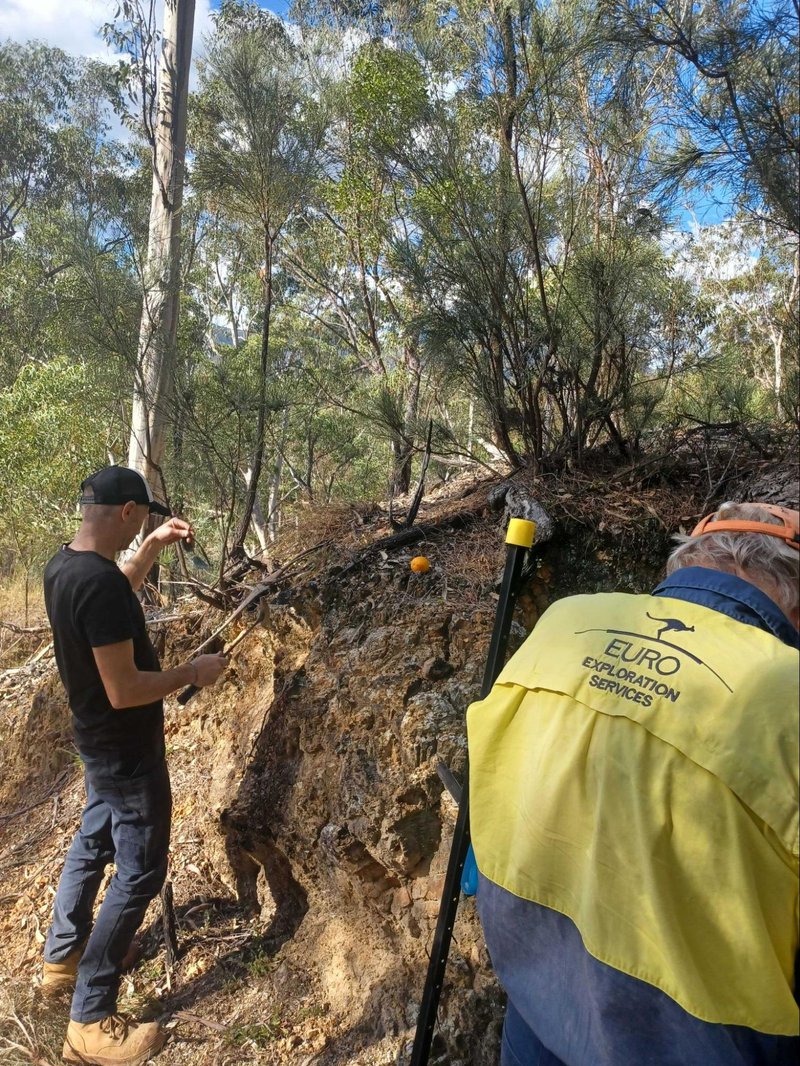 Another good omen if there ever was one.
We eventually get to the newly found shaft to the south - Ash explains that this was a strange one because it's in monzonite territory.
It may not look like much, but in context it's actually quite significant: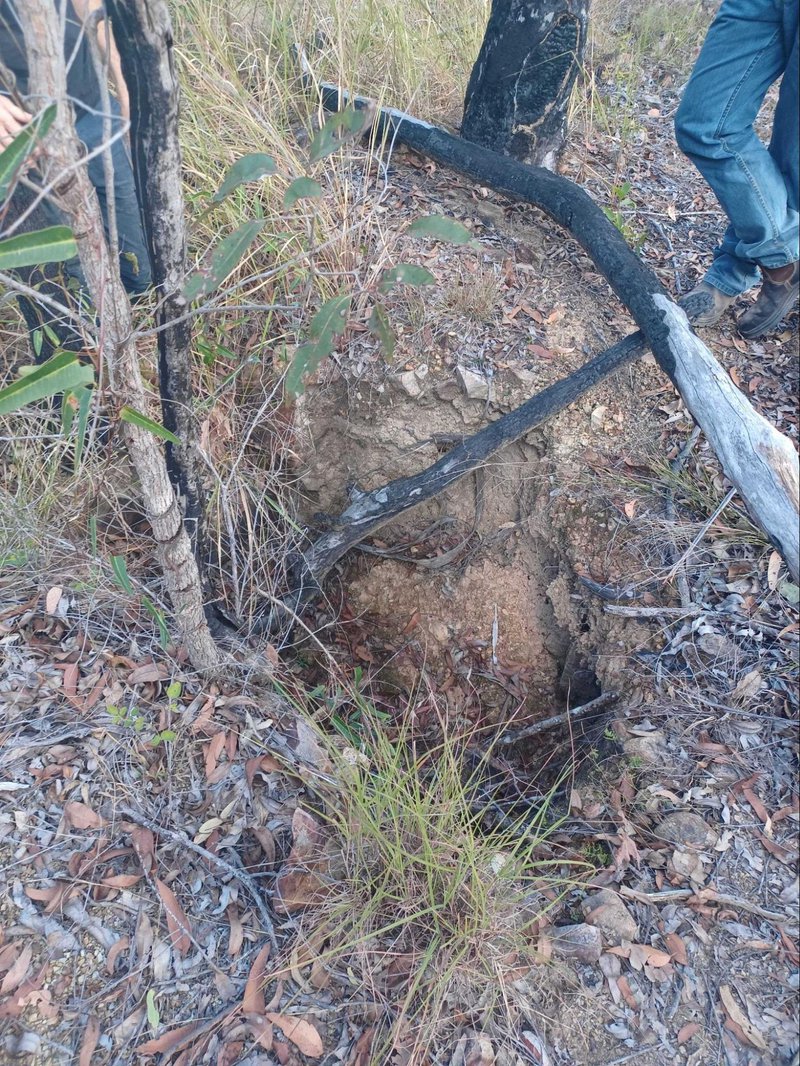 TG1 were unsure if the monzonite was mineralised but this shaft is a mystery - why would the old prospectors be putting shafts in here if there wasn't gold in this zone?
According to Ash, after hitting high grade gold in September of last year, the plan was always to drill step out holes quickly.
Figure out the extent of the mineralisation as soon as possible.
There's a chance one of the drill holes in the south may clip the edge of the monzonite intrusive: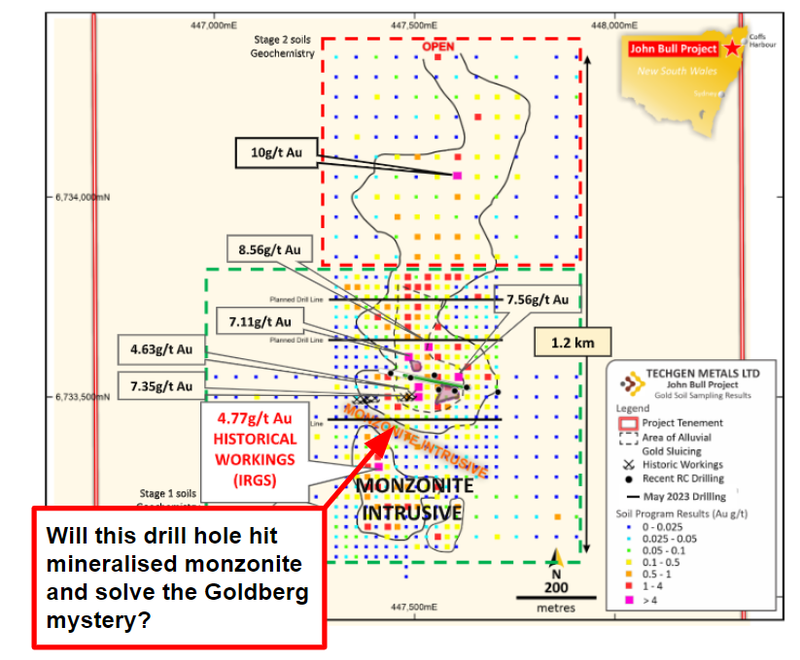 TG1 has lodged additional applications for a stage three drilling program, to follow up on anything promising they might find in this round of drilling.
It's the great "Goldberg" mystery and the TG1 sleuths are on the case.
Hopefully drilling into and finding "Goldberg" delivers on our TG1 "Big Bet" which is as follows:
Our TG1 Big Bet
"TG1 will return 10x by discovering and defining a significant enough deposit to move into development studies for one of its projects."
NOTE: our "Big Bet" is what we HOPE the ultimate success scenario looks like for this particular Investment over the long term (3+ years). There is a lot of work to be done, many risks involved - just some of which we list in our TG1 Investment Memo. Success will require a significant amount of luck. There is no guarantee that our Big Bet will ever come true.
Guard of honour
The weather starts to turn and the sun is running out after a few hours scouring the John Bull project, so we pack up and head back the way we came.
A pair of the farmers' horses form a guard of honour at the exit gate to say goodbye to us:

I'm thinking of the one hit wonder, a Q Lazzarus track from Silence of the Lambs.
The eerie song by a taxi cab driver - in the middle of "Goodbye Horses" there's a pause and the singer just croons "I've been there."
Well, I've certainly been there today.
The singer only released two songs...
So here's hoping there's more than a few monster hits in the latest TG1 assays.
A good day in the books, a warm glow of gratitude coursing through my veins and the inkling that something big could be afoot - like for all early stage explorers, we just need the upcoming drill results to agree.
We ride off into the pink and gold sunset...
A special thanks to my TG1 hosts Ashley Hood, Andrew Jones, Rocky and of course "C".
Remember early stage exploration is very risky and many things can go wrong - investors should only invest what they can afford to lose, and always seek financial advice from a professional.
For more about the risks for TG1 see the risks section in our Investment Memo.
Our TG1 Investment Memo:
Below is TG1 Investment Memo, where you can find a short, high level summary of our reasons for Investing.
In our TG1 Investment Memo, you'll find:
Key objectives for TG1 for the coming year
Why we are Invested in TG1
What the key risks to our investment thesis are
Our investment plan
---