High grade gold in TG1's first drillhole AND gold from surface - Hits our Bull Case
Disclosure: S3 Consortium Pty Ltd (The Company) and Associated Entities own 1,250,000 TG1 shares. The Company has been engaged by TG1 to share our commentary on the progress of our Investment in TG1 over time.
We weren't expecting this.
The first ever drillhole in a project's history hits high grade gold.
After 518 days of patiently holding, the exploration gods have finally thrown some luck the way of our tiny microcap exploration Investment TechGen Metals (ASX:TG1).
TG1 has today delivered a 68m intercept of gold mineralisation from surface INCLUDING high grade sections.
TG1 was capped at ~$10M prior to this week's trading halt and only has ~53 million shares on issue. This means it's highly leveraged to any positive exploration news.
After its recent acquisition of a never before drilled NSW gold project, TG1 immediately drilled its targets... and today it struck what might be an entirely NEW gold system.
TG1's intercept measures 68m with an average gold grade of 1g/tonne.
Inside that intercept TG1 also hit 23m at 2.02g/t and peak grades across the intercept of up to 13.8g/t gold.
In addition to the high grades, all of this mineralisation is FROM SURFACE.
This means that the gold is easily accessible and could be amenable to a low cost open pit mine if developed (an open pit is faster to build and cheaper than an underground mine).
So how does today's result stack up against our expectations leading up to drilling?
Here are the expectations that we set back in July: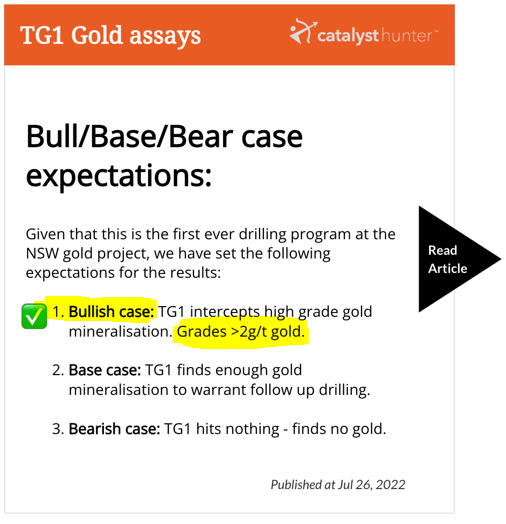 The result sits very firmly inside our "Bullish Case" with grades (including 13.8g/t) clearly exceeding 2g/t across a lengthy intercept thickness of 23m.
The fact that it is all from the surface was an additional pleasant surprise, which we think makes TG1's assay results all the more interesting.
This is the first hole of out of a total of seven, so we have more assays to come as well.
If we continue to see similar intercepts across the remaining holes, we think TG1 could start to re-rate higher.
A share price re-rate obviously depends on how tightly held the shares are and how many holders decide to take a profit if the share price spikes.
With more assay results to come over the coming weeks, we will soon have a better idea whether the system extends along strike to the east and west.
We hope to see the next six assays produce more gold and intercepts similar to those announced today.
First, here is a look at what we know about TG1's gold project after today's assay results, and where it sits, along with the holes with assays still to come.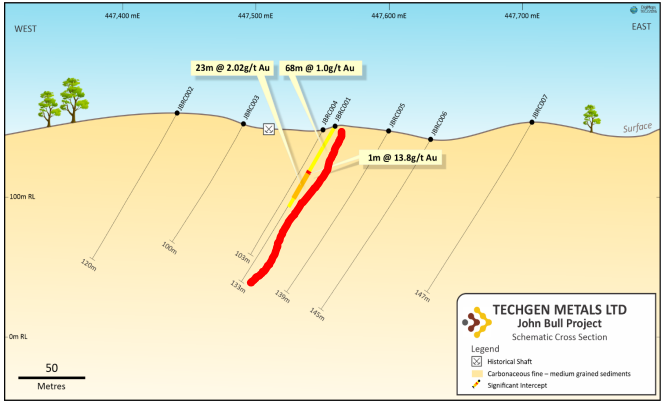 The thin black lines represent drillholes going into the ground.
We have highlighted today's intercept with the red line. The yellow section shows the 1/g per tonne gold result from surface, and the orange section shows the higher grade gold zone.
If the remaining assays can produce similar results to today's, we expect to see the gold system start to take shape over an almost ~350m strike zone.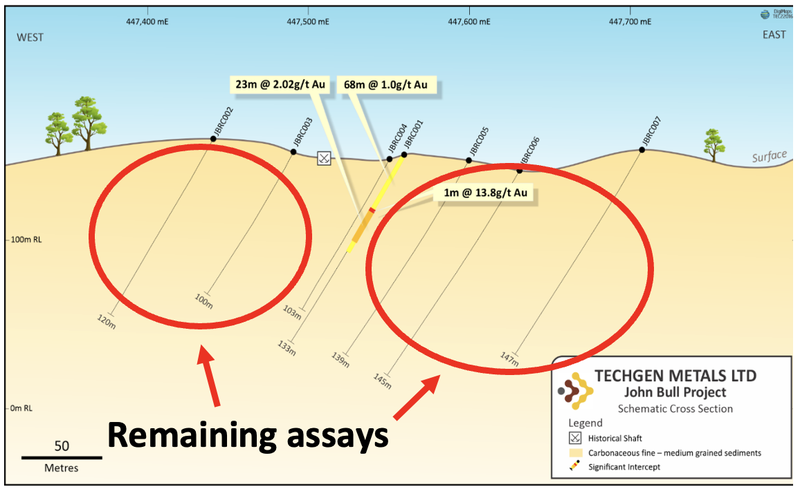 We want to see more assays come back over the next few weeks revealing more "yellow and orange sections" in the nearby drillholes.
We will be tracking TG1's progress as the remaining assays come out in our progress tracking slide deck.
We have started a progress tracker to follow how this new potential gold system develops over time:
Click here to see our TG1 Progress Tracking document.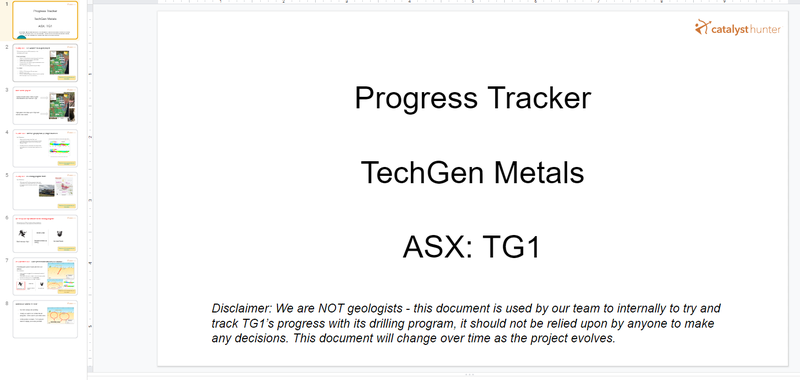 If the assay results are positive, it's highly likely TG1 will want to do more drilling here to test the extent of the gold mineralisation — and this will require a stronger cash balance.
TG1 had $1.9M in cash in the bank at 30 June 2022 and drilling is also planned at two WA copper projects (which we also like the look of - more on those below).
Drilling costs money, and we previously flagged that TG1 will likely need to raise capital at some stage in the coming months to continue exploring and building value for shareholders.
If TG1 continues to hit high grade gold, and get some wins on its WA copper projects, we expect its share price could start to re-rate higher. In this positive case, it would give the company the opportunity to raise capital at a much higher valuation. This also means that long term holders, like ourselves, would be diluted less than if TG1 were to raise capital at a lower price.
Capped at around $10M, with $1.9M in cash in the bank at June 30, TG1 entered a trading halt last week with an enterprise value of ~$8M.
If TG1 can keep delivering positive exploration results, we suspect the market will start to pay more attention to TG1, and while nothing is guaranteed, we hope this result is reflected in the share price.
Some context to TG1's gold project
First some background on TG1's project.
TG1 only recently acquired the project in May of this year. At the time we mentioned that we liked the project for three main reasons.
The project had never been drilled before.
Despite having several owners in the past, no one had ever got a drill rig on site and begun drilling the project. This is relatively uncommon considering how extensively most tenements in gold regions around Australia have been explored.
Its previous owner (ASX-listed Zenith Minerals) turned its attention to lithium, so the project was left undrilled and became a non-core asset to Zenith's lithium aspirations.
This is where TG1 saw the upside and opportunity, picking up the undrilled asset on favourable terms.
Historic working pointed to gold potential.
In the mid-1980s, the then owners of the project (Kennecott and Southern Goldfields) dug a 220m long trench.
In this surface trench they found a mineralised zone measuring 160m with average gold grades of 1.2g/t.
Similar to TG1's assay result today, inside that 160m long area were higher grade intervals measuring 5m at 18g/t of gold and 5m at 7.1g/t of gold.
In addition, the historic work had also found high grade quartz veining over the project area from rock chip sampling programs - returning gold grades as high as 17.9g/t gold.
Quartz veining rock chip and the are where it came from:
Putting aside the historic work that pointed to the project's gold potential, TG1 added modern geophysical testing into the mix.
Large geophysical anomaly right underneath the surface trenches
Following geophysical testing, TG1 found a large geophysical anomaly sitting right underneath the surface trenching and the rock chip samples that were taken from the project.
This gave yet another indication as to the underground gold potential.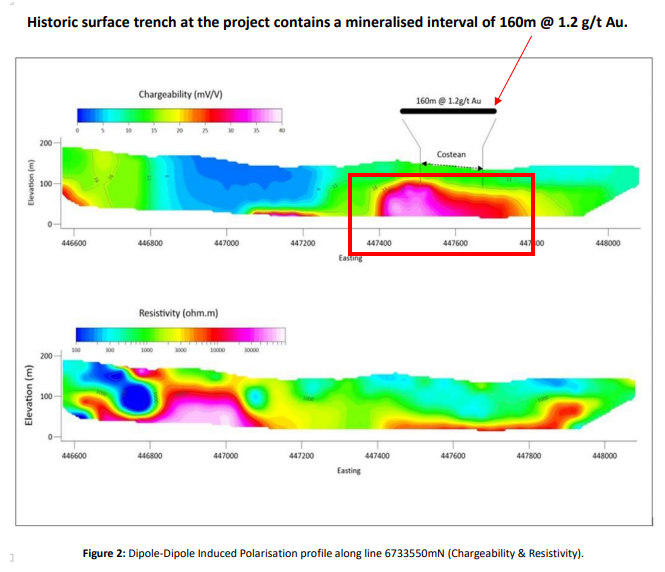 TG1's theory from target generation work from surface and the presence of a geophysical anomaly, was that there was a large body of gold mineralisation below the surface.
With today's assay results, TG1 has proven this theory to be correct.
This being the first hole of a seven drillhole program, we are hoping the remaining assays throw up more of the same and start to show us continuity along this area.
If we see continuity and strong grades across all seven holes then a potential gold system could sit over ~350m of strike.
The image below shows where TG1's intercept sits relative to the background info on the project.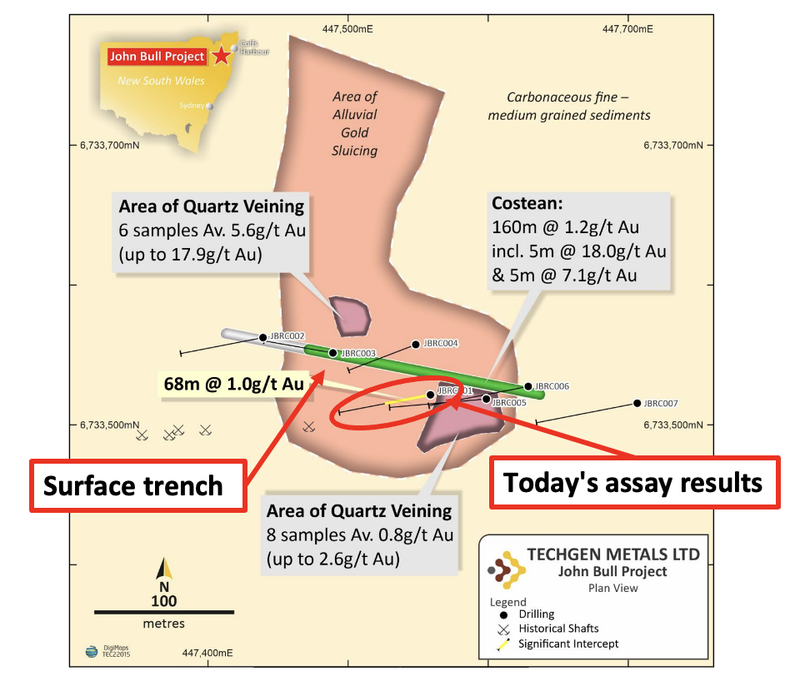 Oh... and TG1 still has two copper drilling programs coming up
This NSW gold drilling was just the first of three drilling programs across TG1's portfolio of projects.
TG1 has plans to drill its two WA copper projects in the coming weeks.
Importantly, just like its NSW gold project, these drill targets have never been drill tested.
Copper in WA - Three distinct EM anomalies sitting adjacent to high grade rock chips grading up to 8.7% copper (Mt Boggola Project)
More copper in WA - Cluster of IP anomalies that sit right underneath high grade rock chips which returned 54.8% copper and 249g/t silver (Station Creek).
These are both scheduled to be drilled this quarter.
Below is a timeline detailing what's planned for TG1 through to the end of the year.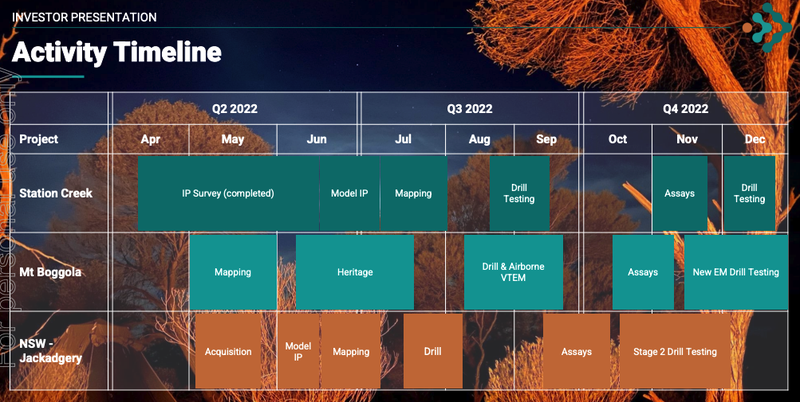 What's next?
Remaining assays from TG1's NSW gold project 🔄
With the first hole confirming high grade gold, we want to see the remaining six drillholes return mineralisation along strike to the east and west.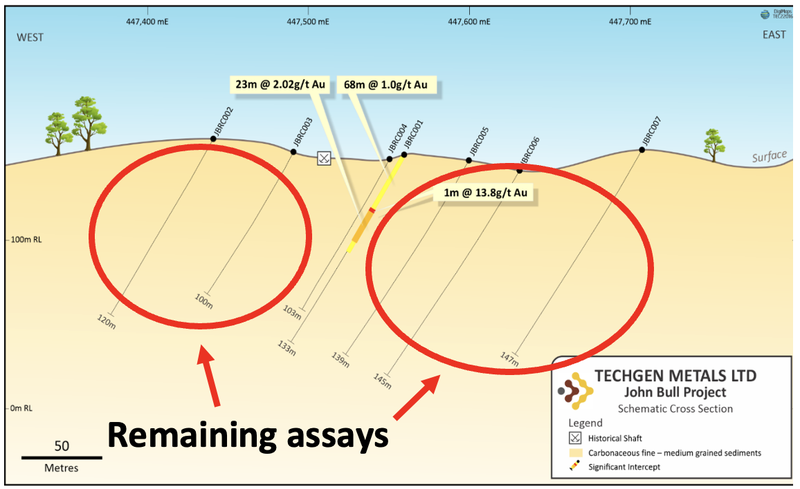 For the remaining assays we maintain our bullish/base/bearish case expectations as follows.
Bullish case = TG1 intercepts high grade gold mineralisation. Grades >2g/t gold.
Base case = TG1 finds enough gold mineralisation to warrant follow up drilling.
Bearish case = TG1 finds no gold.
If TG1 can uncover a gold system with continuity over the ~350m strike shown above, with grades similar to today's, TG1 could start to prove some size/scale at its project.
In any case, we are looking forward to the next batch of assay results.
Drilling Program at TG1's copper/gold projects in WA 🔲
We expect to see the following projects drilled during this quarter.
1) Mt Boggola Project - We want to see TG1 drill a group of three EM targets found during target generation work. The image below shows rock chips from those EM targets that grade as high as 8.7% copper at surface.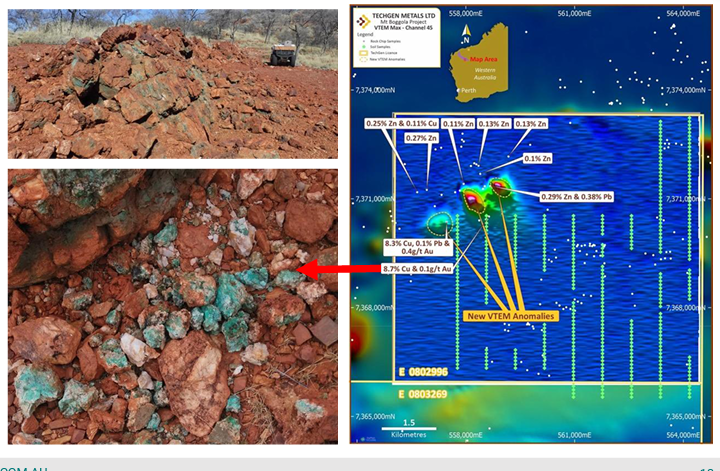 2) Station Creek Project - We want to see TG1 drill a cluster of IP chargeability anomalies that sit right underneath high grade rock chips, which returned 54.8% copper and 249g/t silver.
Below is an image of the rock chips and the massive IP anomalies from the recent surveying work completed on site.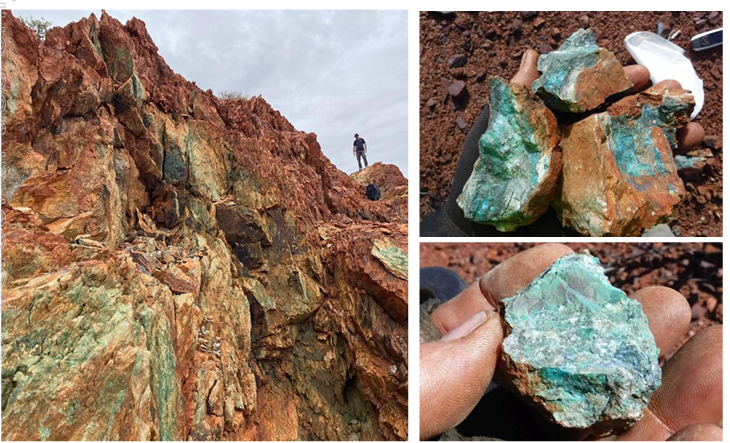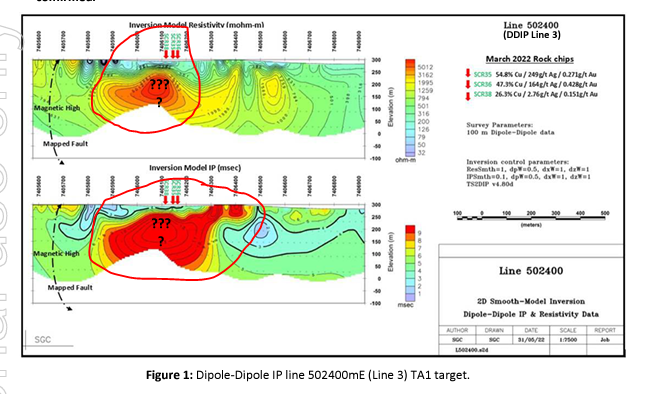 Our TG1 Investment Memo from May 2022
Below is our May 2022 Investment Memo for TG1, where you can find a short, high level summary of our reasons for Investing.
The ultimate purpose of the memo is to record our current thinking as a benchmark to assess the company's performance against our expectations for the following 12 months.
In our TG1 Investment Memo, you'll find:
Key objectives for TG1 for the coming year - starting from May 2022
Why we are Invested in TG1
What the key risks to our investment thesis are
Our investment plan

Disclosure: S3 Consortium Pty Ltd (The Company) and Associated Entities own 1,250,000 TG1 shares. The Company has been engaged by TG1 to share our commentary on the progress of our Investment in TG1 over time.
---