WA halloysite tenements granted - Drilling Plan Now Unlocked
Disclosure: The authors of this article and owners of Catalyst Hunter, S3 Consortium Pty Ltd, and associated entities, own 2,610,000 RAS shares at the time of publication. S3 Consortium Pty Ltd has been engaged by RAS to share our commentary and opinion on the progress of our investment in RAS over time.
We invested in Ragusa Minerals (ASX:RAS) in July this year at 6.5c.
We liked the two new projects it was acquiring, and given the company's tiny market cap, we liked the leverage to a discovery.
Currently RAS is trading at around 8.6c, has a market cap of $10.9M, and had $3.7M cash on hand as of Sept 30.
We still think it is leveraged to a discovery - and it's now a few months more advanced in its exploration plans.
RAS' newly acquired WA halloysite project sits right next door to a 207 Mt JORC resource of kaolinised granite - one of the largest kaolin / halloysite deposits in Australia.
Halloysite is a rare form of kaolin where the mineral naturally occurs as nanotubes - microscopic tubes. The properties of halloysite nanotubes make halloysite-kaolin products ideally suited to a diverse range of specialist applications.
This means that halloysite attracts a significant premium above the average kaolin price.
The halloysite resource next door to RAS' is held by $60M capped Latin Resources, a company we are also invested in, so we know the area well.
Today we got confirmation that both RAS' WA halloysite tenements have been granted - which is a key milestone we had been waiting for, as it allows RAS to plan its maiden drilling campaign.
Latin Resources' deposit is called the "Cloud Nine kaolin-halloysite deposit", and Latin has said this deposit is 'open in all directions' - so we are assuming this mineralisation cloud should extend across to RAS' ground.
Here you can see we have circled the area of interest in blue. Latin's ground is marked in yellow, RAS' ground is in red.
The white dashed line is the mineralisation mapped on Latin's ground.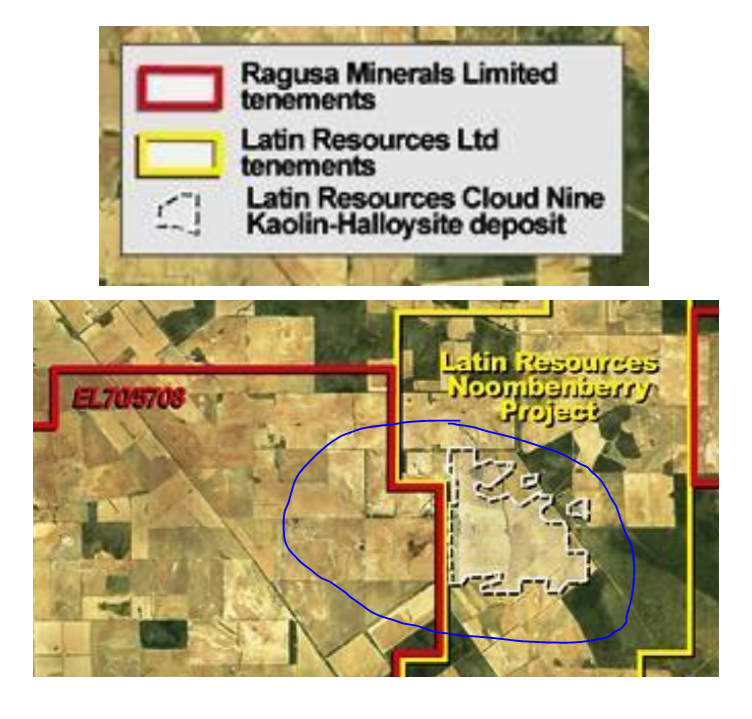 As you can see, given there has been no exploration drilling on RAS' ground so far - the currently defined deposit mysteriously and abruptly ends at the tenement border. We think there is a very good chance the halloysite mineralisation extends into RAS' ground.
The RAS' story
One of the reasons for our investment in RAS was that we thought RAS's market cap was relatively low after it made two potentially transformational acquisitions that we think have upside - a halloysite project in WA and a gold project in Alaska.
RAS also has gold projects in Zimbabwe that it is working on, however that project was not a reason for our investment so we won't be focusing on it.
RAS has been fairly quiet on its new projects since we made our initial investment as the company has been patiently waiting for its WA halloysite tenements to be granted.
Whilst we have been waiting for the WA halloysite tenements to be granted, we were keeping a close eye on activity near RAS' Alaskan gold project - especially the discoveries RAS' neighbour, the $297M capped Nova Minerals was making.
RAS' ground is on the border of Nova Minerals's Alaskan ground.
Nova Minerals recently announced a maiden resource of 1.5 million oz. at the RPM project.
The RPM resource is a new discovery in what looks to be a larger gold district that Nova is unlocking in Alaska. Our initial coverage of this discovery can be read here.
The 1.5 million ounce RPM resource is right at the south of Nova's ground - right next door to RAS' ground.
Off the back of the resource definition announcement, the Nova share price moved from 10c to a high of 20c. The RAS' share price also went on a bit of a run in parallel - it has since come off a bit.
Also in the same region as RAS and Nova is the TSX-V listed, $287M CAD capped GoldMining Inc, who has defined a combined resource of 4.8 million ounces.
The market interest in gold discoveries in this region is an encouraging sign for RAS who we hope will start exploring its Alaskan gold projects sometime in 2022 when the Alaskan exploration window is open again.
For now, the focus for RAS is on its WA halloysite projects - especially after this week's news.
As we covered above, one RAS tenement granted sits adjacent to Latin Resources Cloud Nine halloysite deposit which in the words of Latin Resources is "Open in All directions" - which basically means they expect mineralisation to extend out in all directions (including into RAS' ground).
As we noted in one of recent RAS updates - 'ancient geology does not respect tenement boundaries'.
RAS is yet to drill its halloysite project but we think there is a strong chance the mineralisation from the Cloud Nine deposit extends west into its tenement.
With Latin Resources already having a 207 Mt JORC resource of kaolinised granite - one of the largest kaolin / halloysite deposits in Australia, we think that the natural extensions to this will be within the tenements granted yesterday and today.
RAS' $10.9M market cap currently stands at a fraction of Latin Resources' $60M market cap - and we are hoping that any encouraging halloysite drill hits could see RAS' market cap start to catch up.
However, as with any early stage investment RAS is a risky and speculative investment - exploration could turn up limited mineralisation or nothing at all.
For context, September 2020 was when halloysite started to garner attention from investors leading to a strong run up in the share prices of a host of companies with halloysite projects, including Andromeda Metals which lead the charge.
It was a bit of a mad scramble.
Since then market interest in halloysite has cooled a bit, however we have seen how quickly that can change.
With tenements now granted, if RAS drills and confirms halloysite, then we anticipate RAS moving swiftly into halloysite resource definition.
One of the great things about drilling for halloysite is that it is relatively cheap - aircore drilling can be used as the material is softer than hard rock, and Latin's resource is fairly shallow so we expect anything RAS finds to be near the surface as well.
Beyond drilling and resource definition, RAS has stated this week that it is looking forward to determining the development potential for a fast track DSO (direct shipping ore) operation here.
So to us that sounds like RAS is pretty keen to move quickly - and now that the tenements are granted RAS can start planning its drilling.
RAS's Halloysite Project - Next door to Latin Resources ($61M)
RAS earlier in the year acquired 100% of the "Burracoppin Halloysite Project" in WA.
At the time of acquiring the project, both of the tenements were under application.
Basically at the time RAS had acquired 2 freshly pegged tenements on the border of another one of our investments, the $61M capped Latin Resources project.
With freshly pegged tenements like this you can't really do much except sit and wait for the tenements to be granted before you can think about doing any drilling.
With the news today that both tenements have been granted RAS can officially start preparing for its maiden drilling program.
The key exploration license to us is the one next door to Latin's Cloud Nine deposit, where we think that there is a good chance mineralisation extends into RAS's ground.
These are "walk-up drill-targets", meaning RAS doesn't need to conduct any surveying work to identify the highest priority targets, they just need to walk up and drill along that boundary.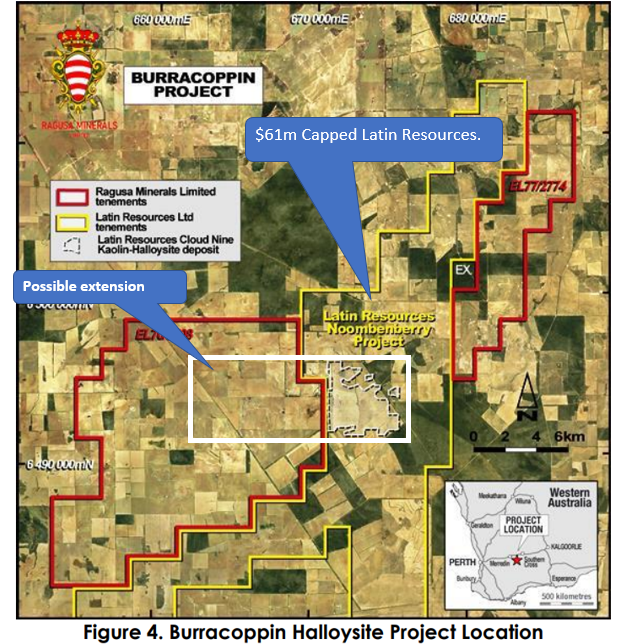 The aim for RAS is to delineate a resource of their own and to prove that the Cloud Nine deposit extends into RAS's tenements.
A JORC resource will put RAS on the map as a halloysite exposure moving it from a high-risk explorer to one with a defined resource allowing investors to compare it to other ASX halloysite peers.
With RAS capped at $10.8M, Latin Resources capped at $61M, and Andromeda having a $410M market cap, we think that the potential for a re-rate is obvious.
Why we like RAS's Halloysite projects:
We mentioned in a previous note that it isn't too difficult to work out where RAS will target first.
The Cloud Nine deposit (which has a 207mt Inferred resource) without any explanation is being defined as stopping directly on the tenement boundary.
It is unlikely the ore body figured out where the tenement boundaries are and decided to stop before moving into RAS's tenements.
The reason for the apparent hard cut-off of Latin's resources is simply down to the fact that there has been no exploration on the adjacent RAS ground.
We are betting that there may be a decent amount of the Cloud Nine kaolin-halloysite resource encroaching into RAS' tenement.
We think the market will re-rate RAS if this is proven true with some upcoming drilling.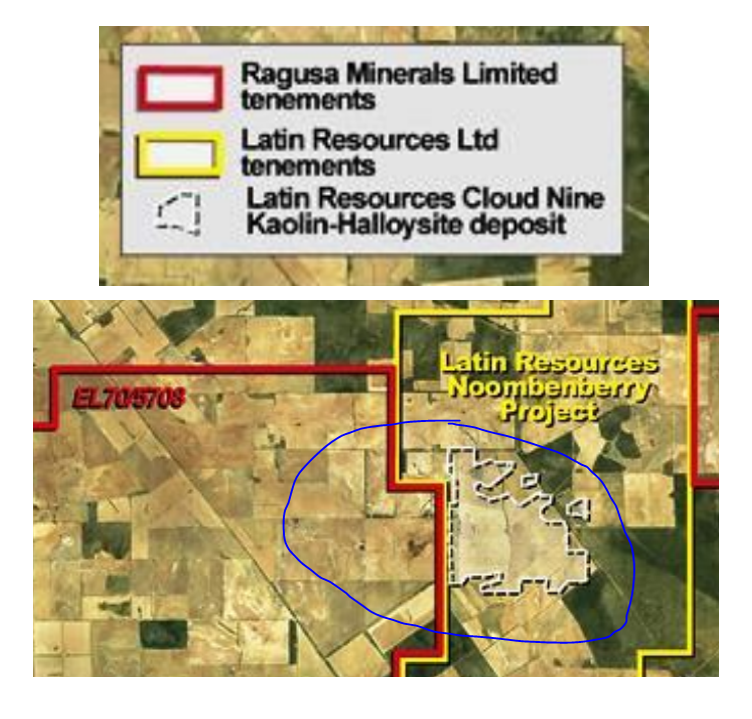 For those that are following the Latin Resources journey, the commentary they have been making makes RAS' tenements all that more interesting.
During resource definition drilling Latin has maintained that ''given the very shallow nature of the resources (average of less than 4 metres from surface), LRS has been able to rapidly define this maiden mineral resource estimate which has substantial potential to grow, being open in all directions.''
Open in all directions is what makes RAS all that little bit more exciting to us and we expect to see RAS waste no time putting together a drilling program on that eastern border of its tenement.
The only hurdle now is for the program of works to be approved by the regulator.
What can we expect to see next from RAS' Halloysite Project:
With both tenements now granted it is game on for RAS as a halloysite explorer.
It's very obvious that RAS does not need to do much pre-drilling work with the aim of the game being to test whether or not the Cloud Nine deposit extends into the newly granted grounds.
With high-priority drilling targets already identified on that border. We expect RAS to get drill-rigs on the ground and do some high impact drilling as soon as possible.
The main focus for us now will be for RAS to start drilling and test for possible extensions from Latin Resources project next-door.
What are the risks?
RAS is an early stage explorer - there is no guarantee that any mineralisation will be found.
RAS does not generate any revenue and is therefore reliant on raising capital to continue to explore its grounds - this can mean dilution for investors.
Early stage explorers are high risk investments and investors should always be careful, investing only what they can afford to lose.
RAS' Gold project in Alaska - near two multi-million ounce gold resources & on the border of the new RPM Discovery.
With most of our investments we don't mind it when our portfolio company's have a diversified project base in the off-chance that our main investment thesis doesn't work out.
With RAS, our back-up plan is to see through the exploration works at its Alaskan Gold project which almost identically to its Halloysite project sits adjacent projects owned by two other big players looking for gold in this area.
RAS owns 100% of the "Monte Cristo Gold Project" - which sits on >300 km2 of ground in Alaska, USA.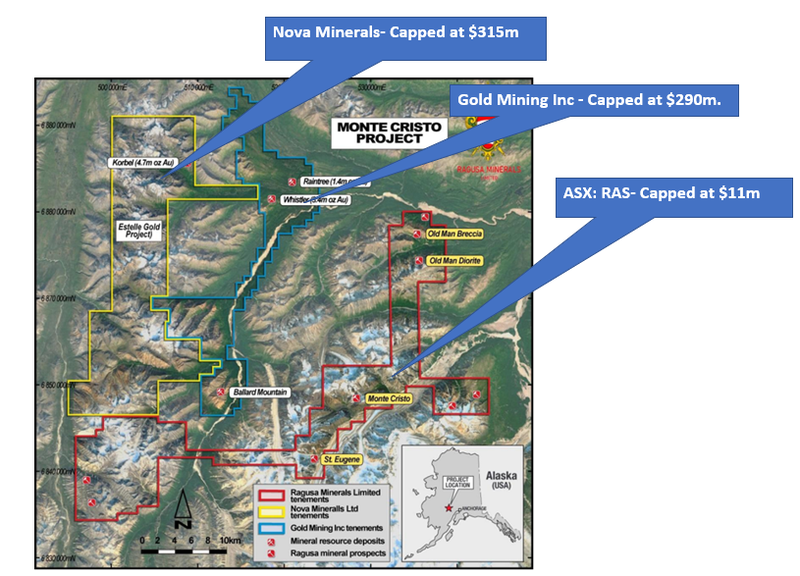 RAS Alaskan gold neighbour #1 is the $297M capped Nova Minerals Ltd (ASX: NVA) who own the 6.2 million ounce Korbel deposit.
RAS Alaskan gold neighbour #2 is the $287M CAD capped GoldMining Inc (TSX: GOLD) who has the Whistler and Raintree deposits that total a combined 6.6 million ounces.
RAS is basically neighbouring almost 13 million ounces in gold resources & has a market cap almost 30x less than its neighbours.
Nova's RPM discovery:
The Alaskan assets just continue to get more and more interesting to us, as RAS's neighbour Nova Minerals earlier this year put out some massive gold hits at the RPM project with grades of up to 132m @10.1g/t gold and thickness' up to 400m @3.5g/t Gold from surface.
Just recently they also put out a maiden JORC resource of 23.1mt @2g/t Gold for 1.5mOz.
Similarly to the Halloysite project, the RPM Discovery sits on the border of RAS's tenements & Nova Minerals in their latest presentation mentioned that the RPM South prospect is "drill-ready & is wide open".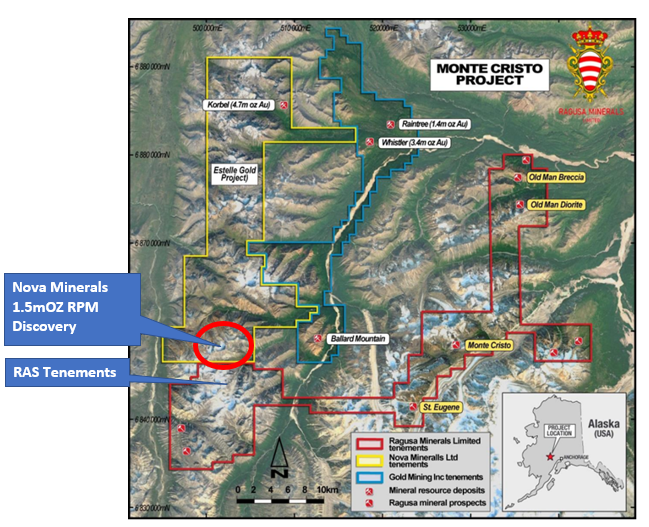 We expect 2022 to be a really busy drilling period in Alaska with RAS likely to be extremely active whilst Nova Minerals are working on growing their RPM discovery, testing grounds on the boundary of RAS's tenements.
RAS' project has four historical prospects which are now priority exploration targets, and the ground has several similarities to Nova Minerals gold deposits.
Interestingly the project's vendor was also involved in the staking and identification of the adjacent Estelle Gold Project for Nova Minerals Ltd.
What we expect to see next from RAS' Alaskan Gold Project.
We expect much of RAS's focus in the next few months to be on its Halloysite projects.
In the meantime a lot of the work at the Alaskan Gold projects will be around studying the similarities of RAS's grounds and those held by Nova Minerals.
We are hoping to see RAS define targets with geological similarities to its two neighbours in preparation for a busy-2022 drilling program.
With Alaskan temperatures as low as -20 degrees we expect RAS and its neighbours to fire-up interest in the area during the drilling season which generally starts around ~April-May 2022.
This is perfectly timed as all of the work from the Halloysite project should have been done by then.
Below is a summary of what we want to see next at the Alaskan Gold projects:
Desk-top works, based on Nova's new RPM discovery.
Sampling program + fieldwork – next year (when the weather permits)
Define high priority drill targets in the lead up to a drilling program
What else is next for RAS?
We expect to see RAS aggressively push forward with a drilling program at the Halloysite projects.
Now that tenements are granted, we would expect RAS to do some initial sampling and fieldwork to refine drill targets.
There is also an approval of the Programme of Works that will need to be approved by the regulator.
This all leads into the maiden drilling campaign which we expect will be near the border of the Cloud Nine deposit owned by Latin Resources.
RAS Corporate Milestones
✅ New Project Acquired Burracoppin Halloysite Project
✅ New Project Acquired Monte Cristo Gold Project
✅ Catalyst Hunter Portfolio Initiation
🔲 Project Funding 1
🔲 Project Funding 2
🔲 Unexpected Announcement 1
🔲 Unexpected Announcement 2
🔲 Unexpected Announcement 3
Burracoppin Halloysite Project (Main Bet)
✅ Tenements Granted (Q4 2021)
🔄 Drilling Campaign 1 (Q4 2021)
🔲 Offtake Contracts (2022-23)
🔲 Development plans to fast track low-cost DSO Operations (2022-23)
🔄Drilling Campaign 1
🔄 Program of Works to be approved
Monte Cristo Gold Project (Main Bet)
🔲 Sampling program
🔲 Sampling Assays
🔲 Drill Targets Defined
Lonely Mine Gold Project (Side Bet)- Drilling Campaign 1
🟩 Sampling Assays
✅ Diamond Drilling Commenced
✅ Diamond Drilling Complete (1200m)
🔄 Assay Results
---