Tiny Ragusa Minerals (ASX: RAS) Acquires Two Nearology Projects - We Have Invested
Happy new financial year!
Catalyst Hunter is back and ready to keep finding and investing in early stage ASX companies with near term share price catalysts.
We are kicking off the new financial year with a brand new investment we just made in Ragusa Minerals (ASX:RAS).
RAS has a tiny market cap of $7.82M, a tiny Enterprise Value (~$3M), and its newly acquired halloysite project shares a border with one of our favourite investments - $72M Latin Resources' 207 Mt Cloud Nine discovery.
RAS just announced its plans to acquire this next door halloysite project AND an Alaskan gold project near two multi hundred million ounce projects.
In order to finalise the acquisitions, RAS raised $400k via a placement, which we invested in.
This is early stage exploration, however given the proximity of both projects to companies capped many times higher than RAS, we decided to make an investment.
We will provide an in depth analysis of why we have invested and our full investment strategy in a few days - in the meantime here is an quick overview of the two RAS projects we like:
Project #1 - Near our $72M capped Latin Resources (ASX: LRS) Halloysite project
$7.8M capped RAS just announced a Halloysite acquisition that shares a border with $72M capped Latin Resources (ASX:LRS) Cloud Nine discovery.
As you can see the RAS tenement shares a significant border with Latin's discovery: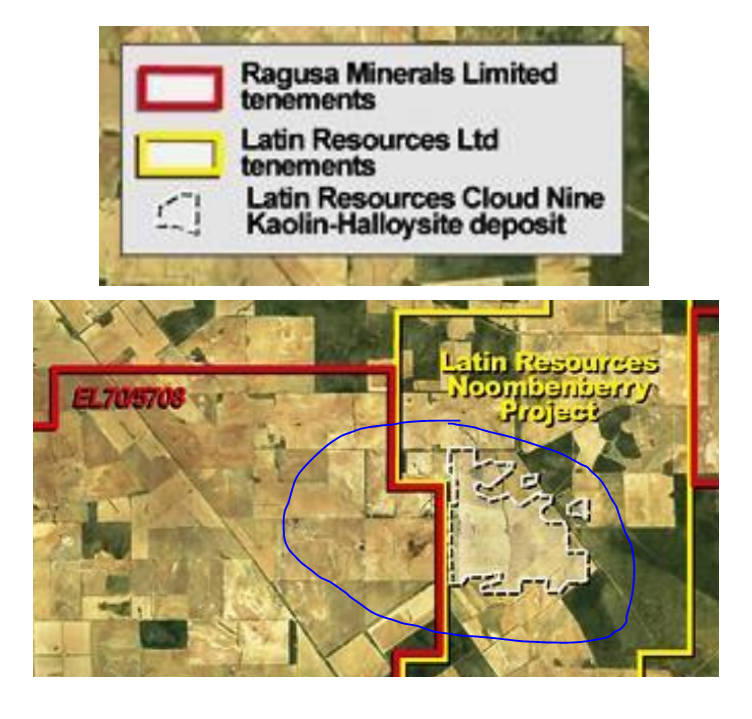 We are betting that a decent chunk of the LRS kaolin-halloysite resource encroaches into RAS' tenement and will rerate RAS if this is proved out with some drilling.
At LRS' Cloud Nine Halloysite-Kaolin deposit sits a newly booked 207 million tonne inferred mineral resource - and LRS is drilling now to extend the resource.
Regular readers know that $72M market cap LRS is one of our favourite investments as we wait for it to catch up to its bigger brother $356M capped Andromeda.
We really like the $72M capped LRS, it's currently one of our biggest positions. We think LRS is at an earlier stage than Andromeda, however its resource is shaping up to be just as good as Andromeda, if not better, and that's why we think LRS has the potential to eclipse Andromeda one day.
Given how much we like LRS, it was natural for us to invest in an earlier stage little brother RAS.
Now, with our latest investment RAS - We really like the tiny market cap and low shares on issue of RAS, and we hope it can catch up to LRS and who knows, one day maybe even Andromeda, as little RAS starts its exploration.
Project #2 - Alaskan gold project near $240M capped Nova Minerals
RAS is also acquiring the Monte Cristo Gold Project, in Alaska, which is very close to A$210M capped Nova Minerals +4.7 million ounces and C$276M capped Gold Mining Inc's 4.8 million ounces resources.
RAS's Alaskan gold project covers 80,000 acres (323.74km2) with all tenements granted/registered in the Alaskan regulatory system.
RAS capital structure:
Shares on issue: 115M (104m tradable and 11m escrowed for another year (directors))
Cash: ~ $4.8M
Options: 20M options at 12c and 2M options at 9c.
We have taken a position in RAS and will provide a full analysis of why, including a list of share price catalysts we will be watching for.
---