Surely there must be RAS news coming soon…
We recently invested in Ragusa Minerals (ASX:RAS) at 6.5c.
RAS currently has over $4M in the bank - and with a current market cap of $11M at 8.7c per share, we like RAS' enterprise value of ~ $7M given the two new projects it recently acquired.
Since we invested in RAS we have been patiently waiting for its WA halloysite tenements to be granted so not a lot has happened in terms of newsflow... yet.
But now that a few months have passed since news of the new project acquisitions, and after taking another closer look at RAS' September 2021 investor presentation, we think RAS must be getting closer to being able to deliver on its exploration plans.
In addition to this, the RAS share price has started to move in the right direction over recent weeks, picking itself up since August and looking like it has found a new base above 8c.
We think perhaps some stale holders have left the building since the new projects were acquired, and the new RAS investors like us are energised about RAS' upside and choosing to hold.
While we wait for material catalysts to start coming through, here is a reminder of RAS and why we invested.
RAS has three projects - However our primary reason for investing in RAS is the two NEW projects it has acquired.
RAS NEW Project #1: Halloysite in WA - next door to Latin Resources large halloysite resource.
RAS NEW Project #2: Gold in Alaska - near two multi-million ounce neighbours.
RAS Existing Project #3: Gold in Zimbabwe - RAS had this project prior to our investment, and while it looks promising, it's not what we are invested for so we won't be focusing on it much today.
Here is a reminder of each project we invested in AND what to watch out for next (including potential risks).
RAS Project #1: Halloysite in WA - near Latin Resources
What is Halloysite:
Halloysite has drawn the attention of global investors because it is a relatively rare mineral that is experiencing a sustained increase in demand due to its extensive applications in new age industries.
Halloysite is used in energy storage, batteries, supercapacitors, carbon capture, and cancer therapeutics.
As investors have gained an understanding of the applications of halloysite in fast growing high-tech products, they have flocked to stocks that provide exposure to the mineral.
Supply shortages have been exacerbated by China closing a number of environmentally damaging mines.
Halloysite has been fetching up to US$4,000/tonne (A$5,370/tonne) lately... hence the rush to find more halloysite.
What does RAS have to do with halloysite?
RAS acquired 100% of the "Burracoppin Halloysite Project" in WA.
You don't need to remember that project name, but what you do need to remember is that this project is two tenements (currently under application) that basically surround another of our investments, Latin Resources (ASX: LRS) halloysite ground.
We have been invested in Latin since November 2020, primarily as we wanted exposure to the upside of its halloysite resource definition growth phase.
Currently Latin Resources is capped at $60M and has a 207 million tonne inferred mineral resource tonne halloysite resource along with a number of other assets. You can read all about LRS here.
Andromeda Metals is the big brother comparison to LRS, currently capped at $370M.
Andromeda is a much more advanced halloysite company, with a de-risked 100 million tonne JORC resource, and offtakes signed with customers.
Andromeda's progress and $370M valuation demonstrates the upside potential for tiny $11M capped RGS on its halloysite project alone (not to mention RAS' Alaskan gold project- which we will get to further down).
Here you can see the RAS tenements under application that surround Latin Resources' ground - Latin's Cloud Nine halloysite deposit looks like it wafts right across into RAS' ground - I think we know where RAS will be aiming to drill test first: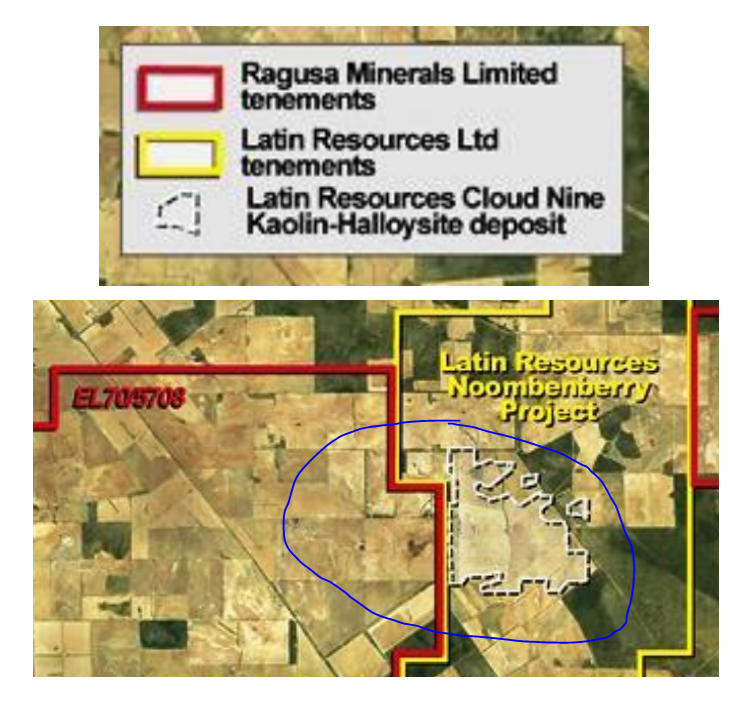 We are betting that a decent chunk of the LRS kaolin-halloysite resource encroaches into RAS' tenement and will re-rate RAS if this is proved out with some drilling.
As stated by Latin Resources when it was reflecting on its journey from exploration to resource definition, ''Within only 18 months of identifying the opportunity for halloysite, given the very shallow nature of the resources (average of less than 4 metres from surface), LRS has been able to rapidly define this maiden mineral resource estimate which has substantial potential to grow, being open in all directions.''
An important takeaway from the above statement is that it clearly states that the defined resource is open in all directions, which would include directly to the west, north-west and south-west.
Which to us sounds like there must be more halloysite on RAS' ground... ancient geology does not respect tenement boundaries.
And, Latin did it all quickly - in 18 months.
RAS is just at the beginning of its halloysite exploration - but given drilling is near surface and typically only light aircore drilling is required, we are hoping RAS can deliver a decent result to a similar time frame.
What near term RAS newsflow is coming:
Here is what we are looking out for from RAS over the coming weeks:
Tenements granted - RAS has acquired 100% of the rights to these tenements, and is now just waiting for the tenements to be granted. Once that happens RAS will be able to start working on the project.
Drilling - drilling will be when it gets really interesting for RAS - drilling will be required to delineate a halloysite resource and allow for comparison to its next door neighbour Latin Resources. As we mentioned above, indications are that the halloysite is shallow, and cheap aircore or auger drilling is probably all that is required.
Later term on Success - Economic Studies: Assuming things all go well and a large halloysite resource is defined, RAS will need to really figure out the size of the resource and then how its going to mine it, and how much it might cost.
Later term on Success - Offtake contracts: Once halloysite is found RAS will want to find some customers to buy its halloysite - as we mentioned above it's a valuable product, selling for up to US$4,000/tonne (A$5,370/tonne).
What are the risks?
Location - RAS ground is in the middle of the WA Wheatbelt - not exactly close to high tech halloysite customers, so getting the product to customers could prove difficult and expensive.
Drilling - This is always a risk with exploration stocks - drilling might demonstrate that the Cloud Nine resource does not extend into RAS' ground, or it only does just a little.
Volatile Commodity price - given its use in high tech applications, demand for halloysite could be choppy in the future. The halloysite price might tank if demand drops or a large new supply comes into the market, and suddenly this project might not be so valuable.
RAS Project #2: Gold in Alaska - near two multi-million ounce gold resources
The RAS back up plan if it turns out the WA halloysite project does not move forward is an Alaskan gold project that sits in a well endowed gold neighbourhood.
What does RAS have:
RAS has 100% of the "Monte Cristo Gold Project" - which is over 300 km2 of granted tenements in Alaska, USA.
RAS' Alaskan gold ground is located in the vicinity of multi-million ounce gold projects.
RAS Alaskan gold neighbour #1 is the $176M capped Nova Minerals Ltd (ASX: NVA) who own the 4.7 million ounce Korbel deposit.
RAS Alaskan gold neighbour #2 is the $220M capped GoldMining Inc (TSX: GOLD) who has the Whistler and Raintree deposits that total a combined 4.78 million ounces.
So that's almost 9.5 million ounces of gold in the vicinity of RAS' Alaskan gold project.
Here you can see it on the map - RAS' ground is marked in red, while Nova is in yellow and Gold Mining Inc is in blue: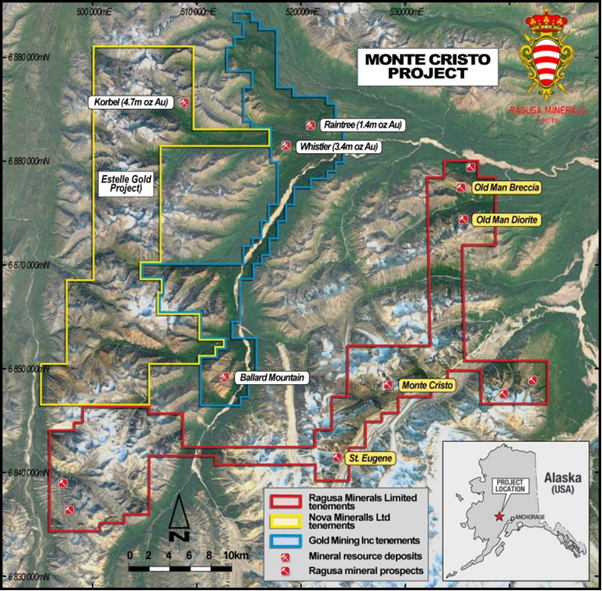 RAS' ground has four historical prospects which are now priority exploration targets, and the ground has several similarities to Nova Minerals gold deposit.
What near term newsflow is coming:
Conduct sampling programme - RAS will be taking some samples from the project with a view to refine some drill targets
Define drill targets - RAS will take these samples and analyse along with historical information, so it can pinpoint some drill targets with the hope of getting some decent gold intercepts.
Beyond that:
Gold resource definition.
What are the risks?
Geologic model not proven with drilling: RAS' theory is that its gold project has several similarities to Nova Minerals - similar topography, local geology and geophysical features - however the only way to find out is via drilling.
Gold price - Like all commodities the gold price can fluctuate - however we think having a gold project is a good balance to the halloysite project as there are different supply/demand dynamics at play with each of them.
Why we are RAS investors
In July we made a long term investment in RAS.
In summary the following were the key reasons for our investment - even before taking into account the potential for future catalysts such as exploration success.
● Undervalued - We think the current enterprise value of $7M doesn't come close to asset worth - we will find out over the coming months once exploration fires up.
● Cash of ~ $4.7M - This is enough cash to deliver some near term exploration wins.
● Commodity diversification - halloysite (growth) and gold (defensive).
● Geographic diversification - Australia, Alaska and Africa.
● Nearology: Close proximity to proven deposits increases chances of exploration success.
● Management - proven success delivering value for small cap investors - case in point is Chairman Jerko Zuvela's leadership at Argosy Minerals (ASX: AGY).
RAS Corporate Milestones
✅ New Project Acquired Burracoppin Halloysite Project
✅ New Project Acquired Monte Cristo Gold Project
✅ Catalyst Hunter Portfolio Initiation
🔲 Project Funding 1
🔲 Project Funding 2
🔲 Unexpected Announcement 1
🔲 Unexpected Announcement 2
🔲 Unexpected Announcement 3
Burracoppin Halloysite Project (Main Bet)
Project Milestones
🔲 Tenements granted (Q4 2021)
🔲 Drilling Campaign 1 (Q4 2021)
🔲 Offtake Contracts (2022-23)
🔲 Development plans to fastrack low-cost DSO Operations (2022-23)

Drilling Campaign 1
🔲 New Milestones Added
Monte Cristo Gold Project (Main Bet)
🔲 Sampling program
🔲 Sampling Assays
🔲 Drill Targets Defined
Lonely Mine Gold Project (Side Bet)
Drilling Campaign 1
🟩 Sampling Assays
✅ Diamond Drilling Commenced
✅ Diamond Drilling Complete (1200m)
🔲 Assay Results
---