MAN Takes a Beating After Showing Drill Pic
Mandrake Resources Ltd (ASX:MAN) is currently drilling in the Julimar Province, 30km from the $2.6BN Chalice Mining discovery.
We were encouraged by MAN's drilling update yesterday - two holes have been completed with two more planned and a nice photo of a drill core showed visible sulphides PLUS another conductor was discovered down hole.
We are surprised to see so much selling pressure in the stock on this news and this early in the drilling campaign, with no assay results close to being released yet.
Drilling can be quite a volatile time for investors in exploration stocks, with traders coming in and out of a stock on speculation - it looks like a big group decided to cut and run early for whatever reason.
We are hoping it's just a short term spike down fuelled by panic sellers followed by a quick share price rebound once they are all done.
MAN recently raised $12M at 20c, so has plenty of cash in the bank - but is now trading significantly below the placement price right now ahead of more newsflow (we also participated in the 20c raise).
While we wait for the assay results and the next holes to be drilled, there are two key takeaways from the ASX announcement yesterday:
Very promising visuals - zones of sulphides that MAN was looking for
It's generally a good sign when an ASX explorer posts a photo of the drill core showing promising bands of mineralisation - and yesterday we got a glimpse of MAN's drill cores.
Scroll down to see MAN's cores.
2. A new down hole 'conductor' target was identified - its being drilled now
MAN's plan going into drilling was to drill three conductor targets.
During drilling, MAN took the opportunity to run some down hole electro magnetic surveys to see if it could pick up any deeper conductors beyond the drill hole.
This turned out to be a success - with MAN identifying a very strong conductor plate away from a drill hole.
MAN has decided to immediately drill this newly identified conductor given the rig is on site right now.
MAN's Drill pics
MAN was looking for "zones of disseminated and semi-massive sulphides in mafic-ultramafic rocks" during drilling - lots of geo-talk here but basically this combination of rock types is what we want to find.
That box has been ticked, with MAN hitting a few promising intersections with these zones detected.
The appearance of ultramafic rocks containing distinct sulphides including chalcopyrite is highly encouraging.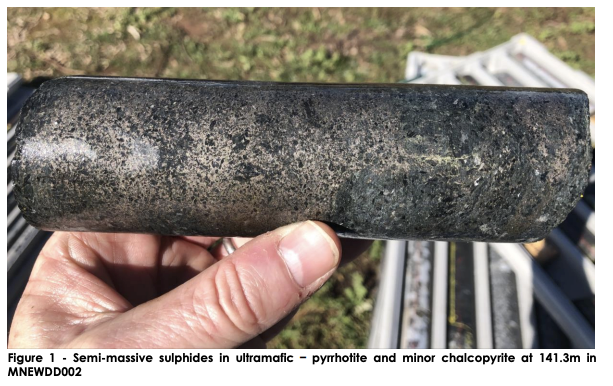 There were some more sulphide rich zones in the same drill hole - with 60% sulphide content measured in bands:
Promising visuals like the above bodes well for the assay results, which will probably take another couple of weeks to come through.
MAN's understanding of the geological system is building rapidly with every metre drilled and each down hole EM survey conducted...
MAN Detects New Conductor Down Hole
MAN conducted a down-hole electromagnetic (DHEM) survey which identified a very strong, confined, late-time off-hole conductor plate with ~7,000 Siemens conductance - which is very high.
The conductor measures 60m x 80m.
MAN is drilling this new conductor right now via an additional hole - so that's a fourth conductor that is being drill tested during this current programme.
If yesterday's news was so good, why was MAN sold down?
MAN is currently trading at ~ 11c at the time of writing, having been sold down yesterday from 15c.
MAN has not traded this low since March 2021, despite being well funded, and on the cusp of assay results.
Placement investors leaving the building?
MAN raised $12M at 20c just a few weeks ago, giving it plenty of cash for exploration over the coming months.
All of the 20c placement participants are underwater right now, so perhaps there is some placement panic going on.
Another Julimar neighbour's sell off impacting MAN?
Caspin Resources, another Julimar explorer, which had been performing so well in recent weeks has taken a bit of a dive - perhaps Caspin went up too fast and reality has set in with holders there.
Yesterday Caspin confirmed it had raised $9.75M at $1.00 per share, however was previously trading above $2 in late May, as high as $2.90 - and then around $1.90 throughout June.
It could be a case of Caspin's recent performance spooking MAN investors and reducing confidence.
Our MAN Investment Plan
MAN is capped at less than $50M. We think a successful result could see MAN's market cap surge up many times from its current valuation.
As we said above, MAN recently raised $12M at 20c so has plenty of cash to work on its exploration plans.
We invested in MAN in March this year in the lead up to this drilling event right near the $2.6BN Chalice. We invested early - months before drilling, we have been able to reduce a small part of our position as the share price rose in the lead up to drilling, but haven't been able to free carry just yet.
We also invested in the 20c MAN capital raise, and are surprised to see it trading around the 11c mark today well before any proper results have even come out.
$12M is a lot of cash for MAN to continue its exploration without having to need to raise in the medium term.
We have not fully free carried yet but will look to do so if we get positive drill results and hopefully MAN starts to climb back up again.
What to expect next from MAN
Here is what we might expect to see from MAN over the coming weeks, based on MAN's announcements and our knowledge of how exploration campaigns typically run:
✅ Visible sulphides in drill core: Ultramafic rocks containing distinct sulphides, including chalcopyrite in the second hole is highly encouraging.
✅ Downhole EM programme: This has identified first 'off hole' target - which has lead to immediate drilling. Target currently being drill tested.
Drilling in progress: Drilling is expected to take a few more weeks.
Drilling assay results: This will probably take another 3-4 weeks after drilling ends, and is where we will get the best indication of whether the drilling was a success or not.
Soil sampling at its NT project: MAN has another project in the NT that should generate additional newsflow in the coming months.
---