MAN sold down, Assay results to come
Mandrake Resources Ltd (ASX:MAN) is continuing to drill in the Julimar Province, 30km from the $2.6BN Chalice Mining discovery.
ASX explorers actively drilling can be quite volatile. Judging by recent months of trading, MAN is clearly a momentum stock - it felt like it easily popped up from 16c to a high of 28c ahead of drilling, before being brutally sold down from to 8c where it finds itself today.
...and this is before any assay results have even come back.
We have been surprised to see the recent sell off in MAN from over 20c down to 8c, as drilling has shown some promising early signs to date: drill cores to date have shown visible sulphides with evidence of pyrrhotite and minor chalcopyrite.
These ultramafic and sulphide zones will be assayed for base metals and PGE (platinum group elements) in the coming weeks - and this is where we should get a much better understanding of what MAN is sitting on.
Assay results for all holes will be due in approximately four to six weeks, so we could see the selling start to dry up soon in anticipation of those and we think MAN could spring back up on positive news fairly quickly.
MAN did manage to raise $12M at 20c just a few weeks ago, and is well funded with $15.5M in the bank - plenty of cash for exploration over the coming months.
MAN will need to do some more follow up drilling on the most prospective zones, and given that might take a bit longer, might be why the stock has been sold down in recent weeks.
MAN is targeting a large PGE- nickel-copper discovery and has spent many months generating its drill targets.
Three out of four EM targets have been drilled so far - with visible sulphides in drill cores evident - and there is one more hole to drill, which will be drilled once heavy rains have cleared on site.
Despite the early promising drilling results, MAN has been aggressively sold down after the 20c placement. We sold a small part of our position as the share price rose in the lead up to drilling, but haven't been able to free carry just yet AND we increased our position in the 20c raise, so we definitely wouldn't consider this a great result as it currently stands... yet.
Like all MAN holders, we are disappointed with the way MAN has been sold off in recent weeks, but this can happen in small cap exploration. We think a lot of the sell off is from skittish participants in the 20c raise after taking a cold shower on the Julimar story.
We put in a call to management to see what was going on and confirmed our suspicion that a big holder of MAN decided to cut and run early. We don't know why, but it is certainly another reason for its price drop.
MAN has not traded this low since March 2021, despite now being well funded, and on the cusp of assay results.
All of the 20c placement participants are well underwater right now and are looking for strong results in the very near future.
We think positive momentum could once again play a part, when we see the assays in a few weeks' time.
We didn't manage to free carry before the big sell off as per usual plan so our new plan is to wait out the sell off and see what the assay results bring in (with possible accumulation if savage sell off continues).
What do today's results mean
MAN has a pipeline of drill targets that could be Julimar-style mineralisation.
Unfortunately, the market decided that MAN's announcement today was a little underwhelming.
Here are our initial thoughts:
on first pass, exploration results could have been better
PGEs not always evident in cores
much will rely on upcoming assay results – 4 to 6 weeks away
MAN remains cashed up ($15 million) for further exploration
we continue to hold and are considering buying more on further weakness.
Despite the fact these early results could be better, MAN believes its coming assay results will vindicate its drill program.
While the company needs to collect more info, assay results are in the lab for the first three holes and will be delivered in 4-6 weeks.
The assays will better indicate exactly what MAN is sitting on, however in our discussions with the MD we found out that it isn't often that you see PGE content in the cores. MAN believes any Cu, Ni concentrations will be revealed in the assay results if present.
We are also encouraged by the semi massive and massive sulphide zones observed from 286.2m downhole depth associated primarily with banded iron formation with minor ultramafic rocks and mafic metasediments.
The presence of pyrrhotite and minor chalcopyrite is a big positive as it is mineralisation that is often identified in promising sulphide zones.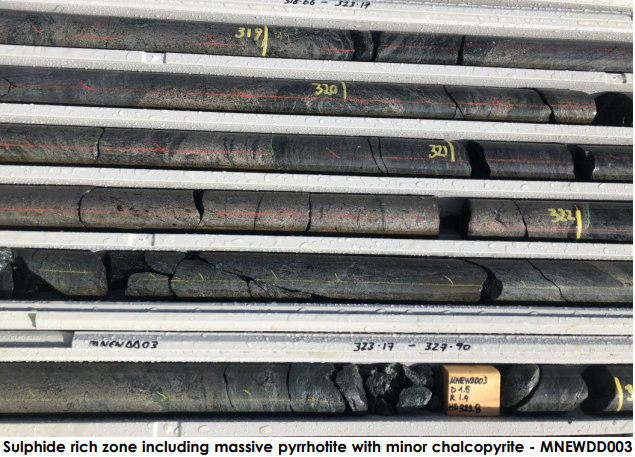 The assay results will throw more light on metal grades and their extent.
While the appearance of further massive sulphides in MAN's third hole is encouraging and highlights the potential of the Newleyine intrusive to host economic mineralisation, we understand the market's desire for more definitive and arguably more impressive results in terms of depth and grades.
We also note that a fourth MAN hole is still to be drilled...
Our investment criteria remains intact ahead of upcoming review
We initiated coverage on MAN at 12 cents per share and it has slipped below that mark, making it tempting to buy the dip.
Because of success with other projects in the general region, we invested in MAN ahead of the drilling program in the hope that upbeat results would drive a share price rerating.
We're hoping that the fourth hole which should be drilled following a rain interrupted program will deliver better results.
Once the full drilling and assay results are announced, we will assess and refine our investment strategy.
$15 million in the bank and more exploration assets to be targeted
MAN also has gold exploration prospects in the Northern Territory which we didn't originally invest for, however given the strength of the precious metal in recent months MAN may decide to do some work there.
We definitely think it's too early to walk away from MAN, it is worth noting that you often don't see visible PGE content in drill cores, meaning the company is still a ''watch this space'' story.
In addition to PGE, keep an eye on the copper and nickel grades in upcoming assay results.
Here's what has been achieved by MAN and what to expect next:
✅ Visible sulphides in drill core: Ultramafic rocks containing distinct sulphides, including chalcopyrite is highly encouraging.
✅ Downhole EM programme: This identified the first 'off hole' target - which led to immediate drilling. Target currently being drill tested.
Drilling in progress: Drilling is expected to take a few more weeks after rain delays temporarily halted progress, with a fourth hole to be drilled imminently.
Drilling assay results: This will probably take another 4-6 weeks after drilling ends, and is where we will get the best indication of whether the drilling was a success or not.
Soil sampling at its NT project: MAN has another project in the NT that should generate additional newsflow in the coming months. It is set to start reverse circulation (RC) drilling at the Au-Ag-Cu project in the coming weeks.
---