LYN drill testing WA nickel-copper target next month
Disclosure: S3 Consortium Pty Ltd (the Company) and Associated Entities own 2,631,250 LYN shares and 300,000 LYN options at the time of publishing this article. The Company has been engaged by LYN to share our commentary on the progress of our Investment in LYN over time.

Homing in on the best part of a 6km long gravity anomaly...
Next door to the $11BN capped nickel producer IGO.
And a shot at replicating the 'deeper discovery' made by a nickel producer 60km down the road.
One of our micro cap exploration Investments is drilling to make a new nickel-copper discovery in WA in just a few weeks time.
Lycaon Resources (ASX:LYN) is currently capped at $9.2M, and will be drilling its Bow River nickel-copper-nickel target in the Kimberly region in mid-late August.
LYN also has a fairly compelling EM target similar to the WA1 Resources rare earths-niobium discovery that sent its share price from 13.5c to $6.75... but that drilling is still ahead of it.
For now, back to LYN's Bow River nickel-copper drilling in a few weeks.
At Bow River, LYN has a chance of making a significant nickel-copper discovery at depth - one that could be similar to the one that the $205M capped Panoramic Resources made in 2014.
Panoramic was at one stage capped at $1BN - their success was driven by finding a bigger discovery at depth - Savannah North, below their original discovery of Savannah.
Collectively, Panoramic's Savannah project has 13Mt @ 1.56% Ni.
The deeper Savannah North discovery was ~ 4 x bigger than the original Savannah mine - and as it was deeper than 250m, it was not picked up on EM surveys.
Both discoveries were made just 60km south of LYN's Bow River project.
In the same way Panoramic found the bigger Savannah North at depth, LYN is also going to drill deeper, to follow up on the existing shallow nickel-copper hits of up to 11.5m with grades of up to 1.2% copper & 1.3% nickel.
It's also worth noting the giant lurking in the region - the ~$11BN capped IGO has ground directly next door to LYN.
IGO attempted a takeover of Panoramic back in 2019 - perhaps they are still interested in a large discovery in this region...
If LYN could demonstrate economic mineralisation at depth in a first round of drilling, we think that could unlock a significant re-rate for LYN of its current low base.
Especially given how infrequently major high grade copper and nickel discoveries come along.
Since its IPO in November 2021, LYN's share price has had a lot of time to consolidate, especially during the recent rough market, with a base around the mid-20s forming.
We are substantial holders in LYN, holding over 5% of shares on issue - we Invested to be leveraged to a high risk / high reward new metals discovery. It's important to note however that this kind of investing is not for everyone. Only invest what you can afford to lose when it comes to micro cap exploration stocks.
With its low market cap, and only ~ 33 million shares on issue, we see this type of tight capital structure as favouring unexpected good news...
LYN drilling for a discovery in the coming weeks
Today, LYN confirmed that all heritage/flora surveys were completed and that a drill rig was en-route to its Bow River project .
LYN expects to be drilling in mid/late August.
LYN is looking to drill two deep diamond drillholes, to test a theory that has already been proven in the region by the ~$205M capped Panoramic Resources.
In 2014, Panoramic, drilled to the north of its existing Savannah mine and made a deeper discovery - Savannah North.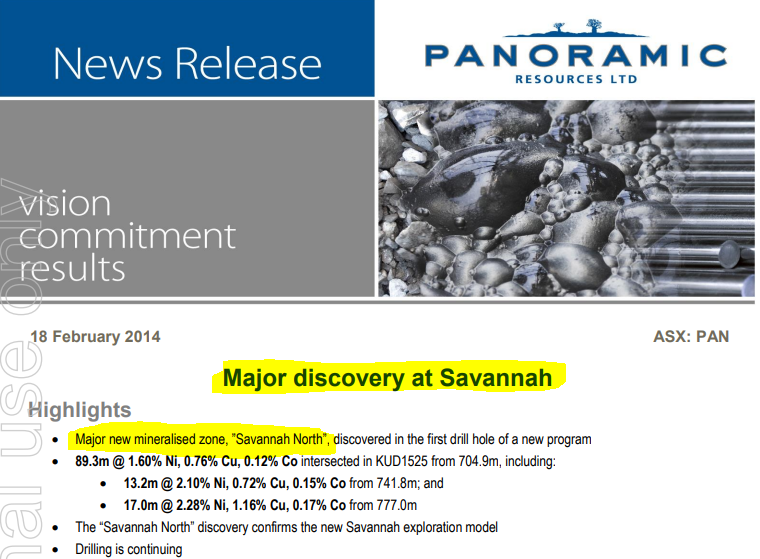 Without the Savannah North discovery, the original Savannah discovery was slowly approaching the end of its mine life.
Now Panoramic has extended its mine life to the point where almost ~95% of its ore reserves are at Savannah North.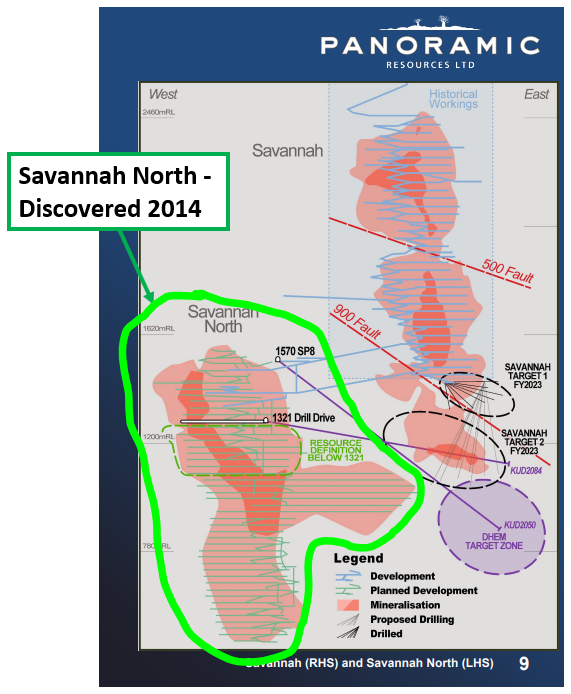 LYN will be targeting a similar style discovery, drilling down to depths of ~750m.
To date, LYN has completed ground gravity surveys and high powered EM surveys which has led to the definition of an EM anomaly.
LYN's drilling will be following up on historic drill intercepts, which intercepted up to 11.5m of mineralisation with grades up to 1.2% copper & 1.3% nickel.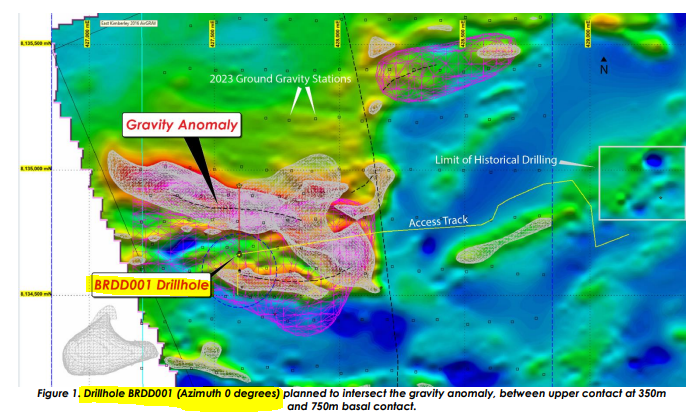 In this round of drilling, we would want to see something that could ultimately be similar to what Panoramic hit at Savannah North:

We have set up our expectations for the drill program as follows:
Bull case = intercepts with nickel/copper grades >0.5%.
Base case = Sulphides intercepted worthy of follow-up drilling.
Bear case = No valuable metals are intersected.
If LYN makes a discovery, this would be an unexpected positive.
At the same time, if LYN were to hit nothing then we don't think it would have a material impact on LYN's share price given expectations aren't very high going into the drill program.
🎓See our educational article on expectation setting here: Expectation setting leading up to drilling programs
Ultimately we are hoping LYN delivers unexpected success and achieves our LYN Big Bet, which is as follows:
Our 'Big Bet':
"LYN's share price re-rates by over 1,000% off the back of a new discovery and the definition of a deposit significant enough to move into development studies"
NOTE: our "Big Bet" is what we HOPE the ultimate success scenario looks like for this particular Investment over the long term (3+ years). There is a lot of work to be done, many risks involved - just some of which we list in our LYN Investment Memo. Success will require a significant amount of luck. There is no guarantee that our Big Bet will ever come true.
To monitor the progress LYN has made since we first Invested, we maintain this LYN "Progress Tracker":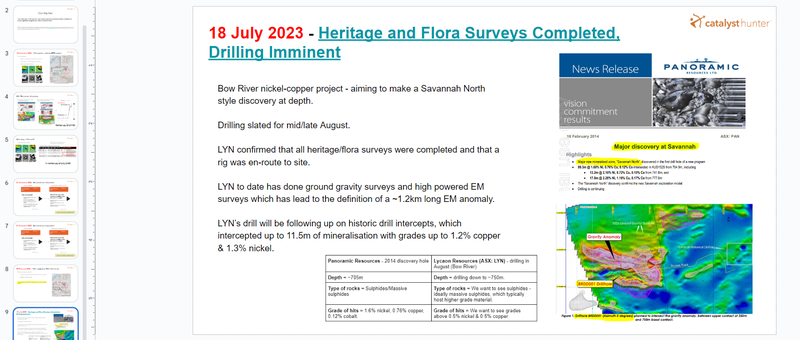 LYN's also have something similar to WA1 Resources... pre drill
6 months on from its first discovery, WA1 Resources share price is up 3,300%.
WA1 Resources made its discovery in the West Arunta province in October 2022.
Pre-discovery, the company had a share price of ~16.5c and was capped at $7.3M.
Now the company trades at $5.67 per share and is capped at $305M.
Our Investment exposure in the West Arunta region is LYN.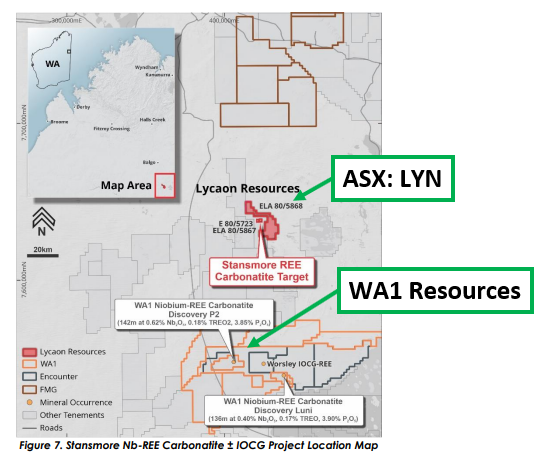 LYN holds ground in the West Arunta province with a similar style EM target to WA1.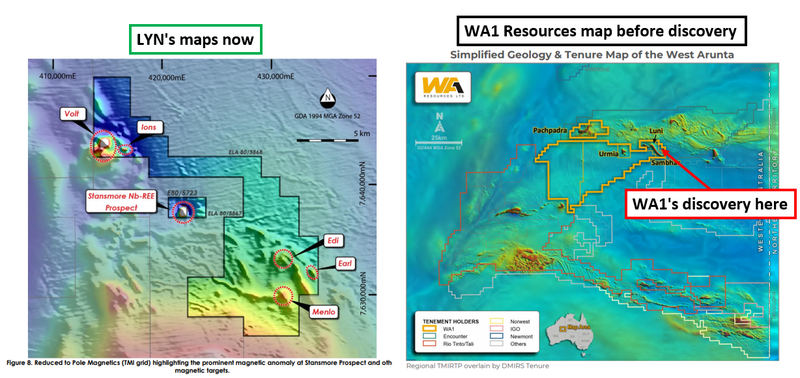 LYN is capped at just $9.2M with $2.7M in the bank (at 30 March 2023) - giving LYN an enterprise value of $6.5M - a similar valuation to WA1 Resources before they made their discovery.
At the moment, this project is at least a few months away from drilling.
LYN is currently at the land access negotiations stage working toward getting native title holder approvals.
In the meantime, we're hoping this drilling at Bow River comes in with positive news ahead of drilling in West Arunta.
More on LYN's upcoming drill program
LYN is drilling an EM target looking to make a discovery similar to ~$205M Panoramic Resources' Savannah North discovery.
How did LYN get here and what do we know?
In the lead-up to the drill program LYN has completed and re-analysed:
Acquired the project in June 2022 - LYN paid ~$500k in shares at 40c per share, $100k cash and granted a 1% Net Smelter Royalty (NSR) for the project.
Historic drill intercepts - Previous drilling by Anglo American. Drilling returned intercepts up to 11.5m thickness with grades up to 1.2% copper & 1.3% nickel.
Reprocessed existing gravity data - EM anomaly modelled after reprocessing existing data.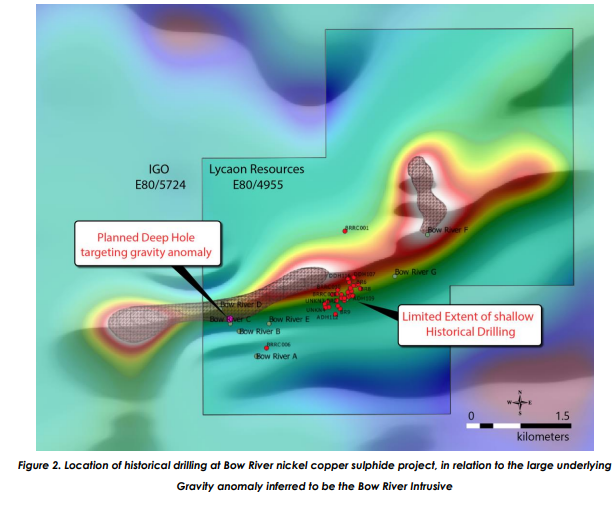 - High powered EM surveys - LYN ran new ground gravity & EM surveys and further defined its target.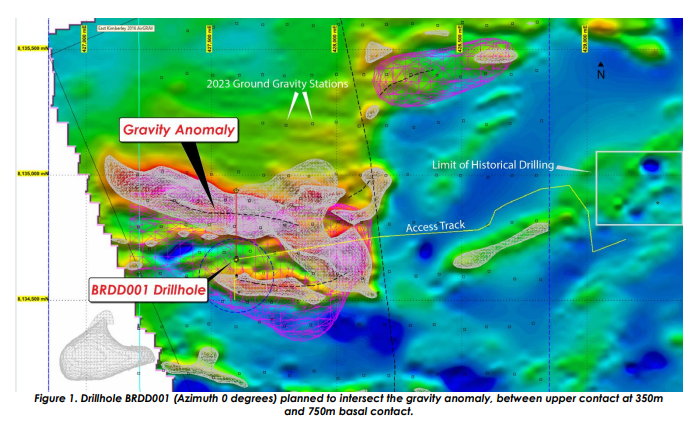 Now LYN is ready to drill its target.
Can LYN beat the market's expectations?
The main reason we are looking forward to the drill program is because it has the potential to be a big "unexpected win" for the company.
LYN is currently capped at less than $10M, with no discovery priced in.
"Unexpected wins" can be major catalysts for company share prices because the market goes into a drill program with no expectation of hitting anything.
Since the market expects little, this can lead to limited buying in the lead up to drill results.
Once a discovery is made, investors are caught off guard and often rush in to buy shares on-market.
The potential "unexpected win" is why we don't mind our junior explorers poking drill holes into a variety of projects.
If the drill program is a failure then nothing changes in our LYN Investment Thesis and we continue to hold our shares waiting for the company to drill its main projects.
What's next for LYN?
🔄 Drilling at Bow River Nickel/Copper/cobalt/PGE project
LYN expects to be drilling at its Bow River nickel/copper project in mid/late August.
🔄 Permitting and approvals for rare earths/niobium project
LYN is currently running through the land access & permitting process for the ground.
After permitting is organised the company will start target generation work to work out the best spots to drill.
At the same time LYN still needs to settle the acquisition of its project which includes getting shareholder approvals for the deal.
Our LYN Investment Memo
Below is our LYN Investment Memo, where you can find the following:
Key objectives for LYN for the coming year
Why we are Invested in LYN
What the key risks to our Investment thesis are
Our Investment plan
---