LRS strengthens lithium story with commitment to ESG
Just over a month ago we commented on the news that Latin Resources (ASX:LRS) was making the best of the surging lithium market and the long term outlook for lithium investments, by placing an increased focus on exploration at its South American lithium project.
Driven by the worldwide shift towards the greening of economies and governments' zero carbon targets, lithium — a crucial battery metal for Electric Vehicles — is facing a supply shortage over the coming decade as demand skyrockets.
LRS is currently progressing a strategic review of its portfolio, with an increasing focus on exploring for and developing commodities that have a positive environmental impact and "developing minerals to provide the planet with environmentally sustainable products".
While we first invested in LRS for the upside potential of its halloysite project in WA — one of Australia's few known occurrences of ultra-high-grade halloysite, a naturally occurring nanotube — we are highly supportive of its lithium ambitions too.
As its Western Australian halloysite project has now moved into the quieter pre-feasibility phase, we like to see that its lithium project is also progressing.
LRS adopts global standard for ESG reporting
Further demonstrating its commitment to developing commodities that have a positive environmental impact, the company today announced that it has adopted a universal ESG framework to measure and report its Environmental, Social, and Governance (ESG) performance.
LRS will comply with all relevant laws and regulations regarding health, safety, environment and community impacts, and will start disclosing its ESG metrics aiming to meet and exceed the World Economic Forum's 21 core ESG metrics and disclosures. It has adopted Socialsuite's technology platform "ESG Go" to disclose and monitor its progress.
LRS is also dedicated to environmental management, working to identify and minimise its footprint with the development of its projects.
LRS reports that it is following globally recommended ESG standards, especially with the development of its environmentally sustainable mineral projects in which halloysite and lithium are its major focus.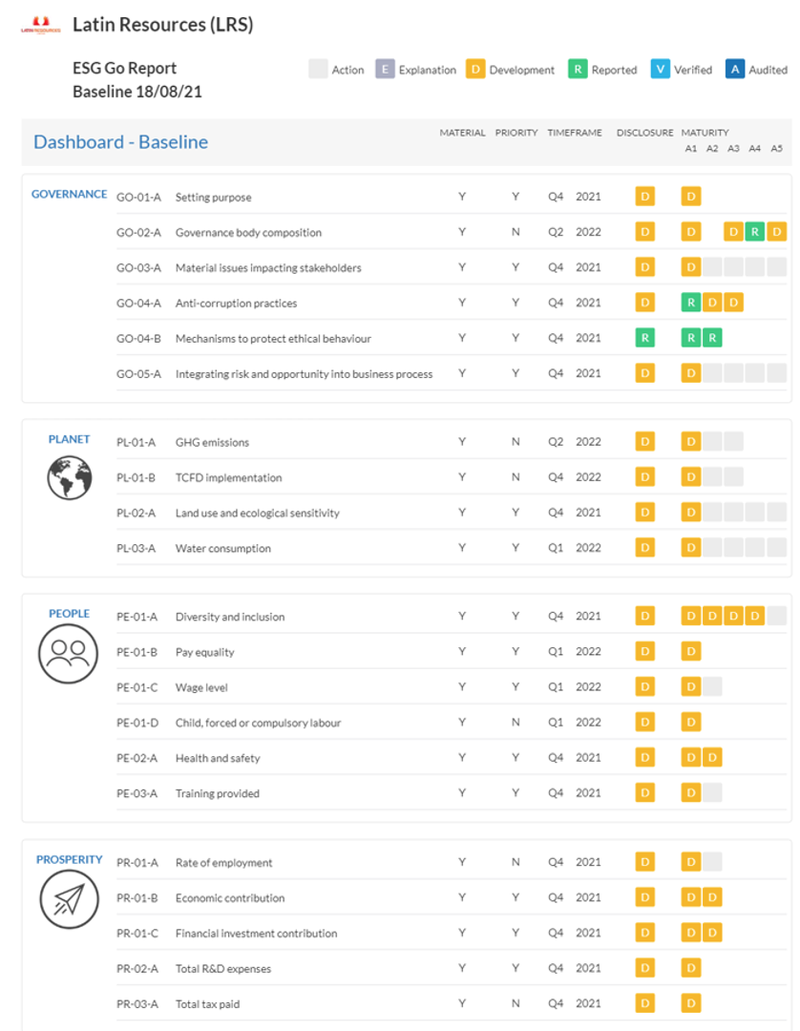 LRS says that it is "charting a course to build resilience and enhance its social licence through a greater commitment to long-term, sustainable value creation that embraces the wider demands of people, planet and shared prosperity."
This comes amid a transformation of the global operating environment and the redirecting of investment capital — global sustainable investment now tops $30 trillion, up 68% since 2014 and tenfold since 2004.
While it's halloysite and lithium projects are creating inherent positive impacts, the adoption of the World Economic Forum framework has already paid ESG dividends through the research into the development of LRS's halloysite project to manage greenhouse gases.
As part of its shift towards an ESG-focused business, LRS is undertaking a strategic review of its entire portfolio of projects to ensure it continues to align itself with its purpose statement.
This will include an increasing focus on those projects that seek to explore for and develop commodities for the future — those that can be developed to have a positive impact on our global environment.
Going forward, LRS will update the market regularly on its ESG disclosure progress and seek to ensure that its halloysite and lithium projects remain an impact investment for shareholders and for local communities.
Lithium in Brazil
As we reported last month, LRS is committed to developing its lithium spodumene project in Brazil. Lithium is a key mineral used in electric vehicles and battery storage to decarbonise the world by directly contributing to technology driven greenhouse gas emission reduction targets.
LRS has been holding its Brazilian lithium tenements for three years, but is now back on the ground exploring.
We look forward to initial assay results that are just weeks away and the drilling of the projects that's expected to begin by the end of the year.
LRS is so sure of the prospectivity of its landholdings and its potential to replicate the success of its neighbouring Sigma Lithium, that LRS expects to soon be known as "a lithium company".
For context, $890M Sigma Lithium Corp (TSX-V: SGMA) is developing the largest hard rock lithium deposits in the Americas, not far from LRS's Salinas project in Minas Gerais that will be running into production next year. It is the most active lithium explorer in the region and has a world-class lithium resource base.
Sigma commenced exploration and then drilling on its Brazilian lithium projects in 2018, proving the district to be a very favourable jurisdiction for mining.
Like LRS, Sigma also has an environmental sustainability focused and ESG-centric strategy, as it seeks to participate in the rapidly expanding global supply chain of electric vehicles.
A preliminary economic assessment for expansion of Sigma's project, doubled the annual production capacity of battery-grade, high-purity, environmentally sustainable 6% lithium concentrate, or "Green Battery Grade Lithium Concentrate," to ~66,000 LCE. It also anticipates that it will be amongst the world's lowest cost producers.
Sigma's success gives us some idea of what might be ahead for the junior $60M-capped LRS and its Brazilian lithium project.
Halloysite in WA
When we first added LRS to the Catalyst Hunter investment portfolio in November 2020, we highlighted the obvious potential of its halloysite project in WA — one of Australia's few known occurrences of ultra-high-grade halloysite.
Derived from the clay, kaolin, halloysite has traditionally been used in ceramics and as a petroleum cracking catalyst. But it now has a raft of exciting new applications in emerging industries. It is a naturally occurring nanotube with several unique and key environmentally friendly properties that can be utilised to assist with the management of greenhouse gases.
Halloysite nanotubes are ideal for binding to a range of molecules and effectively 'cleaning' by absorbing. Potential end-users include wastewater treatment and carbon dioxide capture industries.
LRS says that the development of its halloysite project to manage greenhouse gases is key to its ESG purpose statement of "developing minerals to provide the planet with environmentally sustainable products".
LRS is now transitioning into the development stage at its halloysite project as feasibility studies are completed.
---