LRS Likely Days Away From Revealing Halloysite Drilling Results
Having completed a maiden air-core drilling program at its 100% owned Noombenberry Halloysite-Kaolin Project in WA in January, Latin Resources (ASX:LRS) is due to release what are expected to be exceptional assay results.
We first invested in LRS in November of last year, and are looking forward to seeing what the drill results will bring.
At the time of drilling, LRS's initial observations from the drill cutting were very encouraging.
The highly awaited test work results, designed to outline the extent of a known sub-outcrop of kaolinitic clays and halloysite at the project, should be set to arrive any day now.
In January, LRS confirmed the intersection of significant kaolin – with detailed test work results to follow in February 2021.
Given it's the 18th February at the time of writing – we are expecting this news any day now.
Drilling has already resulted in the discovery of significant deposits of bright, white kaolin clay up to 50m thick across the 18km2 project area, while initial test work on surface samples confirmed the presence of halloysite mineralisation (of up to 15%) on the project.
LRS is chasing one of Australia's few known occurrences of ultra-high grade halloysite — a naturally occurring nanotube. Halloysite, a derivate of Kaolin, is a unique clay mineral that is rarely occurring across the world.
Andromeda Metals (ASX: ADN) has set the pace for LRS to follow, with Andromeda delivering investors a more than 500% return in recent months – ADN is now capped at $630M.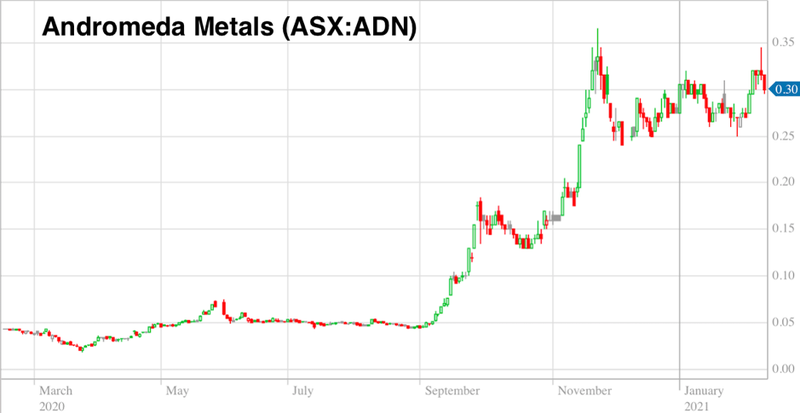 So why is the market excited about LRS and Andromeda?
Halloysite is currently used in some very mature markets including high quality porcelain and as a catalyst for cracking petrochemicals.
Yet there is also a whole raft of new applications in areas with huge potential, including energy storage – batteries and super capacitors, water purification, carbon capture, hydrogen storage, biomedical applications, as well as use in construction and agriculture.
And when it comes to these new applications, the purer the better. As a high-end mineral and globally scarce commodity, halloysite, commands big dollars.
The price of pure halloysite is rising and now sells for up to US$4,000/t, compared to A$600/t for commercial grade kaolin.
The mineral attracts attractive profit margins, so it's clear why LRS's upcoming results have built such anticipation.
LRS's much awaited assay results will reveal the quality of kaolin and more importantly, how much halloysite is contained within the kaolinite. Results are expected to be comparable, if not better than Andromeda's.
LRS will be releasing a total of 700 samples over the coming weeks and intends to provide results for 100 samples at a time, every week.
With drilling results in hand, the goal is to then generate a maiden JORC mineral resource estimate for the Noombenberry project as soon as possible — another possible share price catalyst that's now in sight. The Resource is due in the March quarter this year.
That will allow the market to truly compare the LRS's resource against Andromeda's.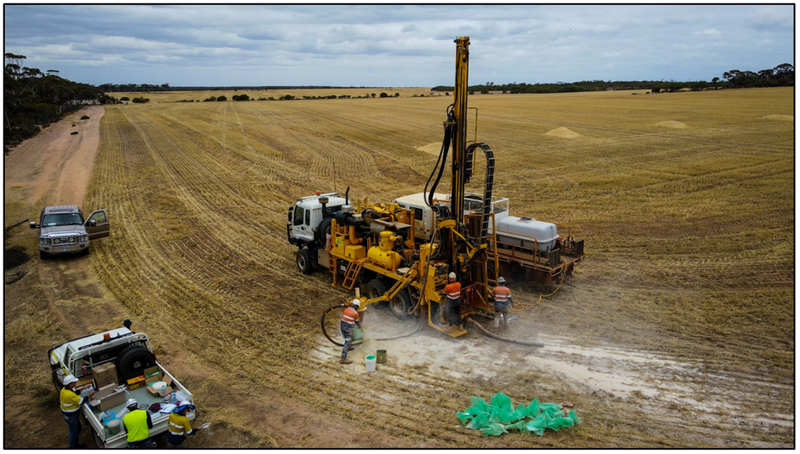 Air-core drilling of kaolinitic clays at the Noombenberry Kaolin-halloysite Project in WA.
Halloysite a winner on the ASX
Andromeda is one of the best known halloysite companies on the ASX and is developing the Great White Halloysite-Kaolin project in South Australia.
In September last year, ADN reported an inaugural JORC mineral resource estimate at its Hammerhead Kaolin Deposit of 51.5 million tonnes. As stated above, since then this stock has risen from 5 cents per share to ~30 cents today to deliver investors a more than 500% return.
Here's a look at ADN's chart again: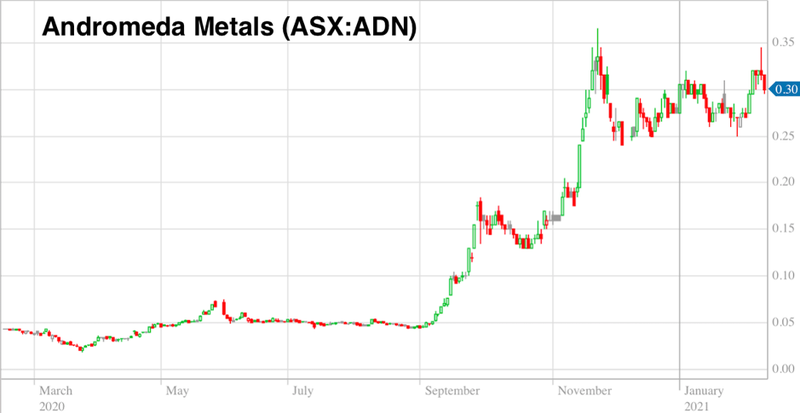 Could LRS could be on a similar trajectory?
While its returns are not yet in the multiples of that of ADN, the stock is already trending in the right direction ahead of its upcoming drilling results and maiden JORC resource estimate.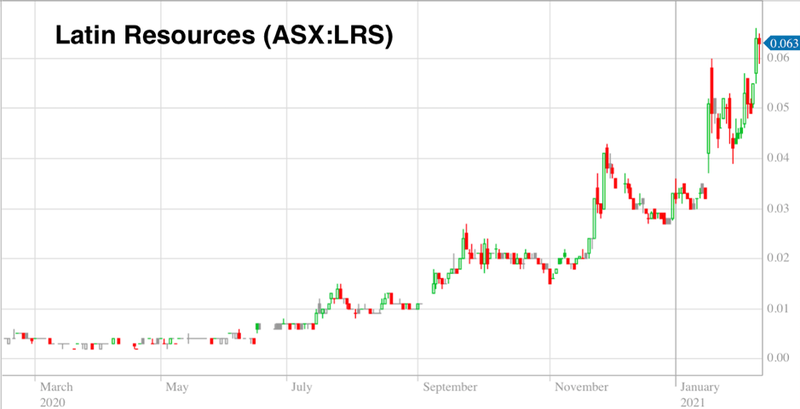 It should be noted that LRS has undertaken exploration drilling over an area of 18 square kilometres as opposed to 1.2 square kilometres at ADN's Hammerhead – another factor that could drive upbeat investor sentiment if like-for-like assays are received.
Further, the company anticipate that the maiden JORC resource estimate could exceed that of Andromeda.
If LRS's halloysite resource is shown to be larger than ADN's, we would expect significant leverage off its current still sub-$100M market cap.
Still with a market capitalisation of just $84 million — as compared to ADN's $635 million — positive assay results from LRS that pave the way for a maiden resource could see the stock move fast ....and all the signs are pointing to success.
Halloysite drilling at Noombenberry Project
Latin Resources' Noombenberry Project is a 117km2 project covering two contiguous granted tenements and five new tenement applications, less than 300km east of Perth.
In October 2020, LRS signed land access agreements with key landholders on the Noombenberry Project, allowing it to progress plans for its first-pass air-core drill program.
The company wasted no time, commencing the now completed air-core drilling program in December 2020, which involved a total of 197 holes for 4,430 meters of vertical shallow air-core drilling over an area of approximately 4.5km by 4.0km (18km2), to test the extents of a known kaolinite-halloysite occurrence.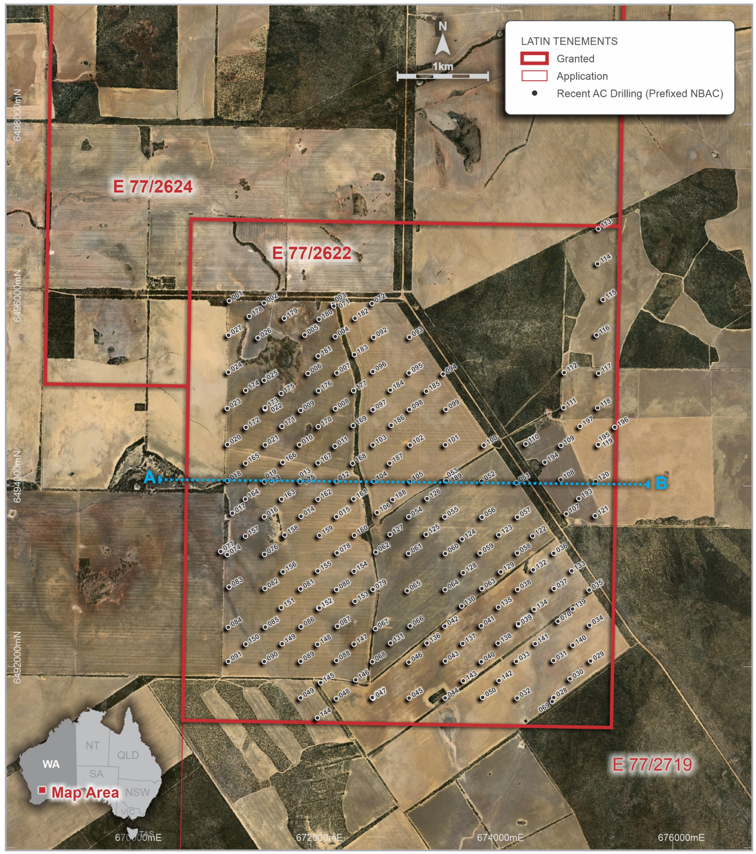 Noombenberry Project showing completed air-core drill sites, and the location of Cross Section 6,494,000mN.
Logging of air-core drill cuttings showed the development of a thick, consistent, flat dipping blanket of bright white kaolinitic clay across the area of drill testing, just meters below the surface.
LRS confirmed significant intersections of bright white kaolinite across the area tested – as seen in the image below, with a maximum logged down hole intersection of 50 meters. This sequence of well-developed kaolinitic clay (saprolite) beneath a thin layer of soil cover is consistent across the area tested.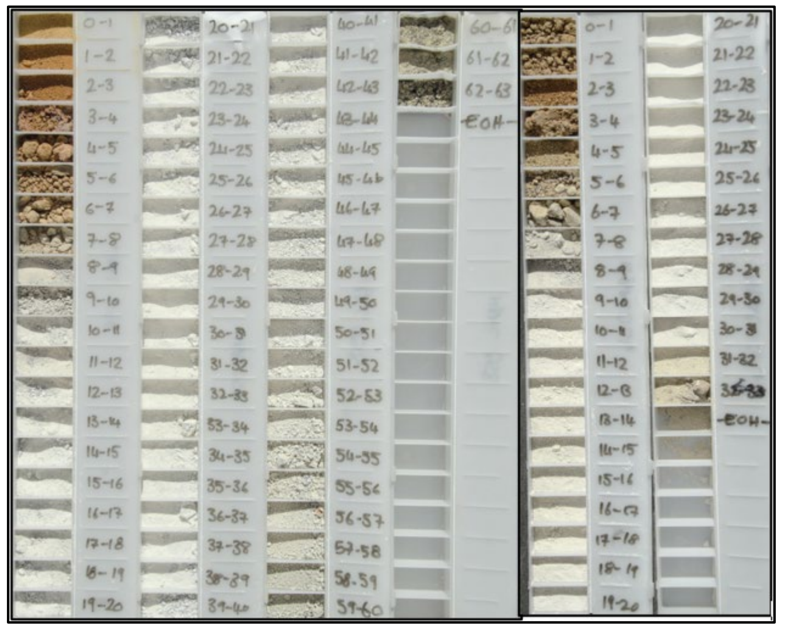 Air-core drill cuttings from Drill holes NBAC058 (0-63m) left, and NBAC044 (0-33m) right.
Initial test work on surface samples confirmed the presence of halloysite mineralisation on the project, with results showing 38.9% kaolinite, 31.8% potassium-feldspar, and up to 15% halloysite by weight in the 45 – 180um size fraction.
Further, the geometry and consistency of the kaolinite layer (as illustrated in the following cross section) will bode well for any potential future development.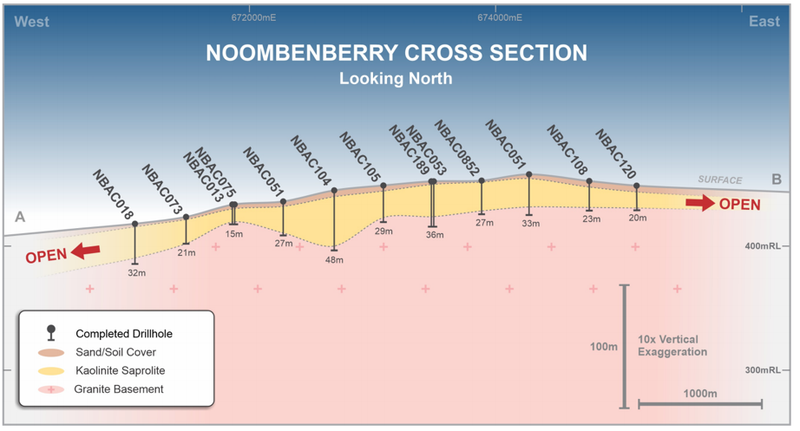 Cross Section 6,494,000mN, showing a representative simplified geological interpretation across the project area.
Assay results imminent
Composite samples from the air-core drilling were sent to laboratories in Perth and Adelaide to undergo detailed test work including size fraction analysis, brightness testing, definitive clay mineral species quantification via a combination of X-Ray Diffraction (XRD), and spectral scanning, along with other elemental analysis via X-Ray Florence (XRF).
The imminent results will ascertain the quality of kaolin and more importantly how much of the valuable and rare halloysite product is contained within the kaolinite.
LRS also has significant opportunity to extend the known kaolinite occurrence along strike. Reconnaissance prospecting of 'target dams' identified in aerial photomapping, confirmed the presence additional bright white kaolinitic clays and kaolinized granite some 15 kilometres along strike to the north-east of the drilling area.
This gives LRS further confidence of the potential to expand the footprint of this Kaolinite occurrence within its considerable tenement holdings as seen below.
Noombenberry Project Tenure and Location map.
Once all results from test-work have been received, a detailed geological interpretation will be produced by the company's geological team including geological and mineralisation domain wireframes to be used in the estimation process.
But management hasn't just been sitting around waiting for results.
Since completion of the drilling program, the company has been able to significantly advance the Noombenberry project to the next stage, which includes a resources estimation and other preliminary studies. LRS has used the time to build preliminary wireframes and conduct advanced discussions with suitably qualified resource consultants.
More catalysts ahead for Latin Resources
Having completed its initial drilling campaigns in a short period of time, investors are now keen to see the assay results. And given the share price action in recent weeks, the market appears optimistic.
Promising assay results would pave the way for a maiden JORC resource estimate. From there, once a resource is defined, the company believes there is a potential opportunity to move the project into a feasibility study, then production on the back of positive results from drilling.
All up, that's plenty of catalysts to keep investors engaged over coming months, further backed by increasing interest in the new commercial applications of halloysite.
---