LRS Keeps Showing Us More Spodumene
Our exploration investment Latin Resources (ASX:LRS) is currently in the middle of a diamond drilling program at its hard rock lithium project in Brazil.
With the lithium price up from ~US$9,000 per tonne at the start of 2021 to now trade at an all-time high price of US$78,000 per tonne - an incredible 700%+ surge - it appears that LRS has picked the right time to go drilling for lithium.
LRS currently has a $60M market cap and continues to show impressive visuals of spodumene - a mineral from which lithium can be extracted.
LRS' lithium project is located in a good region - right near TSX listed Sigma Lithium which trades at a CAD$1.4 billion market cap.
We think a re-rate could be on the cards, should it successfully lodge a JORC resource by the end of the year - our number one key objective for LRS this year.
Obviously, the caveat here is that we haven't seen LRS' assays yet and so it's too early to confirm whether or not LRS has made a discovery.
Today LRS announced that it had found what could prove to be lithium - specifically LRS intersected 16.2m of spodumene bearing pegmatites 180m along strike to the south of its last intercept.
At the same time LRS confirmed that down dip extensions had been intercepted from its first intercept with a peak intercept of 9m.
Further down, we compare LRS' early stage results to other hard rock lithium heavyweights - Pilbara Minerals and Sigma Lithium, and try to understand how close LRS might be to a discovery.
Earlier this week LRS also outlined its funding plan to continue drilling, which is something we were waiting to see.
LRS isn't new to the lithium space though having held its Brazilian lithium project way back when the lithium price was in the doldrums.
LRS has spent the last 3 or so years preparing for this drilling program and now looks like it may be about to announce a new discovery - pending assays of course.
Importantly, today LRS confirmed that all three drill holes have intersected Spodumene crystals - known to have one of the highest lithium contents of all known minerals.
Below is an image of the drill collars that make up that 16m, starting from a depth of 62m and down to ~86m.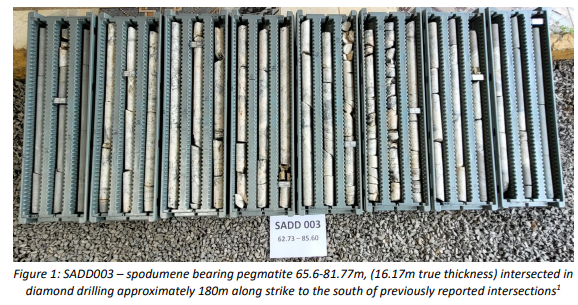 Here are the images from the second hole (down dip extension to the first hole) showing those sweet purple crystals, which we hope is full of high grade lithium.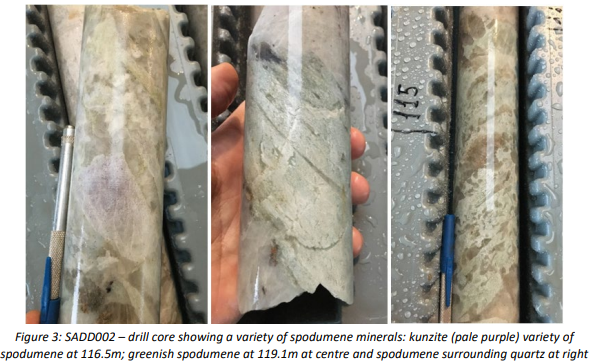 With only three of the total 14 hole drilling program completed and the next one drilling down dip of the 16m intercept, the drilling program just got that much more interesting.
We expect the next 3-4 weeks to be full of more visuals from the drilling of the remaining 11 holes and will be hoping to see the mineralisation continue both down dip and along strike.
LRS has said first assay results should arrive in the next 4-6 weeks.
With a spodumene system now clearly identified, we will be hoping LRS can show the market how big the system is before assays can show us how much lithium is in the system.
Lets not forget that this drilling program was designed off the back of sampling results from outcropping pegmatites which were tested and returned grades as high as 2.71% and 1.45% lithium.
LRS then decided to drill straight underneath these outcroppings and has so far had a 100% hit rate intercepting spodumene bearing pegmatites.
If the assays come back even remotely close to those grades, then we think LRS could begin to be viewed by the market as holding a genuine hard rock lithium project in the middle of the biggest lithium bull market we have ever seen.
In our last note, we also mentioned that the market was expecting LRS to raise capital and that it would need to attract some financing to fund this diamond drilling program through to the end.
Earlier in the week, LRS did just that announcing a $2.5M financing package which should see them through to the end of this drilling program and ultimately through to what we hope will be enough drilling data to put up a maiden JORC resource.
LRS is currently drilling with two diamond drilling rigs and had initially planned for a 14 hole program over ~2,000m.
After the financing deal was done, LRS also announced to the market that it would be expanding the drilling program to 5,000m with the ultimate aim of putting together a maiden JORC resource.
This gives LRS enough of a cash buffer to get this round of drilling done and if as the company hopes a new lithium discovery can be confirmed we suspect LRS would be raising money at multiples of its current valuation.
As with all exploration stocks, the proof will be in the assay results though. In the meantime we will be hoping to see more and more visual spodumene intercepts.
More on today's news:
We mentioned in our last note that LRS' drilling program was designed off the back of some interesting high grade rock chips taken from outcropping pegmatites.
Modern exploration techniques usually revolve around geochemical sampling (what LRS did) and geophysics (looking for EM conductors) to generate priority drilling targets.
LRS took the geochemical sampling route and mapped out the project area, with the rock chips taken from outcropping pegmatites returning peak lithium grades of 2.71% and 1.45% lithium oxide.
Last week LRS announced that it had intercepted ~5m of spodumene bearing pegmatites from its first drill hole - which you can read about here.
Today it followed that up by confirming the next 2 drill holes had also intersected spodumene bearing pegmatites with a peak intercept size of ~16m.
What stood out to us from today's results was that the intercepts were made 180m along strike and were immediately down dip from the first intercepts LRS made just last week.
In the image below we can see what we mean by "down dip". SAD001 was the first drill hole, the second followed it up with more spodumene hits - This means the drilling may have intercepted an extension to the first intercepts.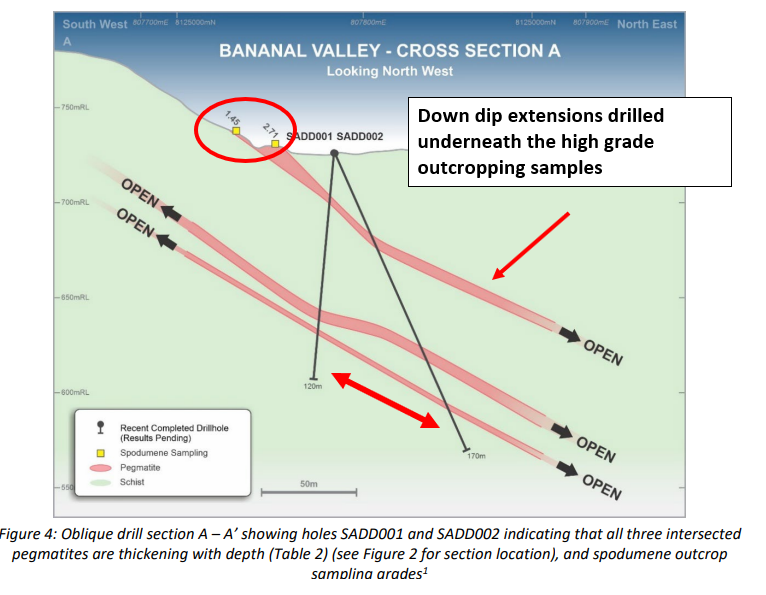 As for the 16m intercept, this was made ~180m to the south along strike. Again, this is an indication that the spodumene system continues down towards the south as LRS' geochemical sampling has mapped out.
Of the ~1.2km long potential strike Zone LRS has mapped out, drilling is so far indicating LRS may have been onto something with the mapping completed.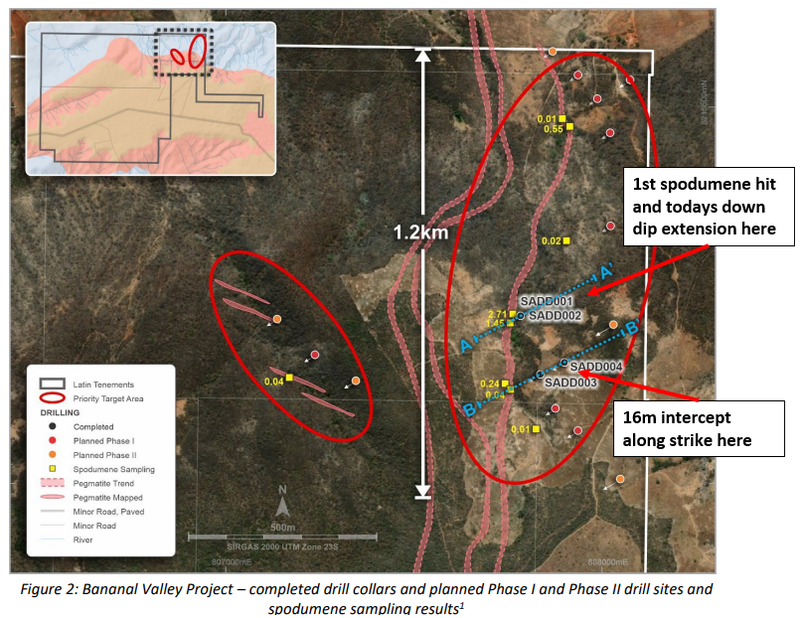 When thinking of a mineralised ore body we need to consider the length, width and depth. Early in our investing careers, we would get lost in the 2D images but the drilling is happening in 3D, ore bodies are 3D structures.
With today's drilling results LRS looks to be extending the deposit down at depth and with the spodumene intercepts being made ~180m along strike is demonstrating length.
When looking at new discoveries we have mostly focussed on these two anyway. Once a mineralised system is found, companies will then look to drill across the orebody in different directions to workout width.
For now, we want to see extensions down dip and along strike - and today LRS delivered both.
In today's announcement, LRS also gave us a teaser of the fourth drill holes location which looks like it will try to demonstrate down dip extensions (depth) to the 16m highlight intercept it made today.
This now sets the scene perfectly, if we see a similar result to drill hole 2 where that 16m intercept is followed up with more spodumene down dip then LRS will just be strengthening that "depth" part of building out an orebody.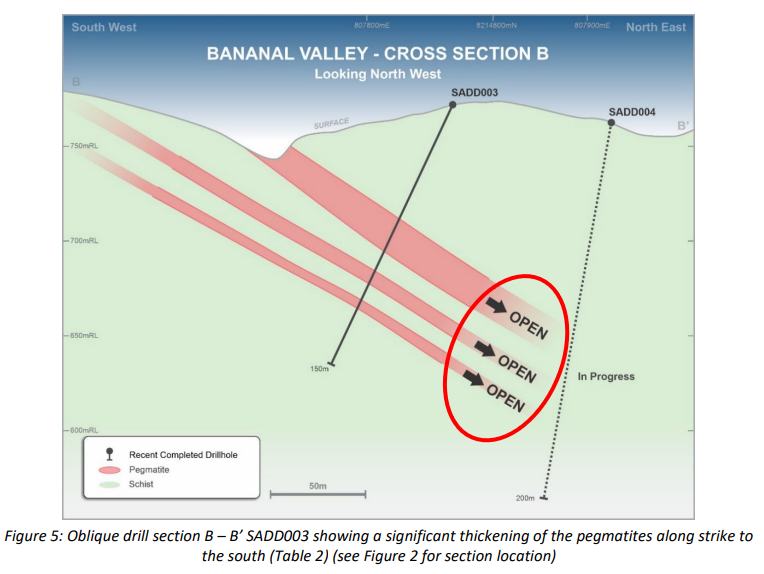 What's next at the Brazilian lithium project:
14 hole, 2,000m diamond drilling program 🔄
LRS is only 3 holes into the 14 hole drilling program.
We expect to see some more visual drill cores from the drilling program come back over the next 4 weeks before the focus turns to the assay results.
With today's 16m intercept LRS looks to be onto something. Of course, the real determinant will be the grades.
If the assays return lithium grades at or above 1% lithium oxide, we suspect the market will become seriously interested.
How does this style of intercept compare to other hard rock lithium companies?
When looking at drill results in isolation, we sometimes find ourselves thinking if we think the market will care about these results so it's important to try and put some context around them.
LRS has so far intercepted spodumene bearing pegmatites in all three of its drill holes and seems to be mapping out a decent structure - but how does it compare to the deposits of the majors in the hard rock lithium space?
First, we looked at an announcement Pilbara Minerals (capped at $8.4 billion) put out where they delivered extensions to their Pilgangoora deposit.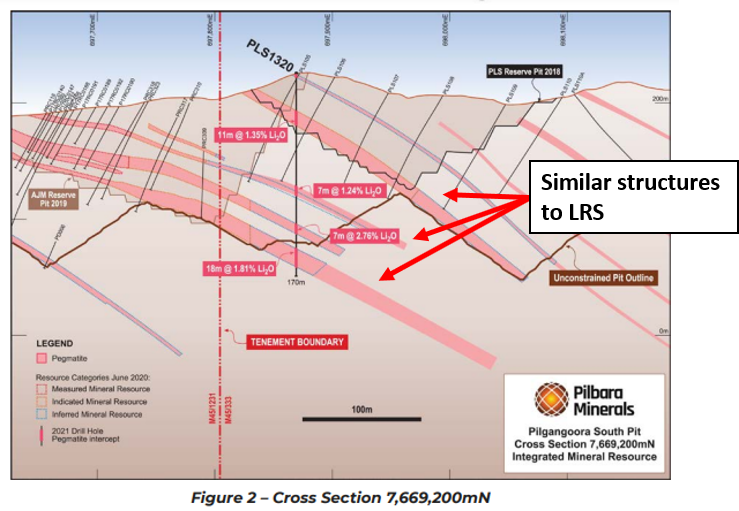 The deposit type looks almost identical to what LRS could be drilling into - 11-18m high grade lithium bearing structures that extend down dip and along strike.
The obvious difference being these area intercepts with assays returning the pegmatite intercepts are high grade lithium, we are yet to see what's in LRS' intercepts.
Second is a comparison a little closer to home for LRS, TSX listed Sigma Lithium's (Capped at CAD $1.4 billion) hard rock project which sits in the same region as LRS' project.
Below are two images of two of the deposits that make up the project, there are several more which you can find by clicking on the images below but these are enough to demonstrate what we are interested in.
Again another example of a hard rock deposit extending down dip and along strike.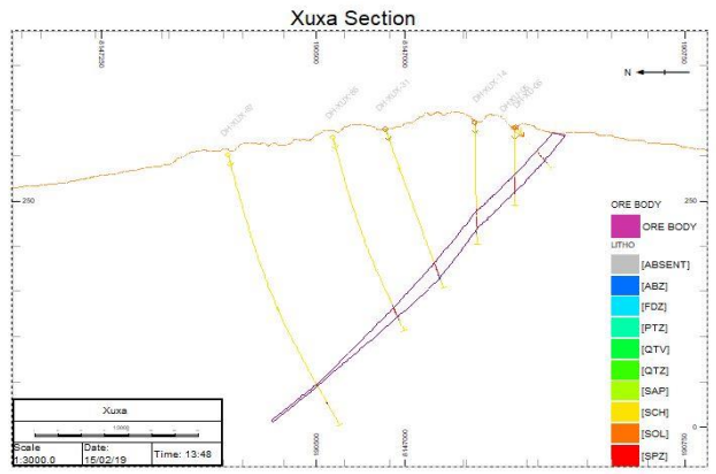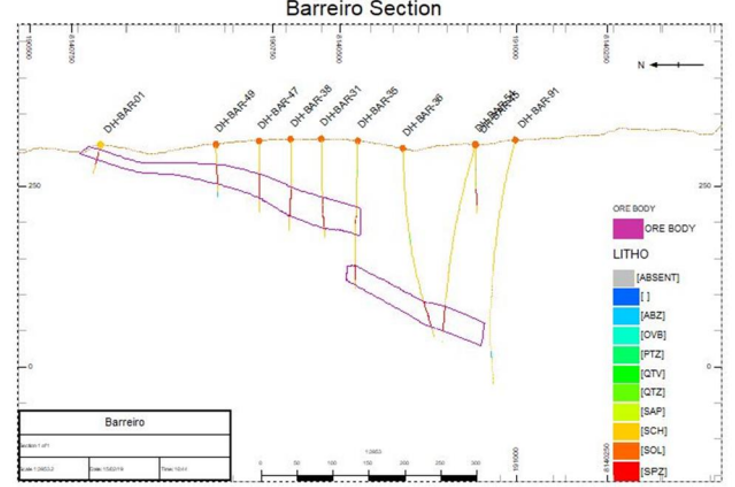 The caveat here is that we haven't seen LRS' assays yet and so it's too early to confirm whether or not LRS has made a discovery.
As with all junior explorers we need to see the assays from the drilling program before we can start comparing the size of LRS' discovery to that of other listed explorers.
Funding for the current round of drilling secured:
In our last note on LRS' we went into some detail on the company's cash balance as looking at the quarterly it was uncertain how LRS would pay for continued drilling.
We mentioned that this was likely a cause for concern for new investors who may have been waiting on the sidelines for a capital raise to be done before buying into the company.
Early this week LRS found a solution to its financing plans, announcing a $2.5M deal with New York based financier Lind Asset Management.
The deal is secured against the company's listed options so that if the company receives any conversions from investors the funds are used to immediately pay down the principal of the loan outstanding.
The terms of the funding facility are as follows:
Immediate cash paid for LRS of $2.5M
$2.75M face value loan, repayable over 14 months.
On closing date, LRS to issue Lind 35 million unlisted options with an exercise price of 5c, expiring March 2026.
LRS to pay Lind a $75k commitment fee.
Funds raised from "in the money" options being exercised must be used to repay the principal of the loan.
So in total over the 14 month loan term, LRS is paying $325k in loan fees and 35 million in unlisted options exercisable @ 5c.
With ~$6.5M in options currently all in the money at LRS' current share price, and ~$2.3M exercised in CY21, we think LRS will have no trouble paying down this facility.

However the impact from the conversions could result in a bit of sideways action in the company's shares price.
If the ~432 million 1.2c options are exercised it means the investors who hold them would be buying shares @ 1.2c and would likely be looking to sell some of these at market prices - depending on the LRS share price at the time.
In the short term this is likely to create some selling pressure over the coming months - however if LRS can go on to prove out a substantial JORC lithium resource and the options are all converted quickly, then the impact to the share price could be minimal.
Alternatively, LRS still holds ~$1.6M in ASX Listed Solis Minerals shares at yesterday's market close price of 20c.
If push came to shove, and the facility needed to be repaid at the end of the 14 month period, we think a partial sell down of these shares would be enough to cover some portion of the outstanding debt.
The key takeaway for us is that the $2.5M now, gives LRS a chance to fully drill out its lithium project and show the market whether or not it has made a new discovery.
If LRS can confirm a discovery we suspect the share price for the company will move much higher and future capital raises for shareholders will be less dilutionary.
Overall we think its a well timed funding facility, providing just enough funding for LRS to drill out its Brazilian lithium project.
At least for now, we think LRS has mitigated one of the risks that we touched on in our Investment Memo for 2022.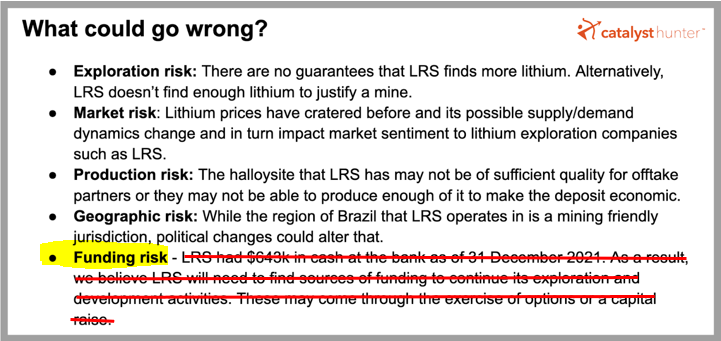 This brings us to the Objectives we set for LRS in our 2022 Investment Memo:
If LRS can put together a maiden JORC resource estimate for its lithium project in the current lithium market we suspect LRS' market cap could move much higher.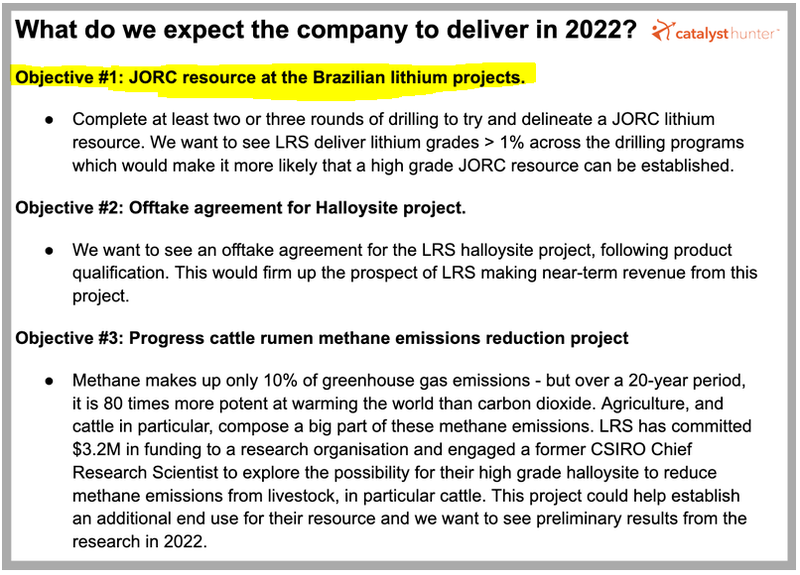 Our 2022 LRS Investment Memo
Below is our 2022 Investment Memo for LRS where you can find a short, high level summary of our reasons for investing.
The ultimate purpose of the memo is to record our current thinking as a benchmark to assess the company's performance against our expectations 12 months from now.
In our LRS Investment Memo you'll find:
Key objectives for LRS in 2022 (shown above)
Why we invested in LRS
What the key risks to our investment thesis are
Our investment plan
To access the LRS Investment Memo simply click on the button below:

Disclosure: The authors of this article and owners of Next Investors, S3 Consortium Pty Ltd, and associated entities, own 12,475,000 LRS shares at the time of publication. S3 Consortium Pty Ltd has been engaged by LRS to share our commentary and opinion on the progress of our investment in LRS over time.
---