LRS Aims to Cut Cow Methane With Halloysite
Disclosure: The authors of this article and owners of Catalyst Hunter, S3 Consortium Pty Ltd, and associated entities, own 5,055,000 LRS shares at the time of publication.
S3 Consortium Pty Ltd has been engaged by LRS to share our commentary and opinion on the progress of our investment in LRS over time.
Let's talk about methane.
While carbon dioxide grabs most of the headlines in the race to stop a dangerous rise in the planet's temperature, methane is a far more insidious gas that does a disproportionate amount of damage.
Methane makes up only 10% of greenhouse gas emissions - but over a 20-year period, it is 80 times more potent at warming the world than carbon dioxide.
The UN notes that methane has accounted for roughly 30% of global warming since pre-industrial times and is proliferating faster than at any other time since record keeping began in the 1980s.
A big contributor to methane emissions is the agriculture industry - particularly the 1 billion cows on the planet.
Reducing methane emissions from agriculture to prevent the planet from overheating is a massive problem that many of the world's best scientists are racing to fix.
Turns out, halloysite and kaolin clay minerals could be used to develop novel methane emission reduction technologies, including applications such as:
feed supplements for cattle,
spreadable material and
halloysite shale for inhibiting and absorbing methane.
Our investment, Latin Resources (ASX:LRS) happens to have one of the largest kaolin / halloysite deposits in Australia.
LRS has just teamed up with a former CSIRO Chief Research Scientist to conduct R&D projects that will see if LRS can use its halloysite to develop technology that will reduce methane emissions.
LRS will contribute $3.2M in funding over three years for this research, and in exchange, LRS will own the intellectual property developed.
This is a surprise deal for us - while it's an early stage R&D project with unclear outcomes right now, we always rate ESG friendly companies higher than the rest, and LRS taking steps to make meaningful contributions to the reduction of methane emissions is something we view positively.
Why we invested in LRS and what has happened so far
In late 2020 we liked the look of LRS' WA halloysite project - especially when compared to Andromeda Metals - another stock that had a similar but more advanced project in SA - which was capped at multiples of LRS.
Our investment thesis was that if LRS could define a bigger and better halloysite resource than Andromeda, then it would be only a matter of time before LRS' market cap caught up.
Whilst LRS has gone onto define a maiden 207 Mt JORC resource of kaolinised granite - one of the largest kaolin / halloysite deposits in Australia, and one which we think compares pretty favourably to Andromeda...
... since the news was released, LRS was sold down from trading in the 6s, to now trading around 4.5c for most of the previous few months.
Meanwhile Andromeda has also taken a fair beating as well, with its share price halving.
We think this re-rate down might have been due to a lack of clearly defined use cases and criticism that halloysite companies would struggle to make revenue from their speculative assets.
This is part of the territory when investing in explorers chasing materials with high tech use cases and nascent markets.
LRS' sideways on market performance could also be related to the 456 million 1.2c options that are progressively being converted into shares - creating an overhang in the stock.
With news of today's R&D projects, LRS has gone some way to demonstrate a use case that has the potential to unlock value both financially and from an ESG perspective - exploring the use of halloysite to reduce the harmful climatic effects of methane emissions from cows.
You've probably heard about how bad 'cow farts' are for the environment and how we need to reduce methane emissions, not just carbon emissions - this is one of the biggest challenges to solve for the planet, as people continue to want to consume meat.
LRS' lithium projects in Brazil which we featured in our previous note on LRS are still in their infancy, but are an added bonus - these projects will not be the focus of this article today.
LRS announcement today details the $3.2M that LRS is committing to CRC Care's methane emission reduction projects - which means we are adding a new milestone to track the progress of this research:
🔄New: R&D into Using Halloysite to Reduce Methane Emissions
CRC Care is an independent research organization that in the past has partnered with organisations like BHP, Rio Tinto and the Australian Department of Defence.
CRC Care's Managing Director Ravi Naidu has an impressive CV - he is the most highly cited environmental scientist in Australia, and among the top 1% of environmental scientists in the world.
When Ravi was the Chief Research Scientist at CSIRO, his team was one of the first to modify natural clay materials - that work lead to the development of Phoslock - later spun out into a listed company which was at one stage worth $300M.
So for LRS to be working with Ravi is a good sign for us - he has the experience to convert R&D into valuable end uses.
We're a big fan of ESG initiatives such as this and following recent coverage at COP26, the global climate summit, methane emissions are now a key priority for governments and businesses alike:

What is the goal of the R&D projects announced today?
The aim of the research is twofold and has two different avenues of attack.
The first proposed discovery is to mitigate the impact of cow flatulence and burps. This creates a particularly harmful greenhouse gas called methane.
You read that right, and it's a real thing. By some accounts, the amount of emissions emitted by cows on a daily basis is equivalent to that of a standard petrol car. Agriculture makes up some 14% of global emissions and there are around 1 billion cows around the world.
And agricultural output is expected to rise by around 60% by 2030.
Which for us makes this research more significant.
You can see a diagram of the first proposed discovery below: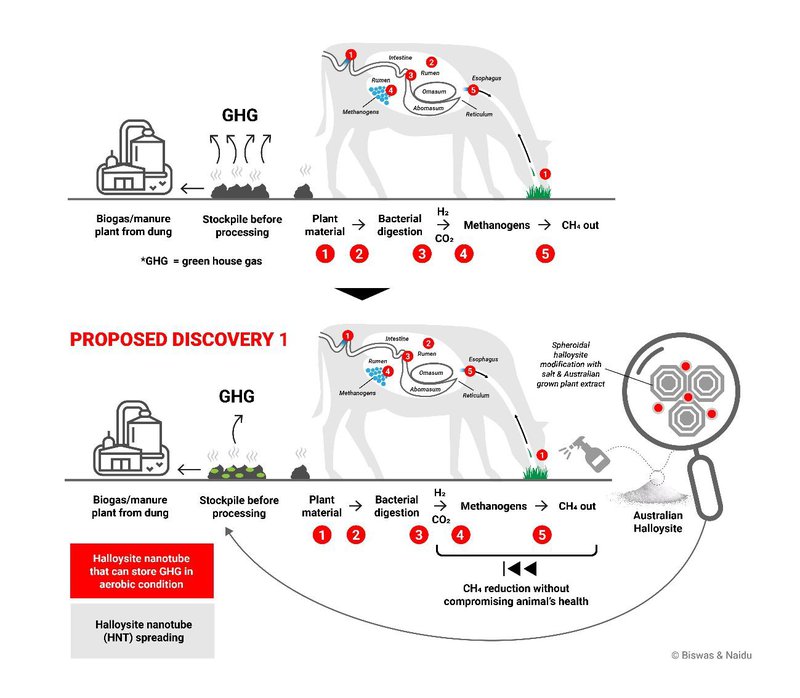 Figure 1: Proposed Approach 1
By adding LRS' halloysite to cattle feed, it's possible that the cows' methane emissions could be reduced.
Here at Catalyst Hunter, this morning we did a bit of a deeper dive into existing research on this topic, which yielded this particular piece from 2015: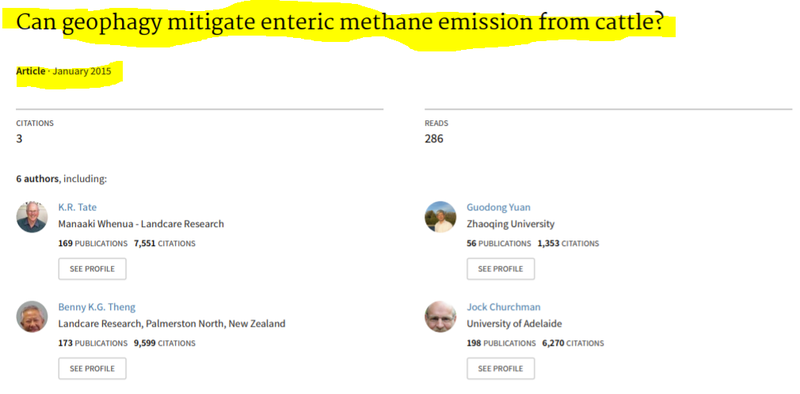 As you can, researchers have been thinking about halloysite to mitigate the effects of methane for many years.
Here's a key quote from the conclusions of that research paper:
'In this regard, the hydrothermally- derived kaolinite was found to be very effective in reducing CH4 [methane] emissions in vitro.'
Now we're not scientific experts here, but there are very early initial signs that LRS research with CRC Care could yield positive outcomes.
We believe that CRC Care's line of attack on the cow/methane problem is a bit different and could turn up more concrete use cases should all go well.
We'll do a profile of the lead researcher from CRC Care in a moment, but let's consider the second proposed discovery LRS and CRC Care are pursuing as of today's announcement: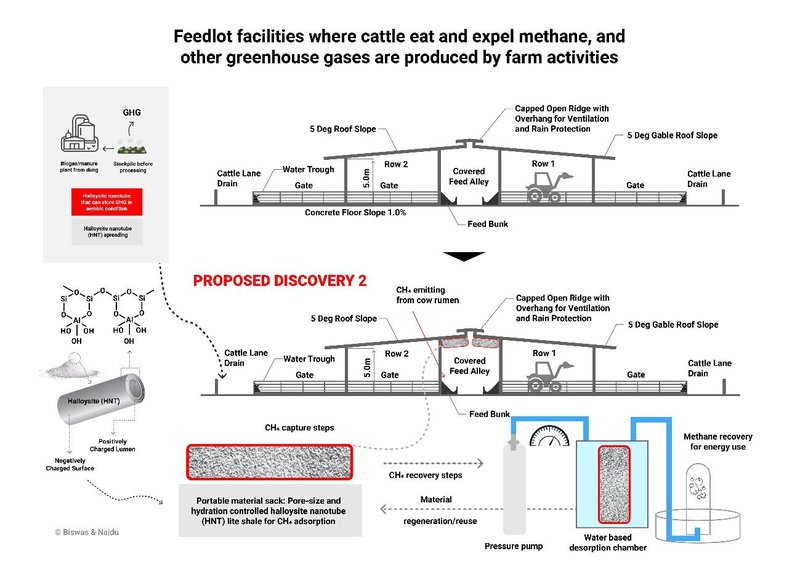 This second part of the project is a sort of filter type mechanism in agricultural facilities.
It involves halloysite nanotube (HNT) products which when purified, LRS says fetch a significant price premium to HNT/kaolinite mixes:
'Low-cost precise purification of halloysite nanotubes ("HNT") from variants of halloysite and kaolinite mixtures (pure HNT can generate double the revenue of HNT/kaolinite mixes).'
We think developing cheap, pure HNT is a complementary aspect of the research announced today as it could increase LRS' margins in its project economics.
You can see below how LRS intends to fund the two projects: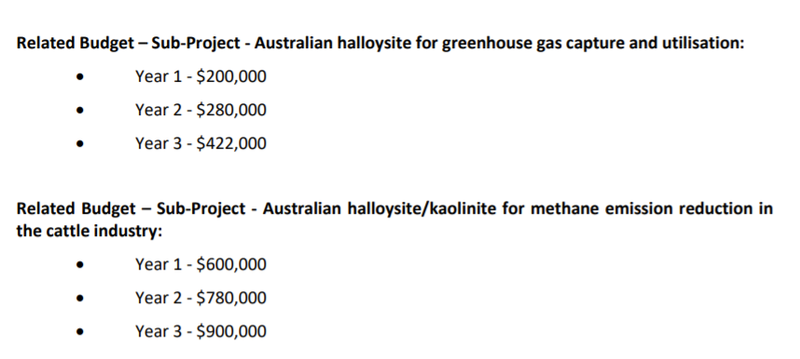 As you can see, LRS' funding is geared more towards solving the emissions problem for the cattle industry.
We believe that this reflects the fact that the cattle industry outcome is more capital intensive.
With the funding in place, steering this project is one of the brightest mines in pollution research...
Who is behind this research?
Professor Ravi Naidu, Founder and Managing DIrector of CRC Care.
Professor Naidu's CRC Care has previously worked with BHP, Rio Tinto and the Australian Department of Defence and judging by his citation count, is one of the foremost experts in anti-pollution tech in Australia.
When he was Chief Research Scientist at CSIRO Land and Water, Ravi's team was one of the first to modify natural clay minerals.
So we think CRC Care will be a good steward of LRS' funds and we're looking forward to what potential discoveries the research team can unlock.
How could this research benefit LRS?
We think this research project could benefit down the track in terms of finding use cases for its significant halloysite kaolin project in WA.
Crucially, as per the agreement with CRC Care:
'The research results and all intellectual property rights associated with and derived from the research results will be owned 100% by Latin.'
Here are the three reasons we think this could benefit LRS in the long run:
At a macro level, today's agreement helps legitimise the various emerging uses for halloysite
It helps LRS figure out how to create a higher margin product (HNT),
AND if CRC Care makes a breakthrough, they have the intellectual property on hand so that revenue can be derived from product sales or licencing
How does LRS propose to fund the research?
LRS intends to fund the research with cash on hand of $1.77M, future government R&D rebates & through the exercising of what they have called strongly "in-the-money" Options as the current LRS share price is 4.2c - much higher than the options conversion price.
"In-the-money" refers to Options that are held by options holders who can pay the company to acquire shares at a predetermined price.
Below is a list of all of the "In-The-Money options" that LRS has on issue - this shows at the current share price of 4.2c, LRS has up to $7m in potential funding from future Option exercises.

Source: Catalyst Hunter Research
Whilst LRS getting funding is good, the options conversion process should lead to some churn in the share price into 2022 - as those who are not committed to LRS long-term look to convert their options, sell the shares, and take their profits. This is expected.
At the same time, the bulk of the options (456 million of them) are listed and therefore easily tradeable. So those who want to sell for a quick profit will have ample opportunity to do so.
We are hoping the people left holding the options are long-term backers of LRS & will exercise the options with similar longer-term investment strategies to us.
Reminder: What is halloysite kaolin?
Halloysite is a rare derivative of kaolin, a clay mineral. It has traditionally been used in ceramics and as a petroleum cracking catalyst, however it has a raft of exciting potential new applications in emerging industries set to only expand in the decades to come – energy storage, batteries, supercapacitors, carbon capture, and cancer therapeutics.
Previously, those new applications have excited the market, especially given that halloysite globally is in short supply.
China recently closed a number of environmentally damaging halloysite kaolin mines.
What's next for LRS?
Today's announcement is more geared towards the long-term so in the short term we are more focussed on this milestone:
🔲 JORC Resource Upgrade
In its most recent quarterly, LRS stated that infill drilling to upgrade from the current Inferred Mineral Resource Estimate to a JORC Indicated classification has been completed and initial sample processing and analysis is underway.
We already know LRS has a significant halloysite resource on its hands, so this could be a future catalyst. We will also monitor broader downstream halloysite uses and market movements that could impact the perceived value of LRS' project.
You can catch up on the full list of milestones for LRS below:
LRS Company Milestones
✅ $5M Cap Raise @3c
✅ ESG Reporting Standards Adopted
🔲 Unexpected Positive Announcement 1
🔲 Unexpected Positive Announcement 2
🔲 Unexpected Positive Announcement 3
Salinas Lithium Project (Main Bet #1)
✅ New Exploration Program Commences
✅ Fieldwork Complete
🔲 Assay Results Received
🔲 Drill Testing Begins
🔲 Drill Targets Identified
🔲 New Milestones Added
Noombenberry: Halloysite (Main Bet #2)
✅ 3,500m of Aircore Drilling Commenced
✅ 3,500m of Aircore Drilling Complete
✅ Assay Results from Aircore Drilling
✅ Aircore Drilling Commenced
✅ Infill and Step Out Drilling Commenced
🔲 JORC Resource Upgrade
🔲 Pre-Feasibility Studies (Noombenberry)
🔄New: Halloysite Research for Methane Emissions
Catalyst Hunter Investment Milestones
✅ Initial Investment @1.76c (before key catalyst)
✅ Increase Investment @4.49c (before key catalyst)
✅ Price increases 250% from initial entry|
🔲 Price increases 500% from initial entry
🔲 Price increases 1,000% from initial entry
🔲 Free Carry
🔲 Take Some Profit
🔲 Hold position for key drilling event
🔲 Decide New Investment Plan after key catalyst
---