The Lithium Market is On Again - LRS Fast Tracking to Development
Disclosure: The authors of this article and owners of Catalyst Hunter, S3 Consortium Pty Ltd, and associated entities, own 5,755,000 LRS shares at the time of publishing. S3 Consortium Pty Ltd has been engaged by LRS to share our commentary on the progress of our Investment in LRS over time.
Lithium is back. But did it ever really go away?
Since their June lows, lithium stocks across the board are up more than 50%.
It appears that the market has picked up on the fact that the world needs 7x more lithium than it has on hand right now, according to McKinsey.
Backing that view is the CEO of Albemarle, the world's largest lithium producer, who expects lithium supply shortages to run through to 2030.
After its lithium discovery in Brazil this year, our lithium exploration Investment Latin Resources (ASX:LRS) is one company trying to bring new supply online.
Off the back of its March discovery, LRS raised $35M and it is now moving full steam ahead toward the project's development phase.
LRS hopes to alleviate some of these lithium supply shortages and evolve into a lithium producer, in a similar fashion to its more advanced Brazilian neighbour, Sigma Lithium (capped at A$3.1 billion).
Earlier this week, LRS appointed consultants to commence a preliminary economic assessment for its Colina lithium discovery BEFORE defining a JORC resource estimate.
Interestingly, LRS appointed the same consultants that completed a Definitive Feasibility Study (DFS) for Sigma Lithium - so they are already familiar with the region and its geology.
LRS has also commissioned a pilot plant that is capable of producing product samples which it can then shop to potential offtake partners.
On that front, LRS has started fielding calls from "several international car and battery manufacturers as well as leading lithium trading houses with respect to future supply of its lithium product".
That sounds promising to us.
With $33.5M in cash in the bank (as at 30 June 2022), LRS is flexing its balance sheet muscle, concurrently running the following:
A 25,000m resource definition drilling program - Four rigs are on site and drilling to fast track a maiden JORC resource estimate. (Before the end of 2022)
Metallurgical test work - To qualify its product specifications to aid in discussions with potential offtake customers.
Preliminary economic assessment - Utilising all of the above data to put some colour around the project economics of its discovery. (Before March 2023)
With all of this happening simultaneously, LRS is looking to fast track its project from new discovery to a potentially development ready project in under 18 months.
Below is LRS's "fast track study timeline", detailing the company's targets: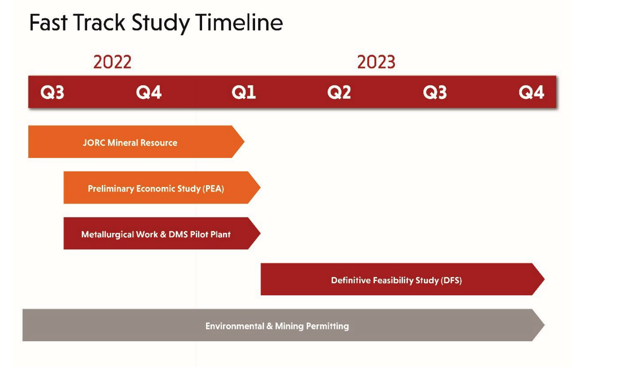 Having made the discovery in March this year, LRS expects that by March 2023, the company will be in a position to move straight into a DFS.
After this week's announcement, LRS now has the wheels in motion across all of the key objectives we wanted it to achieve in the 12 months on from our June 2022 Investment Memo.
To see all of the reasons why we continue to hold LRS, the key objectives we want to see the company achieve, and the key risks to our Investment thesis, check out our Investment Memo by clicking on the image below.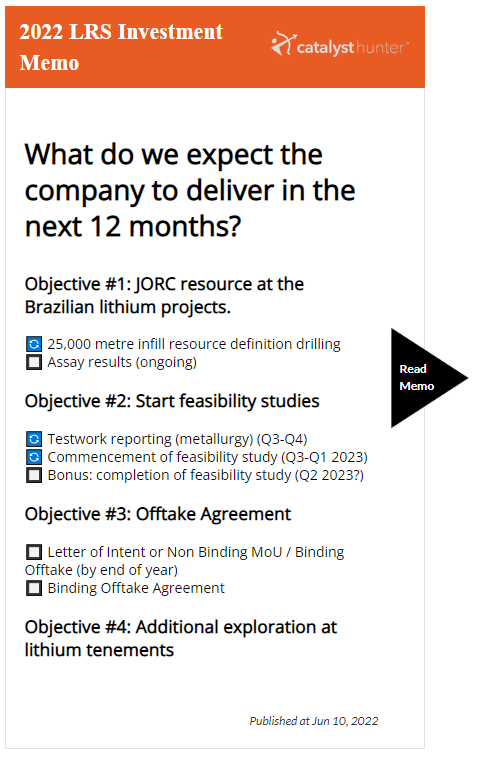 Latin Resources
LRS also making progress on the offtake front?
Buried in the announcement earlier this week, LRS also provided an update on offtake discussions.
An offtake is an agreement between a mining company and an end user for future supply of the mine's production.
In LRS's case, this would look like a commitment from a buyer to purchase a % of LRS's expected future lithium production.
The benefit of LRS securing an offtake, even at this early stage, is that it gives potential mine financiers the confidence to invest in the mine since a portion of revenue is already locked in.
In addition to early offtake discussions, LRS is quickly working on getting samples of its lithium into the market - end users need to know the product will work in their batteries.
To that end, LRS confirmed that it had commissioned a pilot plant to produce lithium concentrate samples from its project in Brazil.
The Dense Media Separation (DMS) pilot plant will allow the company to provide a representative lithium concentrate product from its project to potential offtake customers.
Interestingly, LRS also stated that it had "held preliminary discussions with several international car and battery manufacturers as well as leading lithium trading houses with respect to future supply of its lithium product".
Usually, these types of discussions start to happen when a mining company is a lot closer to production.
With supply so tight in the lithium space, it is very much a sellers' market where buyers need to get these offtake discussions started at the discovery stage instead of the development stage.
We suspect the decision to commission the pilot plant BEFORE a JORC resource or before any metallurgical test work is done comes as a response to the demand LRS is seeing from potential customers.
We are not surprised by the interest in LRS's product, given the comments made by Albemarle CEO Kent Masters, who expects lithium supply to remain tight for seven to eight years.

All of this means LRS now has an early start on delivering key objective #3 of our Investment Memo, which is to see LRS deliver an offtake agreement.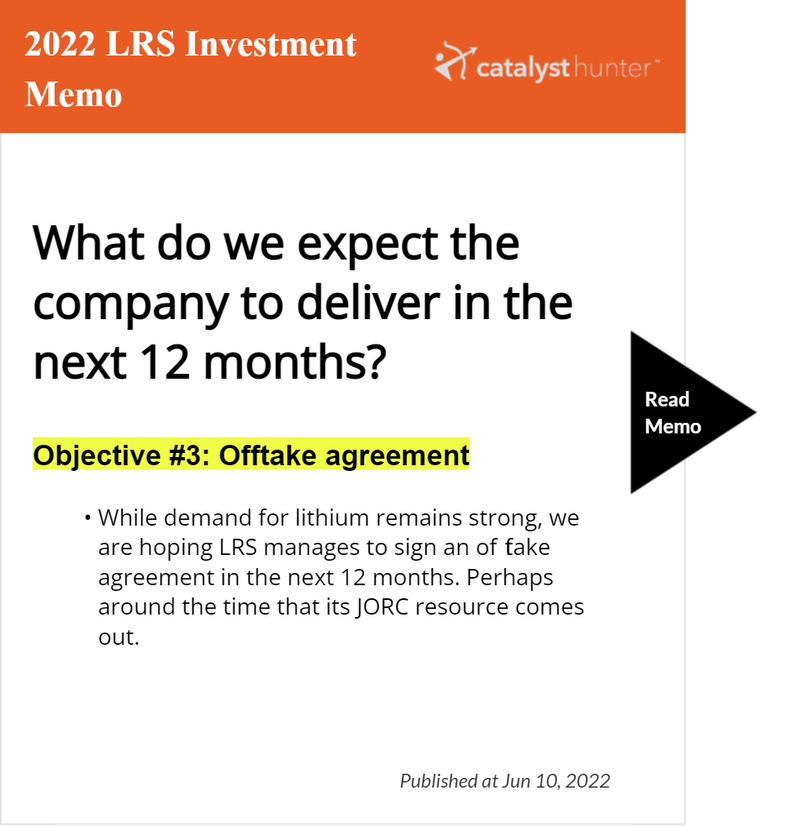 Update on LRS's drilling program
LRS last put out a drilling update on 27 July 2022, confirming that ~25% (5,890m) of the 25,000m resource definition infill drilling program had been completed.
With four rigs on site drilling, LRS reaffirmed its commitment to wrap up the drilling program ready for a maiden JORC resource estimate by the end of the year.
The latest assays the company put out confirmed that the Colina discovery continues to hit lithium grades well above a level that would deem the deposit economic enough to mine.
These assays returned intercepts as high as 16m with a peak lithium grade of 4.22% over a 1m intercept.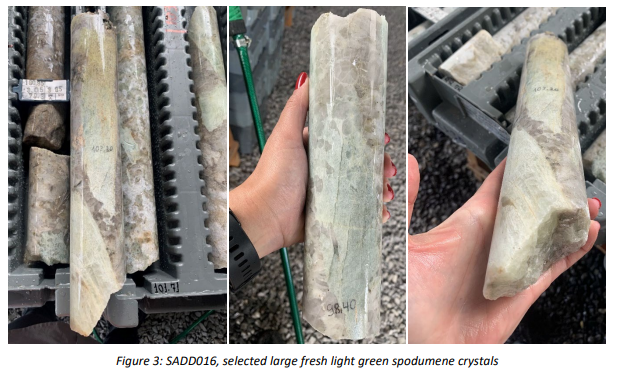 The drilling results are coming together to prove out LRS's deposit over a ~1km strike and ~500m width.
At this point, it is still far too early to start trying to work out just how big LRS's resource will be. But for now, one way to think about it is by comparing it to the deposits held by LRS's neighbour Sigma Lithium (capped at $3.1 billion).
In particular, Sigma's Barreiro and Xuxa deposits.
First, is the Barreiro deposit which sits over a ~600m long strike with intercepts as high as 30-35m and ~800m down dip.
That deposit has a measured/indicated and inferred JORC resource of 22Mt.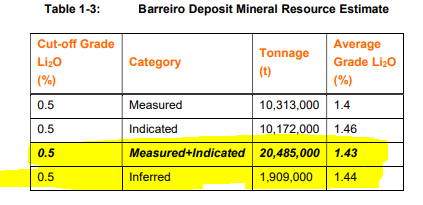 While LRS's project sits over a larger strike zone, the key difference is in the pegmatite thicknesses being intercepted. LRS's peak intercept so far is 25.2m, compared to Barreiro where thicknesses are as high as 30-35m.
The Barreiro deposit is also much larger in terms of width, so we think it's unlikely that we'll see a resource as large as this.
The second comparison can be made with Sigma's Xuxa deposit.
The Xuxa deposit sits over a strike length of ~1,700m with intercepts averaging 12-13m in thickness down to a depth of 259m.
The Xuxa deposit has a measured indicated and inferred JORC resource of 21Mt.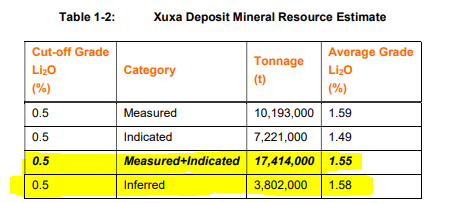 The obvious difference between LRS's Colina discovery and the Xuxa deposit is the strike length.
LRS's discovery currently sits on a strike length of ~1km whereas the Xuxa deposit sits on a strike length of ~1.7km.
Working in LRS's favour though is the thickness of its intercepts, which have measured as high as 25.2m, whereas the average thickness of the Xuxa deposit is around ~12-13m.
Again, it is still far too early to try to estimate where LRS's JORC resource will sit exactly. We need the current drilling program completed before we can start to compare deposits on a like-for-like basis.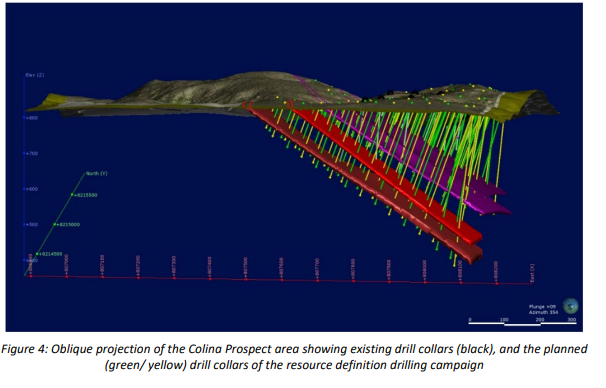 Going into the end of the year, we have set out various expectation cases.
We will consider a JORC resource that is even close to comparable with either of Sigma's deposits as a massive win for LRS. Especially considering that this is LRS's first drilling program after making the discovery with the deposit open to the south.
Below are our expectations: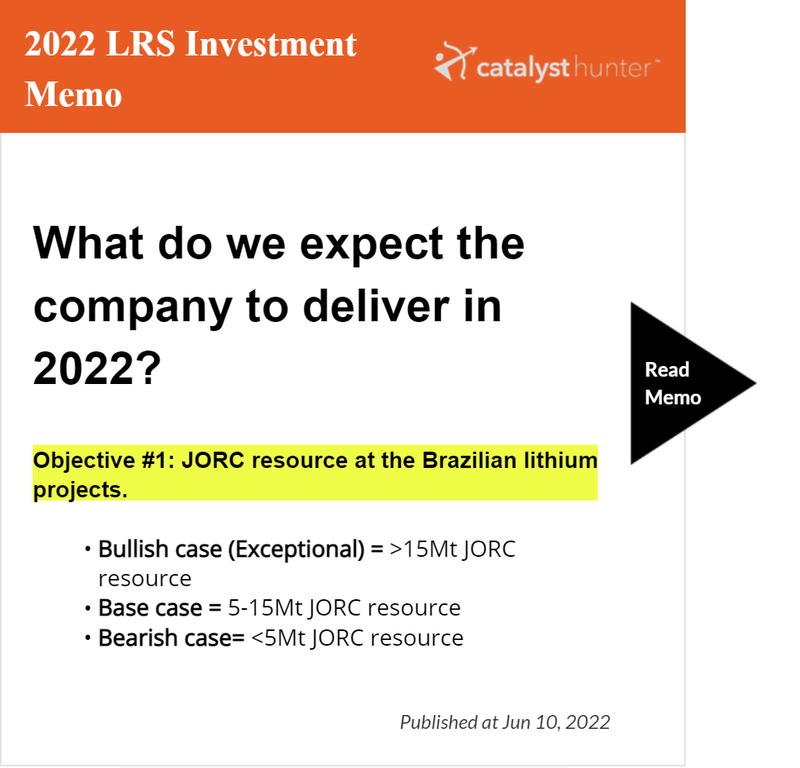 What's next for LRS?
25,000m resource definition drilling program 🔄
LRS is currently running an infill drilling program to fast track a maiden JORC resource estimate over its Colina lithium discovery.
As of the most recent exploration update, LRS confirmed it had four different rigs on-site drilling concurrently, with a total of 5,890m drilling completed to date.
Given the program is planned for a total of 25,000m LRS still has plenty of drilling newsflow to come over the coming weeks/months.
We will be watching to see how the results come in and whether or not there are any unexpected intercepts made that either increase the size of the discovery or indicate that lithium grades are increasing in a certain direction.
As drilling is completed, we expect this news to come out at arbitrary intervals.
Metallurgical test work 🔄
LRS is also currently completing metallurgical test work to qualify its product.
This is a precursor for the company's preliminary economic assessment, which has been commissioned and will also be needed to complete a maiden JORC resource estimate and progress discussions with potential offtake partners.
Maiden JORC resource estimate 🔲
With four rigs currently drilling the 25,000m resource definition program, we don't expect to see a resource announcement until all the drilling newsflow has come out.
Preliminary Economic Assessment 🔲
This is contingent on both the JORC resource and the ongoing metallurgical test work.
Even though LRS has made an early start on the PEA, we don't expect to see this until both of the above have been completed.
Our 2022 LRS Investment Memo
Check out our 2022 LRS Investment Memo to find a short, high level summary of our reasons for investing.
The memo's ultimate purpose is to track our portfolio companies' progress using our Investment Memo as a benchmark throughout 2022.
In our LRS Investment Memo, you'll find:
Key objectives for LRS in 2022
Why we continue to hold LRS
What the key risks to our investment thesis are
Our investment plan
---