Latin Resources eyes lithium potential at Salinas Project
We invested in Latin Resources (ASX:LRS) back in November 2020, adding it to the Catalyst Hunter investment portfolio at 3.0¢. At the time, we identified the obvious potential of the company's halloysite project in WA — one of Australia's few known occurrences of ultra-high-grade halloysite, a naturally occurring nanotube.
For our new readers, Catalyst Hunter invests in early stage exploration companies and we share our investment journey as each company progresses.
We continue to hold our position in LRS, and now that the halloysite project has moved into the pre-feasibility phase, it's the perfect time for LRS to put focus back on exploring it's South American lithium ground while we wait.
The timing is very good given the recent surge of interest in lithium investments globally.
We've re-acquainted ourselves with the company's South American lithium projects — in particular its Salinas Lithium Project in eastern Brazil. The combination of lithium together with halloysite makes for a great green/ESG story — a theme that isn't going anywhere.
With the view that it is (and has been for many years) "a lithium company", LRS is now focusing on advancing this highly prospective spodumene tenure (the mineral spodumene is a source of lithium used to produce lithium hydroxide — a crucial ingredient in Li-ion batteries for electric vehicles).
This comes as lithium continues to make headlines amid ongoing concerns around longer term battery grade lithium supply-demand imbalances. The company also has lithium projects in Argentina, but it is still having issues with access to the projects due to COVID.
The Salinas Lithium Project is located in the highly prospective Jequitinhonha Valley district of the Minas Gerais province in eastern Brazil, an area that contains 100% of the official lithium reserves of Brazil.
Minas Gerais hosts the Eastern Brazilian lithium pegmatite province, home to TSX-V listed Sigma Lithium Corp and lithium producer Companhia Brasileira de Lítio (CBL).
To get an idea of the prospectivity of this region in regards to hard rock spodumene mining, one of the key points to look at is lithium grades. Comparing hard rock spodumene in South America to Australia, we see grades in WA's Pilbara averaging around 1.1% to 1.3-1.4%, while in Brazil's Jequitinhonha Valley deposits are showing average grades of around 1.5%-2.0% Li2O.
However, the Jequitinhonha Valley remains vastly under-explored, with high discovery potential for world class lithium spodumene deposits. And being a pro-mining jurisdiction, companies can readily obtain exploration and drilling permits.
Lithium Exploration: LRS back on ground in Brazil
Back in 2019, LRS geologists completed major field work on the Salinas Lithium Project, locating several occurrences of spodumene never previously known or reported. In summary, exploration work carried was as follows:
Numerous pegmatites located, hosted in schist zones and showed homogenous spodumene mineralisation.
The largest exposure of pegmatite visited on the tenement displayed 12m of outcrop width.
Weathered spodumene crystals in pegmatite outcropping in drainage.
Discovery of new pegmatite occurrence showed consistent spodumene mineralisation.
Following up in March 2021, LRS announced its intention to commence field work on the project. However a COVID-19 outbreak in the region, that caused widespread lockdowns and travel restrictions, had put the brakes on the company's lithium exploration plans — unfortunate timing given the recent strength in the lithium market worldwide.
But with the easing of restrictions, a sharp drop in COVID-19 cases, and LRS's field teams now fully vaccinated, they are safely commencing on-ground activities.
So after holding its Brazilian lithium tenements for three years, LRS is now back on the ground exploring, with assays results just weeks away and drilling of the projects expected to begin by the end of the year.
With the focus back on advancing its Brazilian lithium (while halloysite feasibility studies are completed), we expect to see regular lithium exploration updates to shareholders.
And we have good reason to be optimistic. A quick look at the company's Canadian listed neighbour gives us an idea of where LRS could be with further exploration activities...
Sigma Lithium paves the way
Sigma Lithium Corp (TSX-V: SGMA) is developing the largest hard rock lithium deposits in the Americas at its Grota do Cirilo Project — not far from LRS's Salinas project in Minas Gerais that will be running into production next year.
Like LRS, Sigma has an environmental sustainability focused and ESG-centric strategy, seeking to participate in the rapidly expanding global supply chain of electric vehicles.
Having commenced exploration and then drilling on its Brazilian lithium projects in 2018, Sigma has proven the district to be a very favourable jurisdiction for mining. It is the most active lithium explorer in the region, and has a world-class lithium resource base that currently stands at 52 Mt @1.48% Li2O.
A recent Preliminary Economic Assessment for an expansion of the project, doubled the annual production capacity of battery-grade, high-purity, environmentally sustainable 6% lithium concentrate, or "Green Battery Grade Lithium Concentrate," to ~66,000 LCE. Plus, it expects to be amongst the world's lowest cost producers.
Having operated in the area for over five years now, and well on its way to first production, the Canadian listed company has seen its share price rise by over 1,000% in that time, to a C$850M market cap and is heading towards $1B.
Furthermore, Sigma is listed on Canada's TSX-V which is known to have poor liquidity. So we suspect that if it were listed on a more liquid exchange, Sigma could very well be capitalised at a much higher value.
Notwithstanding the above, a lot of the upside has already been priced into the stock as Sigma continues to check the boxes on track to 2022 production.
That's what has us looking at its $60M neighbour, LRS, and its Salinas Lithium Project ... and the potential share price upside from its Brazilian lithium operations.
LRS Executive Director Chris Gale said:
"The development of the Sigma Lithium mine with construction well under way gives Latin enormous confidence to emulate this same achievement over the next few years".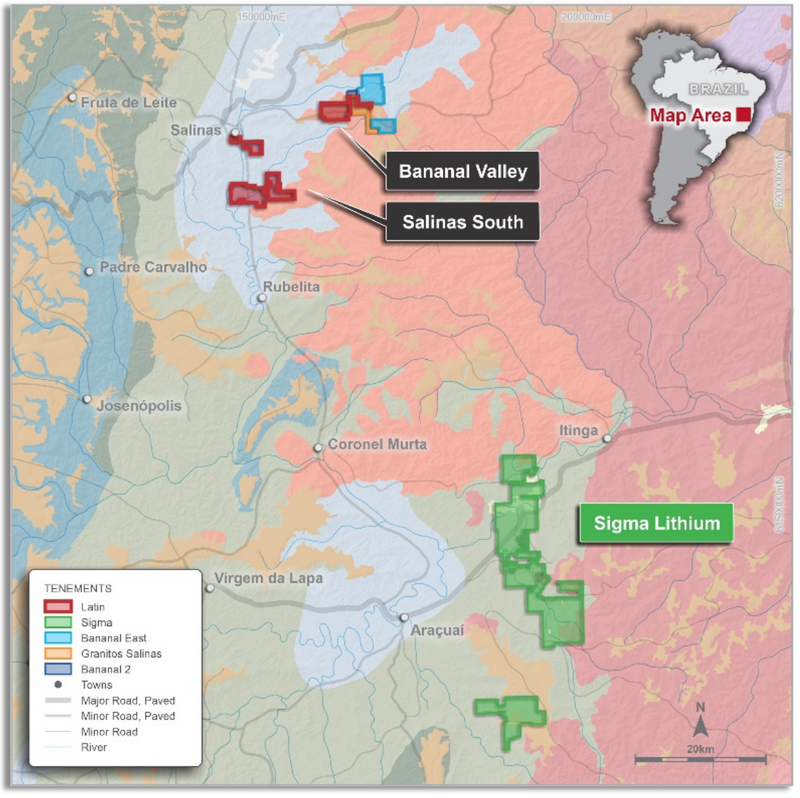 Salinas Lithium project location Minas Gerais District, Brazil
LRS is so sure of the prospectivity of its landholdings, and potential to replicate the success of its C$850M neighbour Sigma Lithium, that is it expects to soon be known as "a lithium company". And as long term shareholders, we have built a good understanding of the company's management team and its ambitions and are happy to see the diversified company heading in this direction.
Field work confirms lithium potential
Confirming the high prospectivity for lithium of the Salinas Lithium Project, yesterday LRS reported that it has completed field work and mapping of the Banal Valley area and has further identified outcropping pegmatites containing spodumene.
While lockdown conditions were in place in Minas Gerais, LRS used the time to complete data compilation and desktop reviews. This work highlighted several high priority target areas within the project area, where the company has commenced systematic mapping and sampling with the aim of identifying drill targets.
This initial mapping exercise, over a four kilometre square area, identified spodumene-bearing pegmatites over strike lengths of more than 200 metres. LRS collected 82 samples, including 38 stream sediment samples and 44 outcrop rock-chip samples that are now undergoing detailed lab analysis with results pending.
The recent review process has resulted in the identification and ranking of a number of targets in three key focus areas where LRS intends to undertake systematic mapping and sampling over the coming weeks, with the aim of finalising drill targets.
Preliminary drill sites have now been selected and will be finalised once all results from sampling have been received. Geology and sampling teams are on the ground to focus on the next priority areas.
Also in close proximity to LRS is Brazilian lithium producer, Companhia Brasileira de Lítio (CBL). CBL is actively mining spodumene pegmatites, and producing a spodumene concentrate that is then transferred to CBL's nearby lithium hydroxide plant in Divisa Alegre, Minas Gerais, where it is transformed into industrial grade lithium hydroxide.
CBL's chemical plant is Brazil's only major lithium plant and conveniently for LRS, it is just 140km by road from LRS's pegmatites, so potential exists for LRS to feed Divisa Alegra with high grade lithium concentrate.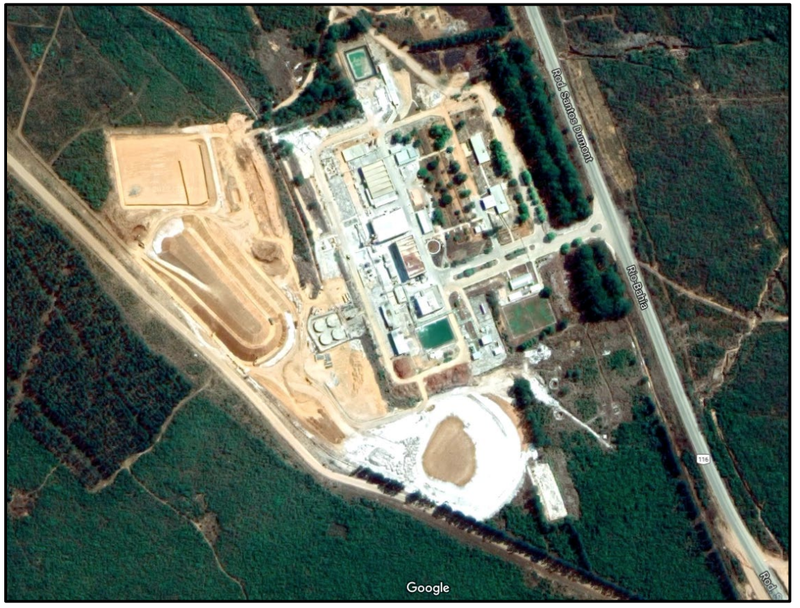 Divisa Alegre Lithium Hydroxide Plant Mina Gerais, Brazil
Halloysite Progress: Cloud Nine PFS in the works
While the company's current focus turns to the lithium opportunity in Brazil, as we reported last week, good things are still progressing at LRS's kaolin-halloysite project in WA.
The company has completed Resource infill drilling to upgrade the current Inferred Mineral Resource Estimate to a JORC Indicated classification. It has also collected metallurgical bulk samples and detailed metallurgical test-work is soon to commence.
The PFS, based on development of the Cloud Nine Resource, will consider supply to a range of traditional end-users of kaolin-halloysite.
Halloysite is a rare derivate of kaolin, a clay mineral. Traditionally, it has been used in ceramics and as a petroleum cracking catalyst, but it now has a raft of exciting new applications in emerging industries.
Halloysite nanotubes (HNT) have unique properties that make them ideal for binding to a range of molecules and effectively 'cleaning' by absorbing. Potential end-users include wastewater treatment and carbon dioxide capture industries.
Things might be quiet on the halloysite front in the near term, but that doesn't mean the company is not making progress here. Plenty of behind the scenes work is planned as LRS works towards completion of a pre-feasibility study (PFS) at the Cloud Nine project.
Read Catalyst Hunter's take on the latest exploration activities at the kaolin-halloysite deposit here: Cloud Nine infill and stepout drilling points to Resource expansion for LRS at Noombenberry.
---