High Grade Lithium in Pegmatites, Open Across Strike Length… Four More Holes from LRS Still to Come
Disclosure: The authors of this article and owners of Catalyst Hunter, S3 Consortium Pty Ltd, and associated entities, own 9,835,000 LRS shares at the time of publication. S3 Consortium Pty Ltd has been engaged by LRS to share our commentary and opinion on the progress of our investment in LRS over time.
Today our exploration investment, Latin Resources (ASX:LRS), confirmed high grade lithium in the freshly drilled pegmatites we have been seeing in recent weeks.
We had initially set our expectations for success with these assay results at anything better than a 1% grade.
Today, LRS announced a peak lithium grade of 3.22% along with grades of 2.22% and 2% - meaning LRS has significantly exceeded our expectations.
This comes at a time when lithium is now definitively in the mainstream.
The news around the vital battery metal continues to flow and it is increasingly looked at as a "critical mineral" i.e a mineral that has strategic importance, not just economic significance.
A recent New York Times article speculated that Ukraine is home to 500,000 tons of lithium oxide, an amount that would make the country's lithium reserves some of the largest in the world.
The point is, LRS's assay results are coming at the perfect time - attention on lithium has never been higher - and there's four more holes worth of assay results to come in the next few weeks.
Importantly, these assay results are coming from the South Target area for LRS.
LRS's announcement today says that "the pegmatites are generally increasing in thickness along strike to the south, where assay results from the next 4 holes are pending."
So we think the geological trend that LRS is mapping in Brazil bodes well for the next batch of assays and we'll share more on why we think that in today's note.
These are still very early days for LRS, but we like what we see, and the market seems to feel the same way.
It's a bit of a perfect storm for LRS today - broader lithium market enthusiasm is combining with general positive market sentiment from the prospect of a ceasefire in Ukraine.
As long term investors in LRS though, our vision for the position is more aligned with the following reasons we continue to hold LRS in 2022:
In this case, it was the lithium potential in Brazil that triggered the re-rate playing out right now:
Below is our previous coverage of the LRS Brazilian lithium project:
More on today's LRS assay results:
Up until today's announcement, our coverage of the LRS' maiden drilling program over its Brazilian lithium project has mostly followed the spodumene bearing pegmatite intercepts the company has been making.
This is what those drill cores looked like: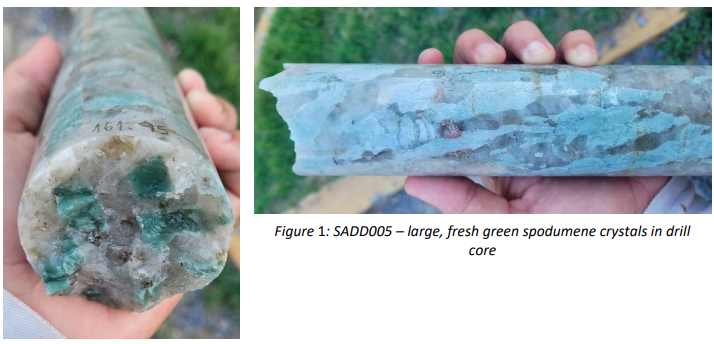 The importance of all of this so far has been that spodumene is known for having one of the highest lithium contents of all known minerals.
Visual spodumene is a positive - but the proof is in the assays.
Today, LRS confirmed that those spodumene bearing pegmatites contain high grade lithium oxide with the first two drillholes returning peak intercepts as follows:
Drillhole 1 - 4.31m @ 2.22% lithium oxide from 83.82m

Including a higher grade portion of 1.13m @ 2.85% lithium oxide from 87.0m

Drillhole 2 - 8.13m @ 2.00% lithium oxide from 111.3m

Including two higher grade intercepts of 1.0m @ 3.22% lithium oxide from 112.3m, 3.0m @ 2.20% lithium oxide from 115.3m.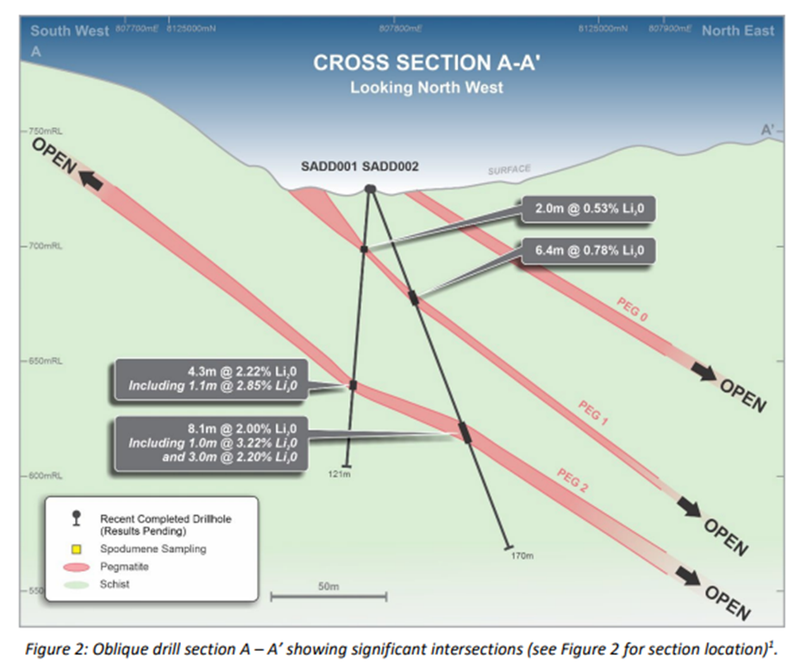 Leading up to these assay results we set some expectations around what we thought would constitute an indication that LRS may be onto a new discovery.
Looking at projects from around the world we set this at anything over a 1% lithium grade as the base case and anything between 1.5-2% being an outstanding result.
Below are the expectations we set in our first note for this round of drilling back in February:

With the first two assays both coming back above the 2% grade and a peak intercept of 3.22%, today's results fit well and truly into the "outstanding result" category.
These are high grades when put into the context of hard rock lithium deposits all around the world and like Sigma Lithium's project which is currently being developed next door.
For some context, Sigma's deposit has a 46mt @ 1.38% lithium mineralisation and WA based lithium miner Pilbara Minerals Pilgangoora project has a 309mt @ 1.14% lithium resource.
Of course, LRS is only in the midst of a maiden drilling campaign here - the more holes that are drilled over a greater area, and as the company seeks to grow the size of a resource, we would expect the grades to start to trend down.
Now having established that the assays are well above what would be considered as economic, the focus now turns towards the size of the resource.
LRS has so far managed to intersect pegmatite intercepts across a ~500m strike zone in the "South Target" area.
In our last note where we covered holes 3-6, we highlighted that the spodumene intercepts were continuing down dip and along strike from the first two drillholes which could be the first signs of a mineralised orebody developing at size and along strike.
Below is an image of those 6 holes highlighted over the 500m strike zone.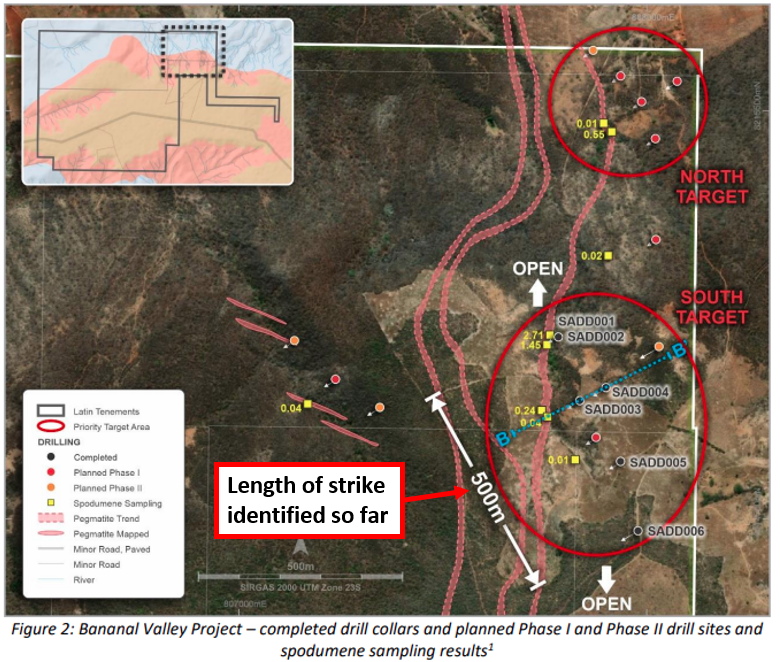 Interestingly holes 3-6 actually had much thicker spodumene bearing pegmatite intercepts ranging between 10.58m and 36.08m.
In comparison holes 1-2 had 9.97m and 17.95m in intercepts, which we think is suggestive that there is more good news around the corner with respect to proving out the size of the resource.
We know that the structure is getting bigger and thicker along strike to the south and with assays pending across those holes we will start to get a better understanding of the overall grade of the deposit that LRS has found.
Below we can see how the pegmatite structures are bigger where drillholes three and four were drilled.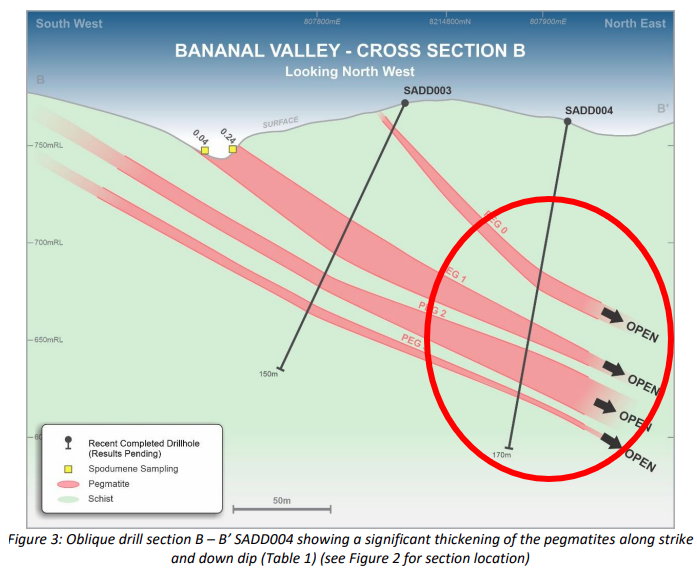 Also in our last note we mentioned that LRS had moved up the drill rigs to start testing out the "North Target" to see if the spodumene structure extends up to the north.
Today's announcement showed that the intercepts across drillholes 7-10 returned <2m of pegmatite intercepts which seems to indicate that the structure extends further out towards the south then it does to the north.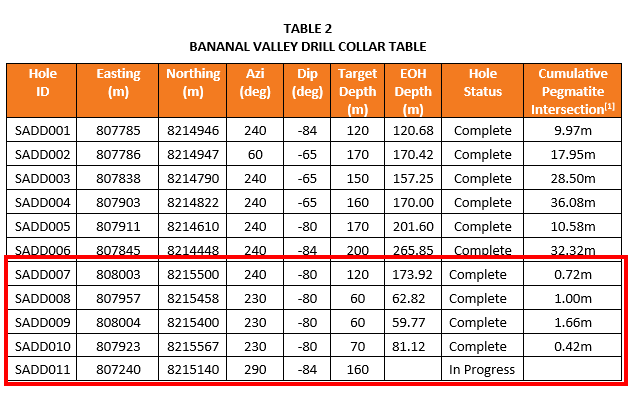 As a result, LRS has already started to move the drill rigs back to the Southern Target area and flagged in today's announcement that most of the remaining drillholes would be both infill and step-out drilling in and around the "South Target".
The decision to move straight into infill drilling is a positive sign as this will start to delineate the width of whatever deposit LRS can prove out which is a big step towards the all important maiden JORC resource we set as Objective #1 in our 2022 Investment Memo.
If we see more of the same high grade lithium assay results across the remaining 4 assays from the first 6 holes drilled in the southern target, then LRS can back this up with more infill/step-out drilling from these areas then there is a good chance that LRS could be moving towards putting together a maiden JORC resource.
Below is a screenshot of what we set as objectives for LRS to achieve in 2022, click into the image to see the rest of our 2022 LRS Investment Memo.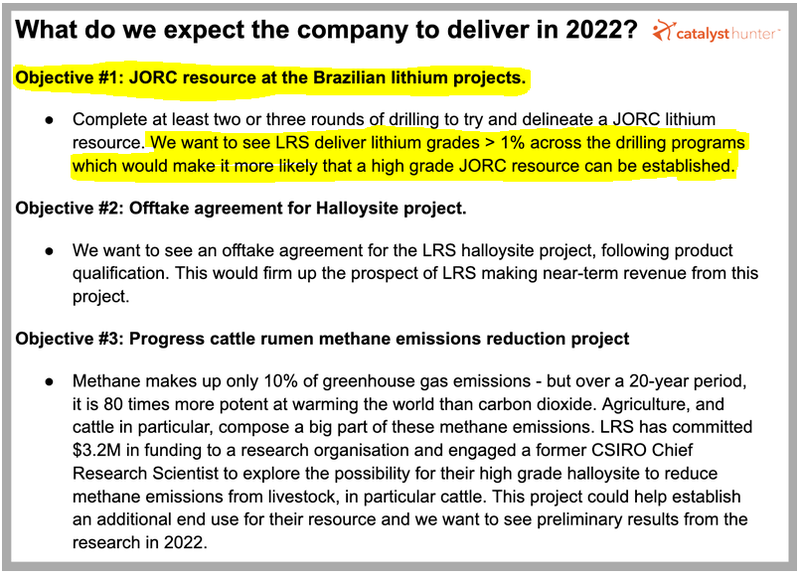 What's next for LRS' Brazilian lithium project?
14 hole, 2,000m diamond drilling program 🔄
LRS has now completed 10 holes of its 14 hole drilling program.
With the drill rigs now reverting back to the "south target" area after having little success in the north, we will be watching to see how the infill drilling/extensional step out drilling goes in and around the areas where LRS had most of its success.
We know that the first 6 holes have put together a strike length of ~500m so far, ideally we will see this extended to the south and the width of the structure become clearer.
Assay results from drillholes 3-6 🔄
With the first two drillholes containing high grade lithium oxide, we will be watching to see these high grades continue along strike in drillholes 3-6.
Noting that defined hard rock lithium deposits generally have grades between 1-1.5%, we expect to see the grades come down as the project size increases.
If the average grade across the structure can remain at 1%+ as LRS does more and more drilling then we think there is a good chance of the drilling results being converted into a maiden JORC resource estimate.
Maiden JORC resource estimate 🔲
With the drill rigs now moving south to do more infill/extensional step out drilling in the "South Target" area, the results of this drilling work will determine how close LRS can get to defining a maiden JORC resource for its lithium project.
At this stage we are just watching for this possibility, there is a chance LRS will need to come back and do more drilling before it can put together a JORC resource for the project.
Of course all of this is contingent on the high grade assays we received today being continued all along the structure LRS has drilled into.
So how does LRS's project compare to other hard rock miners so far?
In a previous note, we began to compare the pegmatite structures LRS was drilling out to the ones that have gone through tens of thousands of metres of drilling all the way through the resource definition stage to where they have become standalone large scale projects.
The first of these was ASX listed Pilbara Minerals (capped at $9.6BN) Pilgangoora deposit which has a JORC resource of 309Mt at 1.14%: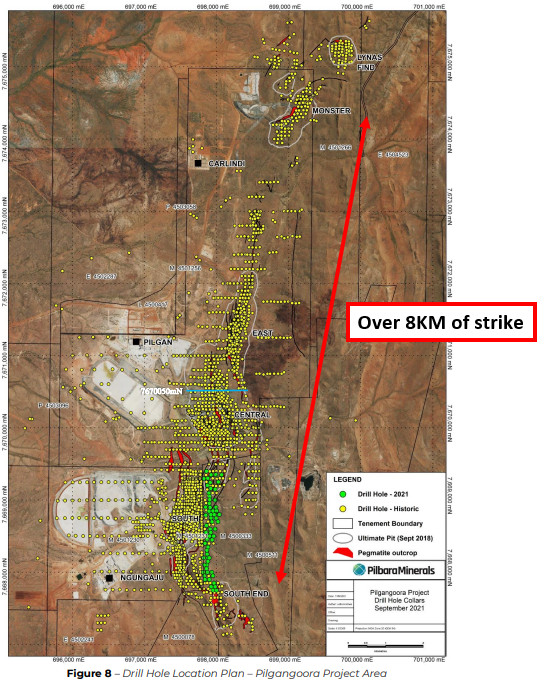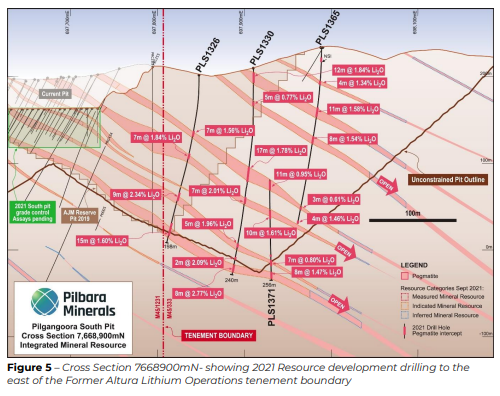 The deposit type looks almost identical to what LRS could be drilling into - 11-18m high grade lithium bearing structures that extend down dip and along strike.
The obvious difference between the two projects is the size, scale, and the well defined JORC resource. PLS is also a well advanced producer as opposed to LRS which is an explorer.
But even though LRS may not have a defined resource yet, it does have a potential 500m strike zone and the firsts two assays are indicative of a high grade lithium structure extending towards the south.
With LRS capped at only $113M prior to today's news, the real re-rate for the share price may come if and when LRS can prove out a maiden JORC resource over its project. At this point the market can then use this information to make direct like for like comparisons with other major lithium explorers and developers.
Another comparison worth looking at is ASX listed hard rock lithium explorer Core Lithium (capped at $2.2BN). Core Lithium's Mt Finnis project in the NT has a JORC resource ~15 million tonnes (Mt) at 1.3% lithium oxide.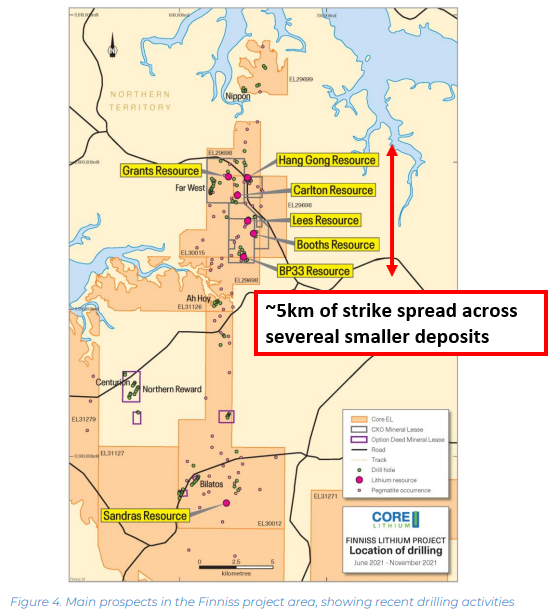 Again, Core's project is far bigger than the area LRS is targeting at the moment, but these large scale discoveries were made through months/years of drilling work and at some earlier stage Core's project would have looked like LRS'.
Importantly for LRS, Core's project is made up of several smaller deposits that extend down dip and come together to produce the total JORC resource of ~15 million tonnes (Mt) at 1.3% lithium oxide.
For LRS to find out the final length, depth and width we suspect several more drilling programs will need to be run.
The obvious final comparison TSX listed Sigma Lithium (capped at US$1.2B) which is currently developing its hard rock project ~100km to the south east of LRS.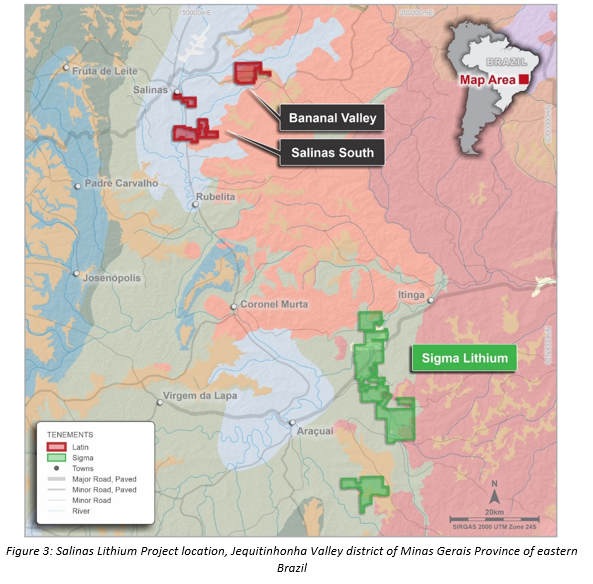 Sigma's project which has a resource base of 45.7Mt @ 1.38% lithium and is made up of 10 different high grade pegmatite structures and is currently in the development phase.
The image below is an extract from Sigma's resource report which shows the four main deposits that make up its project, all of the deposits range from a 300m strike to a ~1,700m strike and come together to produce the resource base Sigma has.
This is a good first sign that the structure LRS has found may not be the first over its entire project area.
Another key differentiator outside of the established resource base is also the fact that Sigma is actually putting its project into development right now. Sigma expects to produce ~220,000 tonnes of lithium concentrate per annum, giving a sense of the scale that projects in the area can have.
Again, we think that once LRS has managed to define a JORC resource of its own, the market will be able to better compare it to its peers, opening up the prospect of a further re-rate.
What are the risks for LRS?
Having discussed in detail throughout our note what the "success" scenario could look like for LRS, we always like to go back and run through the risks that we had identified when we first made our investment decision in any portfolio company.
Big drilling events or assay announcements like today are the perfect time to take stock and work out whether the project is becoming de-risked or risks are actually manifesting.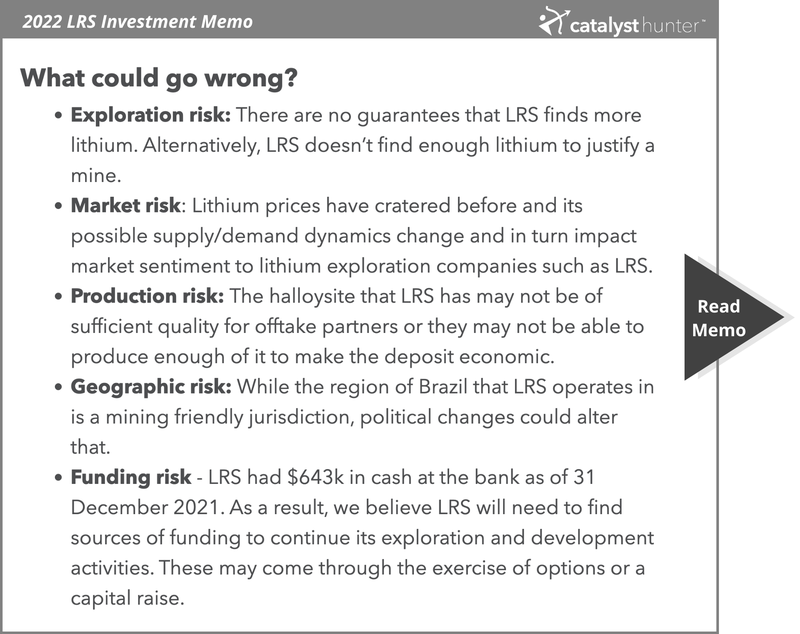 At this stage LRS looks like it may have gone some way towards addressing the first of our risks which was that it could turn up nothing at its lithium project.
We will wait to see what the rest of the drilling program delivers before seeing if this has been fully addressed though.
We still see some level of financing risk in place, but with the share price trading well above the option exercise price of 1.2c, we suspect that the ~$6M in options which are all deep in the money will quickly be exercised before the expiry date of 31st December 2022.
That, along with the recent $2.5M funding facility agreed with Lind, should be enough to see LRS through to at least the end of this drilling program, after which LRS should have shown to the market whether or not it has in fact made a new lithium discovery.
If this is the case, then LRS could raise funds at a significant premium to its current share price, which we think would be a positive move for all shareholders including us, providing capital for the company to continue exploration with minimal dilution.
Our 2022 LRS Investment Memo
Below is our 2022 Investment Memo for LRS where you can find a short, high level summary of our reasons for investing.
The ultimate purpose of the memo is to track the progress of our portfolio companies using our Investment Memo as a benchmark, throughout 2022.
In our LRS Investment Memo you'll find:
Key objectives for LRS in 2022
Why we continue to hold LRS
What the key risks to our investment thesis are
Our investment plan
To access the LRS Investment Memo simply click here.
---