Great Time to Look for Lithium - LRS Building Lithium Footprint in Brazil
We invested in Latin Resources (ASX:LRS) in late 2020 primarily for its WA halloysite project.
Before that however, LRS spent years exploring for lithium in South America - hence the name "Latin" Resources - and now that lithium is one of the hottest commodities on earth, LRS is (rightly) dusting off the ol' lithium projects again - and has picked up some more ground too: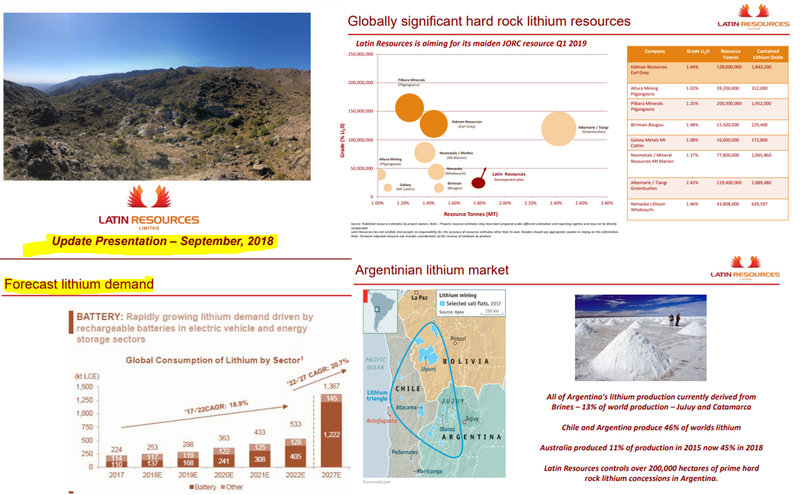 LRS isn't just another "Johnny come lately" to the lithium game, it was focusing on its lithium projects long before lithium was cool - see a few slides from its 2018 presentation (and it was in lithium long before this too):
LRS is focused on its Brazilian lithium projects right now, and today LRS confirmed two high grade lithium samples from initial outcropping sampling - 2.71% Li2O and 1.45% Li2O.
LRS is exploring in the right region of Brazil for lithium, and the $1BN capped Sigma Lithium Corporation's project sits 80km away.
LRS' lithium strategy is in its early stages, with the company actively looking to pick up more ground whilst it goes sampling for lithium on the ground it has now.
LRS has ambitious goals - in the recent investor presentation, it stated that it wants to develop a lithium JORC resource in the next 12 months.
We want to see what cash balance LRS has in the quarterly report - we think LRS will need to shore up its balance sheet before it drills any lithium targets it finds - and we don't think this will happen until 2022.
So in the meantime we sit tight and wait to see what kind of targets LRS might be able to find during current exploration.
Why we invested in LRS and what has happened
In late 2020 we liked the look of LRS' WA halloysite project especially when compared to Andromeda Metals - another stock that had a similar but more advanced project in SA - which was capped at multiples of LRS.
Our investment thesis was that if LRS could define a bigger and better halloysite resource than Andromeda, then it would be only a matter of time before LRS' market cap caught up.
Whilst LRS has gone onto define a maiden 207 Mt JORC resource of kaolinised granite - one of the largest kaolin / halloysite deposits in Australia, and one which we think compares pretty favourably to Andromeda... since the news was released, LRS was sold down from trading in the 6s, to now trading around 4.5c for most of the previous few months.
Meanwhile Andromeda has also taken a fair beating as well, with its share price halving.
Proof again to us that investment theses don't always go to plan.
In any case, we still continue to hold LRS, we still like the WA halloysite project, and we know that LRS is a company that is never one to sit quietly waiting for a market to turn.
While LRS focused on its WA halloysite project, its South American lithium projects didn't disappear, however work and progress was delayed due to COVID impacting South American countries pretty hard, especially Brazil.
Given the LRS board and management is located in Perth, it seems sensible that they would pick up a local project to work on while overseas travel was off the cards for a few years, and the halloysite project fit that bill.
But now that the lithium price is surging, Brazil and Peru are coming out of the worst of COVID, and LRS' local teams are vaccinated and back in business, ready to go.
LRS' lithium exploration in Brazil - same region as $1BN Sigma Lithium Corp
LRS has pitched its "lithium exploration tent" in the highly prospective Bananal Valley in eastern Brazil, in the mining state of Minas Gerais.
It is here that the Eastern Brazilian lithium pegmatite province sits, which is home to TSX-V listed Sigma Lithium Corporation - which is capped at almost $1BN CAD.
LRS' lithium ground is around 80km south east of Sigma Lithium Corp. Sigma is developing a world class lithium hard rock deposit, and has started construction of a commercial scale lithium concentration plant. The same region is also home to lithium producer Companhia Brasileira de Lítio.
So whilst it's very early days for LRS in its exploration here, it looks to be in the right region.
LRS' lithium project in Brazil is called the "Salinas Lithium Project", and the company's strategy is to build a significant lithium footprint in the district.
Once LRS has the footprint, it plans to focus on the more advanced tenure which contains spodumene.
This will allow LRS to rapidly drill test any potential lithium deposits and hopefully enable it to delineate a resource.
You can see LRS' ground in red on the map below, and Sigma's $1BN project in green: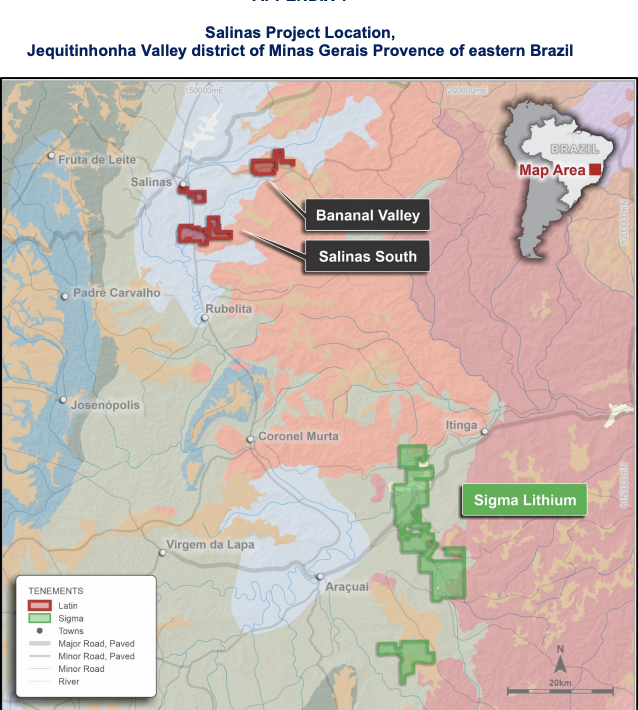 Today's LRS news:
Initial outcrop sampling and mapping has confirmed the presence of spodumene bearing pegmatites within new ground LRS has just picked up.
Two samples returned high grades of 2.71% Li2O and 1.45% Li2O - yes "two samples" isn't much, but the signal is at least encouraging.
On top of that, initial results from regional reconnaissance stream sediment sampling of the southern part of LRS' ground has highlighted an anomalous lithium corridor extending across the project.
Again - it is early days, there are some gaps in information in this "corridor" here, but at least it helps LRS' refine its focus on where to look for lithium: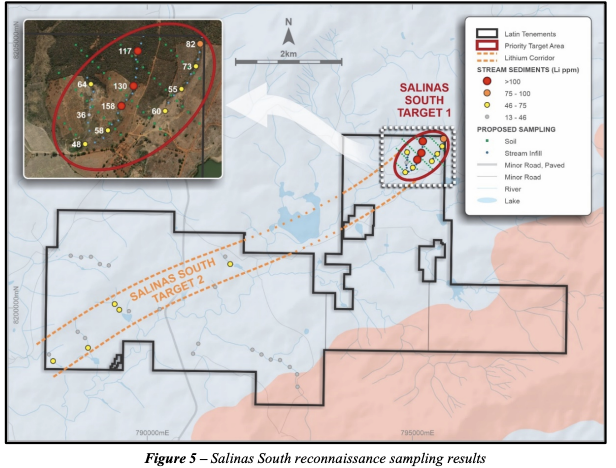 Geology and sampling teams are now back on the ground completing follow up and infill sampling of the high grade north east target area.
LRS continues to discuss and negotiate with surrounding landowners on properties that display positive pegmatite outcropping through current exploration field work - which offers LRS the opportunity to further consolidate a bigger lithium exploration footprint in the region.
So watch this space...
LRS is reporting Environmental, Social and Governance (ESG) disclosures and progress
Best in class ESG companies attract more capital, better customers and top talent – this leads to better shareholder returns over time - LRS discloses its ESG progress and improvements on a quarterly basis.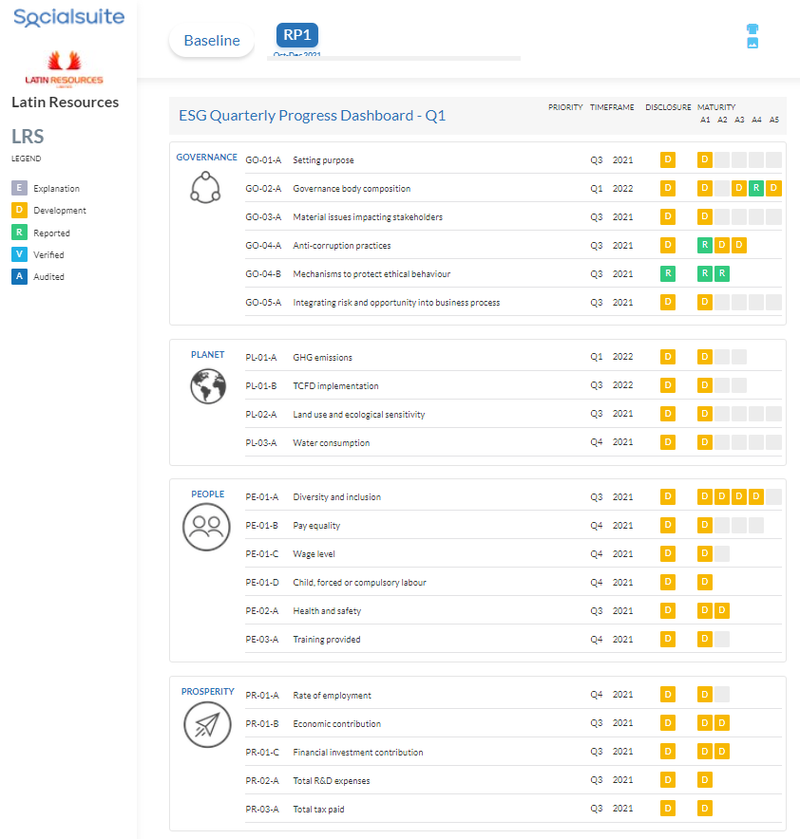 Salinas Project, Brazil
Located in the Eastern Brazilian pegmatite province, LRS is exploring for lithium in the same region as $1BN CAD lithium company Sigma Lithium (TSX-V: SGML) and lithium producer Companhia Brasileira de Lítio (CBL).
Project Milestones
✅ New Exploration Program Announced for 2021
🔲 2021 Exploration Program
🔲 New Milestones Added
🔲 Maiden Jorc Resource [Q4 2022]
2021 Program of Work
✅ Fieldwork Commences
✅ Fieldwork (Mapping & Sampling) Complete
✅ Sampling Assays
🔄 Drill Targets Identified
🔲 First Drilling [Q1 2022]
🔲 New Milestones Added
Catalyst Hunter Investment Milestones
✅ Initial Investment @ 1.76c (before key catalyst)
✅ Increase Investment @ 4.49c (before key catalyst)
✅ Price increases 250% from initial entry
🔲 Price increases 500% from initial entry
🔲 Price increases 1,000% from initial entry
🔲 Free Carry
🔲 Take Some Profit
🔲 Hold position for key drilling event
🔲 Decide New Investment Plan after key catalyst
Disclosure: The authors of this article and owners of Catalyst Hunter, S3 Consortium Pty Ltd, and associated entities, own 5,650,000 LRS shares.
---