CATALYST ALERT: LRS to Drill for Halloysite, Hoping to Emulate Some of ADN's 700% Run
Latin Resources (ASX:LRS) is just days away from starting its maiden 2500m aircore drilling program at its Halloysite /Kaolin project in WA.
LRS is fully funded for this drill program.
The project presents a compelling opportunity as LRS will be drill testing one of Australia's few known occurrences of ultra-high-grade halloysite – a naturally occurring nanotube.
One of the best known halloysite companies on the ASX is Andromeda Metals (ASX: ADN), a stock that has delivered a 700%+ return since September 2020.
ADN is currently capped at over $620M and is developing one of the world's largest known high purity halloysite-kaolin reserves and resources in South Australia.
LRS's WA project has very similar geology to ADN projects in South Australia, and the company will soon understand more about the potential of its ground in this drilling campaign.
LRS is currently capped at $31M, and aside from the halloysite project, has a number of other assets under its belt.
What is halloysite?
Halloysite is a rare derivate of kaolin, a clay mineral. It has traditionally used in ceramics and as a petroleum cracking catalyst, however it has a raft of exciting new applications in emerging industries set to only expand in the decades to come – energy storage, batteries, supercapacitors, carbon capture, and cancer therapeutics.
Those new applications have excited the market, especially given halloysite globally is in short supply, and since China recently closed a number of environmentally damaging mines.
Currently pure Halloysite sells for up to US$3,000/t, so a material discovery on this imminent drilling campaign could be a strong share price catalyst for the $29M capped LRS.
Known as the Noombenberry Halloysite Project, LRS's project is located in Merredin, less than 300km from Perth.
Recent surface sample grades provide encouragement for the potential for high quality halloysite kaolin.
What is the upside in LRS?
It is extremely early days for LRS on its halloysite exploration pursuit, but it is worth looking at how the market can respond to a success story in the space.
In September 2020, ADN was trading at just 4.5 cents. Last week the stock hit 36.5c – a return of over 700%: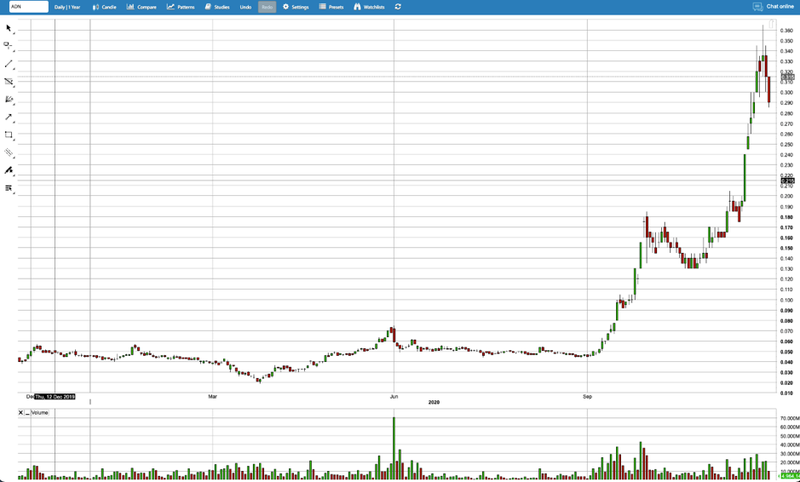 Andromeda's market cap currently sits at over $620M.
LRS is currently capped at $31M, and has multiple assets aside from the halloysite project.
Its early days for LRS, and it all starts with the imminent aircore drilling in the coming weeks.
Andromeda's rise suggests that Noombenberry could emerge as a significant share price catalyst for Latin Resources, just as Oakdale Resources (ASX: OAR) has been the beneficiary of Andromeda's success so far.
Oakdale's Gibraltar Project is adjacent to Andromeda's in this premier halloysite-kaolin region.
Its shares were 20% higher to 2.5 cents last week with a market cap of approximately $40.5 million after it announced the presence of kaolinite and halloysite minerals after completing an aircore drilling program at Gibraltar.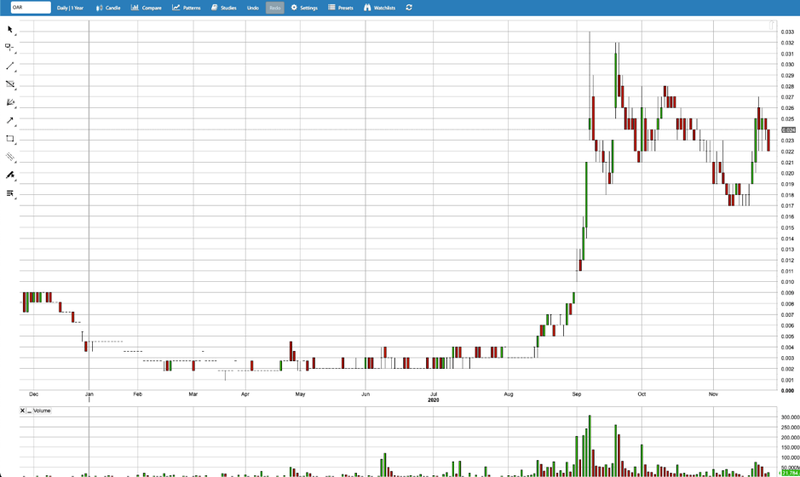 With drilling at Noombenberry to commence next week, Latin could very well see its own surge in market interest.
The catalyst: Halloysite Drilling at Noombenberry
Early in October, Latin Resources cleared the way for the commencement of exploration over its Noombenberry halloysite-kaolin project.
LRS finalised key landowner access agreements over the project area and announced it was in the final stages of planning its maiden drilling program.
Today, the company announced it will commence drilling in early December on the back of previously sampled high-grade halloysite mineralisation.
A series of four kaolinitic samples collected from the surface in the Noombenberry clay project in Western Australia were submitted to First Test Minerals in the UK for determination of kaolin/halloysite clay content, quality and sales potential.
Testing was conducted via Scanning Electron Microscopy (SEM) to identify halloysite occurrence in samples.
Test work on surface samples has already confirmed the presence of halloysite mineralisation on the project: results confirmed up to 38.9% kaolinite and 15% halloysite by weight in the 45 – 180um size fraction.
Further results include:
Location Sample 4 shows potential as Yield at <45 microns has been calculated 76% Kaolinite, 15% Halloysite and 11.3% K-feldspar.
The 45-180 micron fraction was 14.88 % with 38.9% Kaolinite, 15% Halloysite 15% and 31.8% K-feldspar.
Overall <180 micron Yield was 42.6%. Iron level was 2.76% reflecting the brightness of 72.3 with bleaching to no increase on bleaching.
SEM image of <45 micron fractions showing halloysite tubes and kaolinite plates from location 4 (NB4).
The initial phase of drilling will be completed utilising existing farm and fence-line tracks, with a second phase of infill drilling planned for early 2021.
LRS has additional capacity within the existing approvals to extend the drilling campaign as required.
The holes are to be vertically drilled and expected to be between 20 and 50m deep amounting to between 2,500m of drilling in total.
You can see the Noombenberry project area on the map below: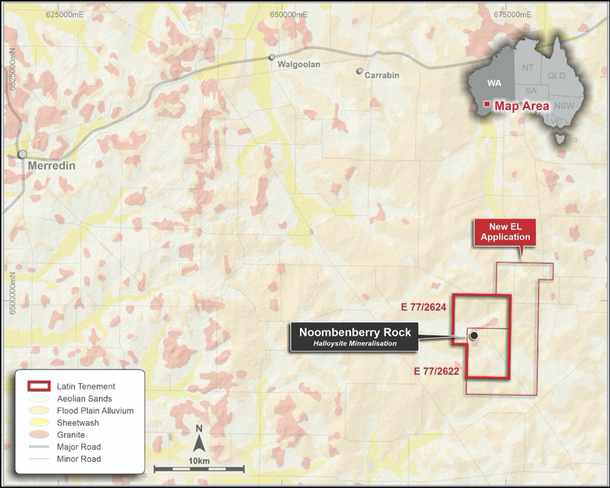 The aim of the Phase 1 drilling is to provide an indication of continuity of the identified high-value Halloysite mineralisation, while also allowing the collection of samples throughout the mineralised thickness for deposit analysis and indication of tenor.
LRS will then make assessments around a larger drilling program on the success of this initial reconnaissance work.
Further reconnaissance prospecting while on site has also led the company to secure additional tenure in the area through the submission of a new exploration licence.
LRS is targeting the definition of a JORC Resource by the March 2021 quarter, potentially another significant share price catalyst.
"We are all very excited to have secured an appropriate drilling contractor and be getting our maiden air-core drilling campaign underway at Noombenberry, where we will be testing the extent of our known high-quality kaolinite-halloysite occurrence," Latin Resources Executive Director Chris Gale said.
"The Noombenberry Project has the added benefit of sub-cropping high-quality material, which will have a significant positive impact on any future project economics, should we define sufficient material to support development."
Halloysite – more details
You may not have heard of Halloysite, it is certainly one of the most unsung minerals going around.
The mineral is used predominantly in high end ceramics and the petroleum industry as a catalyst for fluid catalytic cracking (FCC). Its pure white colour and translucency makes it a key component in the manufacture of bone and fine china.
Its tubular molecular shape and low iron and titanium content, also sees it used for a growing range of technologies including batteries and capacitors. Construction is another industry to benefit as it is used to make hardened concrete products.
New markets are springing up also, including developing Halloysite as an input in producing high purity alumina (HPA), Halloysite nanotube technologies, and cancer therapeutics.

As a high-end mineral and globally scarce commodity with strong demand drivers, it fetches a high price.
Pure Halloysite sells for up to US$3,000/t.
This is compared to a Kaolin/Halloysite hybrid, which fetches between AU$500 – AU$1,000/t, with Pure Kaolin going for AU$300/t.
Halloysite presents a low mining risk, minimal disturbance, bulk commodity with attractive profit margins.
The final word
While LRS has a number of assets spread through Australia and South America, which you can read about in the Finfeed article below, it is the drilling at Noombenberry, which offers investors immediate upside.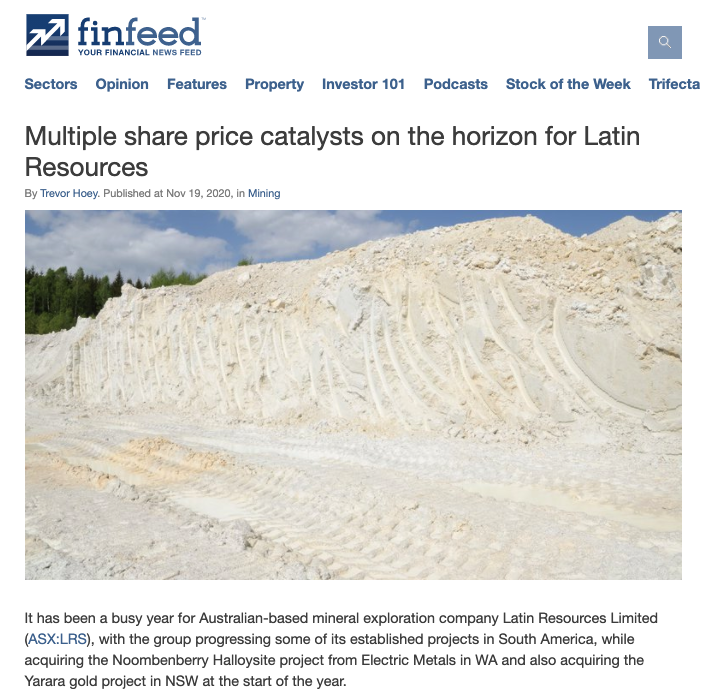 Drilling is to commence in the next few days to ascertain the quality of kaolin and more importantly how much of the value product of halloysite is contained within the kaolinite.
As pure Halloysite sells for up to US$3,000/t, this drilling round is important and if successful could put LRS on the same trajectory as ADN and OAK before it.
Assays are due in December, so expect consistent news flow through Christmas and into the new year.
This is a major event for LRS and we will keep up to date with its results as they come through.
---