Another Lithium Discovery - are they connected?
Disclosure: S3 Consortium Pty Ltd (the Company) and Associated Entities own 4,605,000 LRS shares at the time of publishing this article. The Company has been engaged by LRS to share our commentary on the progress of our Investment in LRS over time.
What's better than a lithium discovery?
A second lithium discovery 500m from the original discovery.
That's exactly what has happened to our lithium exploration Investment Latin Resources (ASX:LRS) today.
Only ~ 7 months ago LRS confirmed a new lithium discovery in Brazil, which sent its share price up almost ~1,000% from the yearly lows.
Today, LRS has made an entirely new discovery, this time hitting 18.71m of lithium at a grade of 1.32%.
This intercept comes from only 500m to the west of its original discovery... and this new zone is open in all directions.
This has the potential to add significant scale to LRS' JORC resource estimate, which is now due to be delivered in December.
On that note, today LRS confirmed its resource estimate drilling has now been completed, with final assays pending before that JORC resource can be put together.
LRS is tracking its giant lithium neighbour to the south - the TSX listed Sigma Lithium - a company that has rapidly grown to command a $4.6BN market cap now. Sigma's recent feasibility studies delivered an NPV of US$5BN...
LRS has similar geology to Sigma, and is following the same exploration pathway that turned Sigma into a multi-billion dollar giant.
Sigma Lithium's project (and associated value) is based on several discoveries coming together for a total lithium JORC resource of 85.7 Mt.
Today LRS has confirmed its second discovery, and we are hoping it can pull off a few more as time goes on.
In addition to today's news, yesterday LRS appointed Peter Oliver - an experienced lithium executive who oversaw the development of the Greenbushes lithium mine - one of the most profitable lithium operations in the world.
Oliver has advised Tianqi Lithium for years, advising them on the 24% acquisition of SQM worth over US$4BN.
We would expect Oliver would have numerous lithium exploration companies banging on his door, and we are extremely pleased he has chosen our LRS.
With today's new discovery made, and ongoing drilling testing for extensions in all directions, it's clear that LRS are planning on bringing together multiple lithium deposits to form one larger JORC resource - just like the $4.6BN Sigma Lithium to the south.
The image below shows the untested exploration target that we expect should be poked soon enough: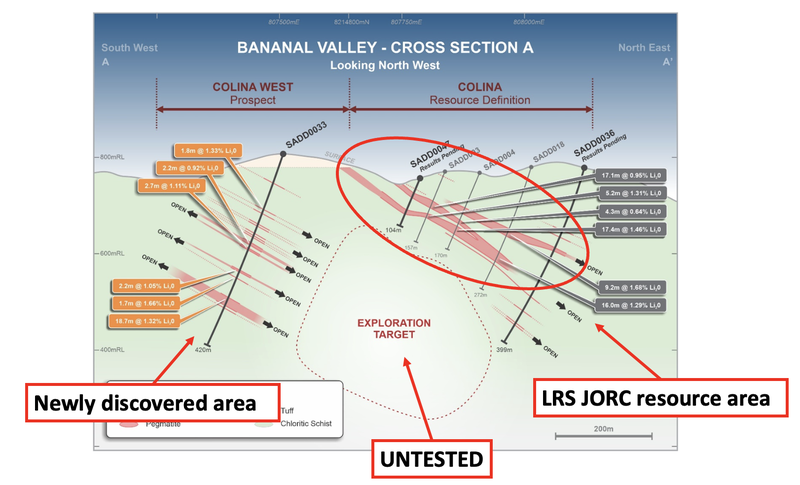 More on LRS's new lithium hire:
As we alluded to above, with LRS's project showing serious scale potential, LRS have also managed to bring on a lithium operator with some serious pedigree - Peter Oliver.
Peter has been in the lithium game for over 20 years, way before lithium was appreciated by the market.
Here's a few of the highlights from Peter's impressive CV:
Peter joined Talison Lithium back in 2003 and was CEO in 2010 when the company listed on the Canadian stock exchange - as the world's only listed pure play lithium producer at the time.
Peter operated the Greenbushes lithium project (the world's largest hard rock lithium project).
Peter was also CEO during the 2013 acquisition of Talison by Tianqi Lithium in a deal worth close to C$1BN.
After this, Peter also served as an adviser to Tianqi Lithium with involvement in the acquisition of 24% of SQM in a deal worth >US$4BN.
As an adviser to Tianqi Lithium Peter also had direct involvement in the building of the company's Kwinana Lithium Hydroxide plant (he also has downstream experience as a result).
Given all of this experience, we can only assume LRS wasn't the only lithium company looking to bring him onboard. Out of all the lithium projects to work on, Peter Oliver chose LRS to invest his time, effort and reputation into.
LRS managing to bring Peter on board is a positive vote of confidence for us as investors in LRS. We will be keeping an eye on equity incentives allocated to Peter to see how big a role he will be playing in LRS' transformation from explorer to (hopefully) lithium producer.
We are betting that this week's progress will ultimately contribute to LRS hopefully achieving our long term "Big Bet" for the company which is as follows:
Our 'Big Bet'
LRS increases the scale of its lithium discovery to the level of its multi billion dollar regional peer - Sigma Lithium. With this we would expect the market to value LRS similarly.
NOTE: our "Big Bet" is what we HOPE the ultimate success scenario looks like for this particular Investment over the long term (3+ years). There is a lot of work to be done, many risks involved - just some of which we list in our LRS Investment memo. Success will require a significant amount of luck. There is no guarantee that our Big Bet will ever come true.
For our summary of LRS's progress over time and how today's announcement contributes to our Big Bet see our LRS Progress Tracker.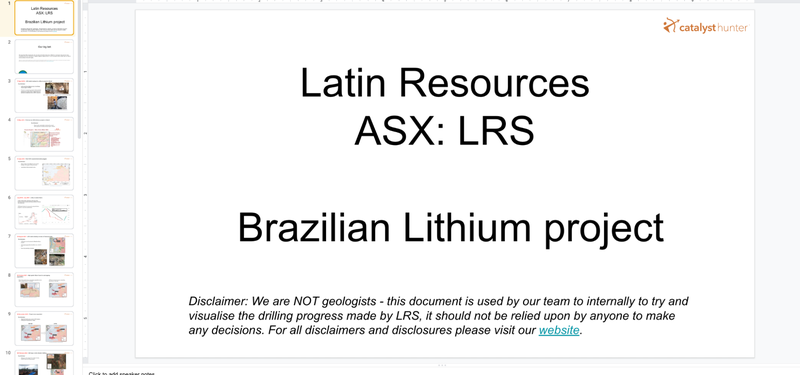 Today's LRS drill results:
The two key takeaways for us from today's announcement was as follows:
New discovery to the west of its project - LRS hit a 18.71m intercept with lithium grades of 1.32%.
Resource drilling completed - Assays pending with a JORC resource due by December 2022 - this is only ~10 months after drilling started here - which is a great result.
We think Key Takeaway 1 above is the more significant bit of news because it is the first definitive drill result that is a significant "step out" lithium intercept.
A 'step out' drill hole is when an explorer drills a hole in an area where they don't necessarily expect to hit anything, or it's a high risk unproven theory prior to drilling.
In LRS's case, the company hit an intercept that almost rivals the first ever discovery intercept LRS hit way back in February - which caused an almost 1,000% re-rate in the company's share price.
So, now that LRS has confirmed lithium mineralisation ~500m to the west of its known discovery, this could mean either:
LRS's deposit extends 500m to the west which would almost double the project's width.

OR

LRS has made an entirely new discovery that can be drilled out and eventually added to the company's resource base. This is not dissimilar to Sigma Lithium's multi-billion dollar project that sits across four different deposits.
In any case, it is a sign that LRS's project could potentially be a whole lot bigger than the JORC resource it is putting together right now.
With infill drilling all done, LRS is now moving its rigs over to test the "Colina West" discovery, as well as the "exploration target" area in the image below.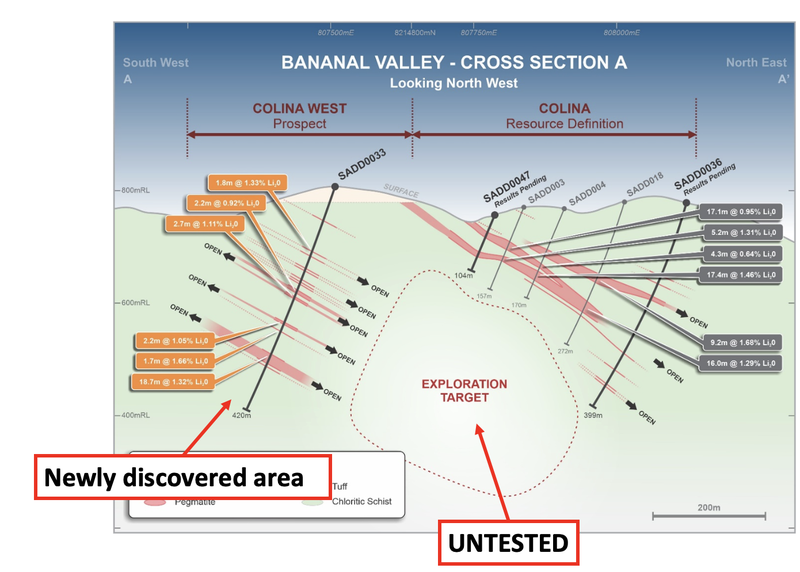 This brings us to the Key Takeaway 2 which is that LRS has completed all of the required JORC resource definition drilling.
With all of the drilling now complete, LRS is waiting on the remaining assay results before it can finalise its resource estimate.
LRS confirmed today that it still expects the JORC resource to be delivered by December this year.
This would see LRS go from a discovery intercept back in February / March to a JORC resource in under 10 months - which is a testament to LRS and its team on execution.
Below is an image of where the JORC resource drilling has been completed: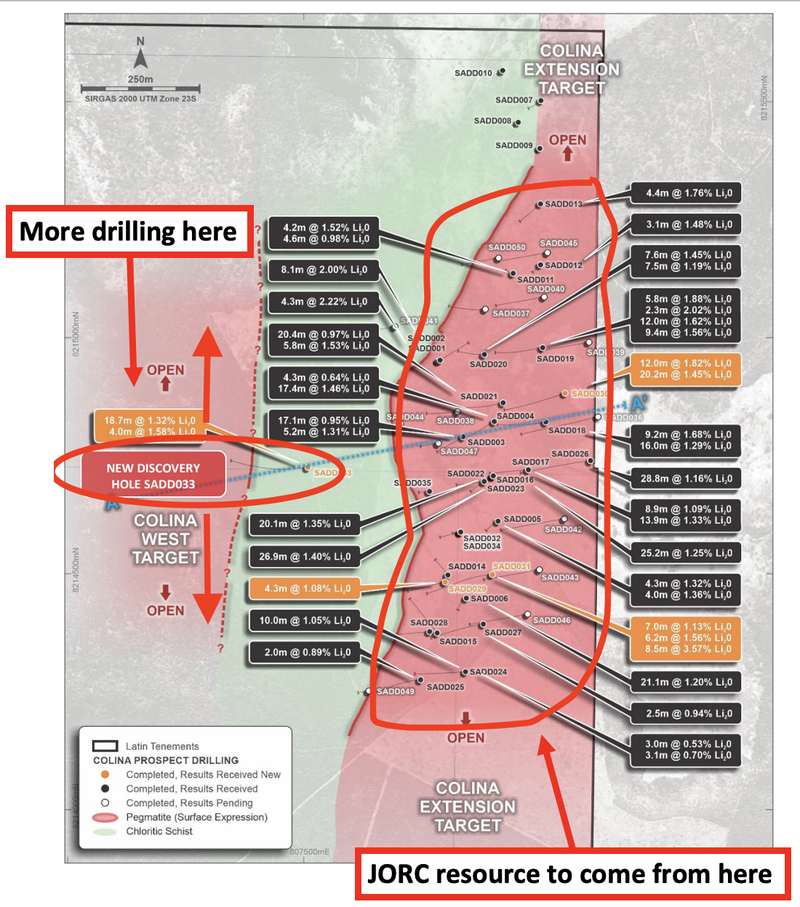 Lithium expert appointed - Why a strong team matters...
Building a company from the ground up is hard work, especially in the mining exploration industry.
Having people that have "been there and done it all" before is valuable for a junior explorer because they bring to a company all of the learnings from past successes' and more importantly failures.
Attracting these types of people to juniors can be difficult though, especially in a sector that is going through a "boom" cycle.
The lithium space is going through one of the biggest boom cycles we have seen in our lifetimes and probably one of the biggest since the fossil fuel generation led by the invention of internal combustion engine (ICE) cars.
As a result, we think LRS's appointment of Peter Oliver has some serious bearing on LRS's future prospects.
Here is another quick recap of Peter's CV:
Peter started his career as a geochemist (processing deposits).
Peter IPO'd Talison Lithium which at the time was the world's only listed pure play lithium producer, operating the Greenbushes hard rock deposit - now the world's largest operating hard rock lithium mine.
Peter led Talison to its 2013 acquisition by one of the world's largest lithium producers Tianqi Lithium in a deal valued at approximately C$1BN at the time. Peter served for ~18 years at Talison Lithium, including ~12 years as CEO/Managing director.
After this, Peter also served as an adviser to Tianqi Lithium with involvement in the acquisition of 24% of SQM in a deal worth >US$4BN.
Until June 2021, Mr Oliver remained as a Non-Executive Director of Talison Lithium, a joint venture between Tianqi Lithium (capped at ~$35BN) and Albemarle Corp (capped at ~$51BN) - both amongst the biggest names in the lithium game.

Given Peter is a geochemist by training, he also brings downstream experience to LRS's team, with direct involvement in the building of Tianqi Lithium's Kwinana Lithium Hydroxide plant.
Peter's experience is in spodumene rich hard rock lithium deposits - which is exactly what LRS has.
We think Peter's experience and guidance at a board level will be extremely valuable to LRS as it looks to take its project from discovery into an established JORC resource and beyond.

What's next for LRS?
Drilling for additional discoveries/extensions to current deposit 🔄
Having completed all of the required drilling for a maiden JORC resource estimate, LRS is turning its exploration attention to drilling new priority areas like "Colina West" and to the south of the current deposit.
Below is a map of the areas LRS will be targeting.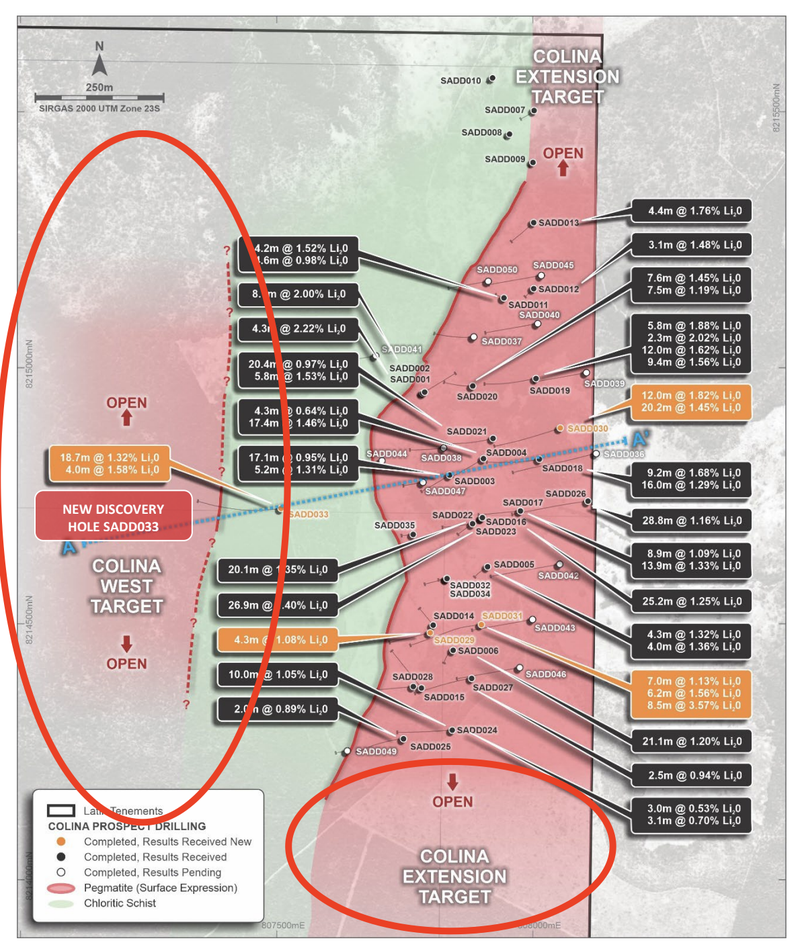 Maiden JORC resource estimate 🔃
LRS confirmed today that all of the drilling required to put out a JORC resource had been completed.
All that is left now is for the assays from the remaining holes to be received before LRS can start to build a resource model for its project.
LRS confirmed that the JORC resource should be ready by December this year - as we asaid above only ~10 months from when the company started drilling these projects.
Preliminary Economic Assessment 🔲
After a maiden JORC resource is defined, LRS can move into economic feasibility studies.
With the lithium price constantly making new all time highs and Sigma Lithium's recent feasibility studies coming back with an NPV of US$5BN, we are looking forward to what LRS can produce for its project.
We note LRS has already made an early start on the PEA but we don't expect to see any significant updates on this until LRS has put out its JORC resource.
Our 2022 LRS Investment Memo
With a lithium intercept made outside of the existing discovery area, today's news contributes to key objective #4 of our LRS Investment Memo.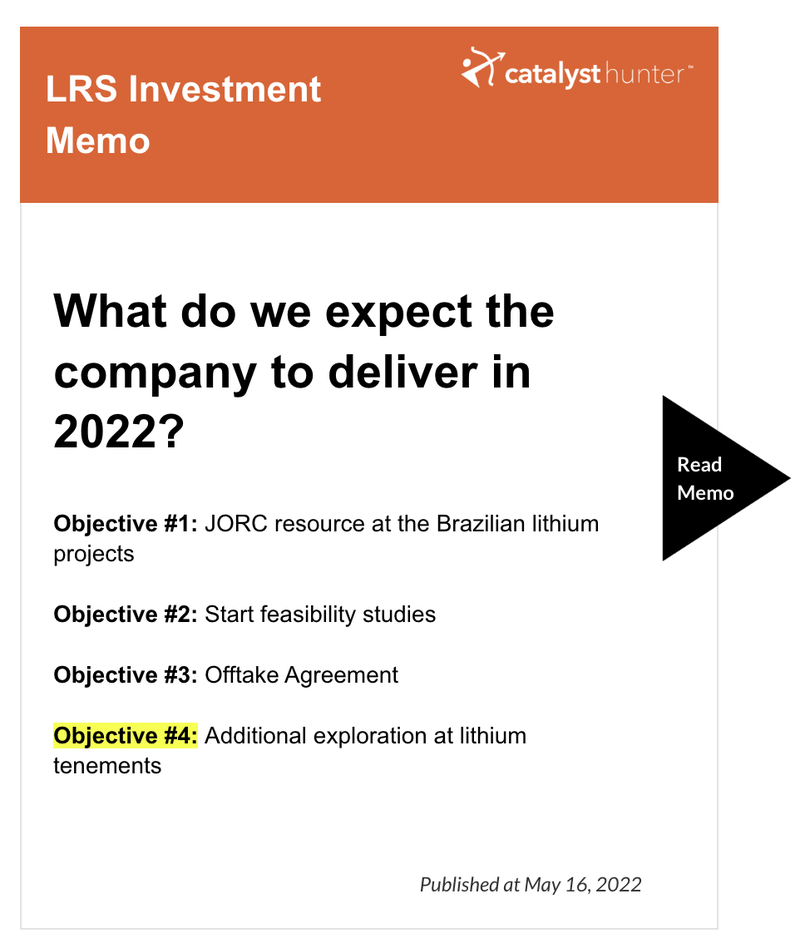 Below is our LRS Investment Memo, where you can find a short, high level summary of our reasons for Investing.
In our LRS Investment Memo, you'll find:
Key objectives for LRS for the coming year - starting from March 2022
Why we are Invested in LRS
What the key risks to our Investment thesis are
Our Investment plan

---