LNR set to drill for Rare Earths in WA Hotspot
Disclosure: S3 Consortium Pty Ltd (the Company) and Associated Entities own 22,323,582 LNR shares and 9,250,000 LNR options at the time of publishing this article. The Company has been engaged by LNR to share our commentary on the progress of our Investment in LNR over time.
Demand is set to go up 10x by 2035.
The US government and its allies are scrambling to secure supply.
Earlier this week a $1BN capped Aussie developer got a $600M loan guarantee to ensure that German firms get access to its supply.
We are talking about rare earth elements.
In particular - Neodymium (Nd) and Praseodymium (Pr).
Nd and Pr are used in the permanent magnets that make electric vehicles and wind turbines tick.
The energy transition won't be possible without them.
Our rare earths exploration Investment, Lanthanein Resources (ASX:LNR) has just started drilling in South Australia, targeting a new ionic clay-hosted rare earths discovery.
That's a big milestone in itself, however our main reason for investing in LNR — and for this note from us today — are its Gascoyne projects in WA.
Here, LNR is gearing up to drill multiple targets in the coming weeks.
LNR will drill test its shallow ironstone targets (that outcrop at surface) with 10,000m of RC drilling, AND test its deeper carbonatite targets via two deep diamond drill holes.
LNR's $21M market cap is only a fraction of its peers who have made bigger discoveries nearby.
LNR is next door to $312M capped Hastings Technology Metals and the $215M capped Dreadnought Resources.
The company has a decent chunk of cash (relative to its market cap), having raised $2.25M in a placement last month to add to the $3.6M cash it had at 31 December 2022, which in total is a shade under $6M.
This is enough runway for the high impact drilling campaigns it's embarking on over the coming weeks.
Heritage surveys are complete, the drill camp is set up and geological and geophysical teams are mobilising for rock chip sampling and ground magnetics.
This means drilling should start soon.
Here's LNR's humble drill camp in the Gascoyne where the team will spend the next six months: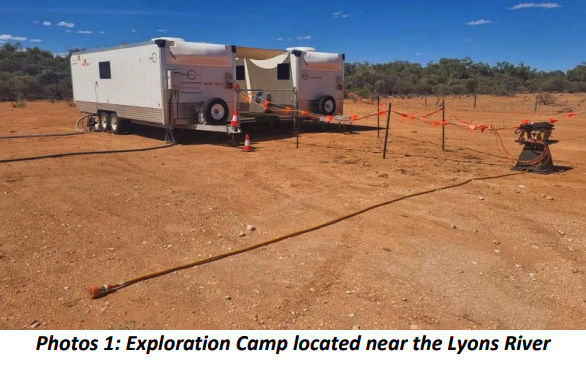 We like our Investments to be fiscally responsible with shareholder funds — this camp looks to be in line with that.
Hopefully we can see LNR make a material rare earths discovery of its own and catch up to its higher capped peers over the coming months...
Here's a summary of each near term LNR drilling program at its WA project, and what we like about their potential.
Shallow: LNR High grade shallow ironstones - 10,000m RC drilling
Shallow targets with potential for resource definition in H2 2023.
LNR made a rare earths discovery in its ironstones in December of last year.
Ironstone is the same host rock of the Dreadnought and Hastings discoveries.
LNR's previous drill results were very similar to what LNR's neighbour (Hastings, capped at $312M) has been returning in recent drilling.
Some targets are within 2km of Hastings planned open pits (that's walking distance).
10,000m of RC drilling is a lot - it means LNR can test all of its shallow and deep targets over the coming months.
Deep: LNR Large scale carbonatite targets - two deep diamond drill holes
Two diamond drill holes planned, 450m deep.
LNR is hunting for the source of regional rare earths that neighbour Dreadnought Resources encountered in January.
Carbonatites are the same host rock for $6BN capped Lynas Rare Earths Mt Weld deposit.
WA government backed via $200k in co-funding.
We see the government funding as a solid endorsement of the potential at this project. Many companies apply for Exploration Incentive Scheme (EIS) funding, but few receive it.
Big swing for the fences type of discovery drilling.
So two big shots on goal - albeit aiming for different corners of the net - all happening over the coming weeks and months.
Today, we will cover:
The main event: WA drilling
What we know about LNR's South Australian rare earths project (today's announcement)
What's next for LNR?
Latest rare earths news
But firstly - here's a reminder of why we Invested in LNR in the first place:
Our Big Bet
"LNR discovers and proves a rare earths deposit significant enough to become an acquisition target for one of its bigger neighbours Dreadnought or Hastings - or LNR becomes part of a consolidation play for all three companies"
NOTE: our "Big Bet" is what we HOPE the ultimate success scenario looks like for this particular Investment over the long term (3+ years). There is a lot of work to be done, many risks involved - just some of which we list in our LNR Investment Memo. Success will require a significant amount of luck. There is no guarantee that our Big Bet will ever come true.
Check out our LNR "Progress Tracker" where we track LNR's project from acquisition through to a hopeful discovery.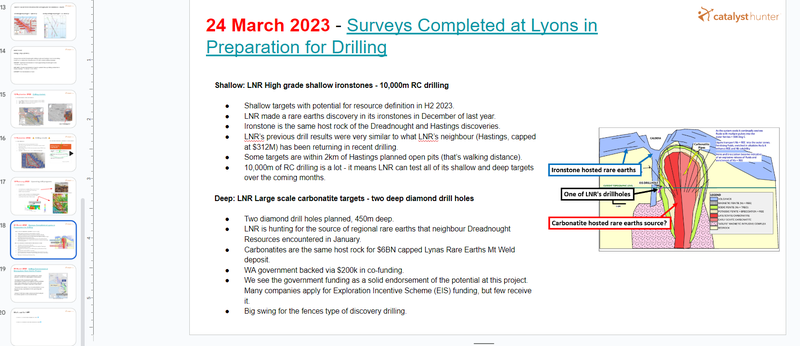 While yesterday's LNR news was on its South Australian projects, our main reason for Investing in LNR is the company's projects in the Gascoyne region in WA.
LNR's WA projects are nestled in between Andrew Forrest (Twiggy) backed $312M Hastings Technology Metals and $215M Dreadnought Resources.
LNR is currently running rock chip sampling/ground based magnetic surveys across the project.
At the same time the company is completing site access works for its upcoming drill program..
LNR expects to be drilling in April.
Shallow: High-grade shallow ironstones - 10,000m RC drilling
The current plan is a >10,000m drill program focused on similar style targets to Hastings and Dreadnought.
Both Dreadnought and Hastings have made ironstone-hosted rare earths discoveries.
Here, LNR has already identified over 1km strike of rare earths mineralisation located less than 5km from Hastings' deposit.
Ultimately, the goal is to drill out something similar to its neighbours' and eventually put together a maiden resource estimate.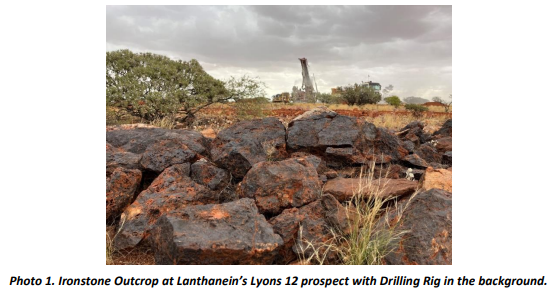 Deep: LNR Large scale carbonatite targets - two deep diamond drill holes
These are the blue sky exploration targets for LNR.
Carbonatites are the same rocks that host $6BN Lynas Rare Earths producing Mount Weld project.
They have the potential to be the source rock for rare earths mineralisation in a region.
In this case, it could be that the carbonatites in LNR's ground are the source rock for the mineralisation across both Hastings' and Dreadnought's ground.
This image shows where LNR plans to drill (the red is the interpreted carbonatites):
Below is a visualisation of this theory — the blue outer layers are the ironstones and the red core is the carbonatite "source":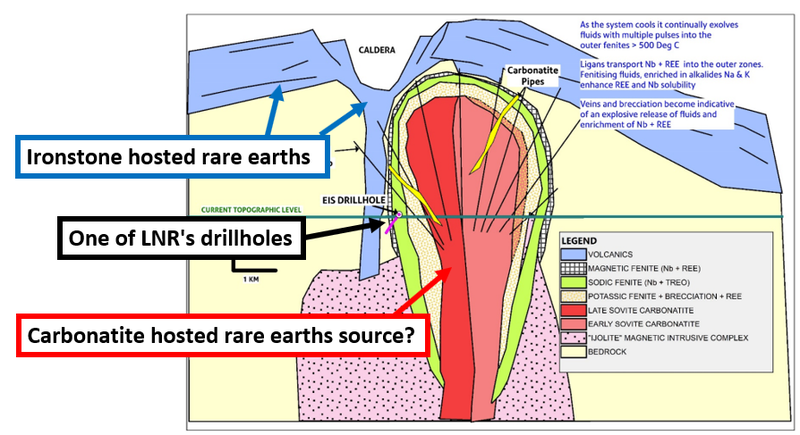 Dreadnought hinted at this theory in a January announcement, as below:

...and is following that up with an RC drilling program as announced yesterday: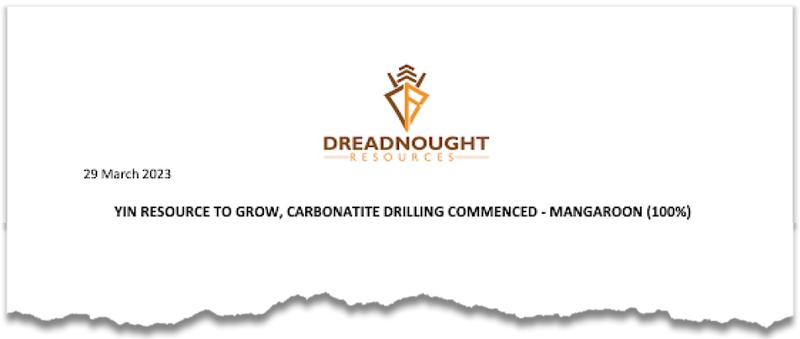 Interestingly, the WA government is also keen to see LNR drill its deep carbonatite target and awarded the company with a $200k grant to fund parts of the drill program.
LNR expects drilling across these targets to commence in April, so we don't have to wait too long for its major catalyst event of the year.
What's next for LNR?
Drilling at South Australian rare earths project 🔄
Yesterday LNR started drilling its South Australian rare earths projects — its first ever drill program on this project.
The target for the SA project is rare earth mineralisation similar to its neighbour $32M Australian Rare Earths, which has a 81.4Mt resource with rare earth grading 785 ppm (Total Rare Earth Oxide).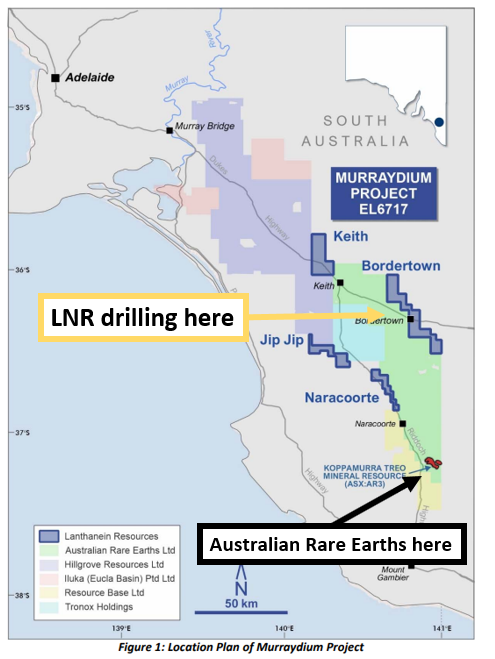 This project wasn't included in our LNR Investment Memo so we haven't set any expectations for the upcoming drilling.
If LNR makes a material discovery, it will come as bonus upside to our Investment case.
Given the drill program is adjacent to existing roads and will use aircore drill rigs, we expect costs to run the program will be relatively low.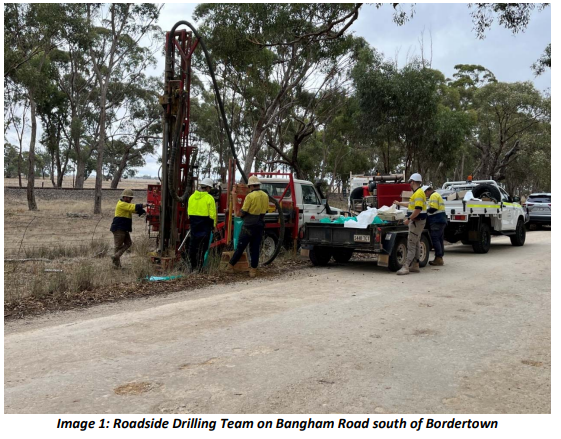 Drilling to commence in the Gascoyne region of WA 🔄
This is the next major catalyst we are looking forward to for LNR.
As above, the drill program will consist of 10,000m of RC drilling on the shallow ironstone targets and two 450m deep diamond drill holes targeting the carbonatites.
LNR is currently running a rock chip sampling project combined with some ground based geophysical surveys.
While we may see news from the works that are ongoing, the focus for us is on the drill program expected to start in April.
With the two drill programs targeting different styles of rare earths mineralisation, we set up our expectations differently for each of the programs.
Shallow ironstone targets:
Bull case = ~10-20m with rare earth grades of 2-3% TREO (Total rare earths oxide)
Base case = ~5-10m with rare earth grades of 1-2% TREO
Bear case = No mineralisation is found
Deeper carbonatite targets:
Bull case = >0.5% TREO (Total rare earths oxide)
Base case = 0.2% - 0.5% TREO
Bear case = <0.2% TREO
Our LNR Investment Memo
Below is our Investment Memo for LNR where you can find a short, high level summary of our reasons for investing.
In our LNR Investment Memo you'll find:
Key objectives for LNR
Why we continue to hold LNR
The key risks to our Investment thesis
Our Investment plan
---