FNT - Drill Rig Secured as US Pledges to Fund Aussie Critical Minerals Projects
Disclosure: The authors of this article and owners of Catalyst Hunter, S3 Consortium Pty Ltd, and associated entities, own 12,823,582 FNT shares at the time of publication. S3 Consortium Pty Ltd has been engaged by FNT to share our commentary and opinion on the progress of our investment in FNT over time.
Since we took a position in Frontier Resources (ASX:FNT) in February, the company has rapidly been preparing for its first ever rare earths drilling program.
EM surveys are done, as is rock chip sampling, and a drill rig has now been secured as FNT prepares to drill in the Gascoyne region of WA.
FNT is exploring for rare earths right next door to the $522M capped Hastings Technology Metals' large rare earths deposit. The Bald Hill Lineament runs through both companies ground.
And its timing couldn't be better — interest in rare earths and other critical minerals has never been higher with governments taking steps to support critical minerals projects.
Yesterday we learned the scope of FNT's drilling program that is set to kick off in late-April/May.
FNT plans to complete 5,000m of drilling across 65 holes to an average depth of 75m.
This will be completed with a heavy RC drill rig that is capable of drilling deeper, should FNT intercept any targets of interest.
We think this type of drilling is appropriate given what we know about the FNT tenements so far: FNT has no fewer than 30 EM targets, and high grade rock chip samples to work with.
With lots of holes, FNT can use this data to make better decisions in follow up drilling campaigns.
Next, in the lead up to drilling, is heritage surveys and permitting.
FNT announced yesterday that it has now been awarded the drilling contract and the drill rig has been secured. It also mentioned that it will investigate "circular carbonatite bodies".
These are the same type of rock bodies that are found at Lynas' Mt Weld, one of the highest grade rare earths deposits in the world.
However, as FNT is an early stage exploration company, an investment doesn't come without a high degree of risk. Although, FNT and other critical minerals companies are backed by significant macro theme momentum.
The US is committing to helping finance Australian critical minerals projects via America's export financing arms. That's right, the US will help fund Australian rare earths projects. While the recently released Australian 2022-23 Federal Budget has allocated $250M for critical minerals.
That's $200M over five years for the Critical Minerals Accelerator Initiative (CMAI) and $50.5M over three years for a virtual National Critical Minerals Research and Development Centre (NCMRDC).
That funding is on top of a previous $294M allocation to critical minerals, part of a larger $2B initiative launched last year.
In light of that news, here's how we'll approach it in today's note:
More on the announcement yesterday and why it matters
What are carbonitites?
Rare earths media review
Previous coverage, risks and FNT Investment Memo
Below is why we hold FNT in 2022: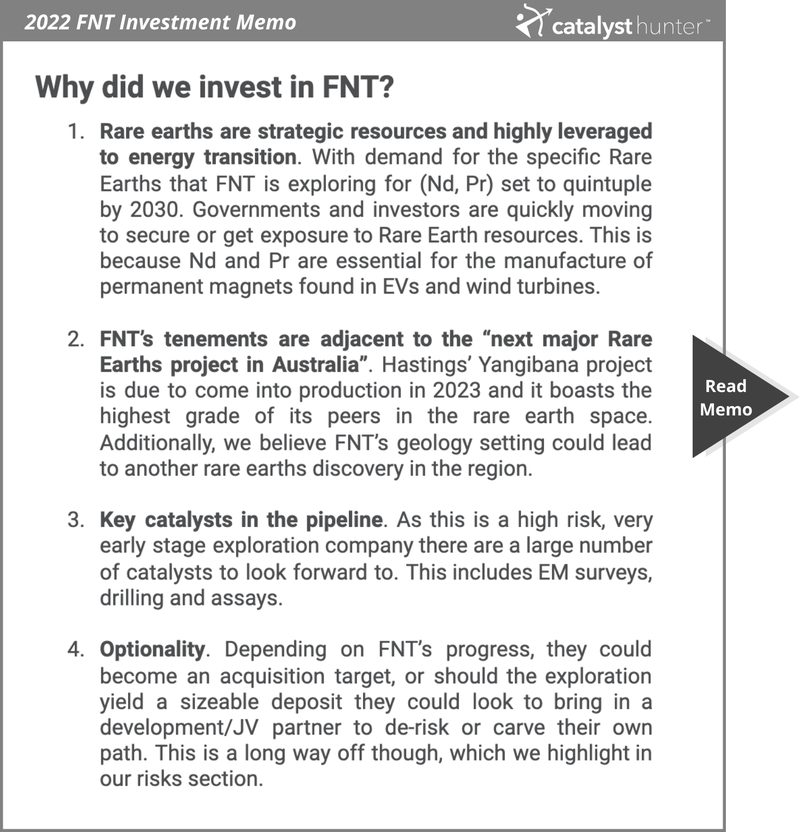 Frontier Resources Ltd
ASX:FNT
More on the announcement yesterday and why it matters
The biggest positive from yesterday's announcement is that FNT has executed a drilling contract well ahead of its planned drilling program set for ~late April-May.
FNT have moved quickly and secured the RC rig in advance of all of the heritage surveys and permitting works that are required before drilling can begin. That means FNT can mobilise the drill rig and get it turning as soon as approvals are in place.
This gives us confidence as exploration teams all around the world, including in WA, are working at capacity and many explorers are finding it hard to secure drilling rigs.
With yesterday's announcement, FNT confirmed that its maiden drilling program would be a ~5,000m, 65 hole program with each hole reaching an average depth of ~75m.
The drilling will be done with an RC drill rig. This shows that FNT are confident with the targets that they identified via the geophysical surveys and recent rock chip sampling, which we covered previously.
Below are images from our previous notes on FNT, where the high priority targets were picked up during target generation works.
No drilling locations have been confirmed as yet, but we suspect FNT will target these anomalies.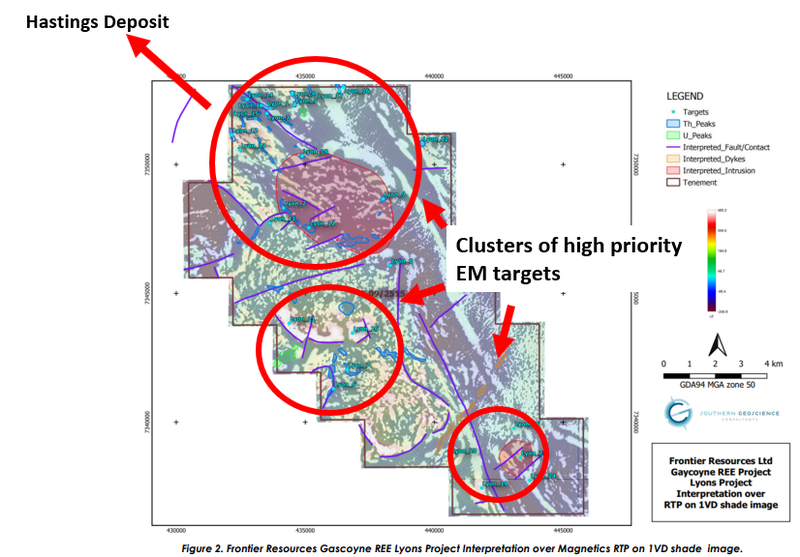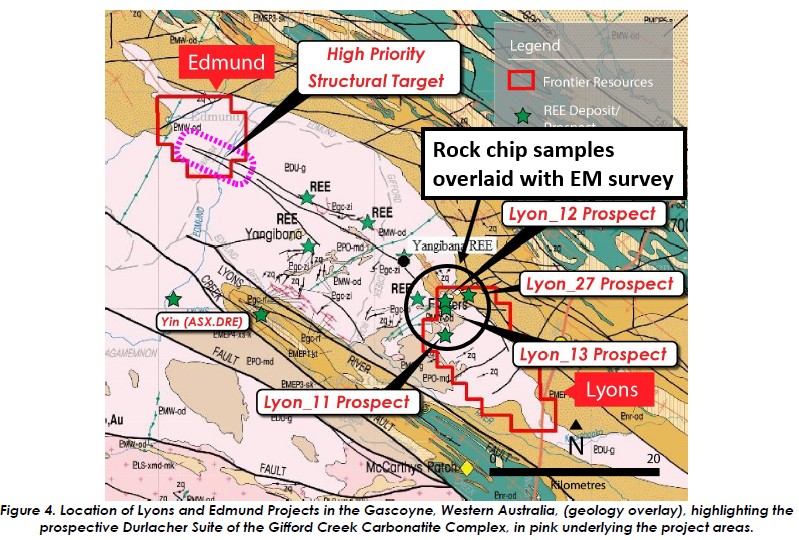 For us, a key takeaway from the drilling contract announcement is the average depth that FNT will be drilling down to.
Generally an average depth of ~75m would be considered relatively shallow, especially for an RC drilling program.
But we looked at FNT's neighbour, Hastings Technology Metals' deposit, to see how its orebody looks and at what depths most of its JORC resource sits.
Hasting's project is made up of several smaller orebodies that come together to make up the larger project area. Its biggest individual orebody is the "Bald Hill deposit" which has a 6.25mt @ 0.98% TREO JORC resource.

Notably, the Bald Hill orebody is shallow and sits at a maximum vertical depth of ~80m below depth. This points to the appropriateness of the targeted depth of FNT's drilling program.

Importantly, FNT's high priority targets at the "Lyons" prospects sit right on the border where the Bald Hill orebody is, on the Northwestern corner of the FNT's grounds.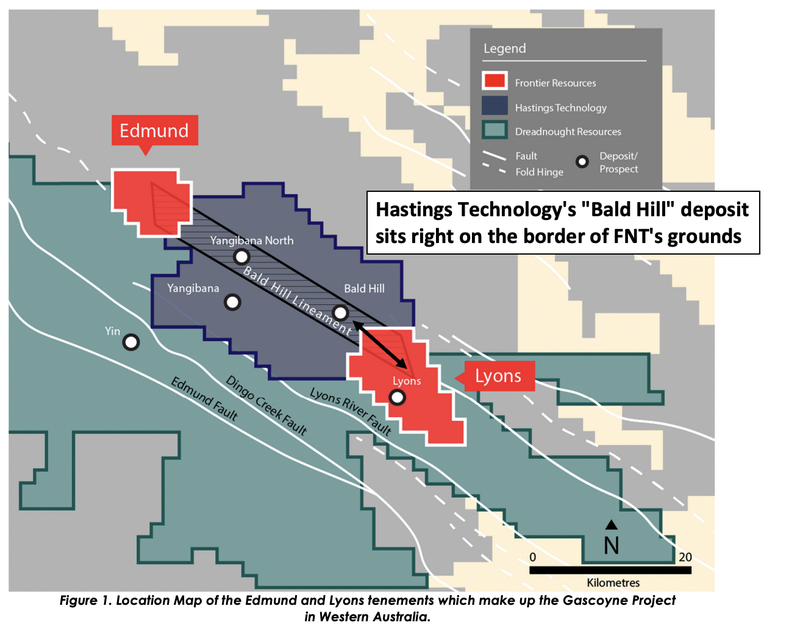 Having an RC drill rig onsite will also mean FNT has the option to continue drilling at depth should it hit something interesting whilst drilling down to the targeted ~75m depth.
We like that FNT is focussing more on covering a larger footprint of its project with more holes and lower depths versus fewer holes at greater depths.
With this being FNT's first time drilling its project area, the more drillholes the company puts into the ground, the higher the probabilities of hitting something interesting.
If or when those targets are identified, FNT can then bring back the rigs and drill and hone in on any high grade intercepts or correlate the various data points to target new areas of interest.
What's next for the drilling program?
Heritage surveys + permitting 🔄
In yesterday's announcement, FNT confirmed that the heritage surveys are in planning and applications for the necessary permits have been submitted.
We expect to see news from these over the coming weeks before the drill rig can begin mobilising on site for the drilling program targeted for April-May of this year.
Of course it is hard to predict the timing of the permitting process and we have seen it happen many times before where this process gets dragged out and there are weeks/months of delays in getting approvals.
Drilling locations to be finalised 🔄
FNT confirmed that the drilling program would be following up on ~30 interesting targets that came about during the geophysical surveys run over the project area as well as the recent rock chip sampling program which produced samples with TREO grades up to 8.1%.
We covered the results of both of these programs in our previous notes which can be read here:
The next step will be for FNT to outline the drilling locations, which we expect to happen closer to the start of drilling.
All of this means FNT that are now making progress towards ticking off Objective #2 from the what we want to see the company achieve in 2022 section of our 2022 FNT Investment Memo, which can be seen below.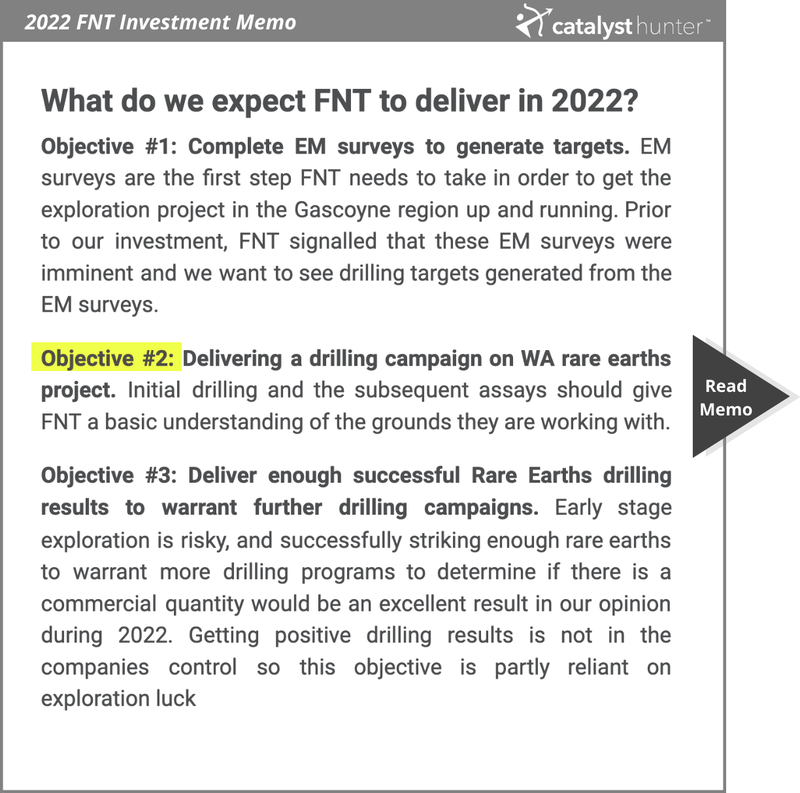 So what are "carbonitites"?
Our early coverage of FNT was primarily focussed on the ironstones on their tenements, which look like this:
FNT collected ~134 rock chip samples from outcropping ironstone formations across its project, returning a peak rock chip sample grading 8.01% TREO (Total Rare Earths Oxide).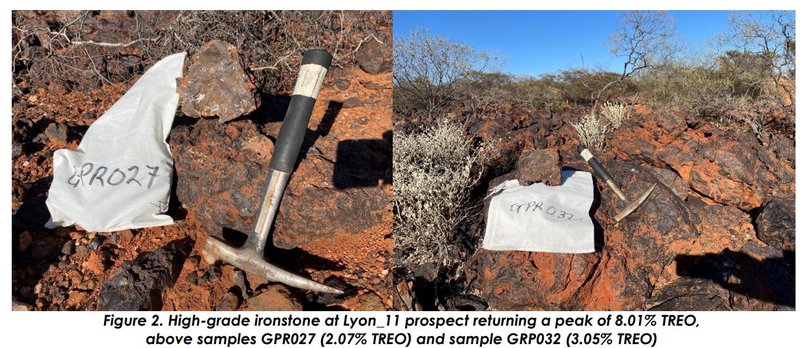 But FNT has also mentioned the presence of circular carbonatite bodies from EM surveys.
This could be particularly interesting. Here's why:
According to the US Geological Survey, "for nearly 50 years, carbonatites have been the primary source of niobium and rare earth elements (REEs), in particular the light REEs, including La, Ce, Pr, and Nd. Carbonatites are a relatively rare type of igneous rock composed of greater than 50 vol % primary carbonate minerals, primarily calcite and/or dolomite, and contain the highest concentrations of REEs of any igneous rocks."
Again, we are primarily invested in FNT for a Neodymium (Nd) and Praseodymium (Pr) discovery - the two rare earths used in the permanent magnets found in EVs and wind turbines.
Neighbouring companies Dreadnought Resources and Hastings Technology Metals have found Nd and Pr on their tenements. Indeed, Hastings is widely considered to be the next producer of Nd and Pr on the ASX.
We also note that carbonatites were a big part of Lynas Rare Earths' mammoth Mt Weld discovery.
Carbonatite looks something like this: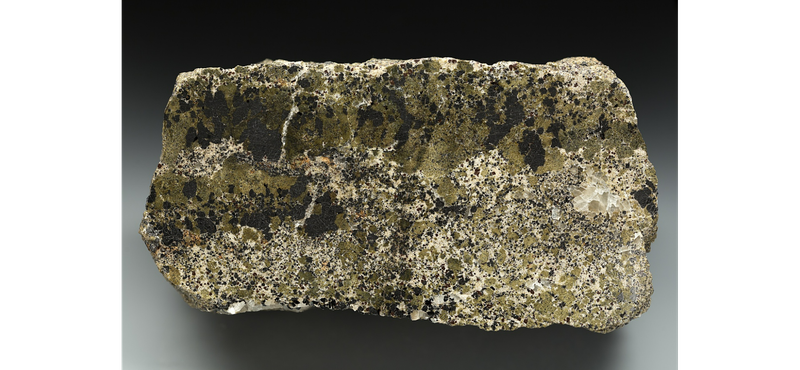 The below image shows how a "circular carbonitite body" forms the outline of the Lynas Mt Weld deposit (carbonatite is the green circle around the border of the deposit):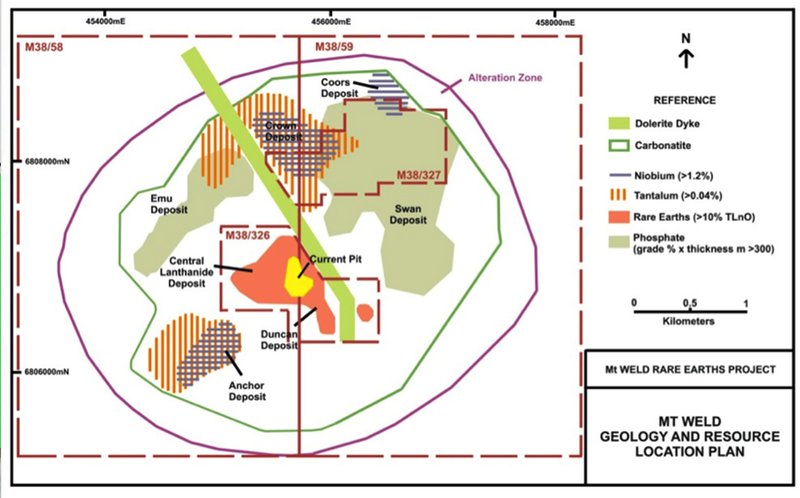 Now we're in no way saying FNT is going to make a Mt Weld sized discovery on their tenements. But what we are saying is that the geology lends itself to a discovery of some form... particularly after those high grade ironstone rock chips came in.
All of this comes at a time where interest in rare earths has never been higher.
Rare earths media review
US agrees to fund Australian critical minerals projects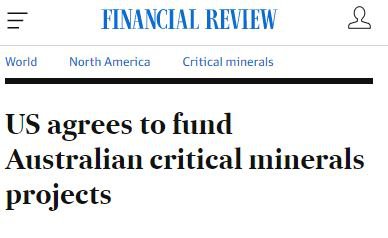 Key takeaways:
President Biden expected on to enact the Defence Production Act – a wartime power – that enables the government to fund the production of critical minerals.
According to the International Monetary Fund (IMF), Australia should benefit from a sixfold increase in demand for critical minerals, worth US$12.9 trillion over the next two decades.
Updated US critical minerals list includes other resources we have exposure to, including nickel and zinc.
Australia's 2022 Critical Minerals Strategy

Key takeaways:
The $2 billion Critical Minerals Facility, announced in 2021, is already providing loans to the sector.
$200 million to the Critical Minerals Accelerator Initiative and $50 for million virtual Critical Minerals Research and Development Centre.
Australia produces around half the world's lithium, is the second largest producer of cobalt and the fourth largest producer of rare earths.
China calls on rare earths companies to bring prices back to "reasonable" level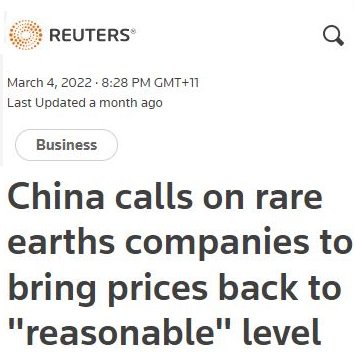 China's regulators to get rare earths producers to increase supply.
The Chinese price of praseodymium-neodymium alloy used to make super strong magnets for EV motors is up 32% so far this year to US$218,395.90 ($291,503).
We think this is part of China acknowledging Australia's potential competition in the rare earths market and an attempt to retain dominance and thus a strategic edge.
Previous coverage, risks and FNT Investment Memo
Here's all our previous coverage of FNT:
As we stated at the start, FNT is a high risk exploration company and we've identified the following risks: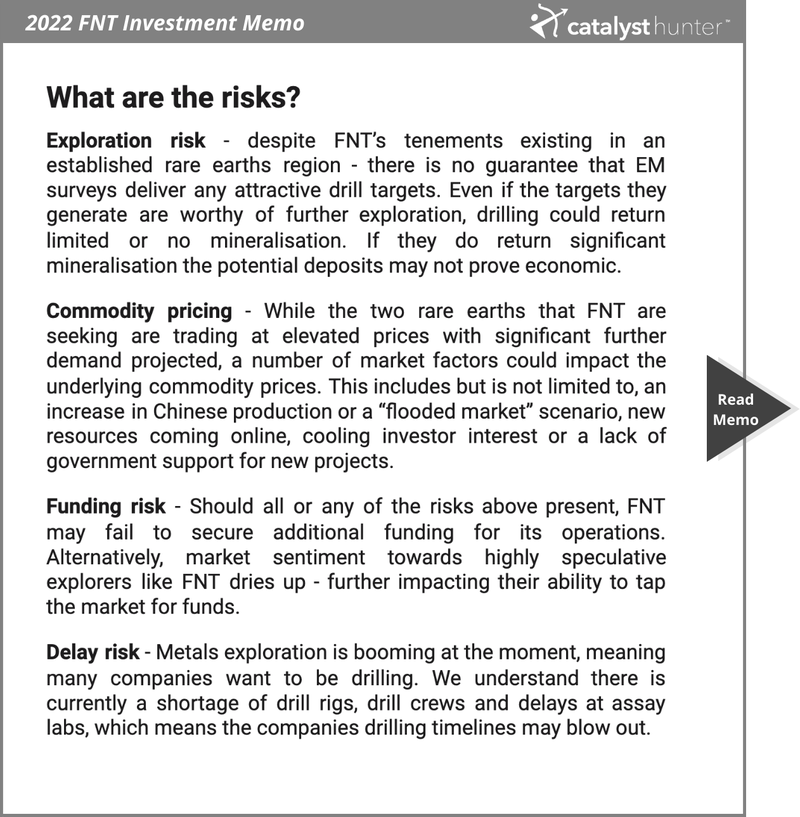 And below is our 2022 Investment Memo for FNT where you can find a short, high level summary of our reasons for investing.
The ultimate purpose of the Investment Memo is to track the progress of our portfolio companies throughout 2022 using the objectives set in the memo our benchmark.
In our FNT Investment Memo you'll find:
Key objectives for FNT in 2022
Why we continue to hold FNT
What the key risks to our investment thesis are
Our investment plan
To access the FNT Investment Memo simply click below:

---