The hunt for Tropicana lookalike continues
Lost in the midst of end of quarter reporting, gold explorer Nelson Resources (ASX:NES) announced some encouraging gold results at its Socrates prospect within its flagship Woodline Project in WA.
With a market valuation circa $8 million, cashed up and its own drilling rigs in hand, we are betting on NES to continue to find more gold in the months ahead.
We invested in NES in February 2021 at 7.5c with our eyes squarely focused on a tremendous prize — a Tropicana-esque gold deposit. Tropicana is a monster 7.64Moz gold deposit in WA, controlled by major Anglogold Ashanti and producing 400koz+ each year.
NES had collated over 828km2 of ground within the highly prolific Tropicana gold belt into its Woodline Project, located 170km southeast of Kalgoorlie. This has the potential to expand further to over 1200km2 pending current applications.
Woodline sits in a gold exploration hot spot, with significant exploration close to NES's tenure by IGO, Galileo, Legend, FMG, Silverlake, and others.
Woodline also incorporates the junction of the Cundeelee Fault, the Keith Kilkenny Fault, the Claypan Fault and the Jimberlana Dyke. The geological opportunity at Woodline is surely the envy of most explorers.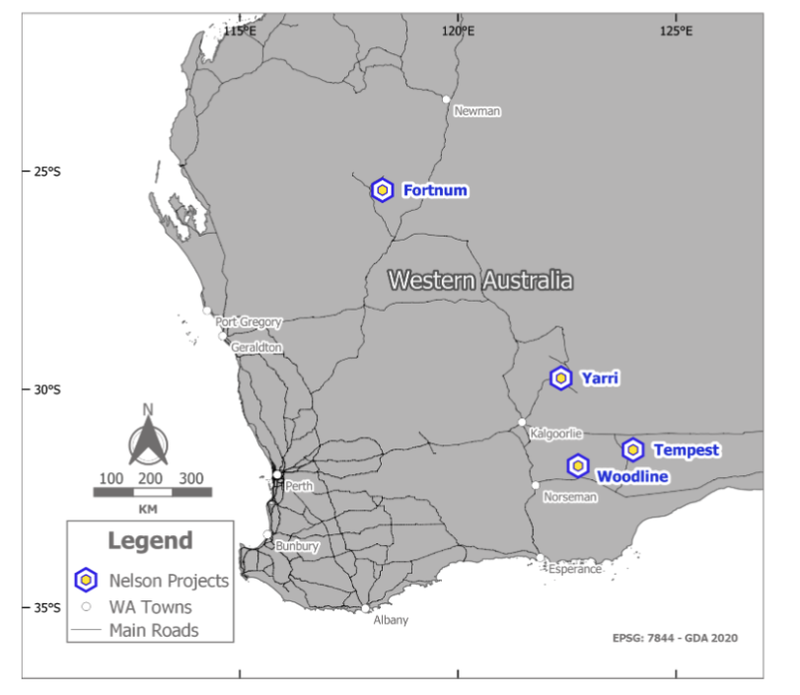 The Woodline Project sits in the highly prolific Tropicana gold belt.
There has been some $16M spent exploring NES tenements, leading to the identification of four sizeable targets, including a 20km long gold geochemical anomaly target at the Grindall-Redmill-Harvey prospect that is reminiscent of Tropicana before its discovery.
NES is now completing a Renounceable Rights Issue to fund the completion of current drilling programs and expand exploration at its Woodline and Tempest projects. It is expected that the issue will see NES well-funded with up to $1.8M available.
Why did the share price slide?
In March, NES commenced an aggressive 6,000 metres drill campaign.
Like with all early stage junior explorers, our hope was that this initial drilling campaign would uncover a discovery hole. Unfortunately it didn't.
The first drill results at Grindall took much longer than expected, following inclement weather conditions. Let's not beat around the bush, there was over 2 months of torrential rains stalling drill rigs across the region.
The first assay results too were not stellar gold grades associated with a discovery hit.
The market has since responded in kind, with the stock now trading at nearly half what it was when we first invested. A lower gold price and broad negative sector sentiment further exacerbated NES lower market valuation.
However, it is rare that a discovery hole is found on the first attempt. We believe that the market has overly punished NES for not winning the discovery lottery with its first holes... despite only a fraction of the total metres to be drilled having occurred.
An encouraging sign is that NES has decided to expand its RC drilling campaign to 10,000 metres to continue to test the 20km Geochem anomaly, of which the majority remains undrilled.
With the drilling costs already accounted for (Nelson owns its own drill rigs), there remains plenty of opportunity still to play out for a number of potential discoveries.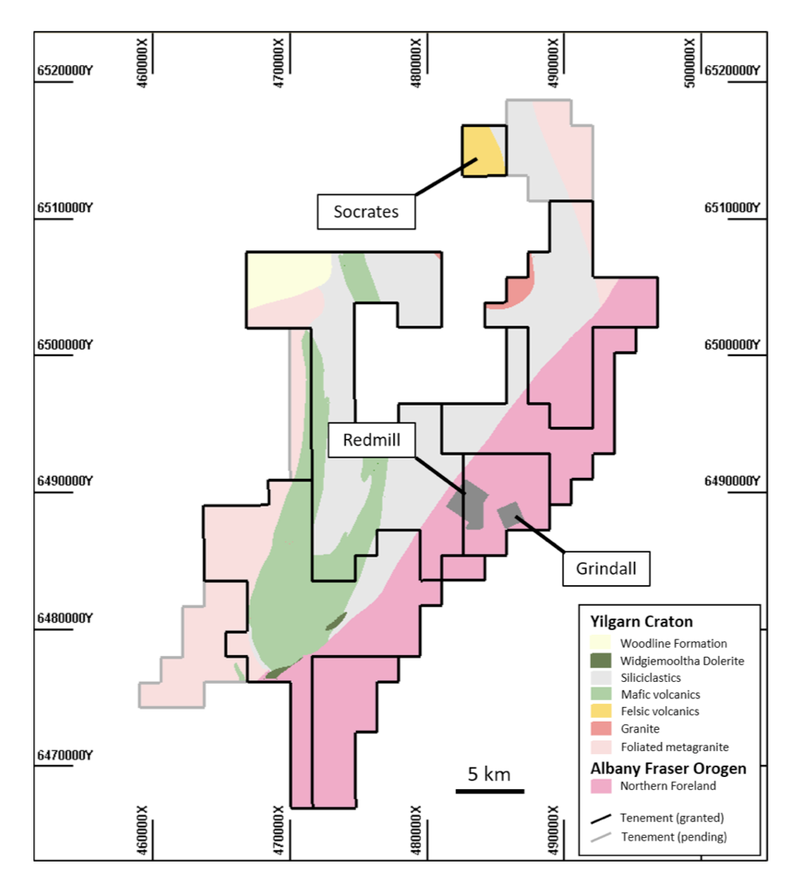 Geology of the Woodline Project showing the locations of Redmill, Grindall and the Socrates It Prospects.
The Socrates Results
We took note of the recent NES drilling at another prospect within the Woodline Project, Socrates.
In its July 29 announcement "Exciting Gold Results at Socrates", NES reported high grade gold results from the first of six RC holes (SDRC133) drilled last quarter, returning:
5m @ 4.33g/t gold from 47m; including 2m @ 9.13g/t gold from 49 metres.
This supports the potential for a shallow large scale gold resource, and complements previous drilling including:
25m @ 2.06 g/t Au,
8m @ 3.53 g/t Au,
192m @ 0.5 g/t Au and
1m @ 142 g/t Au
Of the other holes, all of which were drilled north of Socrates, hole SDRC136 successfully intersected broad zones of anomalous gold in the interpreted position above the Socrates mineralisation, including 22m at 0.03g/t gold and 14m at 0.03g/t gold.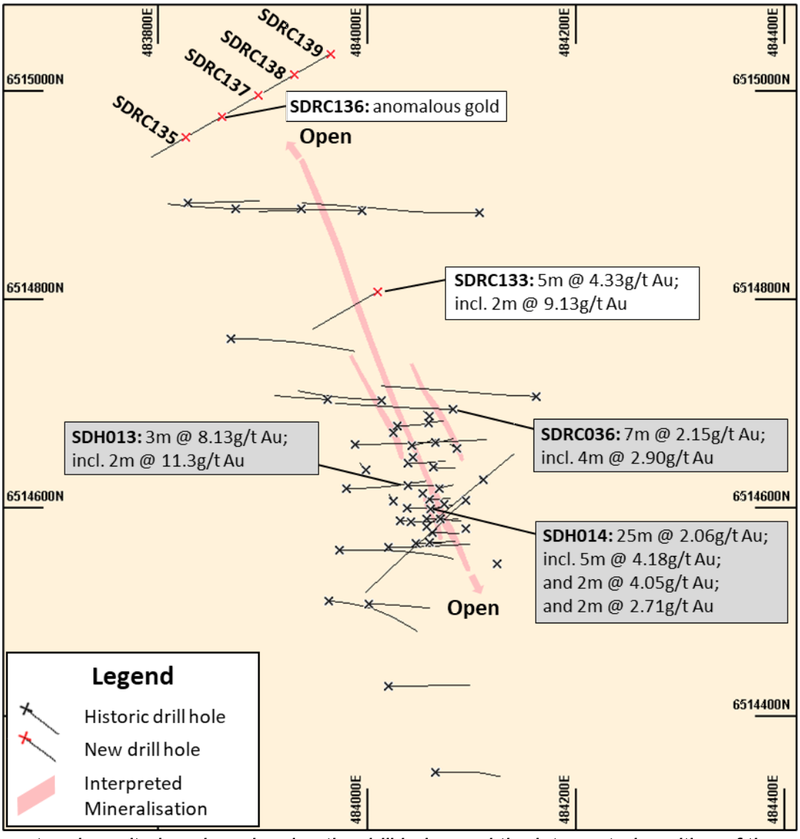 Socrates deposit plan view showing recent drill holes and the interpreted position of the mineralisation projected to surface
What's next?
Spurred by these promising results, there is both a diamond rig and a RC rig turning at Socrates. We anticipate first results back for this drilling next month.
Of note, these are the first diamond holes drilled at Socrates, and should help formulate the structural interpretation of the system, better defining where the next set of holes should go.
NES last week confirmed that it has raised $2 million (before costs) via a renounceable Rights Issue that closed oversubscribed. The company will undertake a placement to raise an additional $341,000 (on the same terms) in order to accommodate a portion of the excess demand.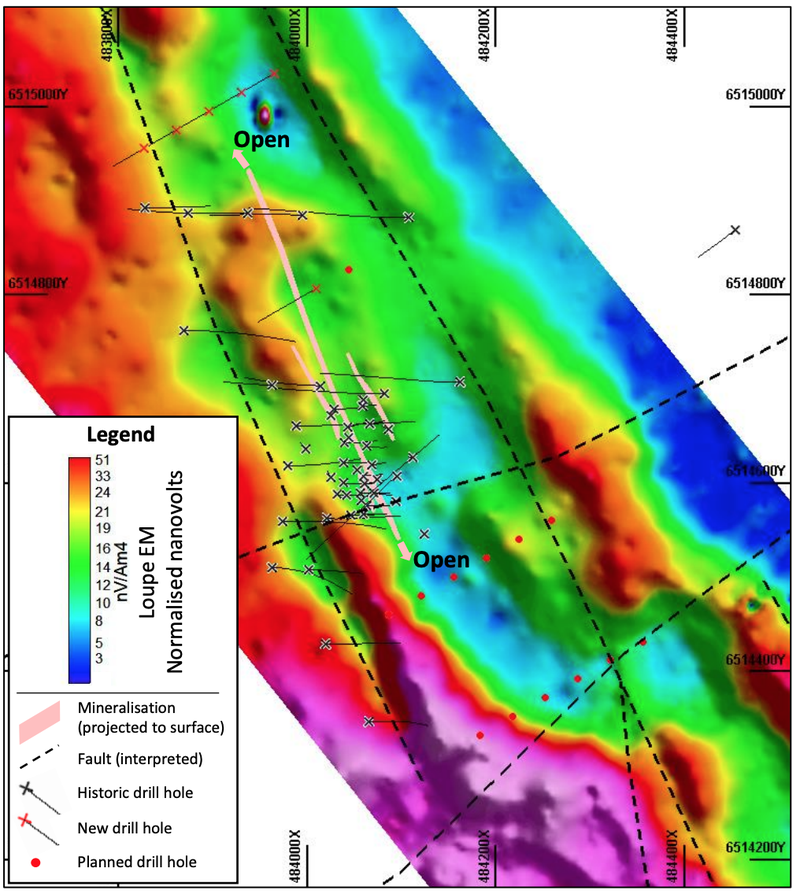 Socrates Loupe surface electromagnetic survey (Channel 10) showing the existing and planned drilling, interpreted faults and interpreted position of the mineralisation projected to surface.
Add to that more drilling at Grindall-Redmill-Harvey, combined with NES's tiny market cap, and we're holding on to our shares to see how the drilling plays out.
We believe that any reasonable drill hit could see the shares return multiples of the current price.
---