ARN Hits 1.7m of Massive Sulphides - Assays to Confirm Result
As shareholders, we welcome news that Aldoro Resources Ltd (ASX:ARN) has hit 1.7m of massive to semi massive nickel-copper sulphides, 212m below the surface during maiden diamond drilling at its flagship Nickel-Copper-PGE project in WA.
Aldoro is a $44M battery metals explorer with several projects in highly prolific nickel and lithium areas of Western Australia. It has an extremely tight capital structure and offers wide exposure to the battery metals thematic.
ARN is our biggest Catalyst Hunter investment, and we are excited to see what it can deliver next after keeping us in suspense for a few days in the trading halt. During the halt period they also increased the size of its lithium project (more on that further down).
Here is some more detail of what we think has happened so far and what we expect to see next from ARN.
ARN was up as high as 26% yesterday on the news, building on the stock's strong performance over the past year. While the stock came down a bit later in the day, overall, the market seems to have liked the announcement.
ARN is drill testing a series of four high-priority electromagnetic (EM) targets, and this is the first hole drilled at the project — and the first hole drilled in the area in nearly a decade.
So to hit "significant zones" of massive, semi-massive, blebby, and veined nickel-copper sulphides so early and in its first diamond drillhole is a great sign.
Our view is that these results suggest that there is more complexity to the mineralisation than the surface EM could resolve. But a downhole EM survey program, which is scheduled for early next week, should significantly improve the resolution, as will follow-up drilling.
ARN may add a second diamond drill rig to speed up the program — an encouraging sign that the geologists like what they are seeing. It may also secure a reverse circulation rig to complete pre collars at VC1 and expedite drill progress.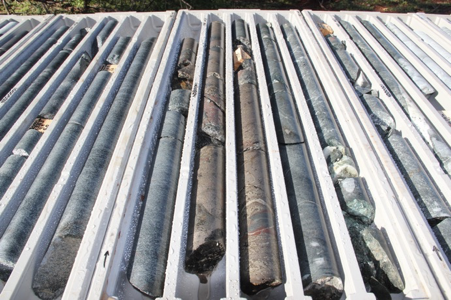 Massive and semi-massive sulphides intersected by NDD0001 from approximately 212.7m
How does ARN's hit compare to other nickel explorers?
A similar stock, Estrella Resources (ASX:ESR), almost 10 bagged in the space of 12 days in October last year on a nickel strike: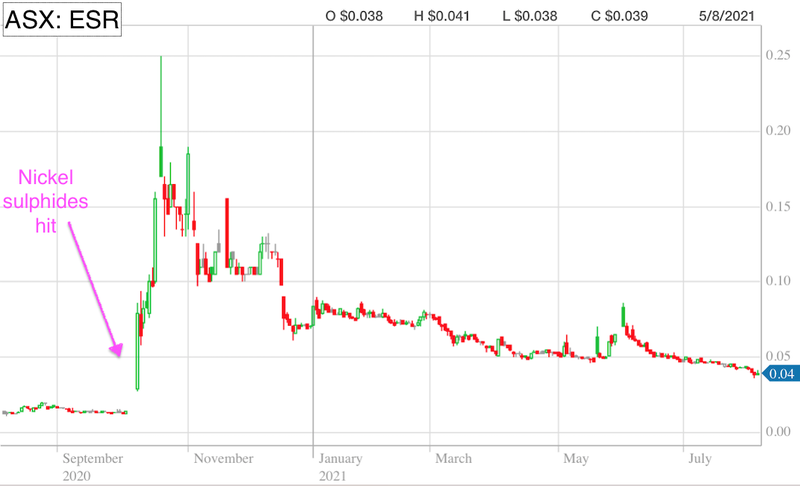 Estrella hit 2.9 metres of massive nickel sulphide mineralisation from 435.9m to 438.8m depth.
In comparison, ARN hit 1.7 metres of massive to semi-massive sulphide from 195.9m below the surface.
So while Estrella's intercept was longer, it was located almost twice as deep as Aldoro's.
We won't know the grade of ARN's hit until the assay results get back from the lab, but the team were impressed by what they saw, as it raises the potential for multiple mineralised bodies occurring within multiple discrete ultramafic intrusions to exist at the target.
Catalyst Hunter needs its own "Vulcan result" - can ARN deliver it?
Vulcan Energy Resources (ASX:VUL) is the outrageous 4,000% plus success story over at our Next Investors portfolio - Catalyst Hunter is looking for its own big success story, and right now looks like ARN might deliver the goods: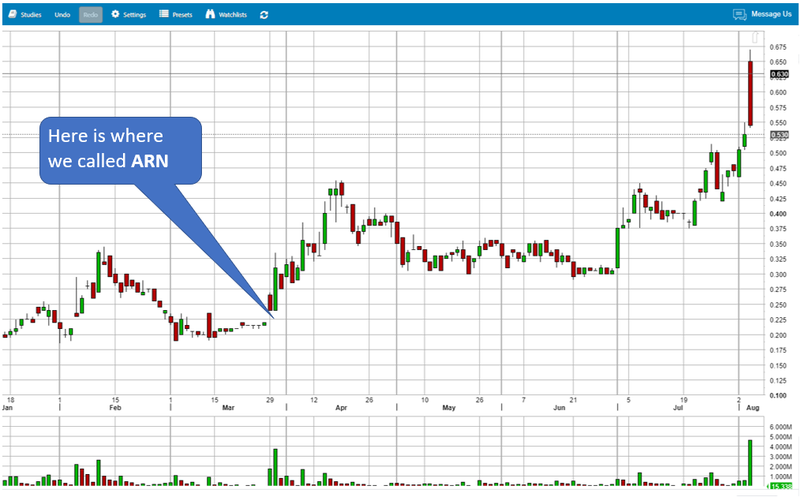 What's next for ARN at its nickel project?
ARN is going to run a downhole EM survey early next week - The aim will be to improve the resolution of the ground EM surveys which had taken place and led ARN to this mineralisation strike in the first place.
Now with positive visual results, drilling will continue at this same target so that ARN can better define the extent of this mineralisation.
More targets on the project to be drilled - This was just the first target. There are at least three more targets to be drilled, and ARN plans to try and get additional rigs in to speed things up.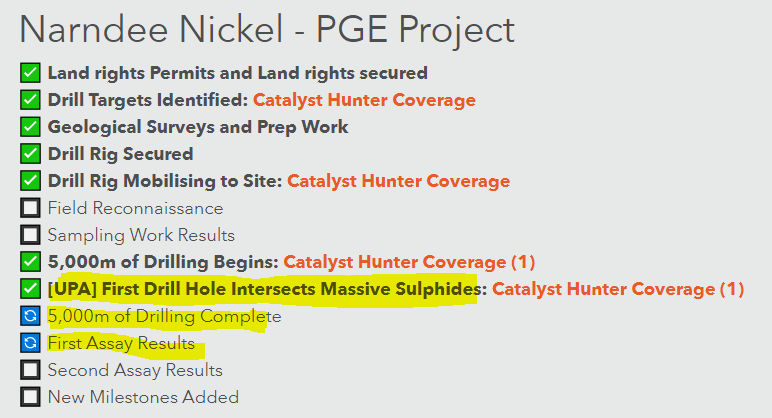 ARN also has a lithium project - that just got bigger
We are long term investors in ARN, with the main goal being a large nickel discovery — this is the blue sky.
But on top of its nickel ambitions, we are liking how ARN's lithium project is evolving.
The company this week further expanded its strategic lithium landholding, locking up 100% of the Windimurra Fairway. Its latest lithium acquisition, adjacent to ARN's existing ground, has significantly lifted ARN's potential for a lithium discovery.
And ARN themselves recognise that while the focus has been on the maiden nickel drilling program, focus has not been lost at its Windimurra LCT project which could be "a company maker in its own right".
While we view this project as a bonus side bet, in addition to ARN's nickel play, lithium is a great space to gain additional exposure to. As a key ingredient in electric vehicle batteries, demand for lithium is expected to surge as the world switches to electric vehicles over the next decade. That's being factored into ASX lithium stocks, which have been some of the best performers over the last 18 months.
We have had great success in our other portfolios in the battery metals space with investments like VUL, EMN and EMH and are excited to have ARN as our largest holding at Catalyst Hunter.
We are still waiting for an announcement from ARN giving the market guidance on the next steps on their lithium project.
Lithium stocks are running hot now, so we expect ARN to release a development plan for this asset soon, we will share it when they do.
Our investment strategy for ARN
This week ARN has ticked over a 250% increase from where we first invested at 20c, so we have ticked off that milestone in our investment strategy: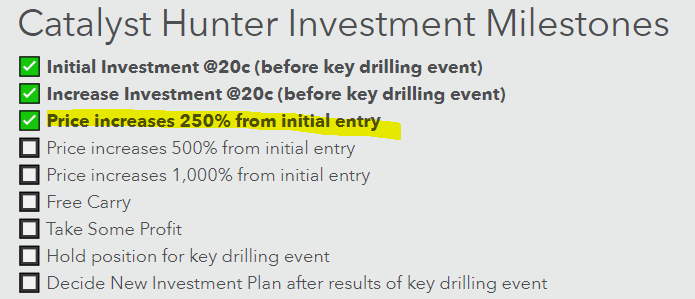 ---