ARN adds Rubidium target in battery metals exploration portfolio
Aldoro Resources (ASX:ARN) is a WA metals explorer chasing battery metals nickel and lithium.
Today ARN revealed it also has a sizeable exploration target for rubidium (Rb) in WA - rubidium is an extremely rare and expensive metal.
ARN's esteemed geophysicist Dr Fu reckons the potential Rb resource could be in the same order of magnitude as the biggest Rb deposit in the world.
Rubidium is used in a few high tech applications, and can be used in sodium-ion batteries. Given how hard it is to find rubidium on planet earth, rubidium is more expensive than gold.
We first invested in ARN for its leverage to a WA nickel discovery and because we believe in the battery metals thematic as the world switches to electric vehicles demand for battery metals rises.
ARN is actively running its nickel exploration having already made a promising nickel drill hit. ARN is still drilling targets right now, and has also found some down hole EM conductors during exploration.
While we wait for news of more nickel results, ARN has announced today's rubidium target and also has some interesting hard rock lithium projects it is exploring...
These complementary projects, or what we like to call ARN's "side bets", have been added to ARN's portfolio of projects since we first invested, and include the Rubidium Project.
ARN plans to drill this project in late September (4 weeks away) and test this rubidium potential, along with the potential for lithium at the project.
ARN's rubidium potential?
ARN today announced that it has defined an initial Exploration Target at its recently acquired Rubidium project.
ARN has re-evaluated the Niobe Tantalum prospect for Rubidium (Rb) potential with historical Rubidium oxide (Rb2O) of up to 1.09% from mid-1980's RC drill holes.
The initial Exploration Target (over part of the Niobe Pegmatite 1) consists of approximately 33,000-150,000 tonnes of Rubidium Oxide (Rb2O) at grades ranging 696-1457ppm over an 80m by 65m area of detailed drilling.
This area represents less than half of the mapped section of the Niobe pegmatite with the results based on 809 samples from historical drilling (1984-1986) from 31 close interval holes with depths ranging from 13 to 48m.
Just this small section has 33,000 to 150,000 tons (330-1,500 contained tons of Rb) with a price over $1 million per ton.
This means with its first drill program, ARN could expect to have an at surface economical resource for Rb. And given the price that Rb demands, we think it might be possible to economically mine Rb in a pretty short space of time.
ARN's renowned physicist Dr Minlu Fu noted the commercial potential of these historical grades.
Dr Fu said that according to the Mining Association of Guangdong Province of China a major Rubidium deposit called the Tiantangshan Rb deposit, was discovered in Guangdong province in 2019.
The Tiantangshan Rubidium deposit, the biggest in the world, has Rb2O resources of over 100,000 tonnes at the average grade 0.109% Rb2O.
The Guangdong Provincial Government said in 2019 that it will invest multi-billion RMB to exploit this Rb project in the next five years as it expects the project to be "very profitable".
It seems that the potential resources of the ARN's Niobe Rb project may be in the same order as that of the Tiantongshan Rb deposit having Rb2O of greater than 1.5% and being associated with other valuable elements, such as Lithium, Caesium and Tantalum.
Rubidium is an alkali metal (think Lithium, Sodium, Potassium and Caesium) and is typically found in hard rock pegmatites.
It has a wide range of industrial applications including specialty glasses in fibre optic cables, GPS systems, and night vision gear, while it also has potential to be applied in sodium-ion batteries.
While not yet used to any great extent in batteries, Rb is an up and coming battery metal that is used to make sodium-ion batteries. Sodium-ion batteries present significant opportunity as they have lower energy density than lithium-ion batteries, are faster to charge and more resilient to cold temperatures.
Rubidium's relative value is reflected by its price when compared to that of lithium and caesium: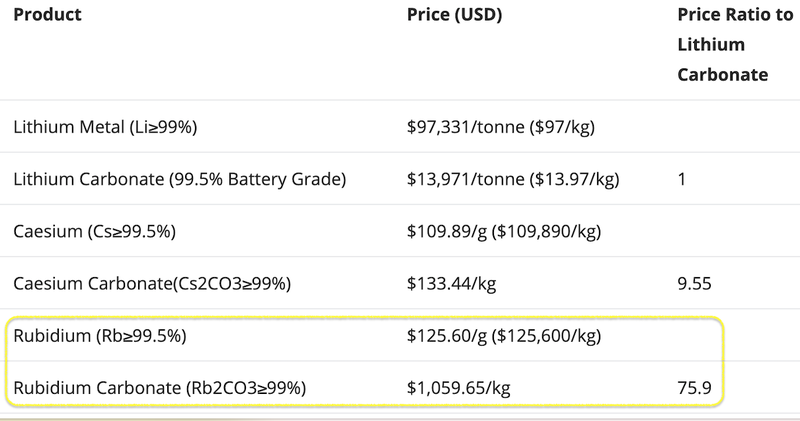 Source: SMM, May 24, 2021
Forward plan at ARN's Rubidium project
As the majority of ARN's mapped Pegmatite 1 remains untested for Rubidium, ARN will now look to expand the Exploration Target area encompassing the mapped pegmatite on the western side of Niobe, the high interest Rb bearing sections of Niobe East, the Breakaway pegmatites and Niobe South Pegmatites — as can be seen in pink on the map below.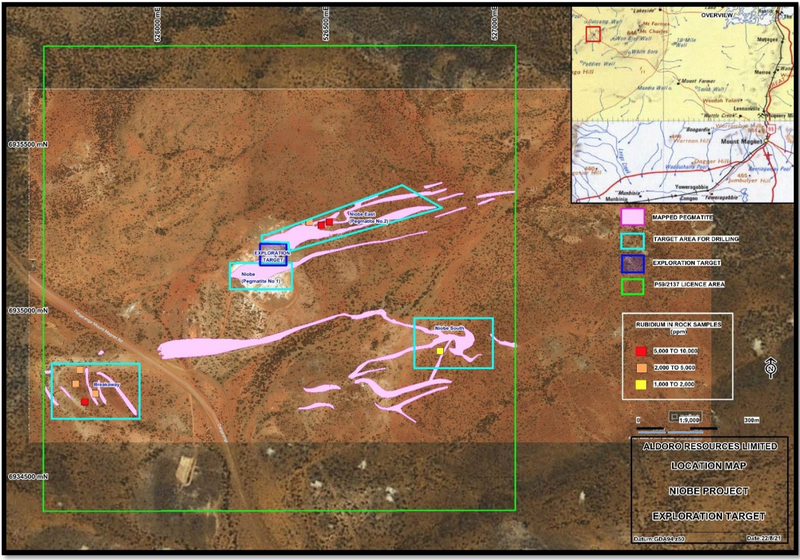 The location of the Exploration Target (dark blue box), mapped pegmatites (pink areas), and proposed areas for drilling (light blue boxes).
Upon approval of a Programme of Works (POW), ARN expects to commence an RC programme at the end of September, and will also target the Lithium potential of the mapped pegmatites.
Rubidium Project
✅ Exploration Target Defined
✅ Re-interpret Historical Results
🔲 Rock Sample Analysis
🔲 Identify Areas for Drilling
🔲 Programme of Work Approval
🔲 Commence RC Drilling (end of September)
🔲 Assay Results 1
🔲 Assay Results 2
🔲 Assay Results 3
🔲 Estimate Mineral Resource
But of course, Rubidium isn't the only play that ARN has on the go...
Update: ARN's Nickel Project
Earlier this week, ARN provided an exploration update for its VC1 and VC3 targets at its nickel project (the Narndee Igneous Complex) having completed downhole electromagnetic (DHTEM) surveying on all holes.
Five drill holes were successfully DHTEM surveyed at the VC1 target over the prior week.
The results are very encouraging with at least two strong off-hole target areas identified for immediate follow-up drill testing.
Here you can see the location of these high priority targets in red, with the DHTEM surveying indicating that the anomaly is strengthening north of hole NDD0004: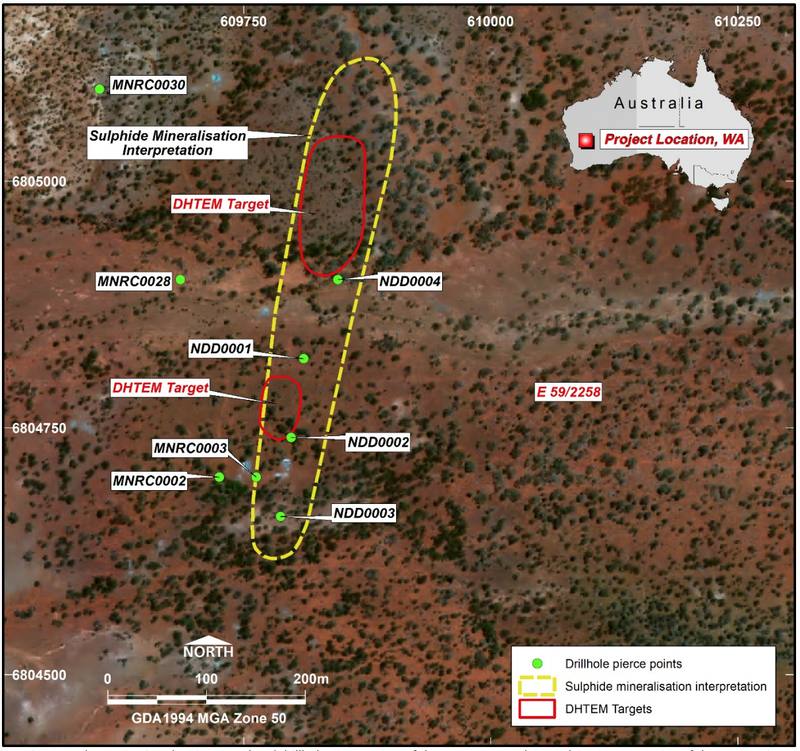 Plan projection showing completed drillhole pierce points of the VC1 target and an evolving interpretation of the magmatic sulphide footprint.
The next phase of drilling at VC1 will target the two high priority off-hole targets, test the east-west extent of mineralisation from existing drill pads, and aim to extend the mineralisation further down plunge, north of NDD0004.
VC3 target drilling
The first drillhole (NDD0005) is underway at the VC3 target and is now at a depth of approximately 230m. The hole has already intersected a suite of mafic and ultramafic intrusive rocks over its entire length.
These rocks are interpreted to be a similar package to that hosting the mineralisation at VC1, which strongly upgrades the VC3 target.
We look forward to ARN providing an update on the VC3 target once the target position is intersected.
Narndee Nickel - PGE Project
✅ Land rights Permits and Land rights secured
✅ Drill Targets Identified
✅ Geological Surveys and Prep Work
✅ Drill Rig Secured
✅ Drill Rig Mobilising to Site
🔲 Field Reconnaissance
🔲 Sampling Work Results
✅ 5,000m of Drilling Begins
🔄 5,000m of Drilling Complete
✅ [UPA] First Drill Hole Intersects Massive Sulphides
🔄 Assay Results 1
🔲 Assay Results 2
🔲 New Milestones AddedARN Adds Rubidium Target to Nickel and Lithium in Battery Metals Exploration Portfolio
Our investment plan for ARN:
✅ Initial Investment @20c (before key drilling event)
✅ Increase Investment @20c (before key drilling event)
✅ Price increases 250% from initial entry
🔲 Price increases 500% from initial entry
🔲 Price increases 1,000% from initial entry
🔲 Free Carry
🔲 Take Some Profit
🔲 Hold position for key drilling event
🔲 Decide New Investment Plan after results of key drilling event
---