ARN Adds Lithium to Nickel
Aldoro Resources (ASX:ARN) has just acquired new lithium ground.
ARN now has nickel, PGE and lithium discovery potential following its latest acquisition.
ARN could have almost all the materials needed to make an electric vehicle battery, all in one location, all in Western Australia.
We are invested long term in ARN for a large nickel discovery - this latest lithium acquisition adds another battery metal to its exploration projects.
We invested in ARN in March this year and it's one of our biggest holdings.
We like ARN's tight cap structure, low number of shares on issue and battery metal thematic.
ARN announced a few days ago that they have pegged holes for drilling at their Nickel project - we expect drilling to commence very soon.
Lithium stocks on the ASX have been some of the best performers over the last 18 months.
Lithium is a key ingredient in electric vehicle batteries and demand is expected to surge as the world switches to electric vehicles over the next decade.
The acquisition of this new lithium project next to the one it already had, puts ARN in one of the only locations in the world where a hypothetical battery gigafactory could be built alongside all the natural resources to meet its needs.
You may have read that Tesla wants $1BN of battery minerals per year from Australia.

ARN's new lithium project is adjacent to ARN's ground and will significantly expand ARN's potential for a lithium discovery.
ARN's new lithium project:
Is rich in LCT (Lithium-Cesium-Tantalum) type pegmatites with high lithium, cesium, tantalum and tungsten.
Has over 20 pegmatites that have already been mapped, 10 have been sampled.
Has pegmatites that can strike over 1,000m in length, varying from 1m to 20m outcrop.
Has dozens more yet to be mapped and sampled.
Has 18 rock chip samples around one area that produced an average grade of 1.06% Li2O.
ARN has also hired highly respected regional geologist Dr Peter Hayden to the technical team to assist with unlocking the lithium potential of ARN's combined Windimurra Lithium portfolio.
ARN has already started ground work on this new lithium project.
We are long term investors in ARN predominantly for its nickel, but we like the fact it is adding other battery metals to its asset portfolio.
Like most investors, we are ultimately in this stock to hit a giant nickel discovery - this is the blue sky upside in ARN.
ARN is about to start 5,000m of nickel drilling on a number of high confidence targets - holes have been pegged and drill pads prepared.
Now ARN's lithium exploration can complement ARN's nickel exploration.
Why we like ARN:
Tightly held share register, including renowned geologist Dr Minlu Fu
Exposure to upside of a large nickel discovery
Nickel drilling - 5,000m targeting three high confidence targets
Spin out of gold assets allows ARN to focus on existing assets but retain exposure to gold exploration success.
New lithium acquisition gives it even more exposure to the battery metals revolution.
ARN Investment Strategy:
We expect ARN to deliver the following key milestones over the next 3 to 6 months and the share price to appreciate as the market speculates on a drilling outcome:
Key Team additions (✅ Dr Minlu Fu, internationally renowned geo)
Permits and Land rights (✅ all land rights and permits secured)
Drill targets identified ( ✅ some already found, potentially more to come)
Geological surveys and prep work (ongoing)
Drill rig secured (✅ Rig on site in June)
Key Catalyst: 5,000m of drilling begins (Coming weeks)
Divest Gold Assets: Gold spin out IPO goes live (Q3 2021)
Gold Spin out: ASX listing of new co (Q3 2021)
Completion of lithium acquisition: Completion of sales agreement between Meridian and ARN for the the acquisition of the adjacent Wyemandoo Project.
Note we plan to retain a significant position into the nickel drilling results which are hopefully positive.
ARN Nickel Drilling about to start
Seven days ago ARN announced that it is close to starting drilling at its Nickel project after pegging a few drill holes. This drilling is why we invested and we expect drilling to commence within weeks: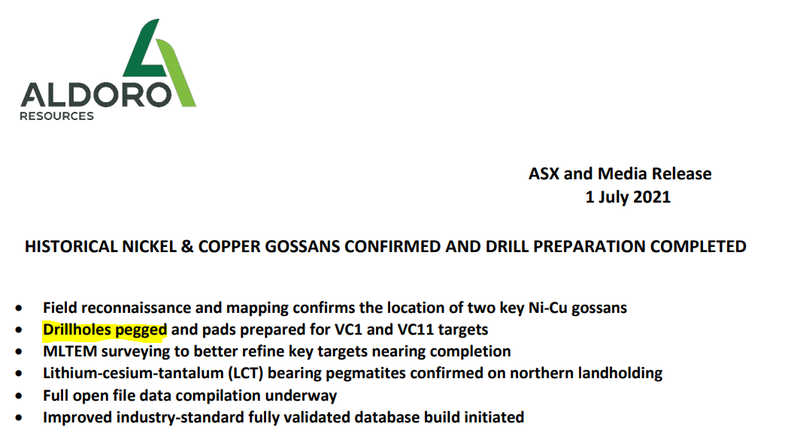 Here is all our past commentary on ARN since we first invested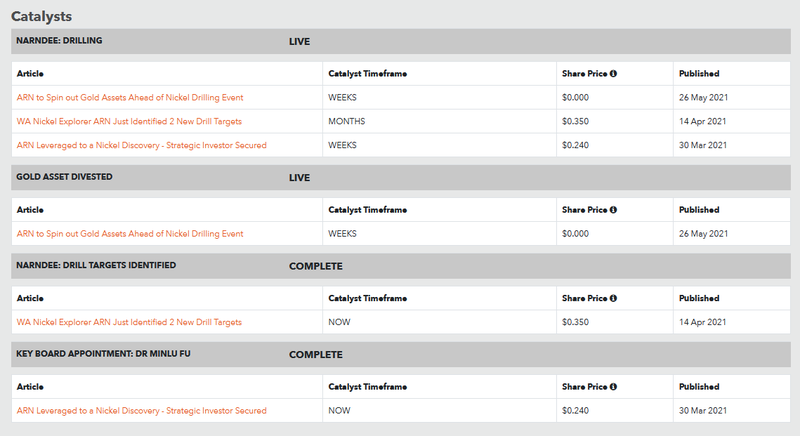 ---