TG1's Drilling Kicks off Plenty of Catalysts to Come
Yesterday we told subscribers about our large investment in Techgen Metals (ASX:TG1) and that we were expecting a steady stream of catalysts to roll out over the coming weeks and months...
Well, TG1 has not wasted any time, and on Day 2 of its life as an ASX company: it has confirmed the start of its first RC drilling campaign.
After raising $6M as part of the IPO, we liked TG1's Enterprise Value of $4.5M on listing.
With a strong copper price and buoyant commodities pricing overall, we think this company is leveraged to exploration success over the coming months.
You can read all the reasons why we first invested in TG1 in yesterday's article.
Today we want to focus on today's drilling news.
The Catalyst: Maiden drilling campaign happening right now
TG1 didn't waste any time getting the drill bit turning.
Its maiden reverse circulation (RC) drilling campaign is happening right now at its El Donna Gold Project, 50 kilometres north-east of Kalgoorlie.
This is a 1,300m drilling campaign targeting high grade bedrock gold mineralisation. Some impressive historical intercepts have previously been struck: 3 metres at 17.9 g/t gold from 96 metres and 21 metres at 1.5 g/t gold from 341 metres.
TG1 will be looking to improve on these.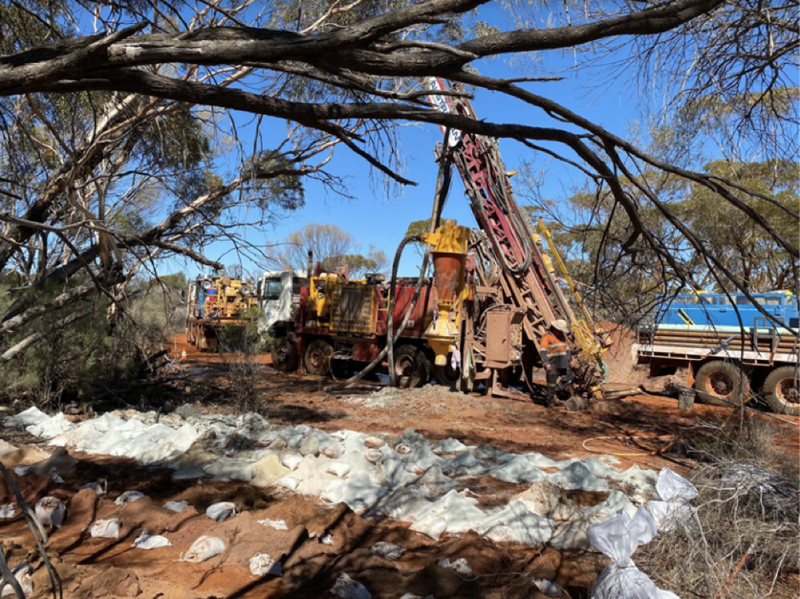 Since acquiring the project back in 2019, TG1 has conducted detailed field mapping and 3D modelling of historic drilling and bedrock mineralisation that have highlighted key areas for immediate RC drilling.
TG1's El Donna project is in an interesting location, situated within the Gindalbie Domain of the Kurnalpi Terrane, part of the Eastern Goldfields Superterrane of the Archean Yilgarn Craton.
The area is considered prospective for gold mineralisation and TG1's project lies between the Mayday North Gold Mine (84,000 oz at 1.5 g/t gold Indicated and Inferred) owned by Bardoc Gold Limited (ASX: BDC) and the Penny's Find Gold Mine (56,000 oz @ 7.04g/t Au Indicated & Inferred) owned by Orminex Limited (ASX: ONX) and Horizon Minerals Limited (ASX: HRZ).
TG1 recently collected several rock chip samples from the Star Prospect as shown below within the El Donna project and these have been sent for analysis.
RC drilling is likely to kickstart a significant and steady stream of news for investors to consider.
There are several potential milestone moments on the horizon.
Further catalysts on the horizon
TechGen holds a portfolio of 12 exploration licences forming 7 projects strategically located in three highly prospective geological regions of Western Australia: the Yilgarn Craton, Paterson Orogen and Ashburton Basin.
It is also worth noting that these areas have undergone very little modern exploration, but lie in broader regions where prominent discoveries have been.
There is a lot to like about the way TG1 put all its pieces in play before listing on the ASX:
Scheduled work plan and plenty of activity to look forward to.
Tier-1 jurisdictions in WA in proximity to several large existing discoveries.
Very little modern exploration on its ground, but its projects lie in broader regions where prominent discoveries have been made.
Gold and copper prices are nearing record levels.
Highly leveraged to growth - tiny Enterprise Value of $4.5M... and plenty of upside on discovery.
One of the reasons we took a position in TG1 is the level of activity expected at its WA projects over the coming months and the news flow that is sure to follow.
We think TG1 could be a catalyst machine over the next 12 months and contrasted with its tiny EV of $4.5M on ASX listing, there looks to be plenty of growth ahead, and we have already seen that on Day 1.
The following program highlights proposed exploration activity through to December.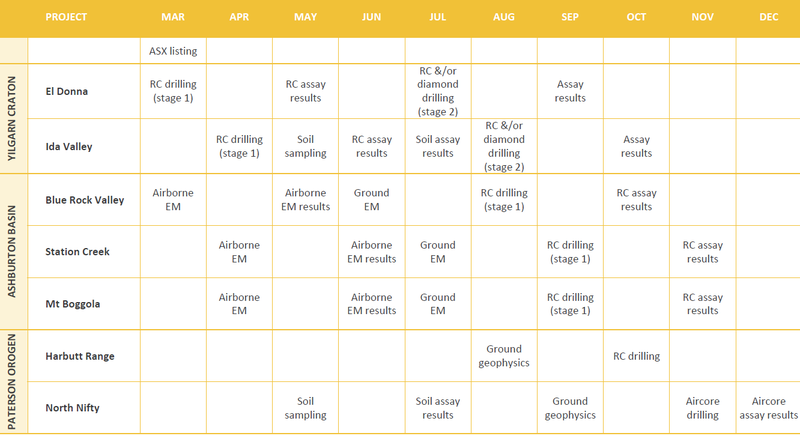 We believe successful drilling campaigns at multiple projects could provide significant share price momentum.
We also invested because we feel TG1 offers investors a low entry point to a potential high growth story.
TG1 commenced trading on the ASX on Wednesday with its shares trading in a range between 20 cents and 29 cents. Implying a market capitalisation of $32.7M
We think the $6 million it now has in the bank, gives TG1 a considerable amount of funding to conduct extensive exploration across its three main areas of operation, the Paterson Orogen, the Ashburton Basin and the Yilgarn Craton.
It has all started with its maiden drill program at its 100% owned El Donna gold project, in the Yilgarn Craton.
TG1's portfolio of projects
The following graphic provides a good snapshot of where TG1's projects are located and the likely mineralisation they will be targeting.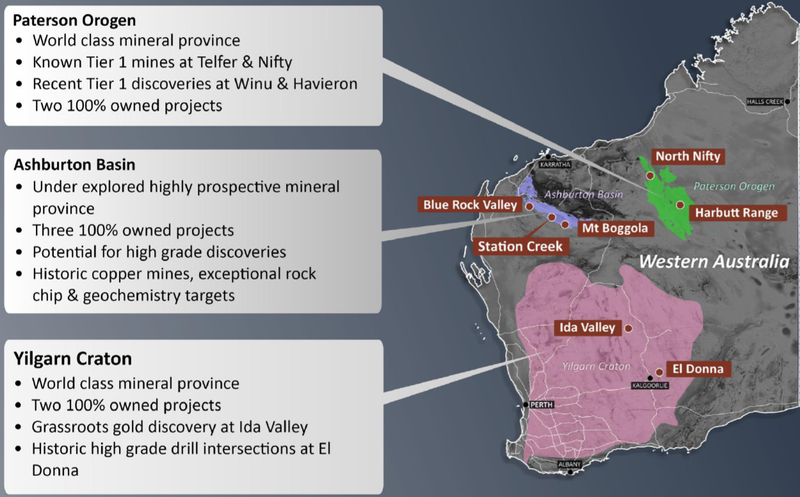 Sticking with the Yilgarn Craton for just a moment, El Donna is one of two 100% owned projects in the region.
Its second project is the Ida Valley Project – a grassroots gold discovery in a new greenstone belt.
TG1 is set to start RC drilling here this month – in just a few weeks.
Highlights so far at Ida Valley are the auger soil anomaly to 884ppb Au and rock chip samples to 6.6g/t Au, these new areas to be drill tested in the coming weeks.
Both El Donna and Ida Valley have potential for significant gold discoveries.
Paterson Orogen
The Paterson Orogen region is in a world class mineral province that is host to large precious and base metal mines such as MetalsX's Nifty Project, Rio's Winu Project, Greatland Gold's Havieron Project and Newcrest's Telfer operations.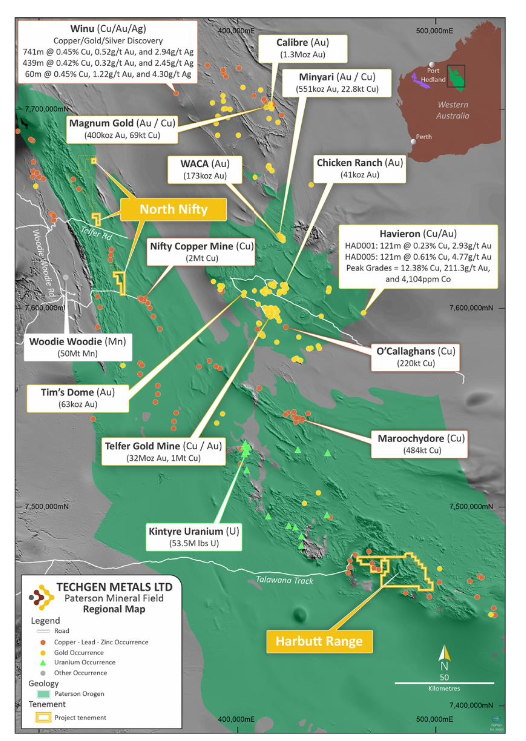 TG1 has two 100% owned projects (as you can see above), this time with key geophysical targets being developed for drill testing.
The first project is the Harbutt Range Project. This project will see TG1 follow up on an undrilled airborne EM and IP geophysical targets and gold and base metal soil anomalies.
The second project is the North Nifty Project where TG1 will follow up a surface Cu-Pb-Zn-As anomaly at its Hakea Prospect.
Again, we should see plenty of news flow from these prospects as TG1 ramps up operations.
Ashburton Basin
This is another under-explored and highly prospective region for significant gold and base metal discoveries. In fact, it is said to host stunning copper, gold and silver grades and by the looks of the diagram below, you can see why.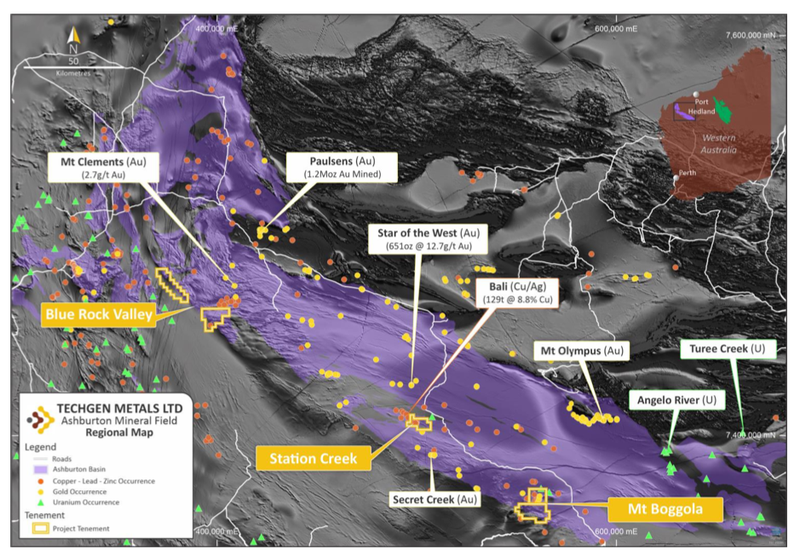 TG1's three projects are Blue Rock Valley, Station Creek and Mt Boggola.
The presence of high grade historic copper rock chip samples and the lack of modern exploration in the area are what triggered TG1's interest in the area as a prospective site.
It is worth noting that 85% of the Blue Rock Valley Project area has not had any previous airborne electromagnetic coverage.
The Blue Rock Valley Project consists of two Exploration Licences (E08/3030 & E08/3276) that cover a combined area of 202 square kilometres.
As you can see on its calendar of events, TG1 has already or is very close to commencing its Airborne VTEM at Blue Rock.
The Blue Rock Valley Project features historic copper-lead-zinc & copper workings with rock chip samples to 16.05% Cu in a large shear zone.
The Station Creek Project has multiple anomalies along a 10km long fault with peak rock chip values of 8.8g/t Au, 257g/t Ag and 54.3% Cu.
The Mt Boggola Project features peak rock chips of 43.1g/t Au, 68% Cu & 119g/t Ag. Limited RC drilling has returned a best intercept of 4m @ 2.3% Cu.
Strong management team
We believe one of TG1's key strengths is its management team, notably managing director Ashley Hood. Hood, with Andrew Jones (Technical Director) are project vendors and substantial shareholders with a combined shareholding of 13%.
With such a large stake, the pair is driven to deliver value to shareholders by actively seeking to deliver a large metals discovery.
In fact, given Hood and Jones' stock is escrowed for two years, we are comfortable they are in this for a large metals discovery.
Hood has expertise across all facets of the industry from exploration to construction, as well as having been involved in significant value adding corporate transactions.
With significant experience in asset identification, capital markets and due diligence, the Hood and Jones combination brings an extra dimension to the company in terms of being able to adapt to varying conditions in the industry in the form of everyday execution of project operations through to the identification of potential new assets.
This is very much a hands-on management team.
TG1 is early stage exploration, with no guarantee of success, but we do like the upside here for early stage investors like us. Remember exploration investing is speculative investing, so only invest what you can afford to lose.
Plenty of catalysts on the horizon
TG1 has an extensive work program that we believe will generate many catalysts over the coming weeks and months.
The company is currently focused on El Donna, but will soon turn its attention to Ida Valley in conjunction with the VTEM results at the Blue Rock Valley copper projects
In fact, TG1 has several catalysts in every month of 2021, leading up to December.
We think this company has a lot to offer: plenty of catalysts, a low EV of $4.5M on ASX listing and enormous upside based on the limited modern exploration done on its projects, including the exceptionally early signs of mineralisation within the Ashburton projects. With plenty of work to come, we think investors could ride a high tide to success.
---