The USA Takes a Big Step to Decriminalise Cannabis: CPH Well Placed to Benefit
Last Friday, the US House of Representatives passed the Marijuana Opportunity Reinvestment and Expungement (MORE) Act – an Act that intends to decriminalise cannabis on a national level.
The decision is expected to have far reaching effects on the cannabis industry in North America, encouraging investors and corporate America to fully unlock the value of a multi-billion dollar industry, expected to surge to $130BN by 2024.
Global cannabis grower and CBD product developer Creso Pharma Ltd (ASX: CPH) looks to be one of the best placed ASX listed companies to capitalise on the US regulatory news.
CPH has a 100% owned, full licensed, 24,000 sq.ft cannabis growing facility in Canada, only 1,700 miles from the US border.
This growing facility is already in operation and generating revenues, with a number of Purchase Orders signed in recent months, including circa $320,000 from one client alone.
CPH also counts Canadian cannabis icon Bruce Linton as a Strategic Advisor. Mr Linton was the founder and CEO of Canopy Growth (TSX: WEED | NYSE: CGC), which he built from a tiny start up into a US$15BN market cap powerhouse at its peak.
Meanwhile in Europe, CPH continues to sell its CBD products in the animal health market via its Swiss operations, with a total of A$975,000 in Purchase Orders confirmed in 2020.
Now, the game changing regulatory news out of the US paves the way for CPH to enter the US market – the world's largest recreational and medical cannabis market.
The company is exploring near term opportunities for entry right now, in readiness for legalisation.
CPH has attracted significant market interest in recent weeks, with shares surging from 3c to as much as 13c on the company's newsflow and regulatory changes.
CPH is currently trading at levels not seen since February 2020, prior to COVID sending global markets tumbling.
The catalyst – Could the US be the next country CPH enters?
Friday's announcement will likely give many of the world's cannabis stocks a boost, however for CPH this historic ruling gives it the opportunity to create significant growth and capitalise on a surging US market.
The decision will effectively enable Creso to:
expand distribution of its existing cannabis products through the scale up its operations in Canada and Switzerland, and
seek out merger and acquisition opportunities.
CPH's Canadian cannabis growing facilities are managed by its 100% owned Canadian subsidiary, Mernova Medicinal Inc.
Mernova can scale up operations to meet potential demand from the US market, which even before today's announcement was expected to grow significantly.
There is also substantial appetite for Creso's Swiss CBD products in the US and the company is now exploring further opportunities to roll these products out as soon as legalisation occurs.
With robust operations already in place, if CPH could confirm a US Purchase Order, this would be a huge result for the company, currently capped at $68M.
Near term sales opportunities have opened up for CPH following Friday's historic announcement – the first time either chamber of Congress has ever voted on marijuana decriminalisation.
The final vote was an overwhelming 228-164 in favour.

The American people are highly in favour of decriminalisation, with several US states making their own moves this year to legalise the substance.
"We're not rushing to legalise marijuana. The American people have already done that. We're here because Congress has failed to deal with a disastrous war on drugs and do its part for the over 15 million marijuana users in every one of your districts," said Rep. Earl Blumenauer, an Oregon Democrat and one of the bill's chief architects, during House floor debate Friday morning before the vote. "It's time for Congress to step up and do its part. We need to catch up with the rest of the American people."
This shift in momentum towards legalisation (noting the bill still needs to pass through the Senate), opens up enormous opportunities and markets for CPH.
As previously stated, the US cannabis market is expected to be worth $130BN by 2024. Sales of cannabis were already increasing dramatically this year, rising 40%.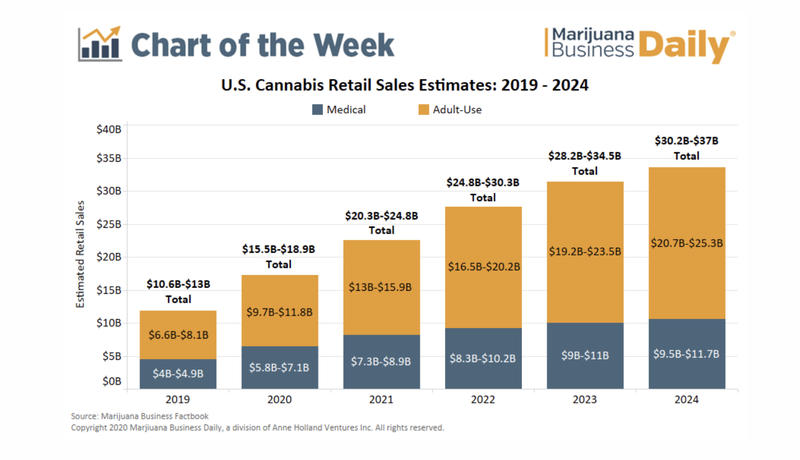 When you take a look at the total economic impact, it tells its own story. The following chart indicates that the American marijuana business could increase to US$130 billion by 2024.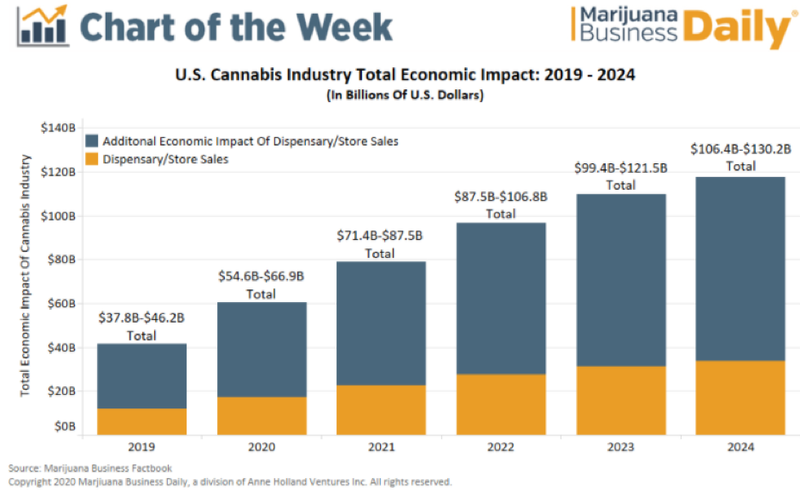 Creso Pharma is well positioned to capitalise on these opportunities in the US market, through Mernova.
Cannabis Legalisation is a global trend
The US move is part of a global trend to bring cannabis into the mainstream and off the black market, particularly in the recreational space.
Cannabis stocks were celebrating last week, on the news that the United Nation's Commission for Narcotic Drugs voted to reschedule cannabis.
This means cannabis is effectively removed from a list including 'hard' drugs, such as heroin.
This comes almost two years after the World Health Organisation (WHO) recommended the rescheduling of cannabis and cannabis-related substances.
The UN news came directly after the Court of Justice of the European Union (CJEU) ruled that member states must not prohibit the marketing of lawfully produced CBD.
Further, the CJEU ruled that CBD is not considered a narcotic, and as a result, CBD can be freely sold in the European Union (EU).
The CJEU ruling determined that the previous legislation did not apply to CBD derived from a whole hemp plant as it was not a listed agricultural product, and therefore hemp-derived CBD products are not restricted by the relevant legislation.
In arriving at the decision, the CJEU noted that, according to the current state of scientific knowledge, the CBD involved doesn't appear to have any psychotropic effect or any harmful effect on human health and therefore cannot be classified as a narcotic drug.
This decision also has the potential to provide significant benefits to Creso Pharma, particularly given the company already has commercial agreements in place in the region.
The European Union presents a large market, suggesting that considerable share price momentum may flow from these landmark developments.
Creso already has commercial agreements in place in the Iberian markets, and the group is reasonably well funded to pursue a number of growth initiatives, so the ruling by the CJEU couldn't have come at a better time.
In August, Creso Pharma signed a commercial agreement with DHS Business Portugal to introduce the group's products into the Portuguese and Spanish markets, expanding the company's presence in Europe. DHS has been active in the healthcare markets since 1991 through its involvement in strategic consulting and commercialisation operations in the US, Brazil, Latin America, Africa (Angola, Mozambique) and Portugal.
"The European market has always played an important role in the company's growth trajectory and the most recent regulatory shift will allow us to continue to progress a number of near-term initiatives, engineered to unlock value for shareholders," CPH non-executive chairman Adam Blumenthal said.
Australia also on board with updating its cannabis regulations
As Finfeed reported recently, the Therapeutic Goods Administration (TGA) will shortly bring down its final decision regarding a major regulatory change in the distribution of cannabidiol (CBD) products in Australia.
The decision is expected to be delivered in late December 2020, following on from the interim decision made in September.
The changes recommend that CBD products be down scheduled from schedule 4 and classified as schedule 3 medicines in Australia, which would allow Australian consumers to purchase CBD products over-the-counter (OTC) through pharmacies without the requirement of a prescription.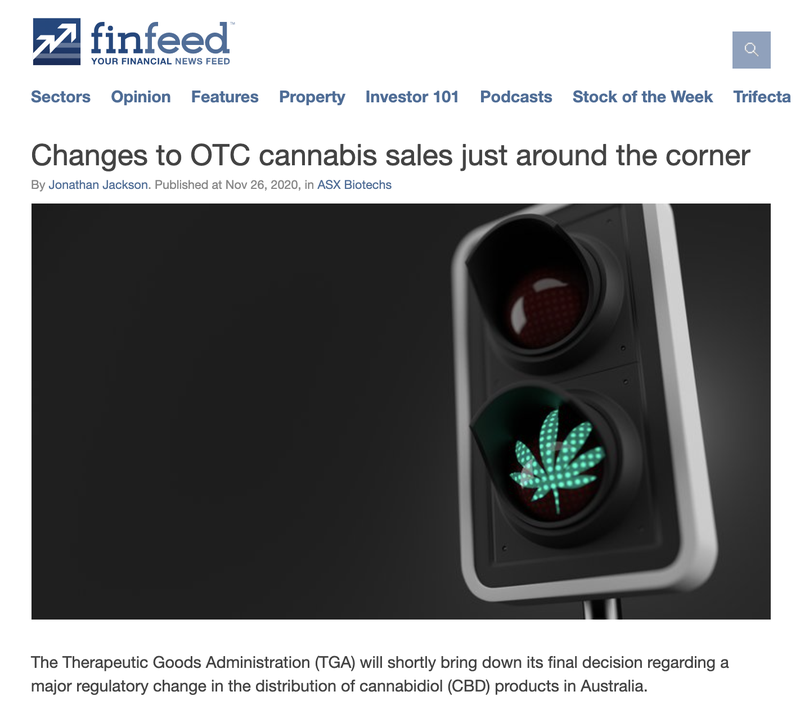 For CPH, the potential "down scheduling" of CBD products in Australia could unlock a major market for its CBD and hemp products – a local market that is currently at over $200M per annum and growing.
It certainly opens up new sales channels for CPH and will benefit the products available on the Australian market including its cannaQIX® 50 which is currently being sold in Australia as a medicinal cannabis product under the 'LozaCan' brand via distribution partner 'Burleigh Heads Cannabis' (BHC).
Creso has also developed a wide range of CBD and hemp-oil products under the cannaQIX® brand, using its proprietary and innovative delivery technology which it expects to sell in Australia following any favourable decision.
The cannaQIX® range is manufactured under Good Manufacturing Practice standards and provides consumers with a standardised formulation and precise dosage measurement.
CPH benefiting from global regulations opening
The developments in Europe and the US, combined with the likely shift in regulatory treatment in Australia confirms significant momentum is building in Creso Pharma's favour, and presents growth opportunities in new jurisdictions.
This complements recent strong demand for its products in Canada and South Africa and stands to accelerate the company's expansion opportunities.
The company is actively exploring a number of strategies to grow market share in the US, Europe and Australia on the back of these developments.
It will now also focus even more heavily on the US, especially with Bruce Linton as a Strategic Advisor based in Canada.
There is a further connection between CPH and Mr Linton: he shares a Board seat at MindMed with CPH co-founder Dr Miri Halperin-Wernli.
MindMed Inc (NEO: MMED) is currently capped at US$700M (AU$942), and discovers, develops and deploys psychedelic inspired medicines to alleviate suffering and improve health. It has a pipeline of psychedelic drugs in clinical development and R&D.
With Mr Linton in its corner, CPH is also well positioned to take its products to new markets, especially as regulations open those markets up.
And the US is now firmly in the company's sights.
---