WhiteHawk Expands Global Footprint with Further Catalysts to Come
Cybersecurity was back making headlines over the past few weeks — not due to another cyberattack, but thanks to the outperformance of ASX-listed cybersecurity solution provider, WhiteHawk (ASX:WHK).
While it's still early days for WhiteHawk, the Virginia, USA based company is leading the way in providing cybersecurity solutions to key US federal Government departments, along with top US financial institutions, insurers, utilities providers and a top Defence Industrial Base (DIB) company.
WhiteHawk has developed the first online self-service, cybersecurity exchange, simplifying how companies and organisations implement cybersecurity solutions. These solutions directly mitigate a business' key cyber risks and assist US companies to connect to content, solutions, and service providers.
On April 16, I gave you a heads up that potential share price catalysts were overdue for WhiteHawk, see: 'Clock's Ticking for WhiteHawk Catalysts: Contract Announcements Overdue'.
The stock has more than doubled since my last report, during which time a pair of long awaited contract announcements were made, a partnership locked in, and funding was secured to support expected new contract wins.
Now, there's more contracts on the way.
Global ambitions are being realised...
WhiteHawk today announced a new partnership with cyber risk reduction firm, Global Cyber Alliance (GCA), an international organisation determined to eliminate cyber risk and improve the connected world by securing Internet of Things (IoT) devices and technologies.
This alliance is the first step towards WhiteHawk expanding its global footprint and delivering truly international solutions.
Through cross promotion and joint thought leadership efforts, WhiteHawk and GCA are attempting to reach a wider small and midsize business (SMB) audience to make the world more cyber resilient to online crime, fraud, and disruption.
The partnership is designed to offer affordable and easy-to-implement cyber risk mitigation solutions to SMBs that protect the revenue and reputation of businesses and organisations globally.
Make no mistake, WhiteHawk has extraordinary global ambitions and there's more contracts to come.
The company today also announced a small share placement, from which it raised $2.5 million. The announcement highlighted that "WhiteHawk is now well funded to maintain current contracts and invest heavily in its strong pipeline of expected new contracts, including those in the financial services industry and Defense Industrial Base (DIB) sector".
It also noted the strength of its cyber experts on hand, saying, it "is able to respond quickly to demand from contract awards and has more than 20 leading and highly capable cyber experts on its bench to assist in times of high demand. This bench includes the former Technical Director of the US National Security Agency (NSA), a former Chief of Cyber Security at the Whitehouse and a former Head of Communications at the US Navy (who run the largest intranet in the world)".
The next catalysts
Having met with founder, president, and CEO of WhiteHawk Terry Roberts when she was in Australia for the recent AGM — I'm confident that a further contract signing is in the works. Although specific details were not yet available, the placement announcement on 14 May also alluded to future contracts (plural) in the works.
This would fulfil the three near term contracts mentioned in the annual report earlier this year and hopefully provide further share price momentum.
The bigger picture and reason for optimism comes down to the confidence in WhiteHawk that was demonstrated by these recent contract signings by the primary contractors and the US federal government departments involved.
The company's AGM presentation revealed on 8 May that WhiteHawk has six ongoing open proposals:

Other interesting points from the AGM were that "Each 360 Cyber Risk Framework sale (US$150K to US$2M, or A$215K toA$2.9M) drives online sales and advisory contracts".
Furthermore, in addition to the existing contracts and partnerships, plus any future contract signings, WhiteHawk expect to generate much of its future customer growth via its recent partnership with EZShield — a top financial fraud, identity theft and mobile defence company to service SME customers.
In fact, the AGM presentation notes the potential of the "EZShield Partnership to service Financial Institution SMB Customers (5,000 to 400,000 SME's with each contract - US$3.2M to US$21.6M (A$4.6M to A$31.1M))".
EZShield is a top US financial fraud, identity theft and mobile defence company, with an integrated subscription SME offering, via combined sales channels. It fast tracks and scales SME business.
Having operated for over a decade, EZShield has helped protect 25 million consumers and small businesses from the full spectrum of identity crimes and offers a huge platform for WhiteHawk to attract customers.
Three Federal Government contracts & counting
WhiteHawk has now amassed three sub-contractor roles on US federal government contracts over the past six months.
The past few months — prior to the recent announcements — saw very little action in the share price as investors waited patiently for the promised contract signings.
The share price jumped by as much as 45% on the day of the first contract announcement, before it closed up 36% for the day. Then the second announcement sent the share price up another 24% by Wednesday's close, after being up 40% intraday.
The following (weekly) share price chart clearly shows the market's recognition of these US federal government contract wins.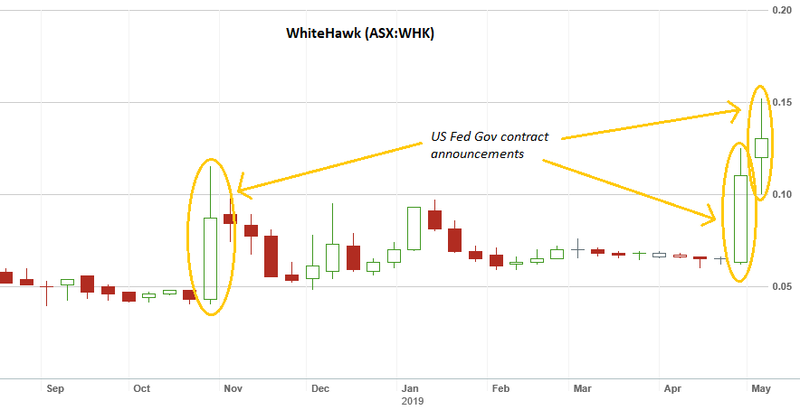 And while we don't yet know full the details of these contracts, each sub-contractor role will involve WhiteHawk working with a separate government department, meaning that WhiteHawk's influence is widely spread across multiple agencies.
It's not just the direct impact to the bottom line that I like about these contract signings, they also speak volumes about the company's expertise to deliver cybersecurity solutions to the highest level of the US government, which has serious importance to US national security.
As you can imagine, these government agencies and their primary contractors with so much at stake wouldn't risk awarding contracts to a company that they don't have confidence in.
First May contract win...
On 1 May, WHK was awarded a cyber sub-contractor role by an Arlington, Virginia based company, which will serve as the primary contractor on a $2 billion US federal government contract, supporting a large government department.
Under the contract, which is for five years (1 year with 4 option years), WhiteHawk will provide an cloud-based IT services and modernisation, cyber risk management, cyber intelligence and innovation introduction and transition, as well as tailored cyber subject matter expertise as part of the primary contractor's team. Tasks in the contract will span the government department's operations nationwide.
WHK expect that in year one, it will generate between US$300,000 to US$600,000. In the options years, that figure is expected to grow to US$1 million to US$3 million (~A$1.4M-A$4.2M) each year.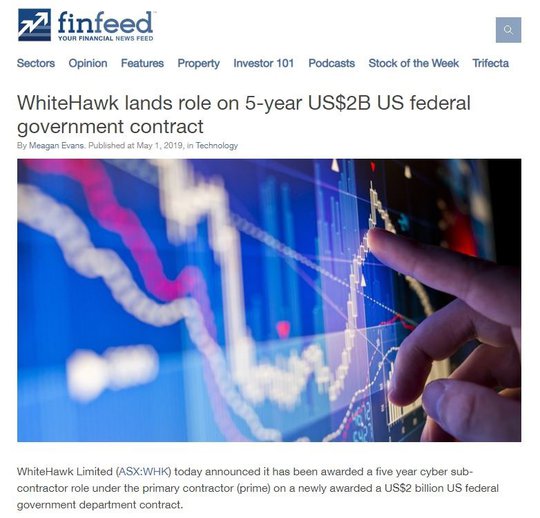 Second contract win for the week...
The second contract win followed two days later, on Wednesday 3 May, when WHK announced it won another cyber sub-contractor role. This time on a seven year (1 year with 6 option years) US federal government contract, supporting a large government department through the Chief Information Officer (CIO).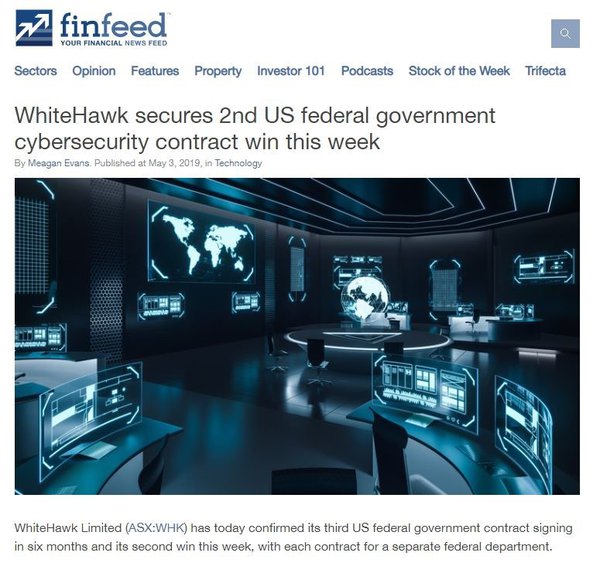 WHK, along with the primary contractor — another (undisclosed) Virginia, USA based tech giant with over 23,000 employees — will begin work on the US$28 million (~A$40M) contract this month. The company expects revenues of US$150,000 to US$300,000 (~A$214k-A$427k) over each of the seven years, while future expansions by the US government could increase the scope of WhiteHawk's services and revenues.
First US Federal Government Win
The first US federal government contract was confirmed in November last year, when it signed a US federal government contract to provide a tailored version of its 360 Cyber Risk Framework to the US government to provide continuous insight across hundreds of vendors at once.
This contract came about after the US government upped its focus on the growing systemic risks posed by IT and software supply chain vendors at the Department of Defense and Department of Homeland Security.
That deal, back in November, sent the company's share price up as much as 188% immediately after the announcement, on significant volume too.
Comfortable cash position for international growth
As at March 31, WhiteHawk had access to funds of A$1.5 million. That includes A$650,000 payable by RiverFort Global Opportunities PCC Ltd across 11 monthly instalments under the equity swap that was part of a share placement made to RiverFort in January. The details are available here.
Under the Swap, WHK receives 50% of any share sale proceeds made by Riverfort above 7.1 cents, demonstrating its confidence, based on its contract pipeline, that it can achieve a rising share price.
Additionally, WHK has now completed a share placement raising A$2 million at A$0.10 per share, plus an additional A$500,000 from oversubscriptions.
As the company's revenues continue to grow and with the monies raised it now finds itself in a strong position to ramp up future international growth activities.
---