GGE's First Helium Exploration Well Now 10 Days Away.
One of the less talked about points of the Russia/Ukraine war is its impact on helium markets.
Russia was on track to becoming one of the world's top three helium producers until it's Armur facility (capable of producing ~11% of global supply) caught fire and was put out of action indefinitely.
And now one of the biggest producers in the US, the Cliffside Helium Plant, is out of action after a leak caused an unplanned shutdown in January...
All of these helium supply ruptures are being baked into the helium spot price.
Helium spot prices are now trading between US$2,000-US$3,000Mcf — almost 5x what was being quoted only a few weeks ago.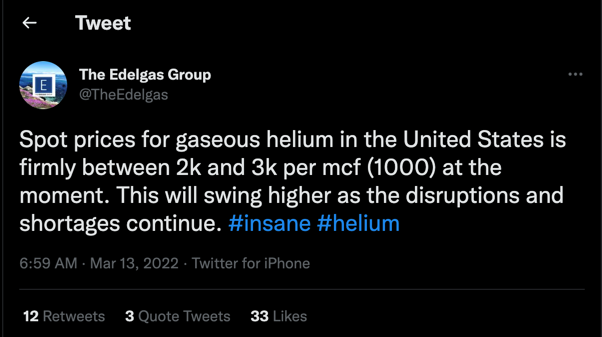 This is excellent timing for our US helium investment and Catalyst Hunter 2021 Pick of the Year, Grand Gulf Energy (ASX:GGE).
GGE is set to drill its maiden helium exploration well in a region of Utah dubbed the "Saudi Arabia of helium" in the coming days, at the same time as the helium price is soaring.
Today GGE confirmed that the drilling permit for its Jesse #1 well has been granted.
Site construction commenced back in late March, and now drilling is scheduled to start on 15th April 2022 - only 10 days to go.
This news comes a day after GGE said it has identified three new independent helium prospects inside its project area, after ~315km of 2D seismic data was reprocessed.
At the same time, GGE confirmed that given the size of its Jesse prospect (where the first well will be drilled), four step out locations had been identified which can be quickly brought up to drill ready status in time for a follow up drilling program in Q3 of this year.
The significance of all of this is that GGE can go back in and drill out more producing wells, should the Jesse #1 well results come back positive.
Just like the Jesse#1 well location, all four of the step out locations are adjacent to existing pipelines connected to GGE's helium offtake partner Paradox Resources' Lisbon Helium Processing Facility.
More wells could potentially lead to more helium production and in turn, more revenues for GGE.
Of course, all of this is contingent on the drilling programs returning commercially acceptable helium flow rates.
The sequence and timing of subsequent wells will be dependent on results at Jesse#1, with permitting of additional wells expected to be complete in time to support a follow-up drilling campaign early next quarter.
GGE is going into this drilling program with a P50 unrisked prospective helium resource of 10.9 billion cubic feet (bcf) of which 6.3 billion cubic feet (bcf) is net to GGE.
With the drill permit now granted, the only thing left for GGE to do is get the Jesse #1 well spudded.
In our 2022 GGE Investment Memo, we expected drilling to happen by the end of Q1 2022. GGE is only 15 days late from our expectations, and given the macro developments, the signing of the offtake agreement with Paradox Resources, and this week's news we don't mind this short delay.
With drilling set to begin on the 15th April, we have pulled up the expectations we set for the upcoming Jesse #1 well in our 2022 Investment Memo below:
More on this week's announcements:
GGE has confirmed that the drilling permit has now been approved, leaving no obstacles in the way of GGE drilling its maiden Jesse#1 well.
With drilling targeted for 15th April, GGE also gave us an indication of the potential scale of its larger project area, announcing the following:
Three new potential drill locations: That three different independent prospects had been added to potential target areas over acreage (totaling four when the Jesse prospect is included).


2) Jesse prospect similar to the Doe Canyon helium field: More proof that the Jesse #1 well is analogous to the already producing Doe Canyon helium field next door.

3) 4 mature step out locations identified: Four technically mature step-out drilling locations identified for the Jesse prospect
First, after reprocessing ~315km of high quality 2D seismic data and analysing the results of six historic wells drilled within the project's area, three new independent prospects were identified.
The key word being that they are "independent".
This means that, including Jesse, all four targets could, in their own right, represent different helium reservoirs.
So in addition to the upcoming Jesse drilling, that gives GGE at least another three shots at making a large scale discovery in its project area.
Alternatively, in the event that the Jesse #1 well is successful, GGE can prove out an even bigger project area and start producing out of different reservoirs all at the same time.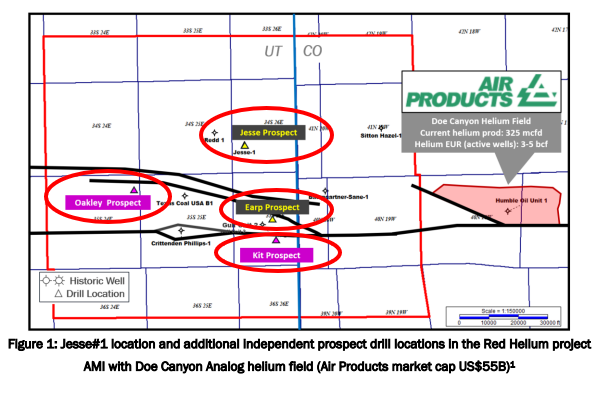 Second, of the six historic wells that were reanalysed to bring about these new prospects, only two were tested for helium and both confirmed the presence of helium.
More importantly though, the six historic wells proved trap, seal, reservoir presence and a working helium system.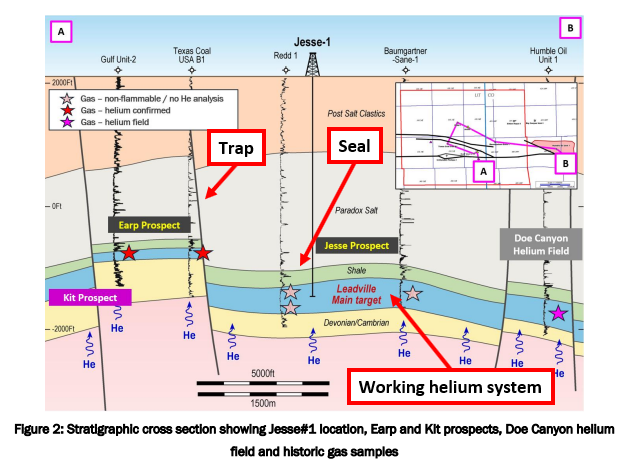 Overlaying the "stratigraphic" cross section (basically the horizontal view of the rock formations beneath the ground) with the results from the historic wells, GGE has put together the following image.
The image above shows that the two historic wells (that were not tested for helium), each had non-flammable gas readings coming from the same target area that the Doe Canyon helium field is producing out of.
Further to the left of the image is a historic well that was tested for positive helium. This shows that helium presence is confirmed in that target area.
GGE will be targeting that same formation with the Jesse #1 well.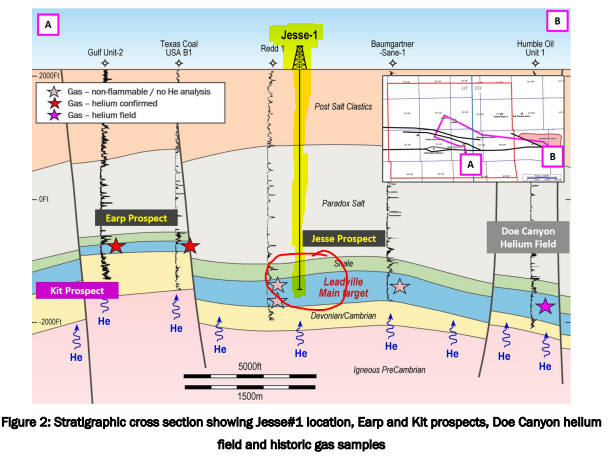 The Doe Canyon Field sits ~15 miles (~24km) east of GGE's project area. It is currently producing approximately 10,700,000 cubic feet of helium per month, the bulk of which comes from only seven wells.
This brings us to the third key takeaway from yesterday's announcement.
GGE has confirmed that given the relatively large size of the Jesse prospect, the four step-out drill locations identified could be quickly brought up to drill ready status following the Jesse #1 well.
Importantly, these drilling locations are all also adjacent to the existing pipeline infrastructure that connects to GGE's helium offtake partner Paradox Resources' Lisbon Helium processing facility.
Just like the Doe Canyon field, which produces its helium out of seven wells, GGE is now in a position where it could very quickly drill more holes into the Jesse prospect to increase its production rates - assuming Jesse #1 is a success.
Alternatively, in the base case scenario we set, if a helium system's presence is confirmed, these additional step out targets could be firmed up and included in a drilling program that GGE hopes to run in Q3 of this year.
What's next:
Drilling of the maiden Jesse #1 well 🔄
With today's announcement, GGE has reached our last milestone in the lead up to its maiden drilling program.
All that's left is for GGE to get that first well spudded, and that is set to happen on 15th April.
As per our 2022 Investment Memo, we set the following expectations for what we want to see GGE achieve at its maiden well.
Based on a combination of the historical drilling data and the flow rates/grades of the Doe Canyon helium next door, we set our expectations (as we do with all drilling programs) as follows:
Bullish case (exceptional result):
Helium grades greater than 0.4% with raw gas flow rates of ~10mmcfd (Million cubic feet per day)


Base case (good result):
GGE can prove there is a helium system present that warrants follow up drill testing.
Now with four separate follow up targets ready to be tested, this would still be a great outcome for GGE.


Bearish case (poor result):
No helium system and no raw gas flow rates from the well.
We recently published an educational article on expectation setting leading up to drilling programs like GGE's.
To learn more about how we come up with these scenarios and why we think they are important check out that educational note here.
Does GGE have enough cash to drill this well?
GGE has flagged that its Jesse #1 well is expected to cost ~US$1.6M (A$2.2M), including all drilling, evaluation and flow testing.
This is relatively cheap for what could be a cash generating helium discovery, one that could be the key to unlocking the potential of GGE's wider project area.
On 31st December 2021, GGE had A$3.05M in the bank. With only that much cash at the start of the quarter, we think GGE would be cutting it really close going into its drilling program.
At the same time, GGE also has other producing oil & gas assets that produced ~4,997 barrels of oil equivalent generating ~AU$0.5M in revenues in the December quarter.
Obviously these revenues have costs attached, but with the oil price still high at ~US$100/barrel this should limit GGE's cash burn going into the drilling program.
In any event, we think it might be prudent for GGE to shore up its balance sheet over the coming weeks given the funds required to drill the Jesse #1 well.
Especially if the GGE share price continues to run in the lead up to the Jesse-1 well - as Australian and those new US OTC investors (GGE's OTC listing is expected in the coming weeks) start to speculate on a potential US helium discovery in the near term.
On the other hand, GGE may choose to wait until the Jesse #1 drilling is completed before raising any new funds to continue its helium exploration.
Ultimately we will have to wait and see how GGE manages its balance sheet over the coming months.
Our 2022 GGE Investment Memo:
Below is our 2022 Investment Memo for GGE where you can find a short, high level summary of our reasons for investing.
The ultimate purpose of the memo is to track the progress of our portfolio companies using our Investment Memo as a benchmark, throughout 2022.
In our GGE Investment Memo you'll find:
Key objectives for GGE in 2022
Why we continue to hold GGE in our portfolio
What the key risks to our investment thesis are
Our investment plan
To access the GGE Investment Memo simply click here.
---