GGE helium drilling this quarter - can it unlock last year's discovery?
Disclosure: S3 Consortium Pty Ltd (the Company) and Associated Entities own 32,510,000 GGE shares at the time of publishing this article. The Company has been engaged by GGE to share our commentary on the progress of our Investment in GGE over time.
The drill permit is in.
Permit in hand, our 2021 Catalyst Hunter Pick of the Year Grand Gulf Energy (ASX:GGE) is ready to start drilling its next well at its USA helium project.
Drilling is expected to begin this quarter.
We are looking to see GGE secure its drill rig next - advanced negotiations are happening with multiple drill rig operators - all with availability to drill this quarter.
GGE's helium project sits inside a part of the USA dubbed the "Saudi Arabia of helium".
Nearby sits the Doe Canyon helium field. This helium field produces up to 50% of North American helium from ~ 20 different wells.
The US needs more reliable local sources of helium as it builds up its onshore semiconductor production capabilities.
There's US$260BN in commitments from companies like Intel, Samsung and Micron Technologies to build US based semiconductor facilities - all of them will need helium.
Given geopolitical tension is only increasing over Taiwan (the world's primary source of semiconductors), this should be a big decade for the US semiconductor industry, and by extension, aspiring local helium producers like GGE.
GGE's helium project sits immediately adjacent to idle pipeline infrastructure that runs directly to a nearby helium processing plant.
This processing plant is owned by GGE's offtake partner Paradox Resources - so GGE already has a local customer lined up.
GGE's maiden well last year - Jesse-1A - made a helium discovery.
GGE hit a gas column of over 61m (net pay of ~31m), returned 1% helium to surface, which came from a productive and strongly pressurised reservoir.
This next well - Jesse-2 - will target the known gas zones discovered in drilling last year.
If GGE can get a reliable flow rate out of the Jesse-2 well, based on analogue performance, and given the extent of closure and over 200 foot gas column intersected at Jesse-1A, the company stated today the project has the potential to support in excess of 20 wells.
That's more than the Doe Canyon field that produces 50% of the USA's helium.
Of course, flow rate will be crucial here - and that's what the Jesse-2 well is all about.
GGE's location advantage makes the upcoming drilling program particularly interesting especially given that GGE already de-risked its project with last year's drilling.
New discoveries, no matter how large, can be deemed "stranded" - due to large capital expenditure requirements to build processing plants and pipelines to get the resource to customers.
GGE doesn't have this problem. Instead, all it has to do is produce a commercial helium flow rate, tie it into local infrastructure and start producing and selling helium.
Given this existing infrastructure advantage and the offtake agreement with Paradox Resources, GGE could be in a position where it can start selling its helium with little to no CAPEX very quickly.
All that is needed now is a commercially viable flow rate which is exactly what GGE will be targeting with its drilling of the Jesse-2 well.
Here is what we know about GGE's project right now:
✅ A proven helium structure: A >61m gross gas column (with ~31m of independently audited net pay)
✅ Commercial helium grades: Helium grades of up to 1% returned to surface (higher than our 0.4% expectation)
For GGE to deliver a commercial helium project it needs:
🔄 Commercially viable flow rate: GGE's Jesse-2 well is being drilled with this goal in mind.
In June last year, GGE's discovery well (Jesse-1A) fell short of a flow rate because the drill bit went through the gas/water contact zone.
The gas/water contact zone was the primary reason why a commercially viable flow rate wasn't able to be produced.
With its second well (Jesse-2), GGE will be applying all of the learnings from Jesse-1A, historic wells drilled in the area, and the 2D seismic data on hand to increase its chance of getting a flow rate.
The main point of difference for Jesse-2 is that GGE will be looking to avoid the gas/water contact zone that prevented GGE from securing a stable, commercially viable flow rate.
GGE's plan is to drill ~16m above the gas/water contact zone to avoid the area which is full of fluids and enable gas to flow to the surface freely.
Below is an a visual representation of the well design: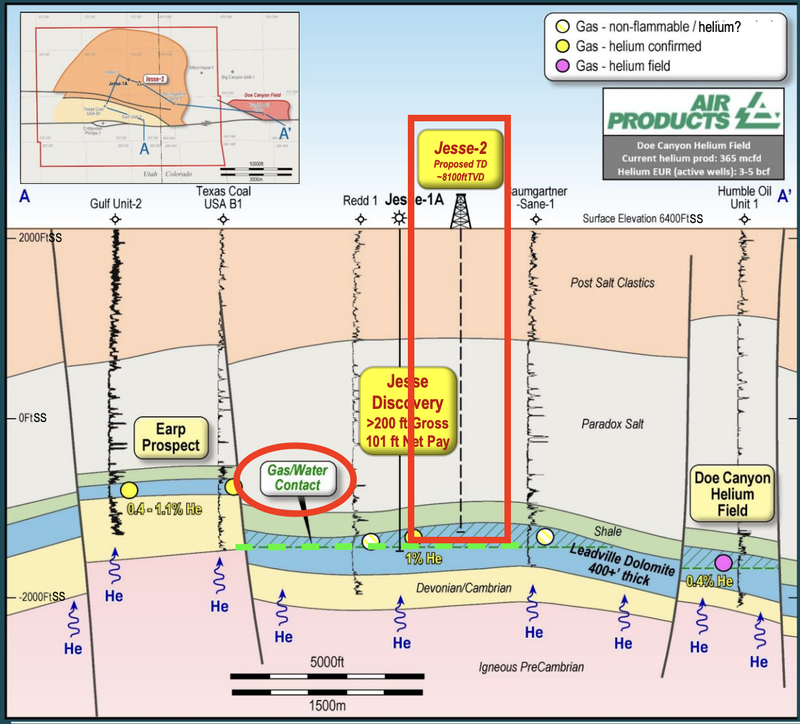 Going into this round of drilling, GGE is not looking to make a new discovery but rather looking to produce a commercially viable flow rate.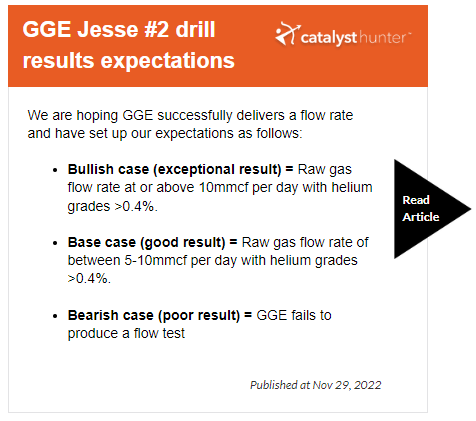 We think that IF GGE can prove a commercial flow rate, it will be able to move the Jesse prospect quickly into production. In a November 2022 investor presentation, GGE earmarked next quarter for production from the Jesse-2 - assuming all things go according to plan.

For some context on what GGE is chasing, the nearby Doe Canyon helium field (which produces up to 50% of North American helium) is producing at ~20mmcf per day with helium grades of 0.4% from ~ 20 different wells.
GGE confirmed today that its project has the potential to host >20 different wells and we are hoping Jesse-2 is the first of many wells that GGE can put into commercial helium production.
The Doe Canyon helium field is owned by US giant, the NYSE listed Air Products which has a market cap of US$68BN.
Below is an image of the two fields side by side: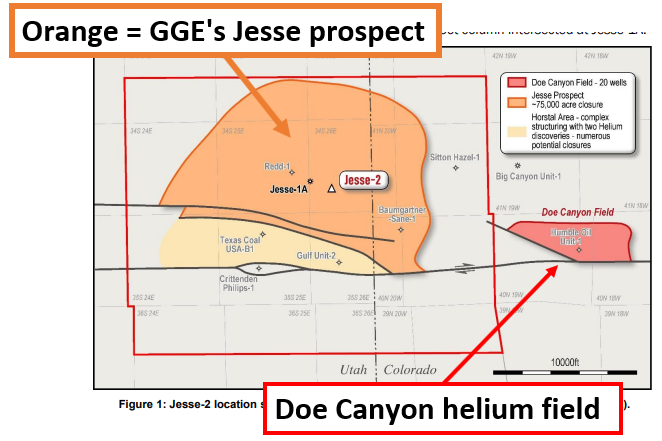 Of course it's no guarantee, and there's a lot of work to be done, but if GGE can prove up a helium field on the scale of Doe Canyon, with similar flow rates, we expect this would deliver an outsized return for GGE investors.
Even without "Doe Canyon scale" - helium spot prices are up over 300% (from US$500/mcf to US$2,000/mcf) in the last 12 months, which is a strong environment for any helium producer, no matter how small.
With a lack of supply and the reshoring of semiconductor manufacturing inside the USA, we think GGE is looking to commercialise its helium project in the right time at the right place.
We are hoping GGE is able to go from helium developer to producer and is able to drill out future helium wells from cash flow generated from the Jesse prospect.
This brings us to our "Big Bet" for GGE:
Our 'Big Bet'
"GGE makes a commercial helium discovery, ties it into the existing local processing infrastructure, and becomes a USA helium producer - or gets taken over."
NOTE: our "Big Bet" is what we HOPE the ultimate success scenario looks like for this particular Investment over the long term (3+ years). There is a lot of work to be done, many risks involved - just some of which we list in our GGE Investment Memo. Success will require a significant amount of luck. There is no guarantee that our Big Bet will ever come true.
To monitor the progress GGE has made since we first Invested and how the company is doing relative to our "Big Bet", we maintain the following GGE "Progress Tracker":
See our GGE Progress Tracker here: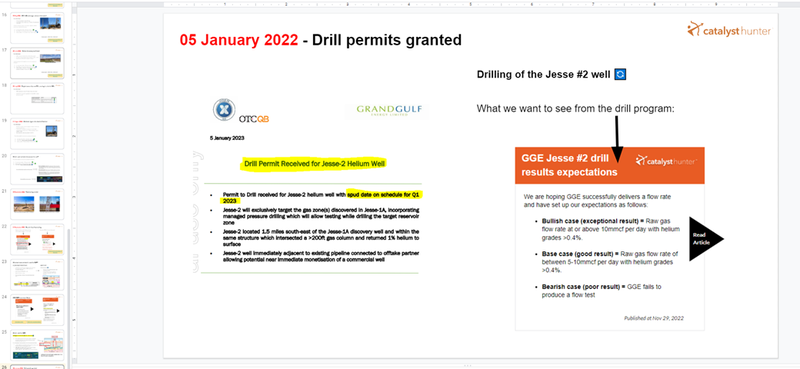 More on GGE's Jesse-2 well
In our last note we did a deep dive on the Jesse-2 well design.
At a high level, the ultimate aim for this round of drilling will be to get a commercially viable flow rate so that GGE can put its helium discovery at the Jesse prospect into production.
Having already made a discovery with its drilling program last year, GGE is now looking to tackle the issues it faced then (gas/water contact zone) by drilling ~16m above that contact zone.
Of course, there is no guarantee GGE's well design will avoid the same issues faced with its discovery well.
GGE's new well design is based on all the data available to the company BUT as we have seen with drilling events in the past, what's been designed doesn't always play out the same way underground.
We are hoping the program is a success, especially considering all of the historical well data, 2D seismic and data from the 2022 discovery well GGE has on its hand.
In summary, below are the key reasons why we think the Jesse-2 well could be successful:
GGE already has a discovery - GGE has already confirmed a discovery with helium grades of up to 1% and a productive/strongly pressured reservoir at 2,465 psi.
Improved well design - With the learnings from its first well (Jesse-1A), historical well data and the 2D seismic data in the area, GGE has designed the Jesse-2 well aiming to avoid the gas/water contact zone by drilling down to a depth ~16m above it.
Surrounded by existing infrastructure - GGE's discovery sits less than 20 miles from two helium plants and has pipeline infrastructure running adjacent to it. This means that if GGE can successfully obtain a commercial flow rate, the company will be able to tie in the discovery and start producing helium.
Offtake and strategic agreement in place - GGE already has an offtake agreement signed as well as a strategic agreement with Paradox resources the owner of the nearby Lisbon helium plant.
Below is GGE's well design and the gas/water contact zone is marked with a green dashed line.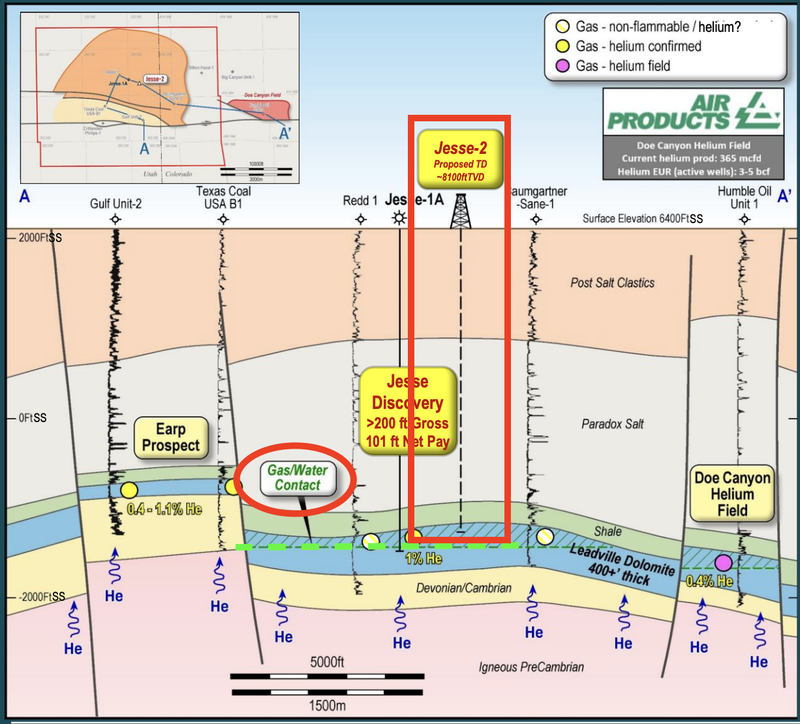 How will GGE fund its drilling program?
GGE's most recent quarterly report (30 September 2022) showed a relatively healthy cash balance of A$7.1M.
A large part of this capital came from the A$11M capital raise the company did in early 2022 at 4.4c per share.
At the time, GGE mentioned that the funds would be used to finance TWO exploration wells following the success at the Jesse-1 well.
In GGE's November 2022 Investor Presentation, the company confirmed that each well was expected to cost US$1.5M, and that the upcoming Jesse-2 well was fully funded.

This means GGE should have enough cash to at least complete drilling operations at the Jesse-2 well, and potentially another well - assuming no cost overruns.
However as with all exploration drilling programs, it's worth keeping in mind that much like a house renovation, costs rarely ever come in under or at budget.
Typically there are surprise challenges that come up during drilling or the company needs to do additional work relative to what was planned initially and costs can blow out.
With this in mind, it's also typically prudent financial management for companies to shore up a balance sheet going into a drilling event, in case of cost overruns or results not being as good as anticipated.
As a result, and depending on how the company's share price performs, we wouldn't be surprised if GGE looked to raise funds at some stage over the coming months, considering a large portion of its cash balance will be allocated to finance the Jesse-2 well.
In any case, a more up to date snapshot of GGE's cash position will come later this month when GGE will announce its 31 December 2022 cash position.
What's next for GGE?
Drilling of Jesse-2 well 🔄
This is the next big catalyst we are watching out for.
GGE expects the Jesse-2 well to be spudded THIS quarter which means we don't need to wait very long for GGE to start drilling.

Permitting for a third helium well 🔄
GGE also confirmed in its most recent announcement that permitting was underway for a third well in early 2023.

In a previous GGE note, we covered the potential exploration upside at GGE's project.
Here are the two key takeaways from that note:
GGE has identified three NEW potential drill locations in addition to the Jesse Prospect.
GGE has identified four mature step out drilling locations at the Jesse Prospect.
See our deep dive on those prospects in a previous note here: GGE Hits Gas Column. Flow Rate and Helium Concentration to be Tested Next.
Our GGE Investment Memo:
The ultimate purpose of our Investment Memo is to record our current thinking as a benchmark to assess the company's performance against our expectations 12 months from now.
In our GGE Investment Memo, you'll find:
Key objectives we want to see GGE achieve
Why we Invested in GGE
What the key risks to our Investment thesis are
Our Investment plan
---