GGE confirm helium discovery - but a flow rate still evades them
Disclosure: S3 Consortium Pty Ltd (the Company) and Associated Entities own 32,510,000 GGE shares at the time of publishing this article. The Company has been engaged by GGE to share our commentary on the progress of our Investment in GGE over time.
A helium discovery... but no flow rate.
Back in June, Grand Gulf Energy (ASX:GGE) drilled its first ever exploration well at its US helium project.
This was a wildcat well with the goal of making a new helium discovery.
The well hit a ~ 62m gas column, confirmed a helium discovery, and proved commercially viable helium grades.
In recent weeks, GGE brought in a workover rig with the goal of determining a commercial flow rate at which helium could be extracted.
Those flow test results came in this week - whilst GGE managed to produce both water and gas to surface, it couldn't isolate the gas - so no actual helium flow rate was able to be obtained.
Unfortunately, this news caused an immediate sell off in GGE on Wednesday afternoon, with GGE ending the day down 43%.
While we wanted to see a flow rate in order to hit our "bull case" scenario, GGE still managed to deliver a working helium system AND commercial helium grades, which sits firmly in our "base case" for this drill event.
GGE should still be funded for another well and we expect them to announce the next well location after they have had time to further analyse the latest data, but in the meantime here's our interpretation of what happened.
So with the GGE share price taking a beating since the news, and the market closed yesterday, we have had some time to digest what has happened following the drilling and flow rate test.
Here what worked for GGE:
~62m gross gas column was intersected with ~31m of net pay.
GGE managed to produce some gas to surface.
Helium grades increased by ~40% to now sit at a very respectable 0.8% (well above our bullish case expectation of 0.4%).
Independent auditor confirmed the helium discovery supporting an upgrade of GGE's resource from "Prospective" to "Contingent". This is another step closer to a Proven resource.
Strongly pressurised reservoir at 2,465 psi - pressures similar to those first found at the adjacent already producing Doe Canyon helium project.
Here's what didn't work:
GGE was unable to isolate the water ingress into the well. Whilst GGE managed to produce both water and gas to surface, it couldn't isolate the gas - which is critical to be able to commercially produce helium.
No commercial helium flow rate was obtained.
The lack of a flow rate is what we think caused the brutal sell off on Wednesday.
What's next?
Learnings from this well will be applied to future wells, in order to optimise gas production and minimise risk of water ingress.
Calibrations of seismic data with well results will enable more focused targeting of follow up locations at both Jesse and other nearby prospects.
A second helium well is planned for Q4 2022 - with permits for three development wells now in progress.
The drill ready Earp prospect - one of three prospects independent of Jesse, will be testing a structure 6 miles to the south east of Jesse 1A.
Going into the drilling of Jesse 1A, we were hoping to see GGE discover a working helium system, and then to try and produce a helium flow rate for the project.
Following this week's news, GGE has managed to improve the helium grades of its discovery whilst also managing to produce gas to surface:
A proven gas system - 62m gas column hit ✅
Helium grades - INCREASED to 0.8% (well above our expectations) ✅
Flow Rates - (Gas produced to surface but no definitive rate yet). 🔲
With all of this information on hand, independent auditor (Sproule) has also independently verified the discovery and has given GGE the go ahead to upgrade the company's resource classification.
This would see some of GGE's prospective resources get converted into a contingent resource (the final step before a reserve - the highest grade classification) can be announced.
With an independently certified discovery in hand and gases produced to surface, all off the back of a maiden drilling program, GGE has already started planning two future wells with the first to be drilled in Q4 2022.
GGE is planning both an appraisal/development well at Jesse and the drilling of a whole new target, going for a NEW discovery independent of Jesse at its "Earp" prospect.
This means that even while this week's news hasn't been what the market or us were hoping for, with its maiden exploration well, GGE has made progress towards "Our Big Bet" for the company:
Our 'Big Bet'
GGE makes a commercial helium discovery, ties it into the existing local processing infrastructure, and becomes a USA helium producer - or gets taken over.
NOTE: This is what we think the ultimate success scenario looks like for this particular Investment over the long term (3+ years). There is a lot of work to be done by the company to get to this outcome and obvious risks to which need to be considered, some of which we list in our GGE Investment Memo.
How did GGE perform against our expectations?
This was one of the first pure play helium wells drilled across North America in over 60 years. It was a wildcat exploration well, which is the type of well that most companies would typically not expect to make a discovery on.
Often wildcat wells are opportunities to learn more about the geology in the area, with the ability to test some theories and ultimately hone in on a discovery.
As long term investors, we know that making new discoveries then bringing them into production takes time, including a few hiccups along the way.
Prior to the drilling of the Jesse #1A well, we set our expectations accordingly, writing a bull/base/bear case expectation for the drilling event.
After today's result, GGE's first well results firmly sit inside our "base case" (good) expectation and the grades from the drilling program far exceed even our "bullish case" expectation at 0.8%.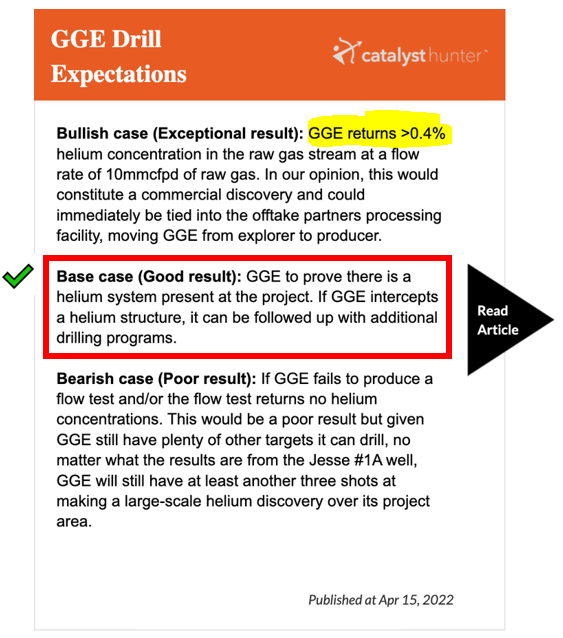 More on this week's GGE announcement:
Wednesday's results confirmed an independently verified working helium system, with a ~62m gas column intercepted, and now upgraded helium grades of 0.8%.
More importantly though, with a discovery under its belt, GGE now has the fundamental base off which it can look to further develop its helium project.
The main takeaways from today's announcement for us was as follows:
Independent certification of the discovery
GGE has managed to get an independent auditor (Sproule) to verify the helium discovery and confirm that it would support the conversion of GGE's prospective resource into the contingent category.
This is important because a contingent resource is the highest level classification before a resource is put into "reserves category", which indicates that a project is ready to be developed.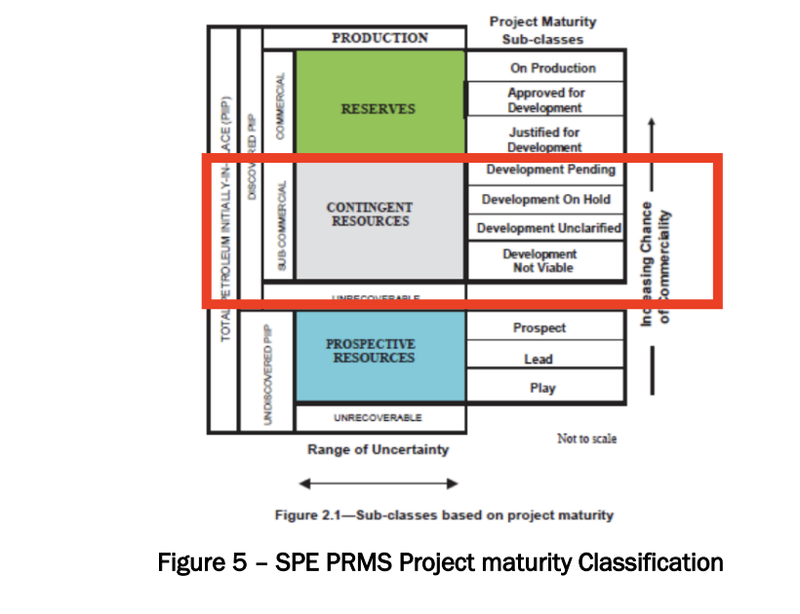 🎓 To learn more about the types of resources and what a contingent resource might mean for GGE, check out our educational article here.
Helium grades INCREASED -
GGE upgraded its overall helium grade to 0.8%, well above our "bull case" expectation of ~0.4%.
This is a massive improvement from the initial grades received for the well with GGE managing to improve the grades at the Jesse prospect by over 40%.
Gases produced to surface
GGE managed to produce gas and water to surface.
More importantly though, GGE specifically highlighted that internal analysis of the Jesse #1A well "indicate excellent deliverability supportive of rates in excess of 5 to 10 mmcfd".
We hope that the learnings from the Jesse #1A well can be applied to future wells that can confirm these high flow rates.
Planning already underway for appraisal/development wells
GGE also confirmed that it is already going through the permitting process on THREE appraisal/development wells at the Jesse prospect.
The significance of this is that appraisal wells are much less risky given that they target already discovered resources, and development wells are the precursor to putting projects into production.
In addition, the company is also looking to drill the completely independent "Earp" prospect chasing an entirely new discovery.
GGE expects to drill the first of these two wells in Q4 of this year, which means we get to see GGE drill again before the year is up.
More on GGE's future drilling prospects:
This brings us to GGE's planned upcoming drilling programs.
The playbook for the next round of drilling is likely to be similar to the one followed for the Jesse prospect, where GGE looks to make a discovery, prove up a resource and then eventually look to put the wells into production.
In a previous note we covered the exploration upside at GGE's project, which gives an indication of how big GGE's project could become.
So zooming out from the Jesse #1A news this week, the key takeaways for GGE's broader exploration portfolio are as follows:
Three additional INDEPENDENT exploration prospects - GGE has identified three potential drillIng targets in addition to the Jesse prospect.
Four step-out targets at Jesse - GGE has identified four mature step out drilling locations at the Jesse Prospect.
First, the three INDEPENDENT exploration prospects.
These three prospects are completely independent of Jesse, meaning could make completely new discoveries at all three of these prospects.
The three prospects are listed below:

These prospects were picked up after GGE re-processed ~315km of 2D seismic data, and are also based on the data collected from six historic wells drilled over the project area in the past.
Below is an image of the three additional prospects.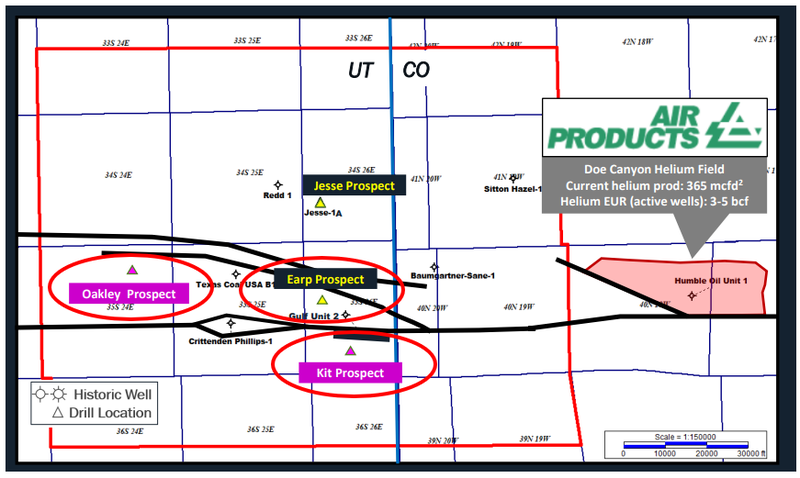 In this week's announcement, GGE specifically mentioned the "Earp" prospect as the one that is likely to be targeted next.
This one sits on completely independent geology to Jesse but is also on trend from the already producing Doe Canyon helium field owned by Air Products (capped at US$55BN).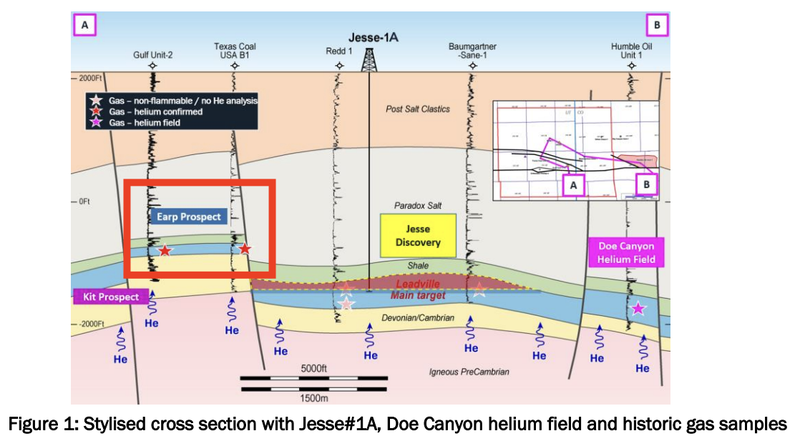 Second, is the four mature step-out drilling locations GGE has at the Jesse prospect.
With a discovery confirmed at Jesse, GGE can come back in at any time and drill out the four mature step-out drilling targets.
"Step-out" refers to targets that could be drilled with the aim of extending the size of GGE's existing discovery.
For some context on why this is significant, the Doe Canyon Field, which sits ~15 miles (~24km) east of GGE's project area, is producing ~10.7m cubic feet of helium per month, the bulk of which comes from seven wells.
GGE confirmed today that it already has the permitting in place for two wells at the Jesse prospect and is currently working on permitting for the third.
Importantly, these are likely to be appraisal/development wells which will be targeting an already discovered helium resource.
These wells can then be tied into the existing processing infrastructure GGE has in the region and be fed straight into GGE's offtake/strategic partner Paradox Resources' helium processing plant.

What's next?
Drilling of next well Q4 2022 🔄
In this week's announcement, GGE confirmed that it would be drilling the next well at its helium project in Q4 of this year.
GGE is already going through the permitting process on THREE appraisal/development wells at the Jesse prospect.
In addition to this, the company is also looking to drill the completely independent "Earp" prospect chasing an entirely new discovery.
GGE held $7.9M cash at June 30th 2022. Given these onshore helium wells are relatively low cost, we could reasonably assume that GGE should have enough cash for another well without needing to raise additional funds.
We will get another look at the cash balance at the end October when the September quarterly is released.

Investment Memo & Progress Tracker update:
With this week's news, GGE has now completed the drilling program of its first ever helium well at its US helium project which was key objective #1 of our GGE Investment Memo.
We graded GGE an A for objective #1 on the 29th of June, We have slightly tweaked our retro to reflect the increase in helium grades but the overall A rating remains unchanged after today's news.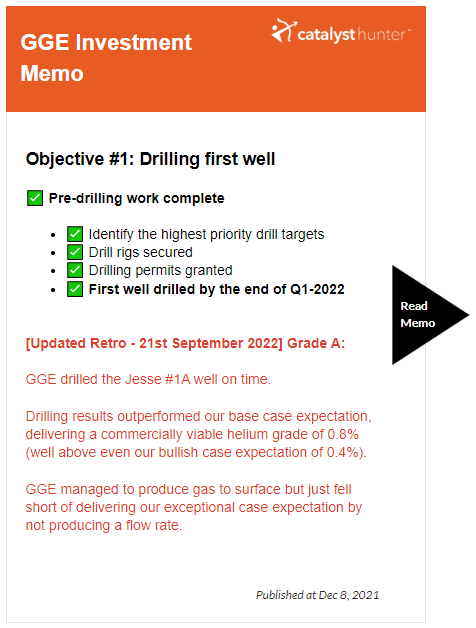 We have also updated our internal "Progress Tracking" document to reflect today's news.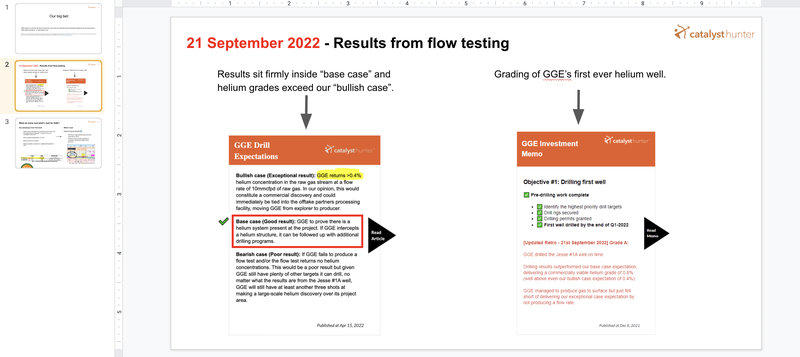 Our 2022 GGE Investment Memo:
Below is our May 2022 Investment Memo for GGE, where you can find a short, high level summary of our reasons for Investing at the time.
The ultimate purpose of the memo is to record our current thinking as a benchmark to assess the company's performance against our expectations for the following 12 months.
In our GGE Investment Memo, you'll find:
Key objectives for GGE for the coming year - starting from May 2022
Why we are Invested in GGE
What the key risks to our investment thesis are
Our investment plan

---