Scratching the Surface: TYX big lithium hit on first drill
Lithium drill results just in.
Our 2022 Catalyst Hunter Pick of the Year Tyranna Resources (ASX:TYX) has a hit of 22.75m @ 2.02% Li2O from 20.25m.
TYX has recorded big, high grade, near surface lithium hits from its first ever drill program.
There is potentially plenty more lithium at depth, and only 2% of the project's pegmatites sampled.
There's about another 800 pegmatites to go...
The question then is, how big could this project be? And what does the company need to do to get it there?
That's the story today out of our African lithium Investment and 2022 Catalyst Hunter Pick of the Year TYX.
TYX started drilling the Muvero prospect in Angola in October - part of a vast pegmatite field where there are over 800 different outcropping pegmatites scattered over a 25km x 10km strike.
The latest results come from just a small fraction of this area - TYX has only just scratched the surface of this project, with more drilling to come.
Needless to say, we've been eagerly awaiting these assays since November, when TYX reported ~21.75m of lithium mineralisation from just 30m down-hole.
Well, the assays are in and as we pointed out above, they are exceptional:
NDDH004; 22.75m @ 2.02% Li2O from 20.25m
Includes 7m @ 3.06% Li2O from 24m
Containing 1m @ 5.26% Li2O from 29m

As a whole, these results easily satisfy our bull case for TYX's drilling program: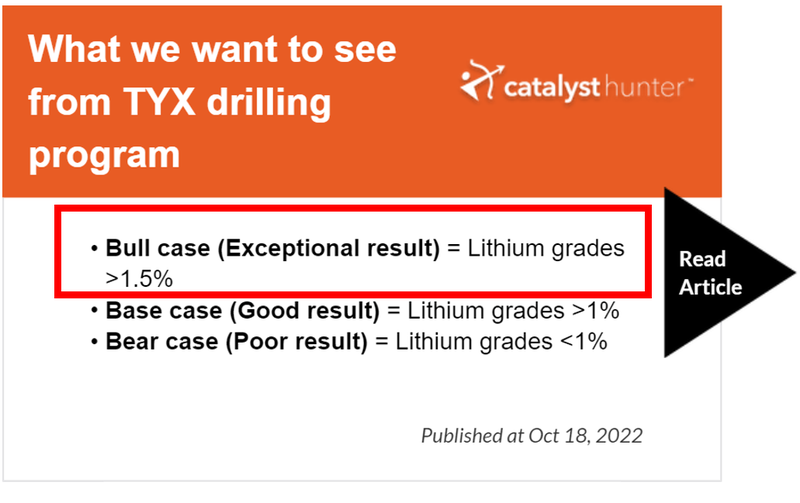 TYX experienced some water loss issues in their maiden drill campaign which meant they could only drill fewer and shallower drill holes than originally planned.
Despite this - the company still managed to deliver some long, high grade strikes.
The water loss issues are solvable for the next drilling campaign - we can only imagine what TYX would have hit if the company had been able to deliver the planned 1,100 metre campaign, instead of just 547.2 metres.
So again, TYX has only "scratched the surface" (literally) and delivered some big results.
As a comparison, here are the historical results from first pass drilling at two major ASX-listed African-based lithium companies...
Firefinch (was Brimian, now assets listed as Leo Lithium capped at ~$650M):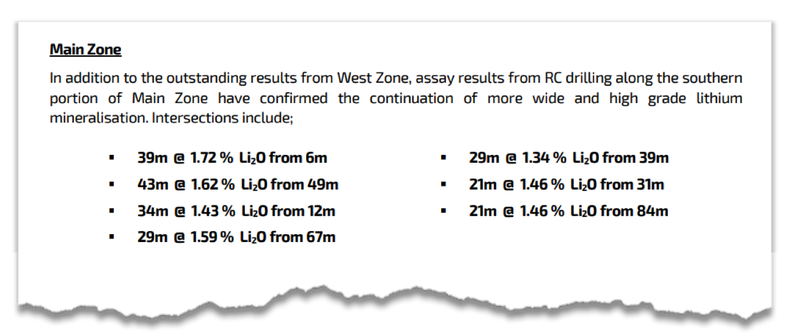 AVZ Minerals (currently suspended, peak market cap of ~$4.5BN):

While TYX's hits aren't over 200m (yet - fingers crossed for TYX's next drill campaign), we think TYX's results are closer to Leo Lithium's initial hits.
Leo Lithium was spun off of Firefinch and is currently capped at ~$650M while AVZ hit a peak market cap of ~$4.5BN.
That ~$4.5BN market cap was reflective of the size of AVZ's Manono project.
On the other hand, as a corporate entity, AVZ has faced some very well publicised difficulties.
But from a purely technical side of things, its lithium project was a wild success - the person behind AVZ's discovery, Peter Spitalny, major shareholder and Executive Director (technical) at TYX.
We're betting that Peter Spitalny can repeat the success with TYX - without TYX experiencing the same political/stakeholder risk that AVZ encountered.
A few weeks ago we went to the Mining Indaba in Cape Town, and it was clear to us that not all African countries are the same from an opportunity and risk perspective.
Angola, for example, where TYX's lithium project is located, has made it very clear to the foreign investment community that it is open for business.
As leading indicator, Angola put up the largest booth at the Mining Indaba conference right in the middle of the expo, for everyone to see: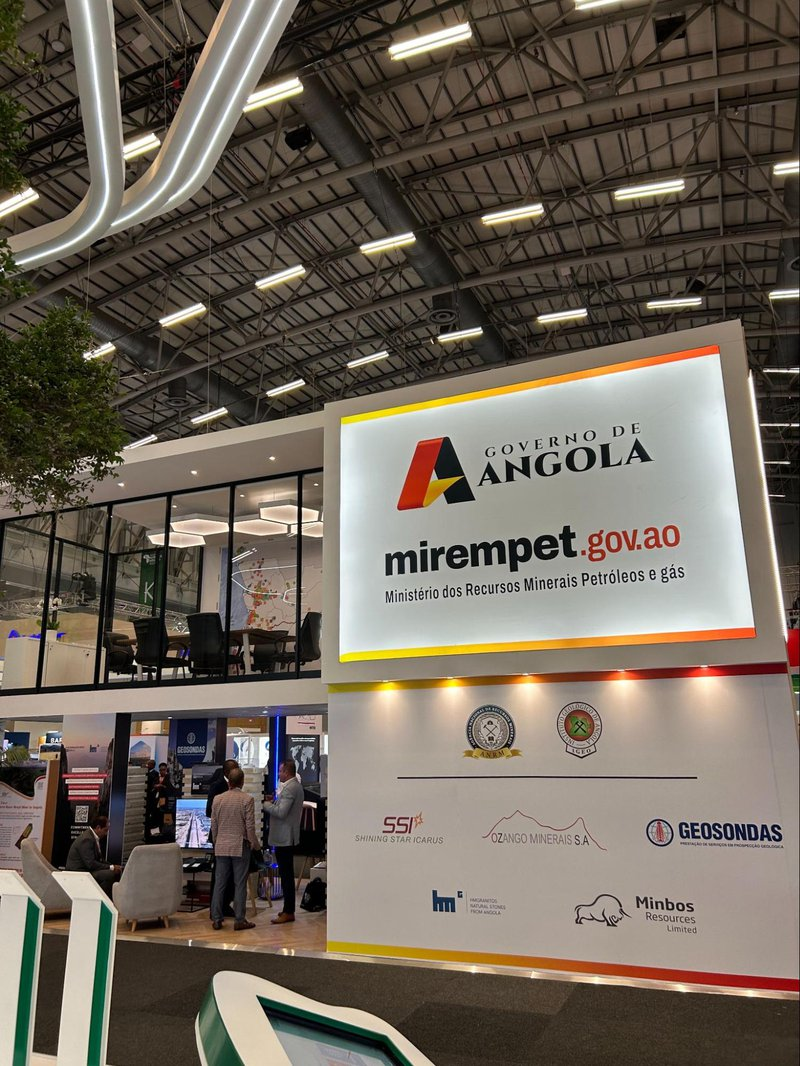 What's more, we caught up with TYX Chairman Joe Graziano at Mining Indaba after he was presenting at the Angola focussed session.
The room was packed, and we could hardly get a seat: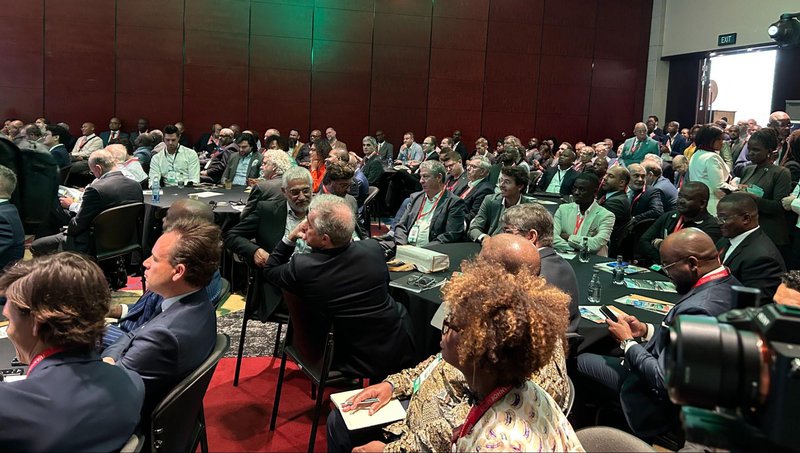 In the keynote speech, the Angolan Minister of Mineral Resources, Petroleum and Gas, H.E. Diamantino Pedro Azevedo directly mentioned TYX's project in his opening address and highlighted lithium as an important opportunity for the country.
Below is an image of Joe presenting TYX and the Angolan minister (second from right) watching.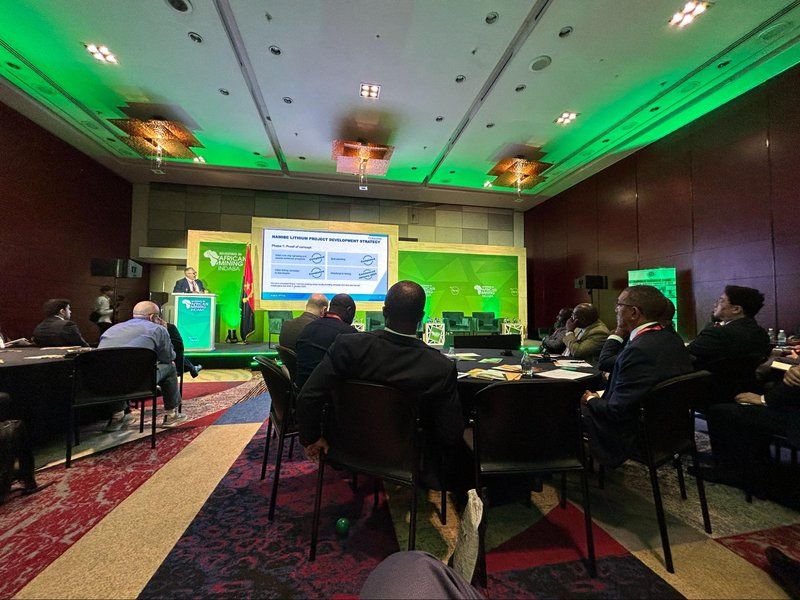 What we like about investing in countries like Angola is the potential for a company-making discovery, in a region that has seldom been explored for minerals.
Due to its internal conflict that ended over 20 years ago, Angola is relatively untouched from a geological point of view.
In 2020, the Geological Institute of Angola completed a five-year long program to map Angola's geology through a country-wide airborne geophysics program to encourage foreign investment in the region.
Angola's geological potential, coupled with Angola's clear appetite for foreign investment opportunities, make it a strong opportunity to develop a mineral resource.
So TYX has managed to deliver big drill results from a maiden drill campaign stunted by water loss issues - what we are excited to see next is what TYX can do with more field work, new targets and their second, full drill campaign with the water loss problems addressed.
TYX's cash position
Prior to today's news, TYX was capped at $64M. As of December 2022, it had slightly less than $2M in the bank.
Whilst that could be enough for another drill campaign (and potentially an even greater lithium hit), it won't last for much longer beyond that.
It's generally our preference that companies operate with enough of a cash runway to allow them to deliver on multiple share price catalysts over many months.
With a solid cash position, any drag on the share price from people expecting a capital raise is reduced.
We also note that TYX has options on issue which are in the money and IF exercised could bring in ~$5.8M in funding.

We don't expect all of these options to be exercised but we think that the investors holding these may decide to convert them into shares if the share price trades around the levels it is at now.
We look forward to seeing TYX's next moves here - do they try and do another drill campaign to hit an even better lithium intercept before looking to raise funds? That might also depend on what the option holders do and if they decide to convert their options.
Or does it bite the bullet and shore up the balance sheet prior to any follow up drilling - giving itself enough runway for multiple drill campaigns without needing to tap the market for more funds?
We will have to wait and see.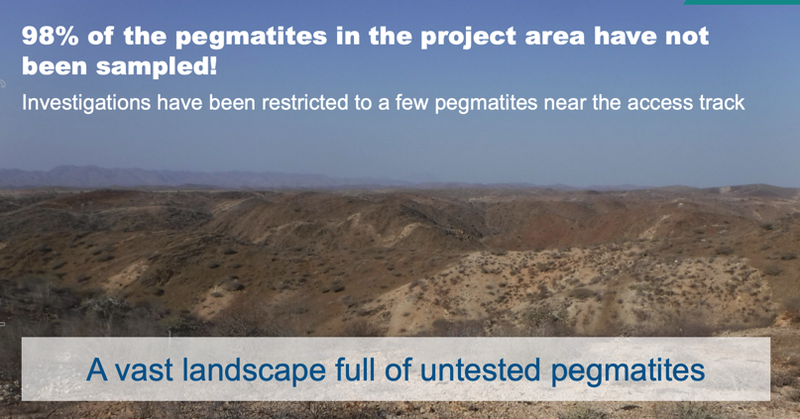 This brings us to our "Big Bet" for TYX:
Our 'Big Bet'
"TYX discovers and defines a large, simple to process, lithium resource that is on par with world class multi-billion dollar ASX peers such as Pilbara Minerals, Core Exploration, Liontown Resources, AVZ Minerals and Sayona Mining."
NOTE: our "Big Bet" is what we HOPE the ultimate success scenario looks like for this particular Investment over the long term (3+ years). There is a lot of work to be done, many risks involved, and it will require a significant amount of luck. There is no guarantee that it will ever come true. Some of these risks we list in our TYX Investment Memo.
To monitor the progress TYX has made since we first Invested and how the company is doing relative to our "Big Bet", we maintain the following TYX "Progress Tracker":
See our TYX Progress Tracker here: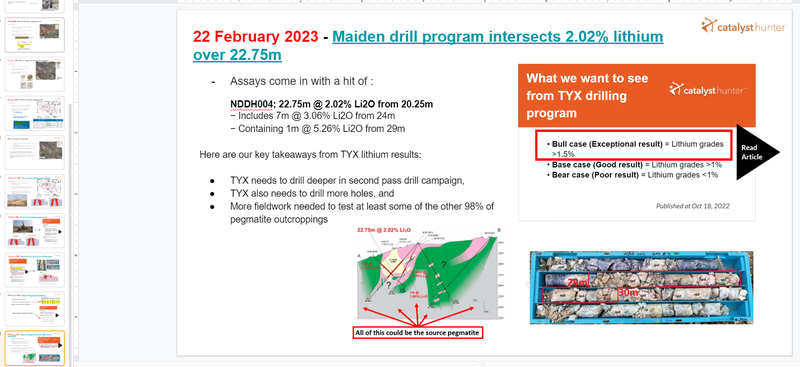 More on TYX's lithium assays
Here are our key takeaways from TYX lithium results today:
TYX needs to drill deeper in second pass drill campaign,
TYX also needs to drill more holes, and
More fieldwork needed to test at least some of the other 98% of pegmatite outcroppings
As can be seen in the image below, this was a shallow drill program: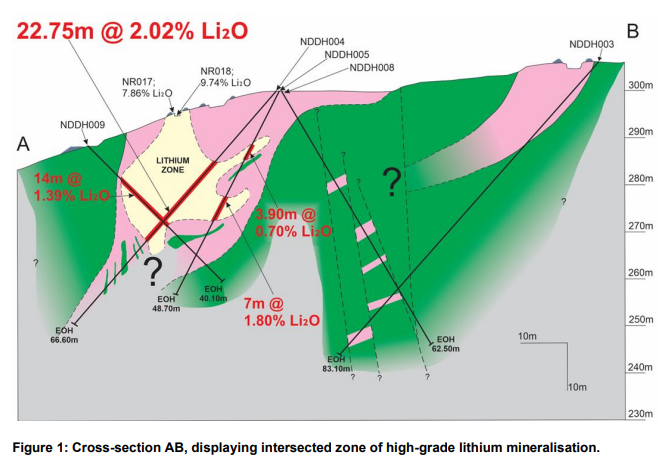 And the image below shows how much more of the Muvero prospect there is to drill: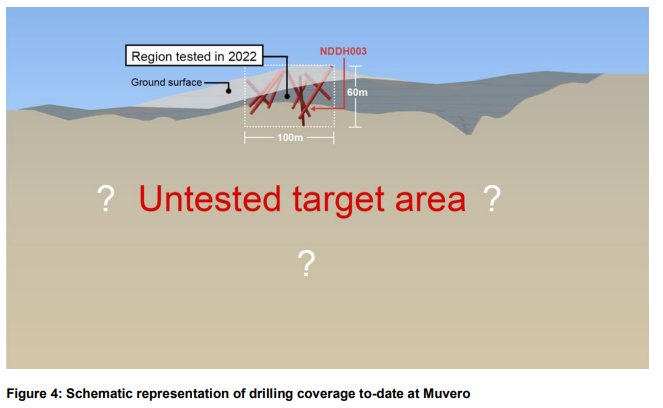 TYX had some important commentary on the results specifically stating the following:
Pegmatite source could be buried at depth - Pegmatites often extend for hundreds of metres below the surface, TYX only drilled down to ~60m of depth. TYX will need to drill deeper to locate the source.
Pegmatite source could contain more high grade lithium mineralisation - TYX believe that the pegmatite source buried at depth could be where most of the highest grade lithium sits.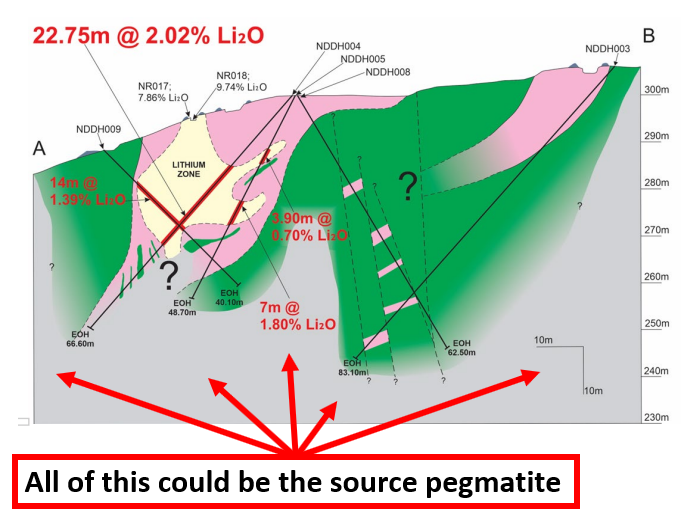 Noting that TYX's drilling campaign was inhibited by a lack of steady access to water on site, we think the second pass drill campaign will be more successful as the in-country team gets more acquainted with local logistics.
So the plan is now to go deeper, drill more holes and build on what are already very good lithium hits.
Again, we're backing executive director Pete Spitalny, who was the geological brains behind AVZ's lithium discovery, to deliver again in the second drill program.
Here's what we expect from TYX next, as it goes after a significant lithium deposit in Angola.
What's next for TYX?
🔄 Fieldwork
TYX intends to get back on the ground in Angola and test "some remote targets" within the larger Namibe Lithium Project.
They will also be prepping sites for drilling and establishing access to the sites.
🔄 Metallurgical testwork
Metwork is currently in-progress and TYX says results are expected in late March or early April.
Metwork is when samples are taken from drill programs and then run through industry standard processing methods to see how much of the valuable materials can be recovered (in TYX's case its the lithium).
Metwork can make or break projects so we'll be eying the recovery grades closely.
🔄 2nd drill program
Deeper drilling at the Muvero Prospect in addition to the drilling of at least 2 additional prospects.
TYX is fast tracking the planning process for its next round of drilling so we are hoping to see the company drill very soon.
What are the risks?
The two risks we are most focussed on at the moment are highlighted below: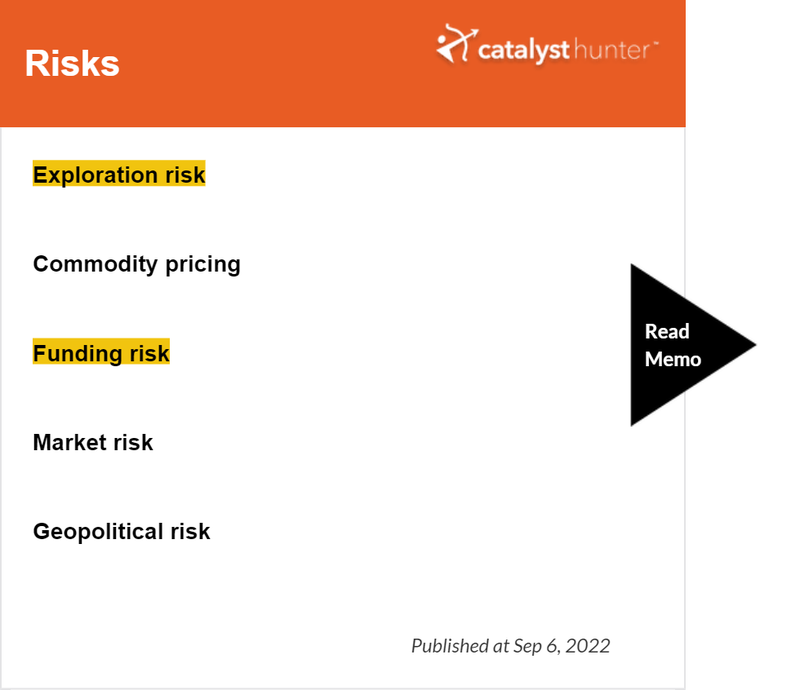 Exploration risk: Exploration risk is ongoing, even with today's results. It's possible that TYX's theory that the pegmatites and lithium mineralisation extend at depth is wrong. Alternatively, the lithium mineralisation in the second pass drill program is non economically viable.
Funding risk: As mentioned earlier in this note, TYX had a cash balance of $1.9M as of 31 December 2022. TYX may need to raise funds to complete its second drill campaign.
Our TYX Investment Memo
Below is our TYX Investment Memo, where you can find the following:
Key objectives for TYX for the coming year
Why we are Invested in TYX
What the key risks to our Investment thesis are
Our Investment plan

---