Lithium drilling started - vast pegmatite field being prodded
Disclosure: S3 Consortium Pty Ltd (the Company) and Associated Entities own 37,950,000 TYX shares and 10,000,000 TYX options at the time of publishing this article. The Company has been engaged by TYX to share our commentary on the progress of our Investment in TYX over time.
Our Catalyst Hunter 2022 Pick of the Year, lithium explorer Tyranna Resources (ASX:TYX), has just started the first ever drilling campaign at its underexplored pegmatite field in Angola.
All going to plan, we expect drill core visuals within weeks - and first assay results before Christmas.
On Saturday, we wrote about six of our Investments that are in the race to be our top performer for 2022. One of them is TYX, assuming this drilling delivers the goods.
It has been the "year of lithium", with prices at record highs - lithium stocks continue to be the best performers on the market.
For these reasons, we chose TYX as our Catalyst Hunter 2022 Pick of the Year.
We think that if TYX gets lucky with its first few drillholes and can release photos of drill cores with long intercepts of visible white and purple spodumene, the share price could materially re-rate.
If TYX can follow that up with assay results showing lithium grades at or above 1%, it should be well in the race to become our top performer for 2022.
Assuming this success (remember the drilling could also fail to find lithium) the next step would be to plan a further drilling campaign to assess the size of the deposit and raise some more cash to fund it.
With TYX, we are hoping for a repeat of our Investment in Latin Resources — a stock that went from ~3c at the start of February to as high as 22.8c by early April off the back of a high grade lithium discovery in Brazil.
Another reason we called TYX our Catalyst Hunter Pick of the Year is its major shareholder and executive director Pete Spitalny, who was the geological brains behind AVZ's lithium discovery which took that company's share price from ~4.3c to a peak of $1.35 per share.
Pete has been prodding pegmatite hosted lithium deposits for 30 years all over the world, and we are backing his technical skills to deliver for TYX shareholders.
Of course, these are all high risk speculative metals explorers and we just don't know what the drill bit will find.
It could find nothing and the share price will crash, or if expectations of success are already built into the pre-drill share price it could react negatively if results fail to meet or exceed market expectations.
Also, just because these other lithium explorers have succeeded in the past doesn't mean TYX will be successful - only TYX discovering lithium can do that.
With that being said, now that TYX has begun its first ever drilling we will soon find out.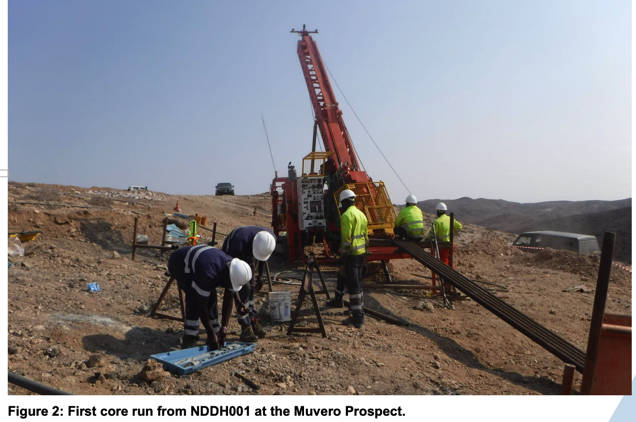 This brings us to our "Big Bet" for TYX:
Our 'Big Bet'
TYX discovers and defines a large, simple to process, lithium resource - that is on par with world class multi-billion dollar ASX peers such as Pilbara Minerals, Core Exploration, Liontown Resources, AVZ Minerals and Sayona Mining.
NOTE: our "Big Bet" is what we HOPE the ultimate success scenario looks like for this particular Investment over the long term (3+ years). There is a lot of work to be done, many risks involved - just some of which we list in our TYX Investment Memo. Success will require a significant amount of luck. There is no guarantee that our Big Bet will ever come true.
To monitor the progress TYX has made since we first Invested, we maintain this TYX "Progress Tracker":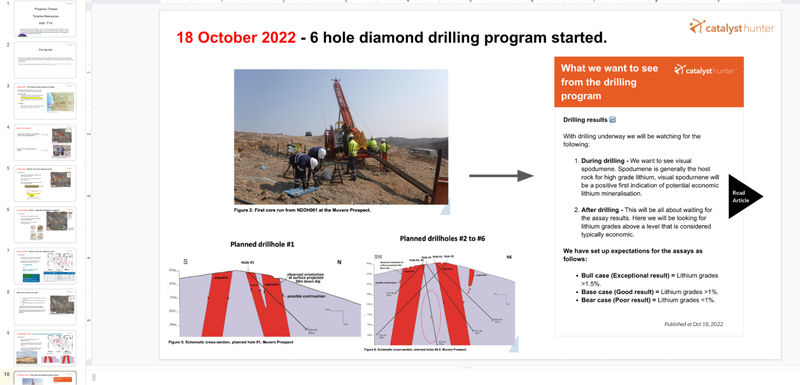 More on today's news
Here is a high level summary of TYX's drilling program:
TYX is drilling 6 diamond drillholes over 1,100m.
Here is what the hill looks like, with the proposed drillhole locations numbered: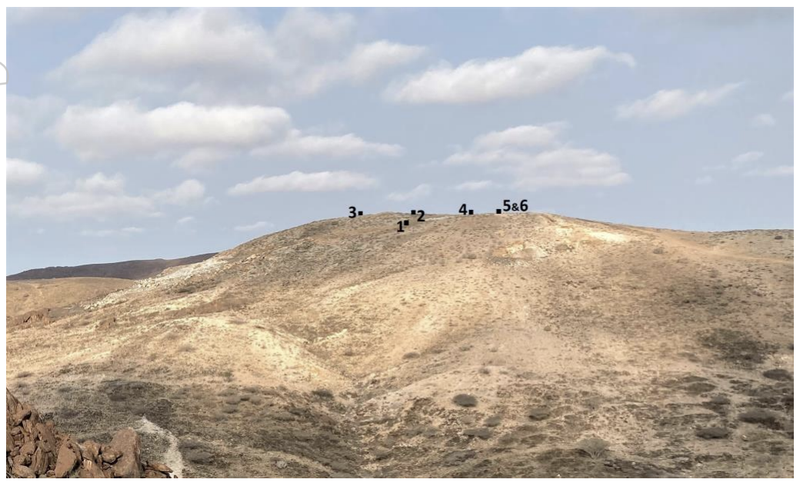 Drilling is targeting one specific structure (21n) now called the Muvero prospect.
This is the same geological structure where TYX previously found spodumene bearing pegmatites and returned rock chips with lithium grades as high as 9.74%.
Across all of the sampling done at the prospect, lithium grades averaged ~4.18%
Below is a birds eye view of where the 21n "Muvero" prospect within TYX's project area.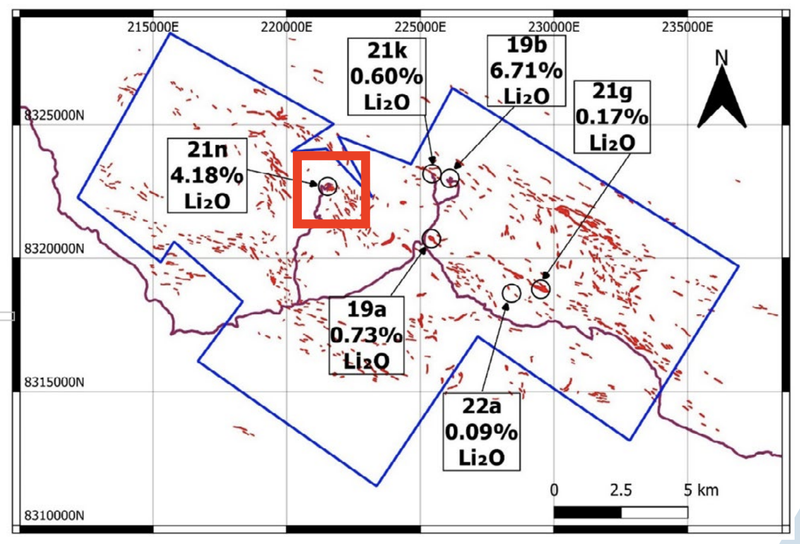 TYX is drilling to test if the outcropping pegmatites extend down dip and along strike.
Below are images showing the direction TYX will be drilling in.
The red zones are TYX's current assumptions of how the outcropping (i.e. rocks sticking out of the ground) pegmatites might extend underground. The black lines are the proposed drillholes.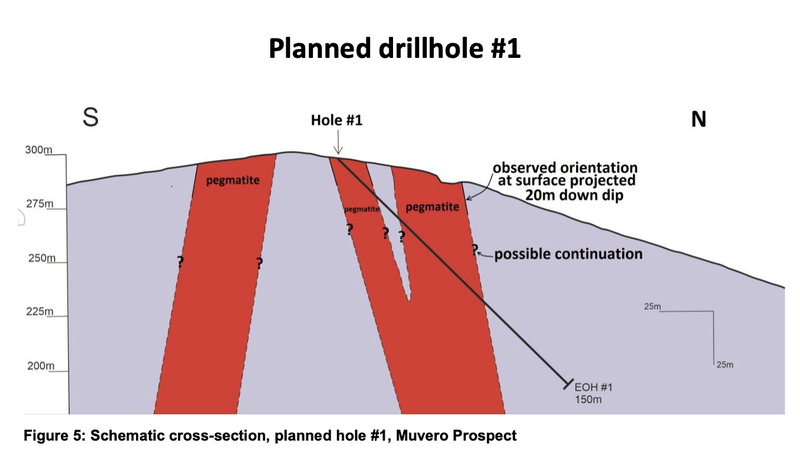 With drilling already underway, we can see how it looks when the drill rig is on-site in the image from today's announcement.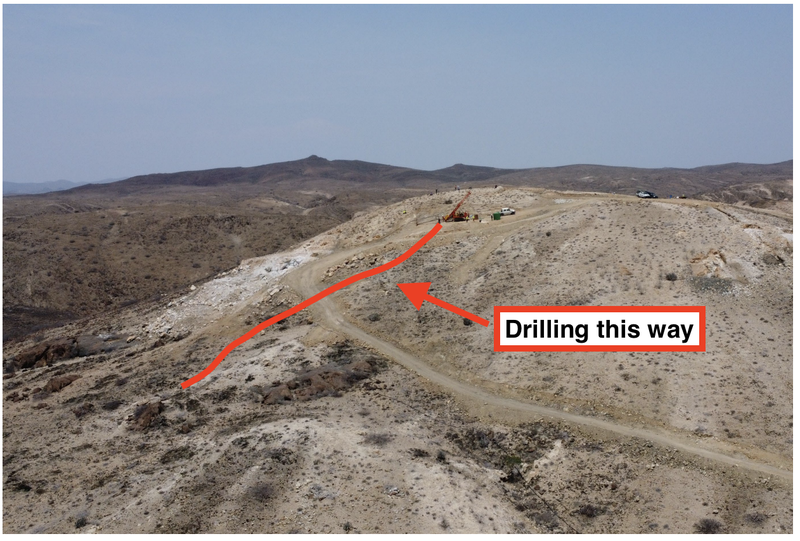 Below is an image showing the direction the remaining five drillhole planned locations and directions: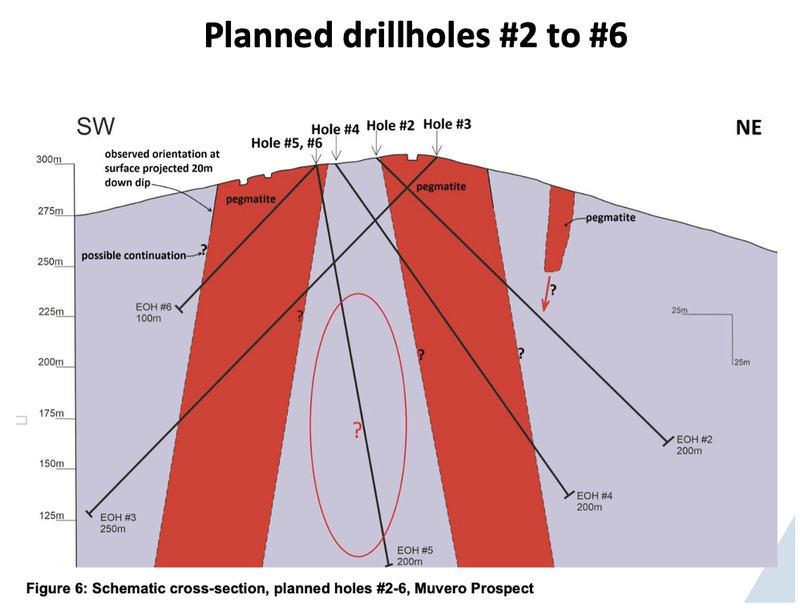 What's next for TYX?
Drilling results 🔄
With drilling underway we will be watching for the following:
During drilling - We want to see visual spodumene. Spodumene is generally the host rock for high grade lithium, visual spodumene will be a positive first indication of potential economic lithium mineralisation. .
After drilling - This will be all about waiting for the assay result — we'll be looking for lithium grades above a level that is considered typically economic.
We have set up expectations for the assays as follows:
Bull case (exceptional result) = Lithium grades >1.5%.
Base case (good result) = Lithium grades >1%.
Bear case (poor result) = Lithium grades <1%.
Our 2022 TYX Investment Memo
Today's news contributes to Objective #2 of our TYX Investment Memo.Below is our TYX Investment Memo, where you can find the following: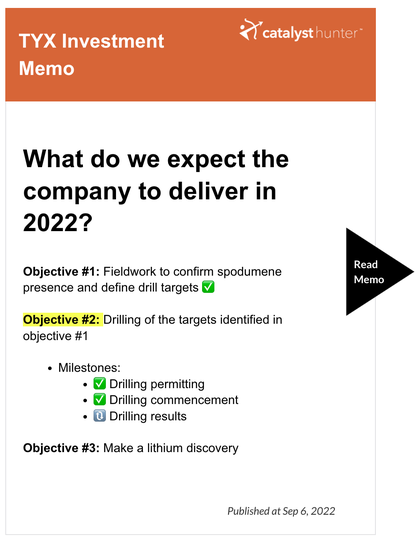 Key objectives for TYX for the coming year
Why we are Invested in TYX
What the key risks to our Investment thesis are
Our Investment plan

---