TMR Secures Final Permit Ahead of Highly Anticipated Drilling
Tempus Resources Ltd (ASX:TMR) has today confirmed the receipt of the much anticipated water permit for the Rio Zarza Project, which is the most advanced of the company's Zamora Gold-Silver Projects in southern Ecuador.
The permit allows the company to use water for advanced exploration, including drilling at Rio Zarza, and was the final piece of the puzzle required for the company to commence full scale operations at the project.
The company has already conducted field mapping, ionic soil sampling and airborne geophysical programs, with results currently being assessed.
The final results and data products from the recently completed detailed geochemical and airborne geophysical surveys will arrive in the coming weeks. These will be used to refine and prioritise holes for the upcoming drilling program that is on track to commence in Q2, 2020.
The finalisation of priority drill targets is expected in the coming weeks, as is the appointment of a drilling contractor with Tempus now evaluating the tenders submitted.
The company's managing director, Brendan Borg, commented on the receipt of the water permit:
"We are pleased to have successfully navigated the permitting process for Rio Zarza, which allows us to get on with implementing our much anticipated and exciting drilling program in a highly prospective part of Ecuador."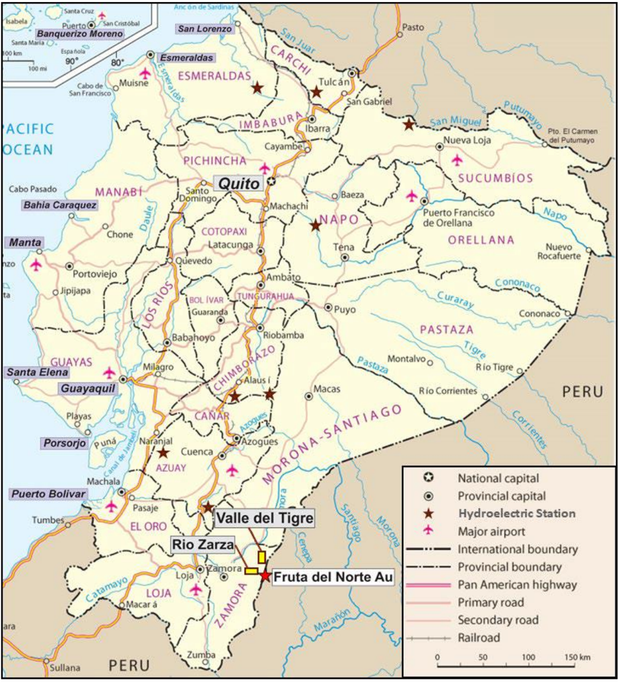 Zamora Projects (Rio Zarza & Valle del Tigre) location
You can read more about Tempus' progress towards drilling in the following articles: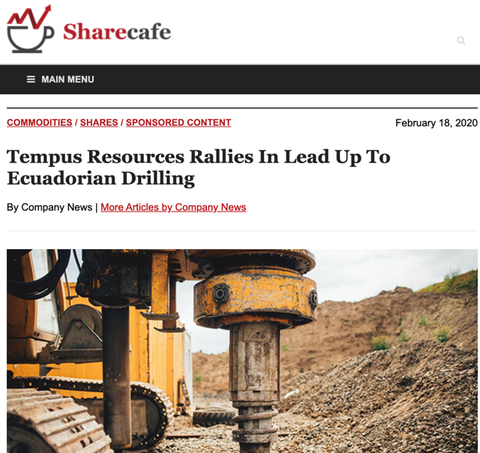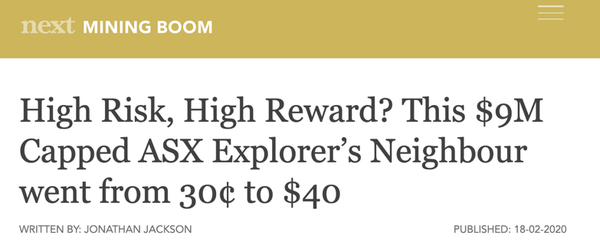 Zamora Projects - right next door to major producing mine
The Zamora Projects, which include Rio Zarza, are located immediately adjacent to Lundin Gold's (TSE:LUG) world class Fruta del Norte gold mine.
This nearology is a significant factor to note for TMR.
Fruta del Norte is the largest gold-silver mine in Ecuador with an inferred resource of 13.7Moz of gold and 22.4Moz of silver.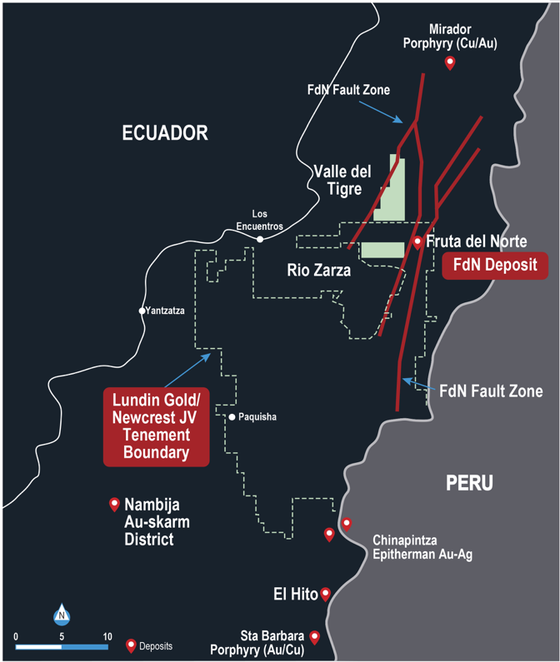 Tempus Resources' Zamora Projects that include the Rio Zarza Project and Valle del Tigre
Originally managed by Aurelian Resources, Fruta del Norte, is the most valuable greenfields gold discovery of the past 15 years. The discovery saw Aurelian bag a 10,000%+ gain for its shareholders, with the company acquired in 2008 for C$1.2 billion by Kinross Gold (TSX:K | NYSE:KGC).
Canada's Lundin Gold (TSX:LUG) then acquired Fruta del Norte in 2014 for some $240 million from Kinross who had halted operations when it failed to reach an agreement with authorities regarding the assets' development.
After spending $1 billion over five years, Lundin Gold last year has begun production at Fruta del Norte.
This milestone, according to Aurelian co-founder and the man behind the colossal gold discovery at Fruta del Norte in 2006, Keith Barron, marks "a turning point for the mining industry in Ecuador". He says, "For the first time in Ecuador's history, gold mining will be carried out in a responsible, technically safe and sustainable way".
Fruta del Norte certainly had its challenges on its path to production, but those issues seem to be all in the past for the country's mining sector that, now with government support, has gained ground as a mining destination over the past two years attracting many industry majors.
This all bodes well for Tempus' Zamora Projects which hosts strikingly similar geochemistry, alteration and geological features to the Fruta del Norte Project.
Rio Zarza Gold Silver Project
Rio Zarza comprises two concessions covering approximately 1,000 hectares, directly adjacent to the west of Fruta del Norte. The concessions were originally granted before the Fruta del Norte discovery.
There has been limited exploration done at Rio Zarza in the past. Exploration was carried out between 2008 and 2012 by Ecometals Limited, and included surface magnetics, IP, gravity surveying, soil/stream sampling, mapping and limited diamond drilling.
While exploration did delineate a number of targets, the majority of which were situated in the eastern part of the property, what was done was completed without modern equipment leading to a lack of geological understanding.
By applying modern exploration and drilling techniques, Tempus expects results to be different this time around.
As indicated on the cross section below, Rio Zarza's geochemistry, alteration and geology have been noted as being strikingly similar to Fruta del Norte, which is hosted by the Misahualli volcanics.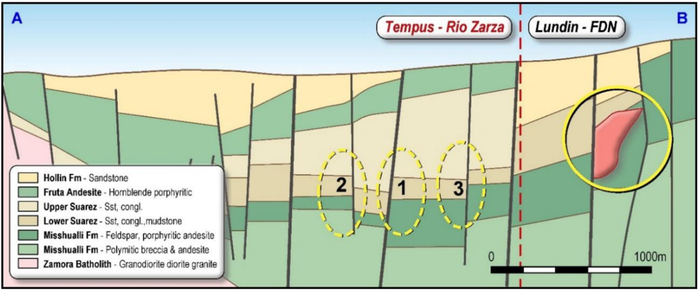 Rio Zarza and Fruta del Norte Cross Section
The Misahualli volcanics are thought to have been dropped by step-faults to the west of Fruta del Norte and so the potential gold target located at Rio Zarza is at depths of 700-800 metres.
The limited previous drilling at Rio Zarza was undertaken prior to a new geological interpretation and was ineffectual in reaching target depth.
The previous wide-spaced drilling was unsuccessful due the majority of the holes never tested the upper part of the Misahualli volcanics, and because the favourable conjugate structures were not tested at the right orientation.
The map below illustrates historical drill holes and Rio Zarza's proximity to Lundin.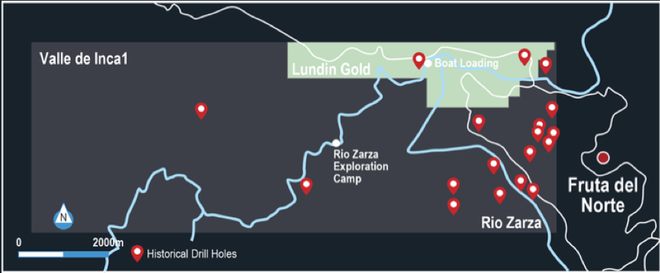 A large number of coincident geophysical and geochemical anomalies remain untested in over 70% of the concession area, while additional potential exists for large tonnage alluvial gold targets hosted by elevated dry river terraces.
Additional drilling was planned, vectoring from previous drill intersections that displayed low temperature alteration and anomalous geochemistry. Further, several coincident geochemical and geophysical anomalies remain largely untested.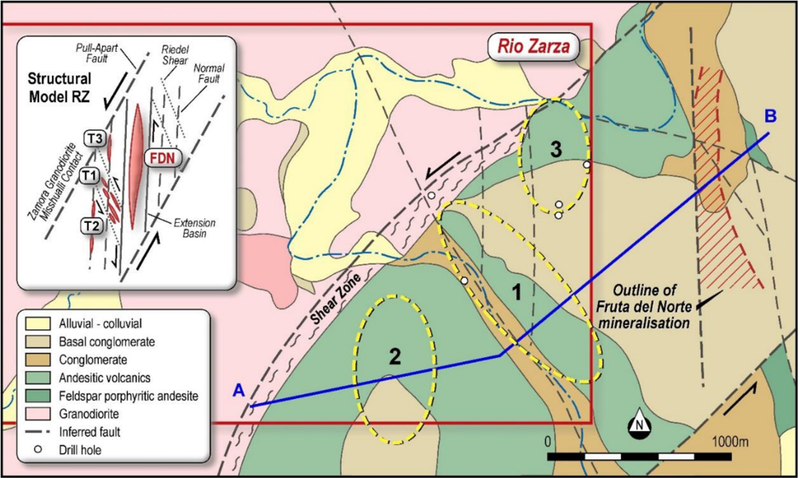 Rio Zarza and Fruta del Norte Surface Geology Map
Managing director Brendan Borg is confident in the company's outlook heading into drilling. Borg upped his shareholding in the company to 2.2 million shares (via two indirect interests) when he picked up 100,000 shares on market on 12 February.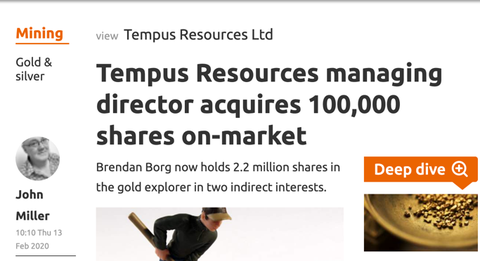 Canada: Blackdome-Elizabeth
While Ecuador provides an early stage speculation opportunity, Tempus is also backed by a second major gold asset, located in Canada.
The company recently picked up the producing, high grade mine — the Blackdome-Elizabeth Gold Project — in British Columbia that comes with a ~300,000oz resource.
Tempus plans to begin exploration here in around May, after pre work is done in April with sampling and analysis of potentially mineralised drill core from previous drilling programs.
The plan is to undertake a solid drilling program for at least five months through to September, focusing on resource extension, verification and exploration of newly discovered targets, which will hopefully result in an updated JORC resource, followed by a Prefeasibility Study (PFS).
What's next for TMR?
While there's certainly plenty happening in Canada later in the year, in terms of near-term catalysts all eyes are now on Ecuador.
The water permit was a major hurdle that has now been cleared, allowing for Tempus to use water in its planned advanced explorations activities, including drilling.
The upcoming weeks will see the appointment of a drilling contractor, along with the finalisation of priority drill targets ahead of drilling that's set to commence in Q2.
The location of the Rio Zarza Project, directly adjacent to Lundin Gold's world class producing Fruta del Norte gold project and the shared geology of the two projects suggests there could be some real upside on offer her, especially when considering the currently sub-$10 market cap of Tempus Resources.
---