Chargeability anomalies over High Grade Rock Chips - There's only one thing left to do
Disclosure: The authors of this article and owners of Next Investors, S3 Consortium Pty Ltd, and associated entities, own 1,250,000 TG1 shares at the time of publication. S3 Consortium Pty Ltd has been engaged by TG1 to share our commentary and opinion on the progress of our investment in TG1 over time.
Our exploration investment TechGen Metals (ASX:TG1) is putting together some increasingly interesting copper/gold drilling targets in WA.
As announced today, geophysical surveys run over TG1's Station Creek Copper Project in the Ashburton Basin have returned two high priority IP chargeability anomalies in the same spot where high-grade copper rock chip samples were picked up.
One of these anomalies (TA1) measures 500m x 100m and is located only 150m away from high-grade copper and silver rock chip samples that returned a peak results of 54.8% copper & 249g/t silver.
The other anomaly (TA2) is also sitting right on top of a previous rock chip sample that returned peak grades of 7.32% copper.
You can see them on the map below - the white-red regions are high chargeability anomalies: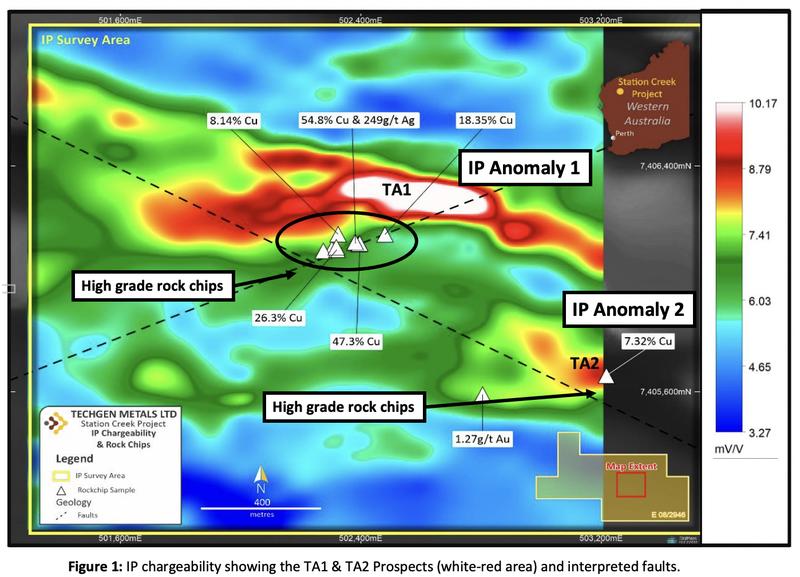 The significance of this is that the data from these geophysical surveys is now marrying up with the results from the geochemical sampling programs the company ran previously.
With early stage exploration projects like these, we don't often see both geophysical AND geochemical work pointing to the same target areas.
In the case of TG1, those rock chips are sitting right on top of the geophysical targets.
Think of this as a triangulation of data that is used to firm up the highest priority drilling targets, which are likely to form the basis for a larger drilling program.
While geophysical surveys are still ongoing, we suspect that both of these targets are now at the top of the priority rankings for TG1 in terms of drilling.
VTEM surveys are being run concurrently at the company's other Ashburton Basin project (Mt Boggola), and we expect to see the highest priority targets from both of these projects put together and then eventually drilled in the coming months.
Coming back to the IP surveys, today's update on TG1's geophysics targets is of particular interest because we have seen this story play out before.
ASX-listed Carnaby Resources made its discovery after a similar style geophysical anomaly was identified at its copper/gold project in QLD.
In May 2021, Carnaby ran the same style IP surveys (geophysical surveys) that TG1 has done and found 4 different IP chargeability anomalies.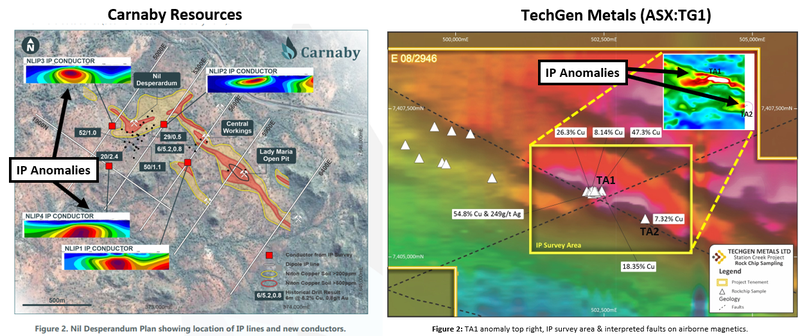 Carnaby then drilled that IP high and hit an intercept of 41m @ 4.1% copper, sending its share price from ~20c to ~$1.50 per share, adding ~$155M in market cap to Carnaby's valuation.
TG1 on the other hand is currently trading with a tiny market cap of $6.8M and with $2.6M in cash in the bank, TG1 has an EV of only $4.2M.
We are looking forward to TG1 getting out there and drill testing these new chargeability anomalies.
With $2.6M in cash at the end of the March quarter, it would be reasonable for TG1 to raise additional capital and shore up the balance sheet at some stage ahead of drilling these copper targets.
However, management might wait to see how the share price responds as we get closer to drilling and anticipation of a potential new copper discovery builds.
In any case, at TG1's current levels, with a market cap of less than $10M, there is plenty of room for TG1 to re-rate closer to drilling these targets. This upside potential makes for good exploration exposure in our portfolio, on a risk reward basis.
Today we also launch our 2022 TG1 Investment Memo which details the key reasons why we continue to hold TG1 in our portfolio, what we want to see the company achieve in 2022, and the key risks to our investment thesis.
We have been invested in TG1 since April 2021 and its low EV and tight capital structure are one of the main reasons we continue to hold it in our portfolio, as outlined in our Investment Memo.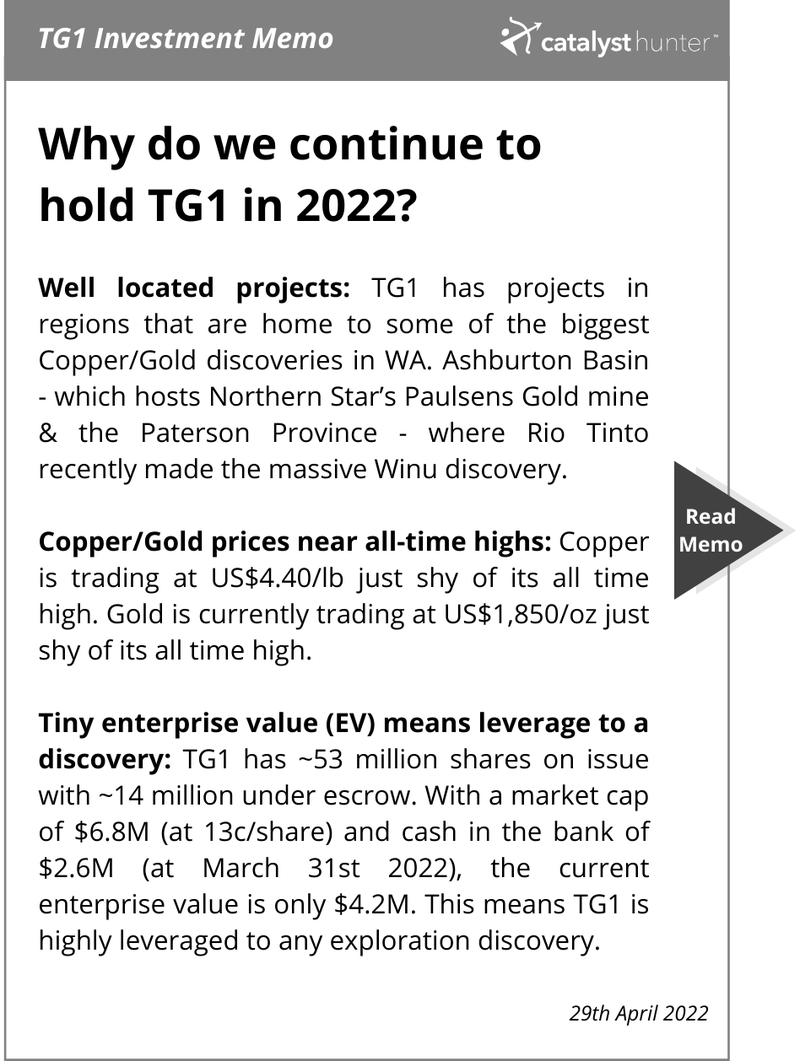 Our Investment Memo sets some expectations for what we want to see TG1 achieve in 2022.
Given TG1 is still a fairly early stage explorer, we have set the key objectives around drilling programs across the company's Ashburton Basin prospects and its Paterson Province projects.
These are the projects we are currently most interested in within TG1's broad exploration portfolio.
We will then look to renew these objectives based on the results that TG1 receives from these drilling programs.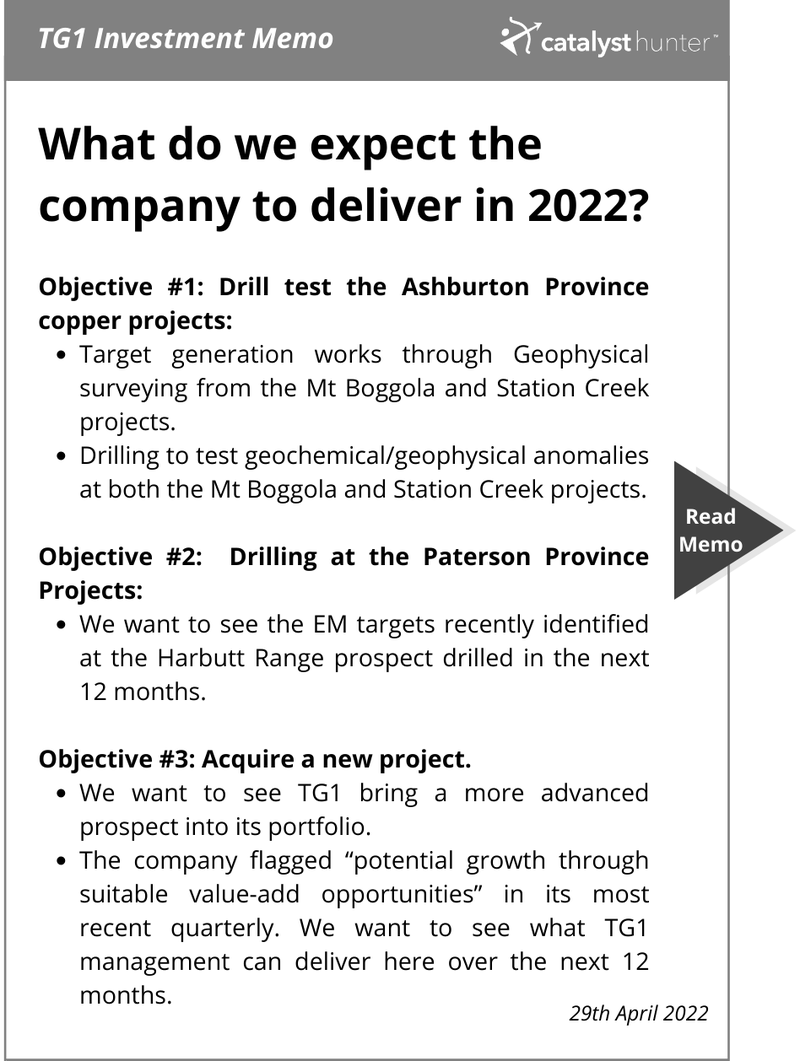 More on the Ashburton Basin copper projects
First the Station Creek project, which today's news relates to.
Just a month ago, TG1 received some assays from a geochemical sampling (rock chip sampling) program.
The peak result was an assay with 54.8% copper and 249g/t silver grade.
Below is an image of the copper filled rock chips: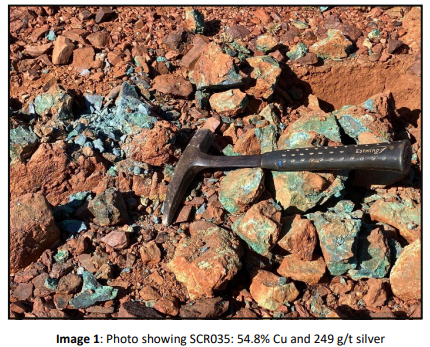 Interestingly, the rock chips were taken from right above a northeast to southwest trending fault line.
We are not geologists, but the geologists we speak to always seem to be a lot more interested when they see two fault lines intersecting.
These intersections in fault lines increase the probability of mineralisation occurring below the ground, a result of thousands of years of rock movements well below the surface.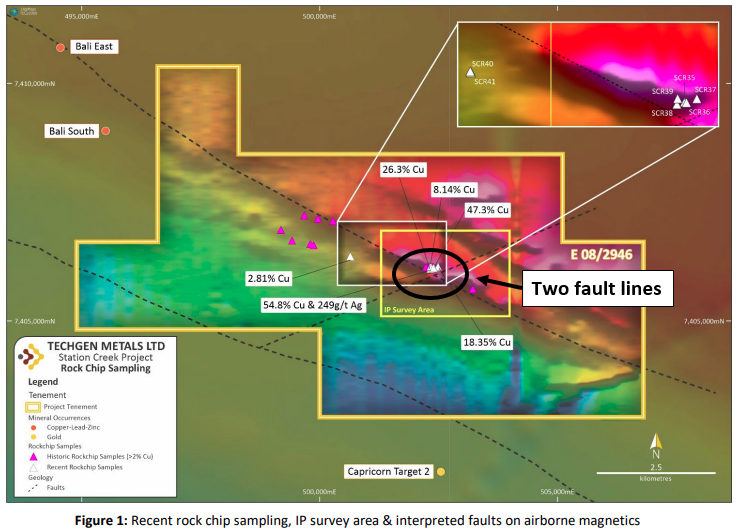 Generally rock chip samples alone aren't the best way to identify high priority drilling targets as these often come from leftover mining stockpiles and the grades can be misleading.
We generally see these as the first box ticked in a list of boxes that helps us rank how interesting a prospect is.
Both of today's chargeability anomalies sit in and around the areas where the high grade rock chips were taken from.
The first target (TA1) was taken ~200m away from the peak rock chip sample (which measured 54.8% copper and 249g/t silver) and at the moment is measuring at ~600m x 100m.
The second target (TA2) is sitting right on top of the one of the previous rock chip samples which returned a peak grade of 7.32% copper.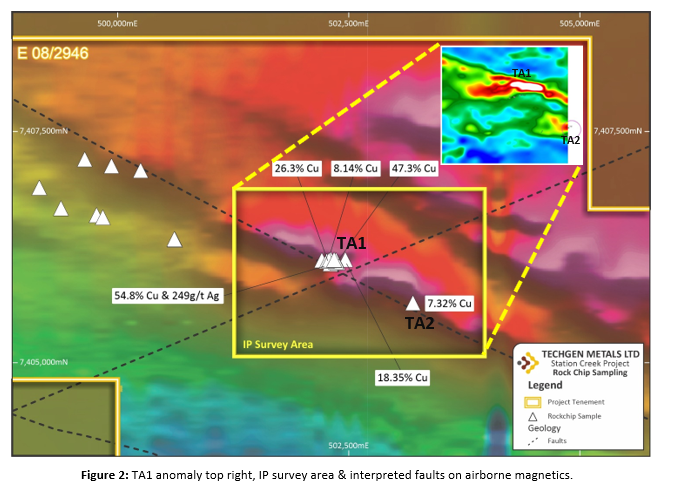 This is significant because TG1 first found copper at the surface and has now found geophysical anomalies in the exact same position — a possible indicator of mineralisation below the ground.
Of course these works are all just a part of putting together high priority drill targets. Whether or not there is any economic mineralisation will need to be tested with drilling.
After seeing today's TG1 announcement, we immediately thought about the way Carnaby Resources made its copper discovery in Queensland.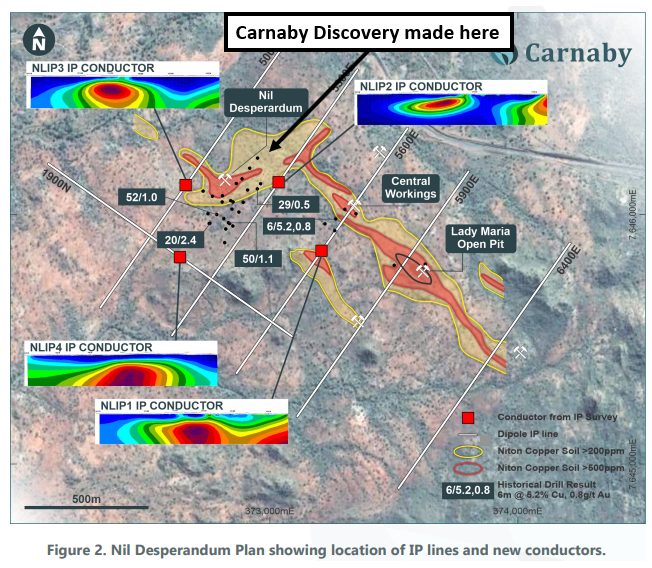 After finding a bunch of geophysical anomalies using similar IP surveys, Caranaby intersected 41m @ 4.1% copper, sending its share price from ~20c to ~$1.50 per share.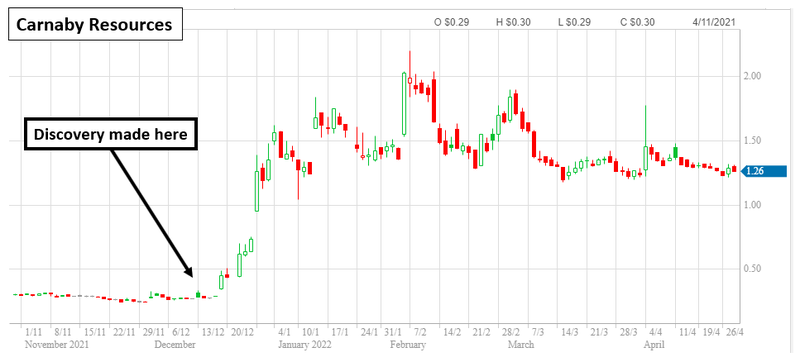 That discovery drillhole added ~$155M to Carnaby's market cap.
It is still far too early to tell whether or not TG1 can do something similar, but the triangulation of geochemical and geophysical data is a good first step towards trying to make a new discovery.
With a market cap of less than $10M, if TG1 does end up hitting high grade copper during drilling in the coming months, it would be reasonable to expect a significant and rapid share price rise.
Secondly, TG1 is also progressing the Mt Boggola project in the Ashburton Basin.
Last year TG1 ran VTEM, magnetics and ground EM surveys on the northern part of the project and identified three strong discrete bedrock EM anomalies.
Similarly to the Station Creek Project, these three new VTEM anomalies all sit in and around previous rock chip samples, where peak results of ~8.3 to 8.7% copper were found.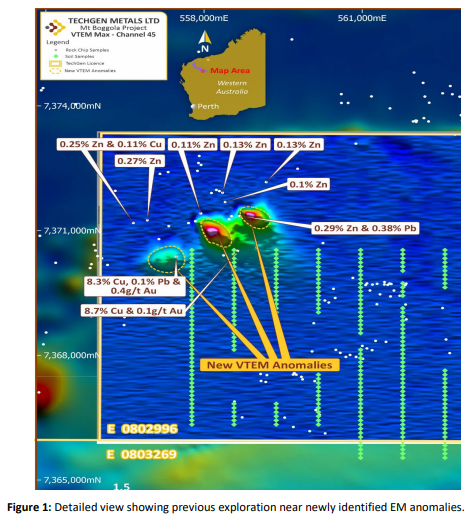 In preparation for a future drilling program, TG1 have again gone back into that project and are doing more airborne VTEM/magnetics surveys to cover grounds that were previously untested to the south of its tenement package.
We suspect that all of these targets will then be brought together and put into one larger drilling program before the end of the year.
The drilling of these two projects makes up Key Objective #1 of our 2022 TG1 Investment Memo.
More on the Paterson Province project
TG1 also holds three tenements in the Paterson Province where Rio Tino made the enormous Winu copper/gold discovery back in 2017.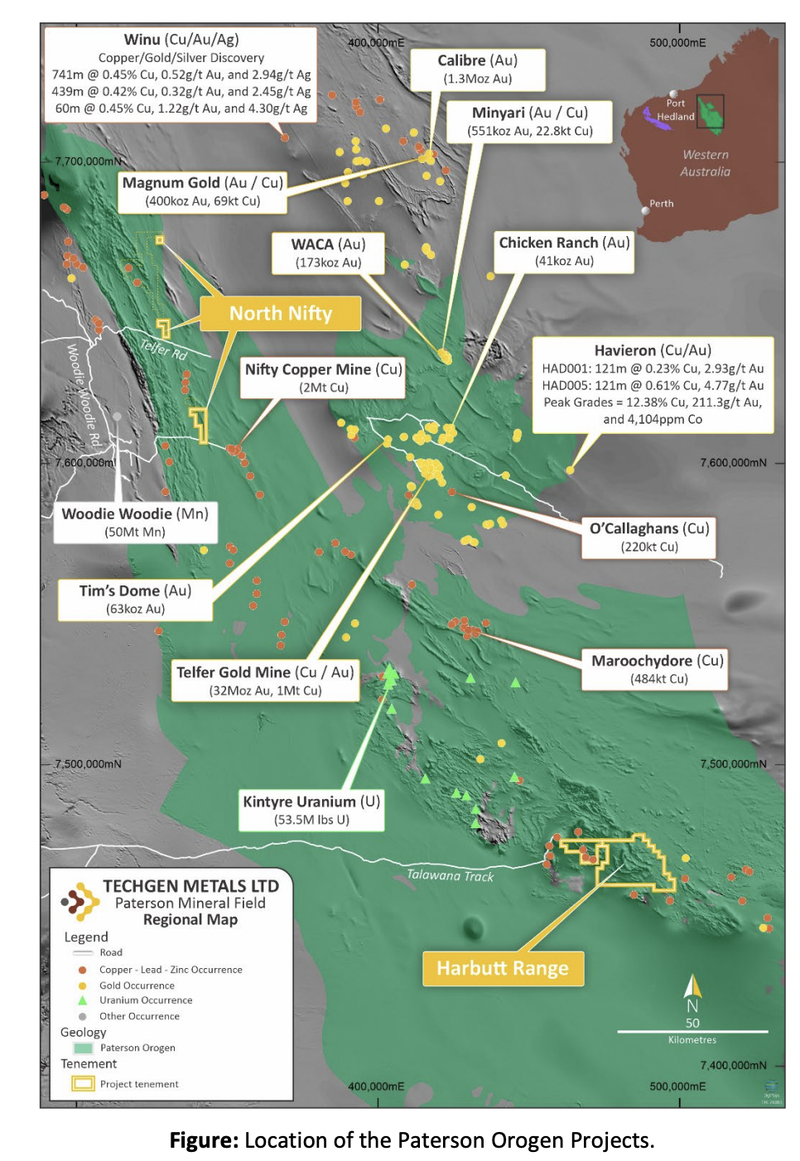 Similar to its Ashburton Basin projects, TG1 late last year ran some geophysical surveys at the "Harbutt Range" project and managed to firm up six high priority drill targets.
As of the most recent quarterly report, TG1 confirmed that a drilling program for these was being prepared.
What's next for TG1
More target generation works at the Ashburton Basin projects 🔄
TG1 is still completing the IP surveys (geophysical surveys) at the Station Creek Project in and around the two anomalies found today.
In today's announcement TG1 confirmed that ~70% of the planned survey had been completed to date but TG1 paused works on it whilst its survey teams ran more detailed surveys over the highest priority anomaly (TA1).
Those surveys will be focussed right on top of the area where TG1 found most of the high grade rock chips in the past.
We expect the remainder of the program to be completed before TG1 has fully defined the highest priority targets that will be included in a drilling program in the future.
On top of this, TG1 is running some airborne VTEM and magnetics surveys at the Mt Boggola project to firm up some drilling targets for a drilling program which we hope to see before the end of the year.
To date, TG1 has already put together three EM targets but is still yet to finalise this latest round of geophysical surveys.
All of the data gathered from the works over both these projects will rank the highest priority targets that TG1 can drill later in the year.
Drilling program at the Ashburton Basin projects 🔲 (pending the results from the target generation works)
Drilling program at the Paterson Province projects 🔄
TG1 holds three key tenements in the Paterson Province, the nearest term newsflow will come from the Harbutt Range project.
Earlier this year TG1 completed some geophysical surveys and identified some high priority EM/IP targets that warrant drilling.
In the latest quarterly, TG1 mentioned that they are preparing a drilling program to test the highest priority targets at this project.
Acquisition of a new asset 🔄
We set this as Key Objective #3 in our 2022 TG1 Investment Memo.
Given the early stage nature of TG1's current portfolio of projects, we wouldn't mind seeing TG1 bring in a new more advanced project into its portfolio.
The commentary in the recent quarterly with respect to pursuing any value-add opportunities that came about shows that TG1 is clearly looking at different opportunities.

We note that the company recently brought in new prospects including those in the Earaheedy Basin. They're both still under application and would be even earlier stage than TG1's current portfolio of projects.
As a result we would ideally like to see TG1 bring in something a bit more advanced in terms of prospectivity.
What are the risks?
TG1 is still a relatively early stage explorer.
Both its Ashburton Basin and Paterson Province projects have interesting prospects which we are looking forward to TG1 drilling, but there is no existing discoveries or JORC resources to provide a rough in ground valuation for the company.
The core risks for TG1 are similar to all other junior explorer's around financing and exploration risk.
Below is a screenshot of these risks from our 2022 Investment Memo.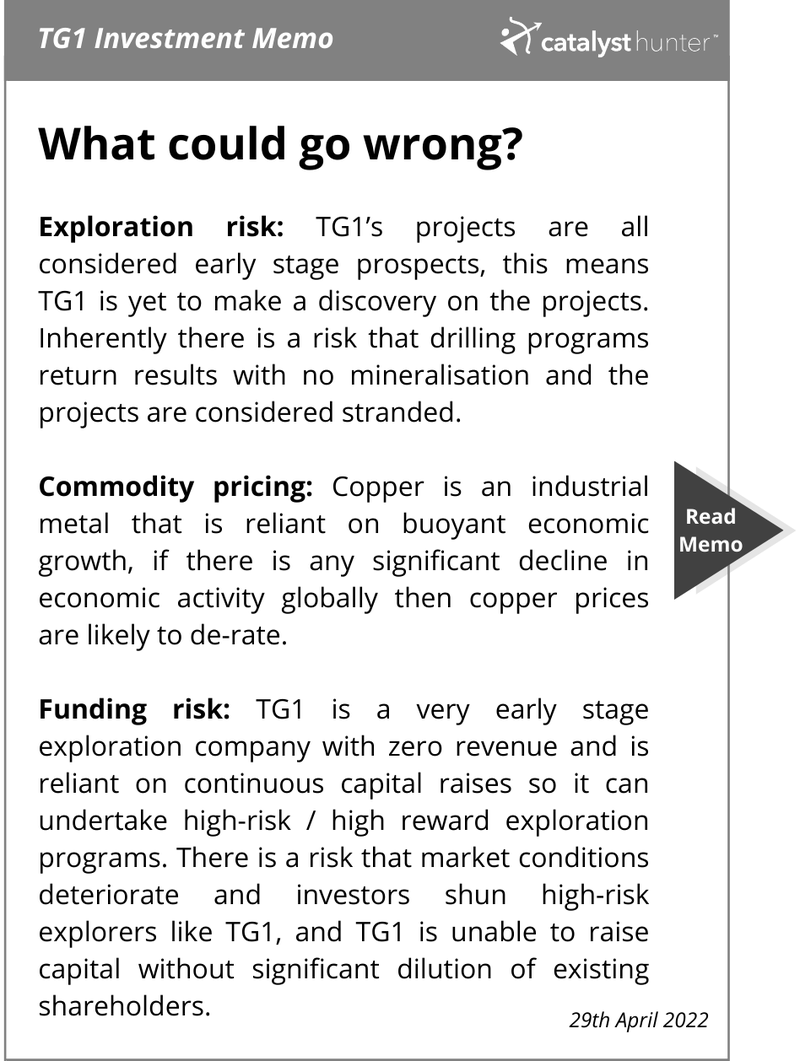 Our investment plan
Below is a screenshot from our 2022 TG1 Investment Memo which details our investment plan for TG1.
With the share price down from our initial entry price of 20c, we are retaining our entire position in TG1 as the company gets closer to drilling at its Ashburton and Paterson Province projects.
We will follow a similar investment strategy to our other junior exploration investments as follows: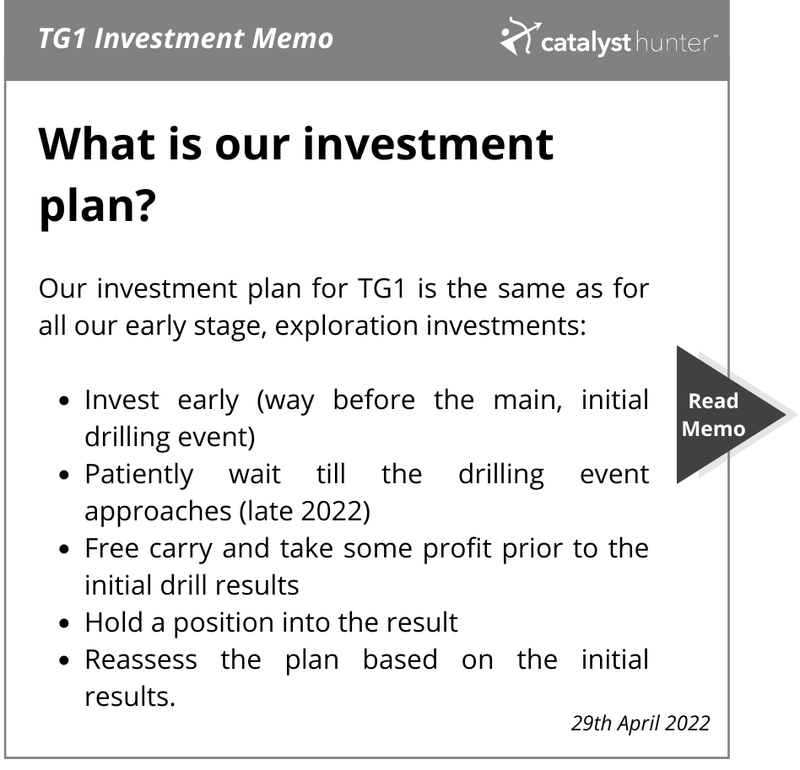 Our TG1 Investment Memo for 2022
Below is our 2022 Investment Memo for TG1 where you can find a short, high level summary of our reasons for investing.
The ultimate purpose of the memo is to record our current thinking as a benchmark to assess the company's performance against our expectations 12 months from now.
In our TG1 Investment Memo you'll find:
Key objectives for TG1 in 2022
Why we invested in TG1
What the key risks to our investment thesis are
Our investment plan
---