We Got Lucky - RAS' Next Door Neighbour Delivers World Class Drill Intercept
Just last Wednesday we wrote about our long term investment in Ragusa Minerals (ASX:RAS).
So what's happening with the RAS share price? Why is it moving up?
We thought things had been a bit quiet in recent weeks and were thinking there could be some RAS news soon, and the share price seemed to have established a new base around 8c which was nice to see.
We invested in RAS back in July at 6.5c primarily for its two latest acquisitions - its halloysite project in WA and for its gold project in Alaska.
We were expecting more early activity out of RAS's WA halloysite than its Alaskan gold project in the near term - but while we waited for halloysite work to begin:
RAS's Alaskan gold neighbour Nova Minerals just hit a gold intercept that has been regarded as "in the top 40 best high grade gold intercept in the past 10 years".
Mining consultants Terra Studio ranked the biggest and highest grade drill intercepts over recent years and put Nova Minerals right up there with the very best: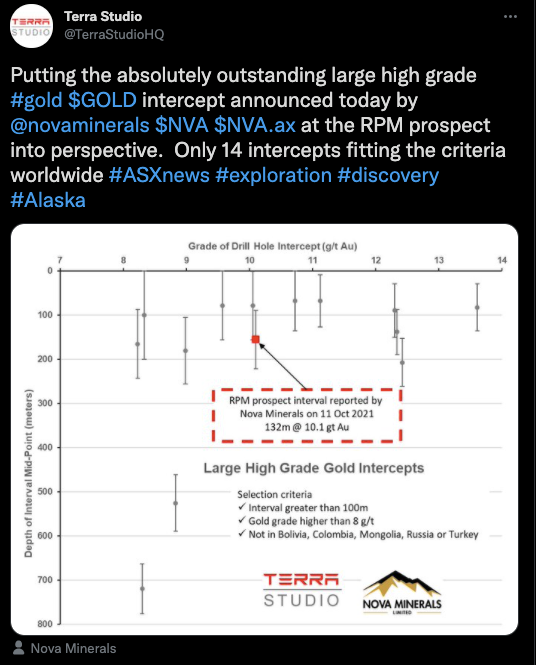 Yesterday Nova Minerals released a batch of drill results from its "RPM North" prospect that included 373m @ 3.8 g/t Au from 7m, including 132m @ 10.8 g/t Au from 95m & 86m @ 14.1 g/t Au from 123m.
Nova is now capped at $340M.
RAS is currently capped at $14M (at 11c) and had over $4M cash last time we checked.
RAS ground is a few kilometers directly south of Nova's RPM prospect where the huge drill result happened.
This is a new discovery for Nova Minerals - it is in addition to Nova's existing Korbel 4.7 million ounce resource - and the best part for RAS' holders is that it's so much closer to RAS' ground.
The RPM prospect is Nova's latest discovery within its Estelle project.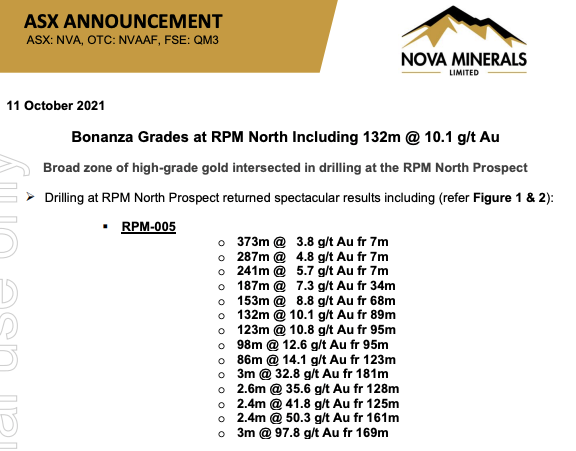 Here is where Nova's project (in yellow) sits - directly to the north of RAS (marked in red):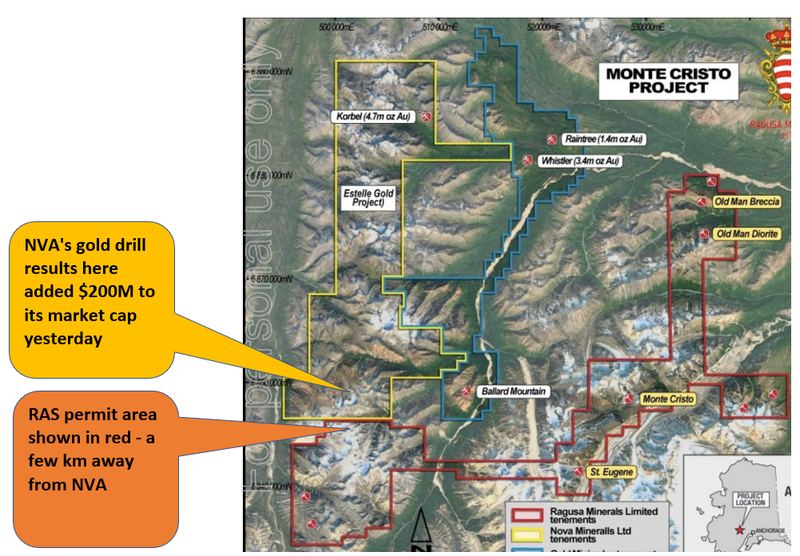 Here's a close up shot of Nova's "RPM project" that sits right at the bottom of its project - directly north of RAS' ground - this is where yesterday's drill hits were recorded.

Note - there is also GoldMining's 4.78m ounce Oz Whistler resource in the same region as RAS' project - so it's a pretty well endowed region to be exploring for gold.
Our Quick Guide to Nearology - what does Nova's results actually mean for RAS?
Just because a stock has some ground nearby some much more valuable ground, does not always mean your stock is also similarly valuable, OR that your nearby ground will yield any similar results.
We spoke to an independent geologist to get his take, and this is what we learnt about the different levels "nearology":
"Entry level" nearology - almost irrelevant:
If two projects are geographically close - but there is different geology - it's almost irrelevant.
"Better" nearology
Two projects have the same geology and structures, but no supporting data - or drilling that downgrades it.
"Even Better" Nearology
Two projects have the same geology and structures WITH supporting drilling / geochemistry.
"Best" Nearology
There is an extension of the same deposit.
How does the "RAS nearology to Nova" concept actually stack up?
We would rate RAS comparison to Nova fairly highly on the scale.
✅ "Entry level" nearology - yes RAS is next door to Nova
RAS is very close to Nova's new "RPM" gold discovery.
RAS' gold project is also located very close to two large gold deposits which include Nova Minerals' 4.7 million once Korbel deposit & GoldMining's 4.78m Oz Whistler and Raintree gold deposits.
✅ "Better" nearology - RAS and Nova has same geology and geophysical features
RAS's gold project has several similarities to Nova's 4.7 million ounce Korbel deposit, including several valleys in a similar topographic setting, similar local geology and geophysical features - which comes from resistivity and magnetic survey information.
What's next for Nova?
Nova released results from just one hole from RPM North yesterday - there are still three more holes to go.
Early next year Nova will move the drill rig to "RPM South" - which is even closer to RAS' grond. We are looking forward to that drilling event early next year.
What's next for RAS?
We are going to wait for the rest of the Nova drill holes to come in, and we expect RAS to now fast track a drilling campaign and all the prep work that comes with it NEAR the Nova drill stie.
We expect any drilling campaign by RAS will take a few months to kick off and will be patiently waiting.
We don't know if the Nova geology extends into RAS' ground yet - RAS is going to do some drilling of its own - and realistically that won't happen until 2022.
Right now we like RAS as a $14 market cap "bet" that might emulate Nova's gold strike when in early 2022.
Alaskan Gold Project
⚔️ Nova (ASX:NVA) Gold Results
🔲 Sampling program (Monte Cristo)
🔲 Sampling Assays (Monte Cristo)
🔲 Drill Targets Defined (Monte Cristo)
🔲 New Project of Works near Nova Project
RAS Investment Milestones
✅ Initial Investment @ 6.5¢ (before key drilling event)
🔲 Increase Investment
🔲 Price increases 250% from initial entry
🔲 Price increases 500% from initial entry
🔲 Price increases 1,000% from initial entry
🔲 Free Carry
🔲 Take Some Profit
🔲 Hold position for key drilling event
🔲 Decide New Investment Plan after results of key drilling event
---