RAS Now Drilling for Halloysite - Directly Next to Open Resource
Last year we invested in Ragusa Minerals (ASX:RAS) primarily because of the nearology of its WA halloysite and its Alaskan gold projects.
We liked the upside of potential exploration success given the small size of the company at the time.
Today, RAS remains a tiny company with a market cap of less than $11.2M. With $3.4M in cash at the end of last quarter, it has an enterprise value of just $7.8M.
The biggest difference between when we first invested and now is that back then, RAS was still a few months away from drilling. Now, the company IS drilling.
RAS has ground either next door (or very close to) to three much larger ASX companies, each with well defined resources. That includes RAS's latest nearology acquisition, when it picked up lithium ground next door to $2.2B Core Lithium in the NT.
RAS's aim is to undertake exploration drilling and hopefully prove up resources next to the much larger resources of its neighbours.
In summary, $11.2M capped RAS's current nearology portfolio of assets is:
Halloysite in WA - next door to $310M capped Latin Resources (RAS is drilling right now).
Gold in Alaska - next door to $171M capped Nova Minerals (fieldwork expected to begin in the coming months)
Lithium in NT - next door to $2.2BN capped Core Lithium (new acquisition).
Today we focus on RAS's WA halloysite project which it is drilling right now.
RAS's WA halloysite project sits right along the border of our other Catalyst Hunter portfolio company Latin Resources' defined halloysite resource.
Last year Latin Resources discovered one of Australia's largest kaolin/halloysite deposits, currently a 207Mt JORC kaolinised granite resource. RAS' is drilling directly next door to this.
RAS's market cap is only a fraction of Latin Resources' which was trading at a ~$95M market cap before its recent lithium discovery, so any positive drilling intercepts could result in a swift re-rate for RAS in the coming weeks.
Today, RAS announced that drilling at its halloysite project has started.
RAS' maiden 60 hole, ~1,750m air core drilling program is focused on a 400m strike zone along the border it shares with Latin.
RAS is aiming to quickly delineate a maiden JORC resource and prove that Latin Resources' halloysite deposit does in fact extend into RAS's ground.
With Latin Resources' deposit being mostly from surface, RAS will also be looking to prove out a JORC resource with Direct Shipping Ore (DSO) characteristics.
This means that if the drilling program is successful, RAS will be able to establish in-ground resources that could be quickly put into production and monetised with low upfront/ongoing costs.
Having been invested in RAS for almost eight months now, we are finally about to find out whether its ground is in fact an extension of Latin Resources' halloysite deposit.
With today's announcement, RAS is now actively working on delivering the first of the objectives we wanted to see delivered in 2022 in our Investment Memo: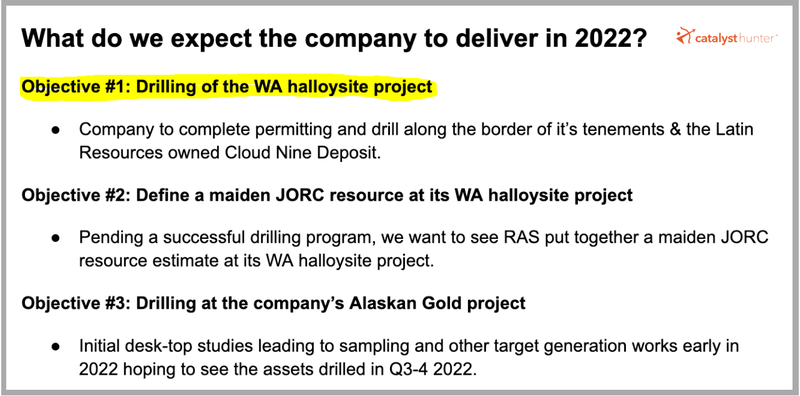 For a quick high level summary of why we continue to hold RAS, our key objectives for 2022 and a list of the key risks to our investment thesis, read our 2022 RAS Investment Memo here.
What do we expect from drilling at RAS's WA halloysite project?
Today's announcement provided confirmation that RAS will be drilling right along the border with Latin Resources' Halloysite project.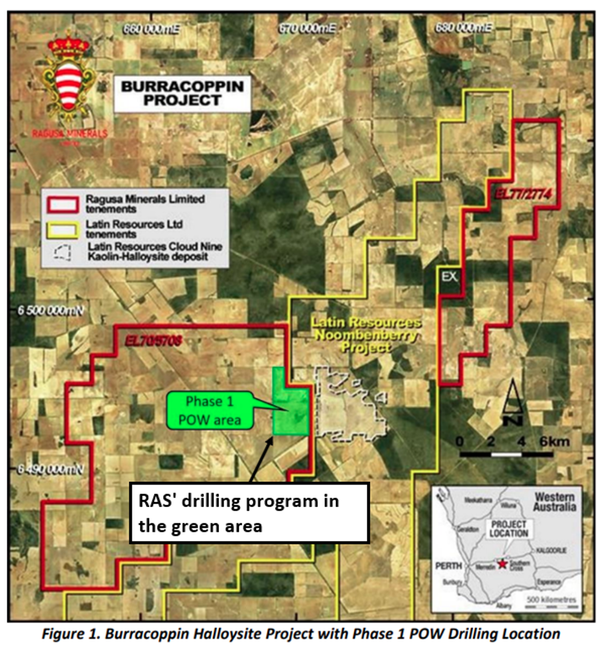 Latin Resources' project has a ~207mt JORC resource but more importantly for RAS investors, Latin has confirmed that the deposit still remains open in all directions.

We are primarily invested in RAS to see if that theory holds true.
Given that the known deposit cuts off in a straight line at Latin Resources' tenement boundary, we suspect that the deposit does in fact continue into RAS's grounds. Ore bodies that were formed millions of years ago don't tend to respect tenement lines.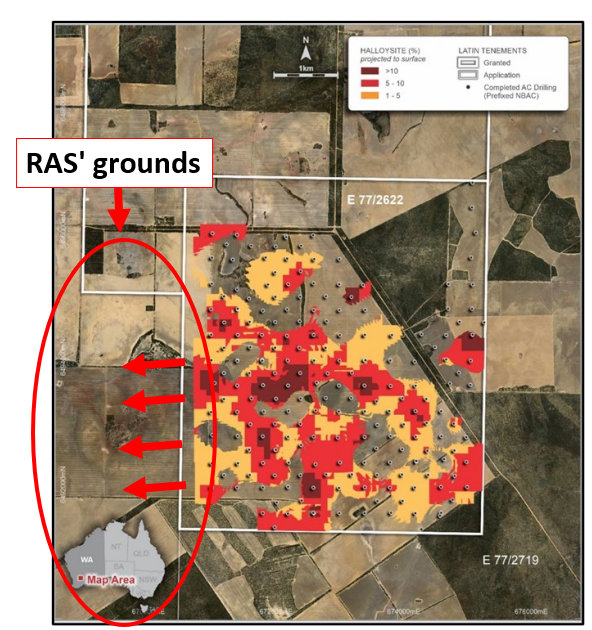 This information had us set RAS as a level 4 "Best Nearology" on our internal nearology scale. To see why check out our previous note: "RAS to drill WA halloysite project in coming weeks" here.
The 60 hole, ~1,750m aircore drilling program has now started.
RAS will be aiming to delineate a JORC resource that is near surface and displays Direct Shipping Ore (DSO) characteristics.
Generally, when a junior explorer is trying to delineate a resource they will complete RC/diamond drilling to drill through hard rocks at depth.
RAS is taking a slightly different approach, similar to that of its neighbour Latin Resources'.
RAS is looking to make a DSO-style discovery so will be drilling for shallow mineralisation that should be hosted in softer clay materials.
This all means that the drilling program doesn't need to drill down to significant depths and can be done using a lighter aircore rig. This keeps costs low as well.
If we look at Latin Resources' deposit, almost all of the mineralisation starts from surface - extending down to depths of just ~50m.
We are used to seeing aircore drilling programs go unnoticed, but the difference here is that RAS are doing aircore drilling because they already know what type of deposit they are looking for.
It is a shallow, near surface and potentially DSO style Halloysite/Kaolin which we hope will be identical (an extension of) to Latin Resources' deposit next door.
Below is an image of Latin Resources' deposit extending down to ~50m depths and basically starting from surface.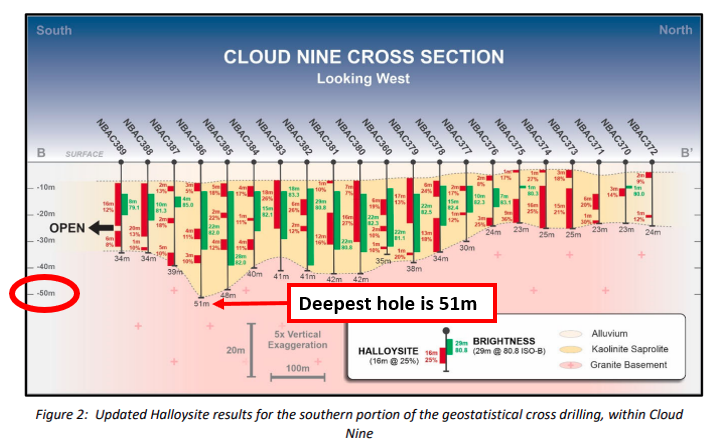 A major benefit for RAS is that aircore drilling programs don't tend to take long to complete and drilling with aircore rigs is the most cost effective exploration method.
This will mean that the drilling program is completed relatively quickly and most of the waiting will be done after the program is complete, waiting for the assays to come back from the labs.
All up, RAS has a quick and cost effective drilling program leading to what may be its maiden JORC resource.
What are our expectations for the drilling program?
With the maiden drilling program set to start this week we see two possible scenarios from the drilling program:
Excellent = RAS proves the Latin Resources' deposit extends into RAS grounds.


Poor = Drilling returns nothing and our nearology thesis fails.
Simply put, if drilling confirms that Latin Resources' deposit extends into RAS ground then we have an Excellent result.
This will mean, at the very least, that its neighbour Latin Resources will have to take note of the company — we suspect that the broader market will too.
If we are proven wrong then we would consider this a failure.
What about RAS's gold projects?
With winter in full effect and temperatures reaching -30 degrees, the Alaskan exploration window remains closed. But we are now approaching the end of the extreme weather conditions as winter runs from November through to the end of March.
After spending the winter doing mostly desktop studies, we expect RAS and its neighbours to recommence exploration once the extreme weather subsides, sometime in the next quarter.
We touched on what RAS's neighbours are planning for 2022 in our last note which you can read here.
The next for step for RAS's Alaskan gold projects is target generation works 🔄
A geochemical sampling program in conjunction with geophysical surveying will identify the highest priority drilling targets. We look forward to seeing RAS get on the ground and begin work as soon as weather conditions in Alaska improve.
More on RAS's newly acquired lithium projects
When our low enterprise value portfolio companies — such as RAS (EV of only $7.8M) — bring new projects into their stables we are generally okay with there being a change in plans from what we originally invested for.
Almost a month ago now, RAS did just this, announcing that it had successfully applied for three exploration licences prospective for lithium in the Northern Territory.
The licence applications sit next to the $2.1 billion capped Core Lithium's Finnis Hard Rock Lithium Project, which has a ~15 million tonnes (Mt) JORC resource at 1.3% lithium oxide.
Core LIthium Finnis project (green border); RAS's project (red border)
RAS's grounds sit on similar geological structures to the Core Lithium deposit but, given the tenements are all still in the application stage, it is still far too early to tell what RAS has on its hands.
We will however be watching to see if the lithium project throws up any interesting exploration targets.
We are particularly happy with this transaction because it hasn't cost RAS much to acquire these projects. Instead, RAS has gone down the application process route bringing the projects into the company for as cheap as possible.
It was a low cost way to add an interesting lithium prospect — with nearology to a $2.2 billion capped major like Core Lithium.
With lithium prices soaring (prices have risen over four-fold from US$17,000/t in 2021 to >US$78,000/t today) and with how well Core Lithium has performed, we are comfortable with this move by RAS.
Read more on the recent surge in lithium prices, including Elon Musk's views on the matter, in our Quick Take here.
Our 2022 RAS Investment Memo
Below is our 2022 Investment Memo for RAS where you can find a short, high level summary of our reasons for investing.
The ultimate purpose of the memo is to record our current thinking as a benchmark to assess the company's performance against our expectations 12 months from now.
In our RAS Investment Memo you'll find:
Key objectives for RAS in 2022
Why we continue to hold RAS in 2022 (Shown above)
What the key risks to our investment thesis are.
Our investment plan
To access the RAS Investment Memo simply click on the button below:

---