MAN is Drilling Now - 30km from Chalice Mining
As Mandrake Resources (ASX:MAN) investors, this is the moment we have been waiting for.
Today MAN has begun diamond drilling at its PGE-nickel-copper project in the Julimar Province, 30km from the $2.75BN capped Chalice Mining's discovery.
Expect a significant amount of newsflow over the coming weeks from MAN as drilling takes place, and probably a binary outcome on drill results.
Chalice delivered a massive return for early stage investors
MAN's ground sits just 30km east of Chalice Mines's Julimar PGE-nickel-copper discovery.
MAN is currently capped at ~ $94M, just a fraction of Chalice's $2.75BN market cap.
MAN is currently drill testing three discrete electro magnetic (EM) anomalies. MAN has run geophysical interpretations that suggest they could be the response of massive sulphides consistent with Julimar style mineralisation...
Chalice was one of the best performers on the ASX last year on the back of its world class metals discovery in the Julimar - having run from 17c to as high as $9.25 recently: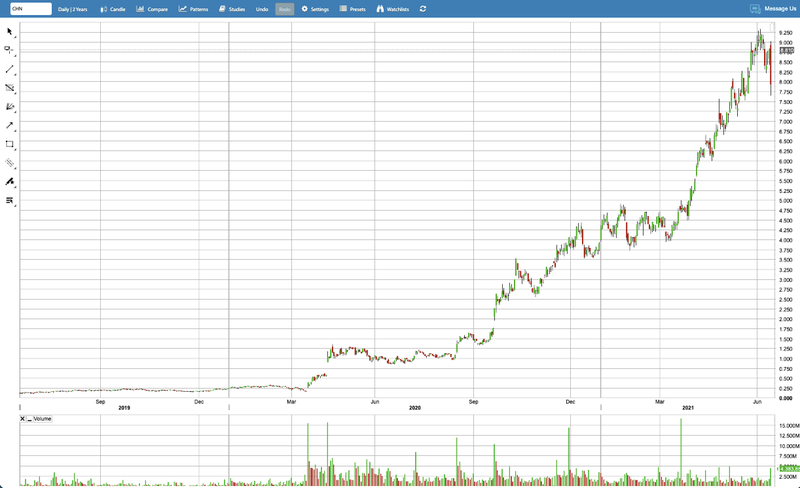 Here you can see MAN's ground in relation to Chalice Mine's discovery - this is a regional aeromagnetics map, MAN's ground is on the right side marked in red - note the electromagnetic anomalies that MAN is drilling into right now: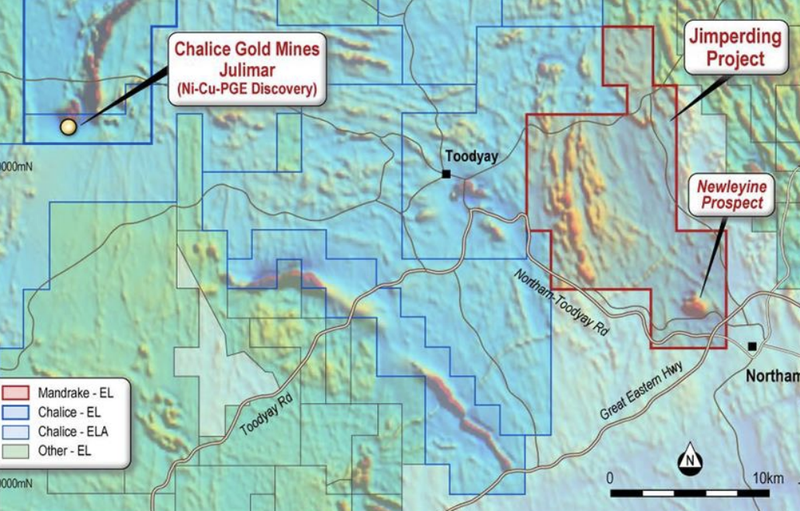 Our MAN investment plan
Investing in ASX explorers like MAN at the drilling stage while awaiting results is a high risk / high reward strategy. Remember to only invest what you are comfortable to lose, as a bad result in the coming weeks could see the share price plummet.
However a successful result could see MAN's market cap surge up many times from its current valuation.
We invested in MAN in March this year in the lead up to this drilling event right near the $2.75BN Chalice.
We invested early in MAN, months before drilling, so we have been able to reduce our position as the share price rose in the lead up to drilling. We have not fully free carried yet but will look to do so and hopefully take some profit closer to the drill results.
We really like that MAN just raised $12M (at 20c) - so now even if the first drill result does not deliver a massive success, as MAN shareholders we will live to fight another day as MAN now has a few more rolls of the dice using the $12M in the bank. It's got a pipeline of drill targets beyond this current drilling event to work on.
We also decided to participate in MAN's recent placement at 20c.
After Chalice - Julimar peer's successful drill results - a case study
To get an understanding of the upside over the coming weeks in MAN, Caspin Resources, another stock in the Julimar Province, released its own Julimar drill results on 24th May.
After closing at 86c on the day prior, on that day Caspin shot up to $1.83, then in the days following it rose as high as $2.92 - a gain of 239% over 10 days.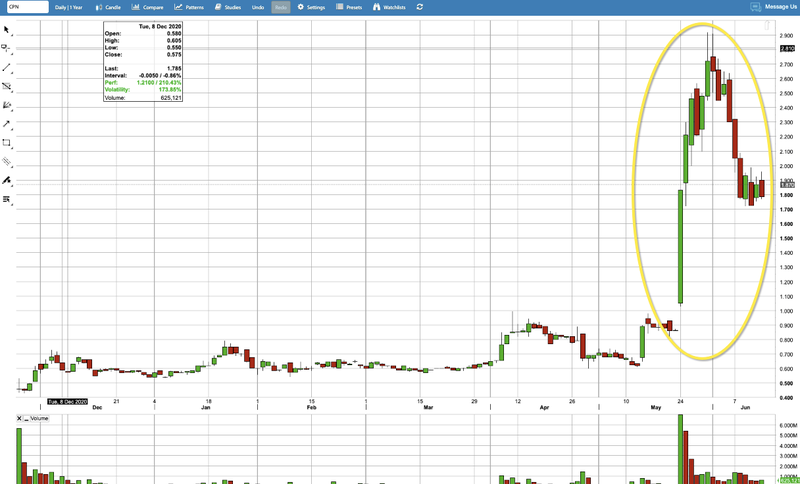 Interestingly, MAN pegged its ground long before the rush to the region created by Chalice's discovery.
The catalyst: MAN drilling now - results in 3 week
MAN is drilling its Newleyine prospect, part of the Jimperding Project, which is only 30km east of Chalice's Julimar PGE-nickel-copper billion dollar discovery in the same geological terrane.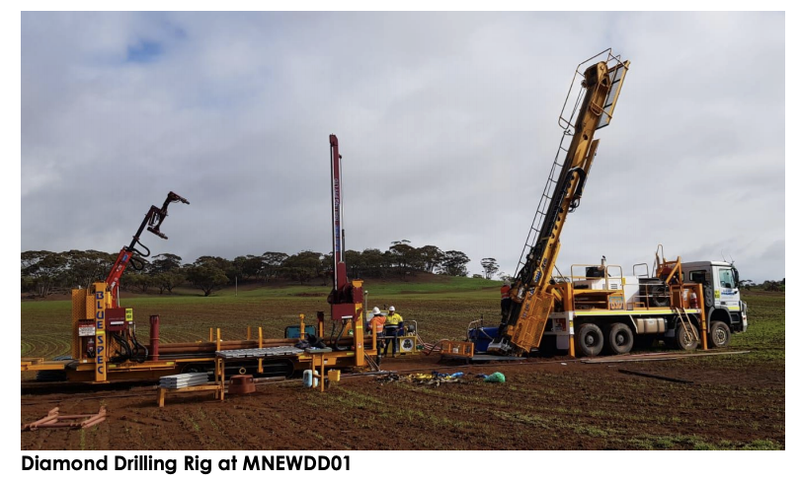 Now that the drill rig has started spinning for MAN and it has just completed a $12M capital raise, here is what we might expect to see from MAN over the coming weeks, based on MAN's announcements and our knowledge of how exploration campaigns typically run:
Visible sulphides in drill core? This could happen at any stage during drilling and would be an excellent result.
Downhole EM programme: This can start once drill holes target depths have been reached, and will aim to identify any 'off hole' targets - which could lead to a bigger drilling programme.
Drilling completed: Drilling is expected to take ~ 3 weeks, ending in mid-July.
Drilling assay results: This will probably take another 3-4 weeks after drilling ends, and is where we will get the best indication of whether the drilling was a success or not.
Further work on other targets: During drilling, we would probably expect MAN to run more EM surveys and sampling programmes with a view to identify follow up drill targets.
Soil sampling at its NT project: MAN has another project in the NT that should generate additional newsflow.
MAN's first drilling on its Julimar targets is a much anticipated event for holders and an exciting time for MAN on the cusp of a potentially transformational drilling event.
Good luck to all holders!
---