2,600% Return on Discovery. ASX:MAN the First to Drill Test 30km Nearby
Mandrake Resources Limited (ASX:MAN) is set to begin a potentially company-making drilling program at the highly prospective Newleyine PGE-Ni-Cu target, part of its Jimperding PGE-Ni-Cu Project in WA.
Drilling will start this month, with MAN to be the first ASX company to drill a Julimar-style EM target since Chalice Mining's billion dollar Julimar discovery in early 2020.
Chalice is one of the top performing companies on the ASX after opening up an entirely new minerals province – the stock is up over 2,600% since January 2020, and now commands a $1.56BN market cap: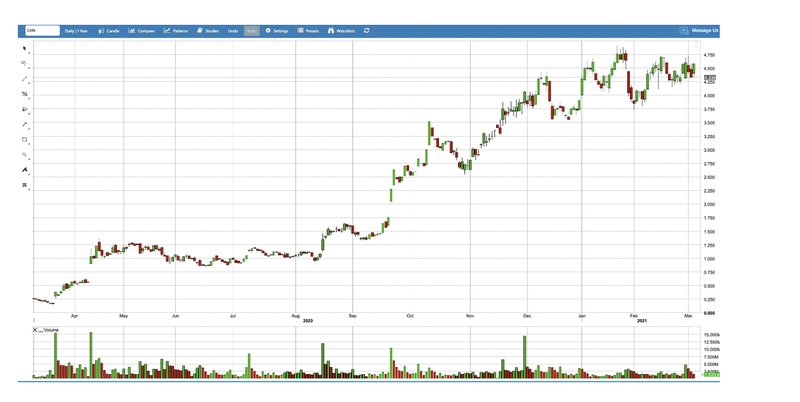 MAN is currently capped at $40M and is aiming to emulate a Chalice like discovery over the coming weeks and months. After securing an all-important land access agreement, the next major step is the upcoming drilling programme.
Mandrake controls 100% of a 140km2 exploration licence prospective for PGEs/Ni/Cu in the exciting Jimperding Metamorphic Belt, 70km NE of Perth.
Notably, Chalice's discovery is situated just 30km west of MAN's targets.
We have invested in MAN for several reasons:
Potential company-making drill program: Mandrake's proximity to Chalice puts it in the best position to capitalise further in this region and potentially make its own game-changing discovery.
First to drill since Chalice: Mandrake is at a more advanced exploration stage in its exploration than other ASX-listed companies in this region and will be the first ASX-listed company to drill a genuine EM target in the area since Chalice made its billion dollar discovery.
Cash at hand: $4.6M to carry out its drilling program and further exploration.
Strong management team: Combined, the management team has over 50 years' experience leading resources companies.
Tight capital structure: The top 20 shareholders hold 40% of the company
Diversification: Mandrake will also drill its underexplored Berinka Gold/Silver/Copper Project in the NT in April/May this year.
Interestingly, Mandrake applied for the licence that comprises the Jimperding Project, prior to Chalice's Julimar discovery in March last year and prior to Chalice pegging over 2,000km2 of ELAs contiguous to the Jimperding Project.
As such, this is a highly anticipated drilling event that could see Mandrake's current $40M market cap rise considerably on the back of positive results.
How MAN's Newleyine stacks up
There is a lot to like about Newleyine, especially when you take a side-by-side comparison to Chalice's Julimar discovery.
In fact, short of a significant PGE discovery, Newleyine ticks all the same boxes.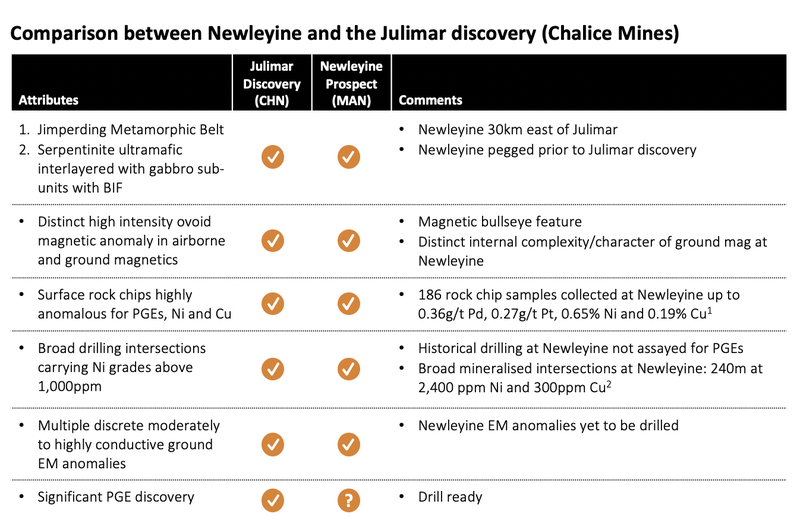 It will be interesting to see what comes of MAN's imminent drilling program, but those familiar with Chalice, know that Chalice's discovery was Australia's first major palladium discovery, unearthing an entirely new minerals province that is shaping as a major deposit of critical metals for a clean energy future.
This region includes palladium, nickel and copper and MAN will be next to drill here.
The catalyst – MAN set to drill for a potential Chalice-like discovery
Mandrake Resources is now just weeks away from drilling the promising Newleyine PGE-nickel-copper prospect, which is part of the Jimperding Project in Western Australia.
Drilling will test three discrete late-time EM bedrock anomalies that geophysical interpretation suggests could be the response of massive sulphides consistent with Julimar-style PGE-Ni-Cu mineralisation.
As stated, this prospect is just 30km from where Chalice made the Julimar discovery that turned it into a billion dollar company.
You can see the proximity of Jimperding and Newleyine to Chalice in the map below.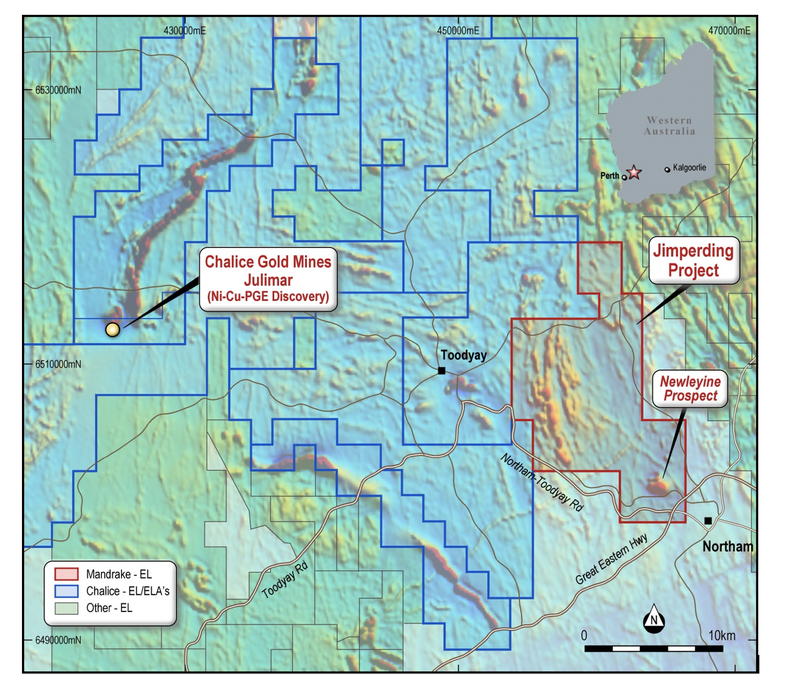 It was just last week, that Mandrake entered into a binding Land Access Agreement with the private owner of the Newleyine property.
The Land Access Agreement gives Mandrake continued access to Newleyine, where it will conduct exploration activities including the soon to start drilling program.
This will be the first drilling opportunity in the same geological terrane since the Chalice discovery.
Mandrake has identified multiple similarities to Julimar at Newleyine, including the presence of several large electromagnetic (EM) conductor plates that will be tested as part of the upcoming drilling program.
Pursuant to the Land Access Agreement, Mandrake will pay the property owner $20,000 for access for the first year, with an option to secure a second year for a further $20,000.
Option to purchase Newleyine
Mandrake also has the option to purchase the ~377-hectare Newleyine property and the associated mineral rights (with the exception of gold, silver and other precious metals, (which MAN will retain the right to explore/exploit under the current EL).
This option is vital in that would give Mandrake ownership of the relevant parts of the property should it make a commercial discovery at Newleyine.
The purchase of Newleyine would eliminate any obstacles in the development of the project. It is important to note that this option will only be exercised in the event of a commercial discovery.
Mandrake will pay a non-refundable option fee of $230,000 per annum (for a maximum of 2 years) for the exclusive option to purchase the Newleyine property and associated mineral rights.
The option also includes an $8M or 5% royalty on base metals and a 1.25% royalty on PGEs.
Prior exploration gives MAN confidence to proceed
There is a history of exploration at Newleyine, which points to the potential for Julimar-style PGE-Ni-Cu mineralisation.
Australian Anglo American (AAA) first assessed the property for nickel sulphides, followed by mapping and sampling of 91 rock chips undertaken by North Flinders Mines (NFM) in 1978.
NFM's rock chip results were consistent with more recent MAN rock chip sampling, however NFM did not assay for PGEs leaving the door wide open here for Mandrake.
The following diagram shows rock chip and drill collar locations within the original Newleyine prospect.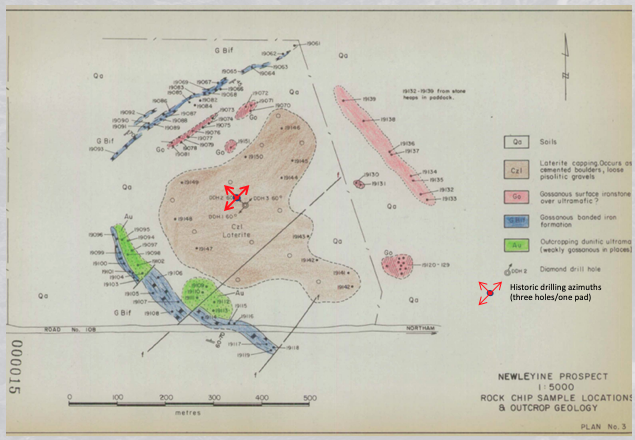 Previously, in the 1960s, AAA drilled three speculative exploratory holes from the centre of the ovoid feature ('ultramafic pipe'), but no EM was conducted to generate the drill targets.
However, drilling returned widespread Ni-Cu-Fe sulphide mineralisation of 0.24% Ni and 172ppm Cu over drill widths of up to 240m (total length) through a dunite body.
Again, note that PGEs were not assayed.
Positive results all round
Surface nickel and copper concentrations have been found to be consistent with historical results mentioned above.
Grades up to 0.36g/t Pd and 0.27g/t Pt confirm the ultramafic intrusive at Newleyine is highly fertile for PGEs, which remember were not previously assayed.
96 rock chip samples collected, showed consistent anomalous nickel and copper across Newleyine – up to 0.65% Ni and 0.19% Cu.
Samples were mostly outcrop/subcrop with very little surface cover.
You can see the surface concentrations below.

Further to this, detailed mapping identified a distinct ultramafic unit (dunite/serpentinite) with anomalous PGE-Ni-Cu concentrations.
The company is excited by the fact that Conductor A (as shown below) is bounded by two faults: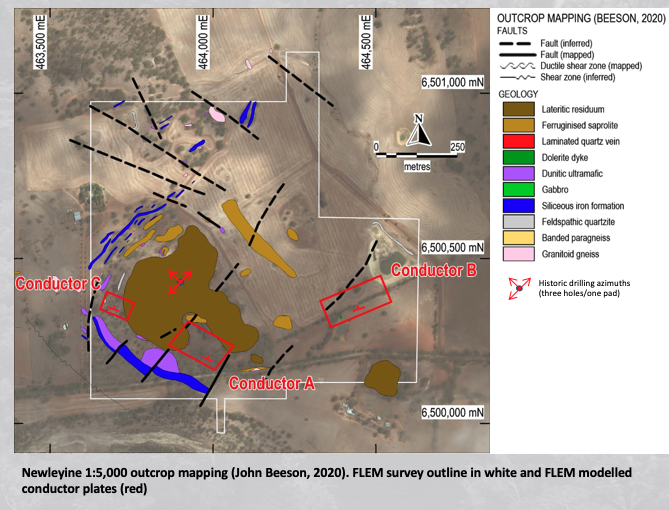 In other words, this is a highly prospective play with results from FLEM and EM surveys illustrating how consistent with Newleyine is with Chalice's EM conductors.
Note that Chalice had only one false positive out of all of the EM conductors drilled, which bodes well for MAN's upcoming drill program and work beyond.
Recent work at Jimperding
While Newleyine is the immediate drilling focus, MAN has been hard at work across the entire Jimperding Project.
In late December last year, MAN completed a whole-of–permit (~142km2) airborne electromagnetic (AEM) survey.
The heliborne AEM survey utilised Geotech Limited's Versatile Time-Domain Electromagnetic (VTEMTM Max) geophysical system surveying approximately 700 line-kms at 200m spacing.
The objective of the survey was to generate targets prospective for 'Julimar style' mineralisation and the results identified numerous strong EM conductors across the Jimperding Project.
"The airborne EM across Mandrake's Jimperding EL is a crucial baseline dataset that allows for the identification of bedrock conductive sources such as nickel sulphide mineralisation," said Mandrake Managing Director James Allchurch.
"Several very promising late-time conductors have been identified coincident with rocks and magnetic anomalies that demand immediate follow-up.
"Field surveys will look to characterise any outcrop in the area with ground EM and drilling to follow."
The targets are laid out below: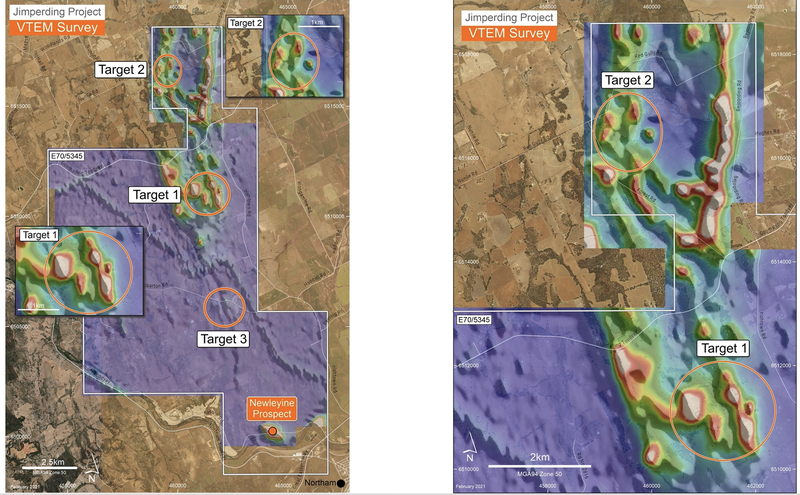 Jimperding AEM survey preliminary interpretation (CH33image) showing larger targets.
The company sees Targets 1 and 2 (as above) in the north of the Jimperding Project as compelling given their relatively strong conductance, proximity to known metamorphic rocks and association with adjacent magnetic responses.
The final word
Can Mandrake deliver another Chalice-like discovery?
We are about to get a much clearer idea of the potential here, with drilling of the Newleyine prospect to start in the coming weeks.
With MAN set to become the first ASX company to drill a Julimar-style EM target since Chalice in early 2020, we are expecting a surge of new investor interest in the coming weeks ahead of drilling, and then again as the results start to come in.

---