Same rocks. Same region. Similar anomaly. Here's why we like LYN right now

Disclosure: S3 Consortium Pty Ltd (the Company) and Associated Entities own 2,631,250 LYN shares and 300,000 LYN options at the time of publishing this article. The Company has been engaged by LYN to share our commentary on the progress of our Investment in LYN over time.
Out of halt, and more material drill results delivered...
There's a fast emerging rare earths / critical metals province in remote WA that is capturing investors attention - the West Arunta Province.
Our Investment in the region is the early stage explorer Lycaon Resources (ASX:LYN).
The West Arunta Province was put on the map late last year, when WA1 Resources made a niobium/rare earths discovery that sent its share price from ~13.5c to a high of $3.02 per share.
That's a return of ~2,200% post discovery ... for those lucky enough to buy at the bottom and sell at the top (very hard to do).
After coming out of a trading halt this morning, WA1 was up 18% with a market cap of $99.6M, having announced more high grade shallow drilling results and confirming that its carbonatite discovery continues at depth.
LYN, meanwhile, is still a tiny $12M market cap stock, with $2.8M in the bank at 31 December.
LYN has a very tight capital structure, with only 37 million shares on issue, meaning it's subject to volatile share price movements - up or down.
LYN's project shares some important characteristics with WA1 Resources project "pre-discovery":
✅ Same province: LYN's project is just ~94km away from WA1 Resources' discovery.
✅ Similar magnetic feature: LYN's project features a 700m long magnetic feature similar to the feature WA1 Resources drilled to make its discovery.
✅ Same rock type: LYN's project hosts the same type of rocks WA1 made its discovery from - carbonatites. Carbonatites are known to host high grade niobium and rare earths.


✅ Pegged pre WA1 discovery: The vendor of LYN's project pegged this ground BEFORE the WA1 discovery, meaning the ground was secured when the West Arunta region wasn't of interest to anyone.
It's worth noting though that LYN is at a very early stage in its exploration here, with plenty of work to do before it drills. We are prepared to be patient.
Below is an image of the EM anomaly where WA1 put out news from today. At the top are LYN's 'Stansmore' targets, below that is the anomaly that WA1 drilled into and made its Luni discovery.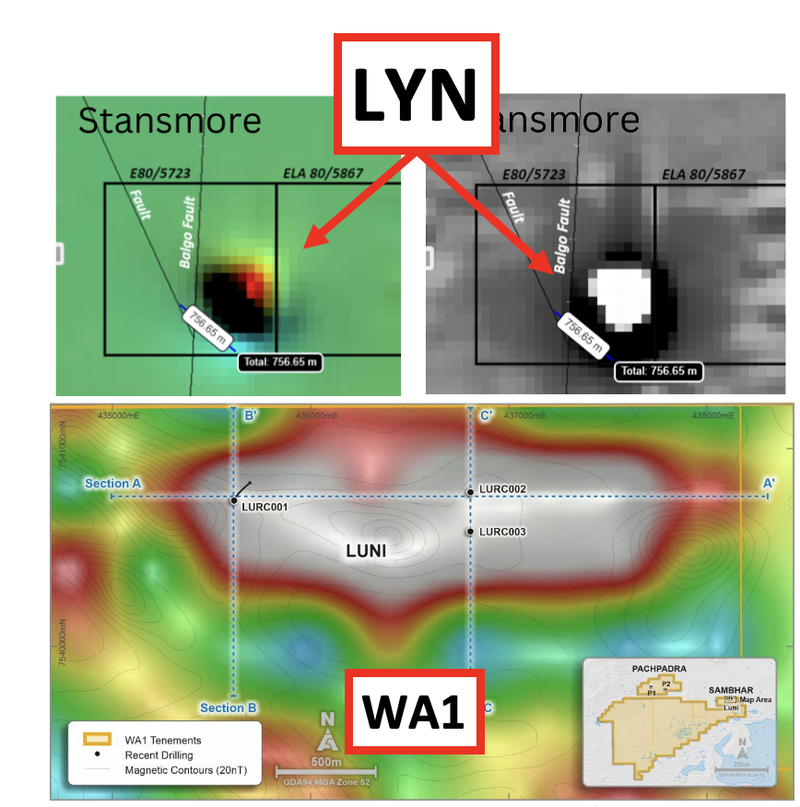 We will be watching LYN this year as it prepares all the preliminary work required to identify drilling locations and prepare for drilling, with the ultimate aim of making a discovery of its own.
This can take time though, a few drilling campaigns, and a lot of hard work - and even then there's no guarantee a discovery will be made. As we noted, we are prepared to be patient with our Investment here.
The other explorer of note in the region is Encounter Resources, which is capped at ~$66M and has geophysical anomalies of its own that it is looking to drill this year.
As LYN Investors, we are also keeping a close eye on Encounter as it also builds up to drilling.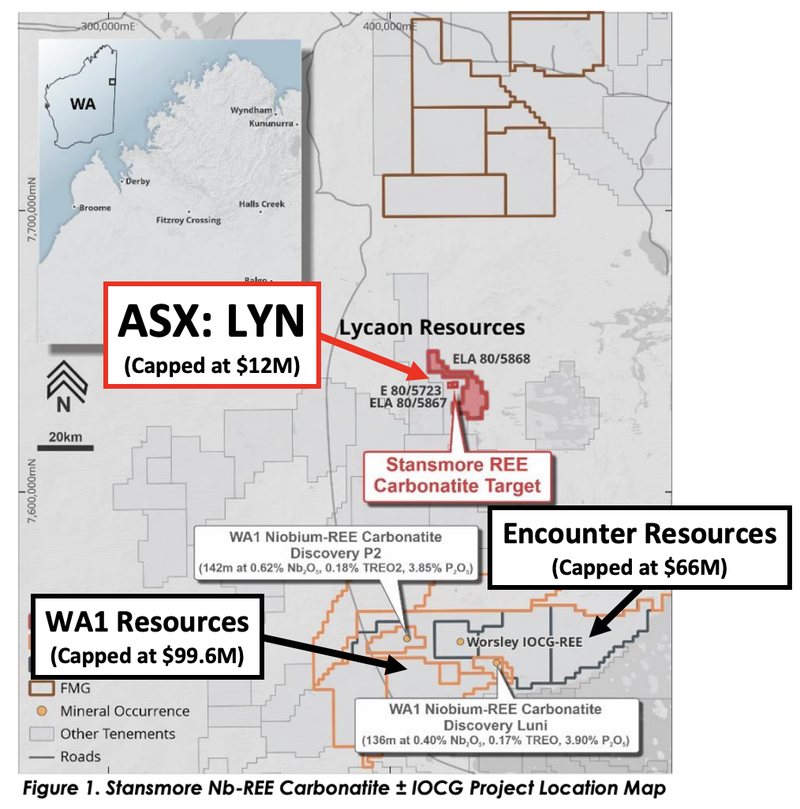 LYN is currently negotiating land access agreements so that fieldwork can be completed in preparation for the drilling of its highest priority "Stansmore" target this year.
Our LYN Investment
We are a substantial holder in LYN, currently owning 7.13% of the company in total across our Company and Associated Entities.
Our average Entry Price since we first Invested 18 months ago is 25.6c.
We Invested in LYN as we are hoping to see it deliver a metals discovery from one of its projects, and ideally re-rate in a similar way to WA1 Resources one day.
Capturing the leverage to a new discovery is what investing in high risk exploration stocks is all about.
LYN currently makes up less than 6% of our Portfolio. This portion is large enough so that if LYN makes a successful discovery it should have a meaningful impact on our overall Portfolio performance. At the same time, our holding size won't negatively impact our Portfolio in any major way if the company fails to make a discovery.
We have been Investing in junior explorers like LYN for decades and have seen our Investment through to both failed drill programs and successful discoveries.
No matter how good the pre-drill data looks there is always a chance a drill program delivers no discovery and so we hold these types of exposures as part of a diversified portfolio.
To counter the high chance of exploration failure, we like to make our Investments early — well before the drill rigs are on site and at valuations where even if the company were to make no discovery, the losses don't end up impacting our broader Portfolio's performance.
This requires a significant amount of patience, especially with early stage explorers like LYN, who we think are at least six months away from drilling its key project.
We're comfortable holding a relatively large position going into a drill program later this year which is the basis for our "Big Bet" for LYN.
Our 'Big Bet'
"LYN's share price re-rates by over 1,000% off the back of a new discovery and the definition of a deposit significant enough to move into development studies"
NOTE: our "Big Bet" is what we HOPE the ultimate success scenario looks like for this particular Investment over the long term (3+ years). There is a lot of work to be done, many risks involved - just some of which we list in our LYN Investment Memo. Success will require a significant amount of luck. There is no guarantee that our Big Bet will ever come true.
To monitor the progress LYN has made since we first Invested, we maintain this LYN "Progress Tracker":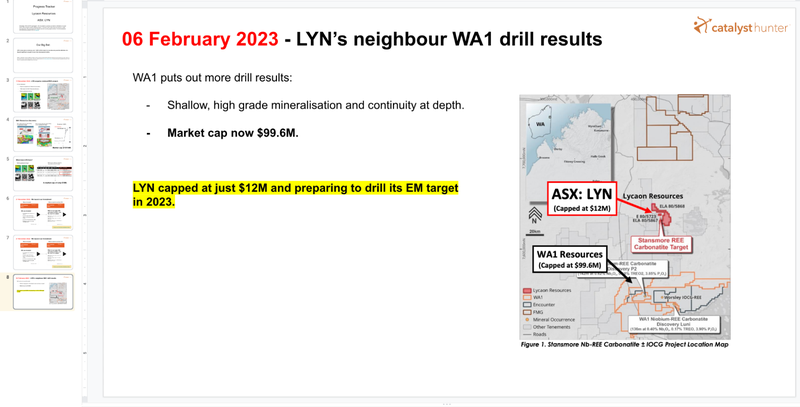 More on today's WA1 results and what they mean for LYN
The drill results WA1 Resources announced today are from its "Luni" anomaly where the company first announced a discovery back in October 2022.
The Luni discovery is what started WA1's share price re-rate from 13.5c per share to a peak of $3.02.
Below is an image of the 3km x 1km geophysical anomaly WA1 drilled to make that discovery.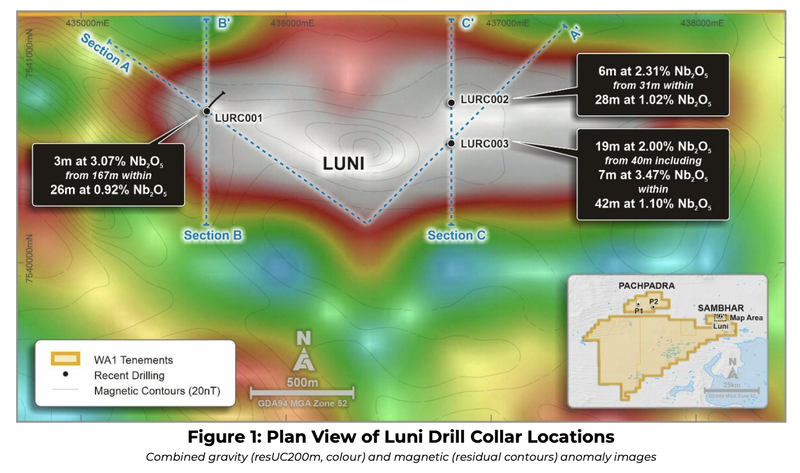 Below are the cross sections from the drill program — it was pretty straightforward in that WA1 just drilled straight into the anomaly.
And it worked...
WA1 hit a mineralised carbonatite system with a discovery intercept of ~54m at 0.62% niobium, 0.18% rare earth oxides, and 3.85% phosphate from 162m.
On the day of that announcement, WA1's share price went from 13.5c per share to a high of ~70c.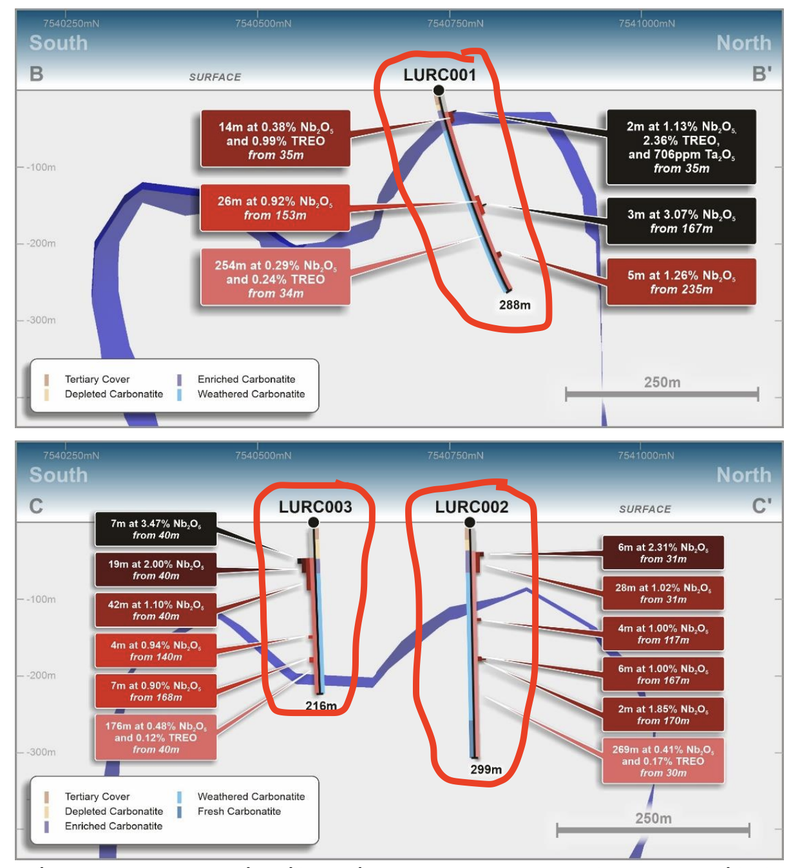 LYN's geophysical anomalies - similar to WA1 Resources
LYN's project has similar geophysical anomalies to WA1 Resources - LYN's highest priority Stansmore anomaly is ~800m in size.
More importantly though, LYN has historic drilling information which confirms the same type of rocks underground - carbonatites.
Carbonatites deposits are important sources of global rare earth elements and niobium production. The world's largest REE mine, Lynas' Mt Weld deposit, and the world's three major operating niobium mines are all hosted in carbonatite deposits.
This year we will be watching LYN build up to a drilling event to test its anomaly, hosted in carbonatite rocks - in the same way WA1 did.
Below is an image of LYN's highest priority "Stansmore" anomaly side by side with WA1's anomaly: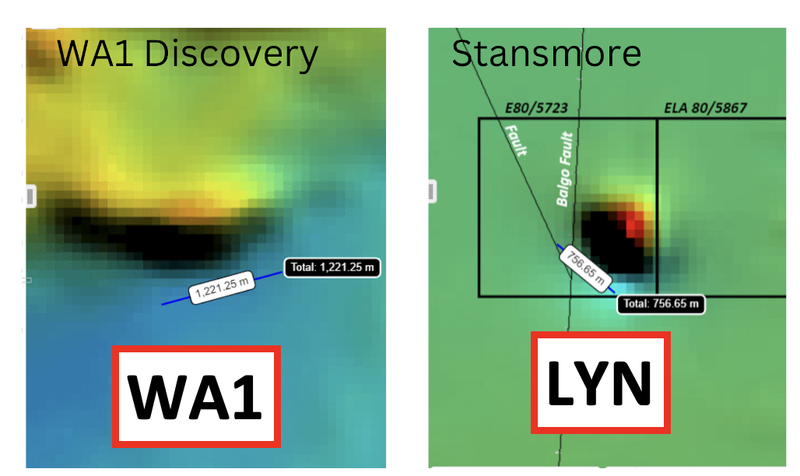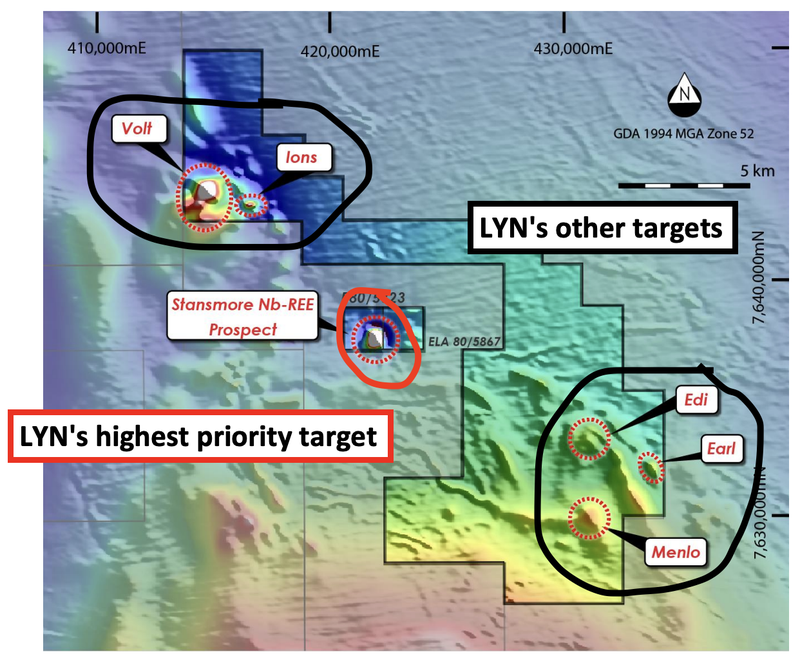 Our "nearology" rating for LYN
LYN is effectively a nearology Investment right now, and so we have evaluated the company based on our "Nearology Scale".
"Nearology" in exploration basically means backing an explorer that is searching for a discovery NEAR a recently made discovery. This usually considers a combination of distance and geological similarities.
🎓 For a detailed run through of how we rank nearology investments check out our educational article here: How to evaluate "nearology" investments.
At a high level, our scale works as follows (rating of 4 being the best):
2. ✅ "Entry level" nearology - If two projects are geographically close its good. But if the geology is different, then it's almost irrelevant.
In terms of geographical distance, LYN ticks this box, with its project sitting ~94km to the north of WA1 Resources and LYN's ground is prospective for carbonatite hosted niobium/rare earths.
2. ✅ "Better" nearology - Two projects have the same geology and structures, but having no supporting data or drilling downgrades it.
LYN also ticks this box with supporting data from six shallow RAB drillholes completed by BHP in 1982 which intersected "intrusives and strong carbonate alteration" that may be prospective for rare earth carbonatite mineralisation.
3. ✅ "Even Better" Nearology (LYN fits here) - Two projects have the same geology and structures WITH supporting drilling / geochemistry.
LYN fits in here too with a clearly defined drill target in the form of a ~700m long geophysical anomaly - a similar anomaly to the one WA1 Resources drilled and made a discovery at.
4. 🔲 "Best" Nearology - There is an extension of the same deposit.
LYN isn't in this category, with no existing discovery immediately adjacent to it.
LYN, therefore, ranks a level 3 "Even Better" on our nearology scale.
Not having the "Best" nearology isn't necessarily a bad thing — it gives LYN the potential to define an entirely new discovery.
Another thing worth noting is that usually, companies that are level 4 on our nearology scale are also a lot more expensive - given the market has already made the inference that there is potential for an existing discovery to extend into the company's ground.
It's important to also note the "nearology risk"in our LYN Investment Memo: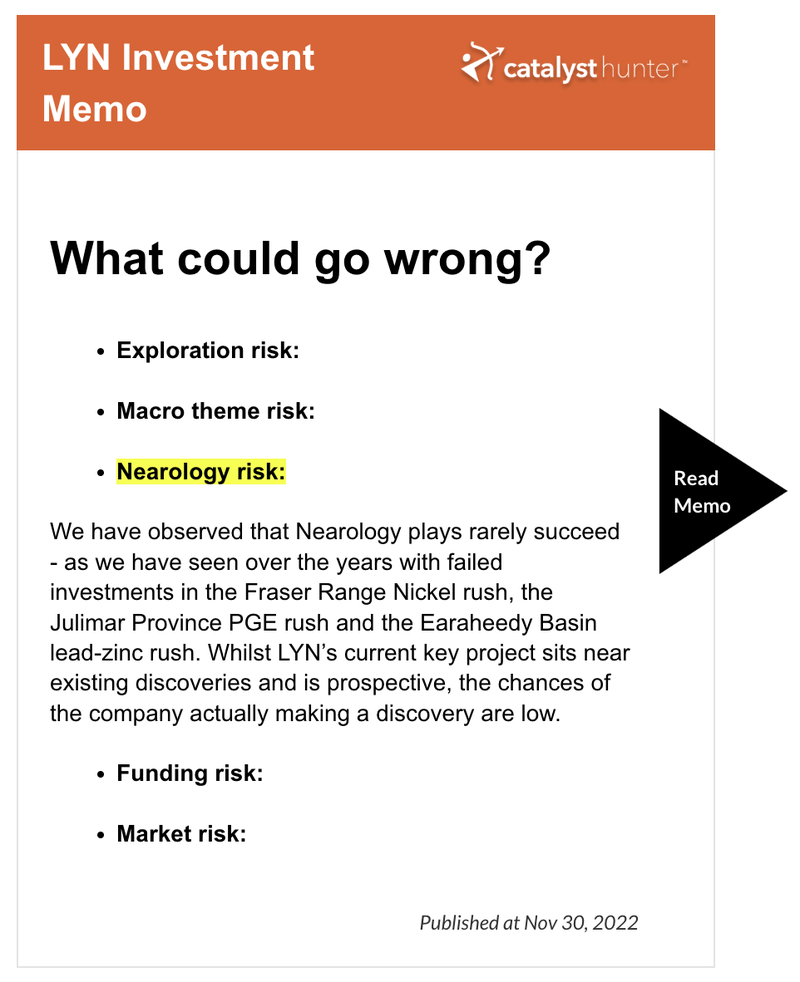 What's next for LYN?
Target generation work at niobium/rare earths project 🔄
LYN is currently running through the land access approvals process.
After land access is secured the company plans to get on the ground and run a small scale drill program, ground based gravity surveys, seismic and geochemical sampling.
This data will be used to rank the highest priority drill targets for a follow up drill program later this year.
While work is ongoing at the project level, we are still waiting for the company to get shareholder approvals for the acquisition to be completed. LYN also needs to secure ministerial approvals.
After these conditions are met LYN can settle the acquisition.
Target generation work at nickel, copper, cobalt PGE project 🔄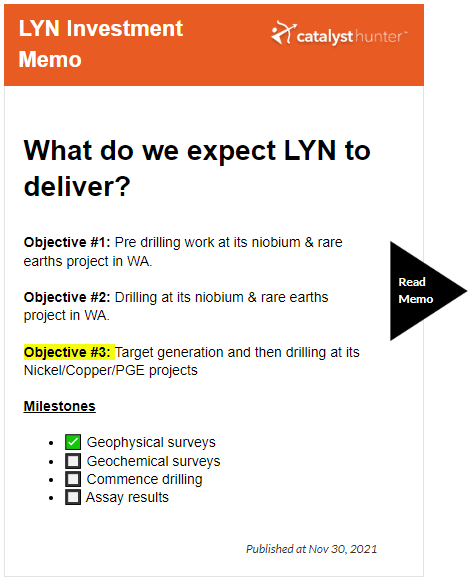 We set target generation work at LYN's East Kimberley project as key objective #3 in our Investment Memo.
EM surveys were recently completed and results are being reprocessed.
After the EM survey results are in LYN will look to get drilling approvals completed before a drill program later in the year.
Here LYN will be looking to drill a ~800m deep hole to test for a discovery that's similar to Panoramic Resources' (capped at $358M) Savannah West discovery.
LYN hasn't yet provided any guidance for the timing on this drill program.
Our LYN Investment Memo
Below is our LYN Investment Memo where you can find the following:
Key objectives for LYN for the coming year
Why we are Invested in LYN
What the key risks to our Investment thesis are
Our Investment plan
---