Spodumene alert: Has LRS just made a new lithium discovery?
Disclosure: The authors of this article and owners of Catalyst Hunter, S3 Consortium Pty Ltd, and associated entities, own 12,475,000 LRS shares at the time of writing this article. S3 Consortium Pty Ltd has been engaged by LRS to share our commentary on the progress of our investment in LRS over time.
We originally invested in Latin Resources (ASX:LRS) in late 2020 primarily for its WA halloysite project.
Before the halloysite project though, LRS had spent years in South America looking for lithium.
With lithium prices up over 500% in the last 12 months, and the broader investor community catching onto lithium, LRS is wisely drilling its hard rock lithium project right now in Brazil.
Yesterday afternoon LRS announced that it had intersected multiple zones of spodumene bearing pegmatites immediately down-dip from high-grade (2.71% lithium and 1.45% lithium) outcropping pegmatites.
LRS is only halfway down the first hole, and there are 13 more to go over a 2,000m drill campaign.
Below are two images of the drill cores from the first hole, showing those potentially lithium bearing spodumene crystals.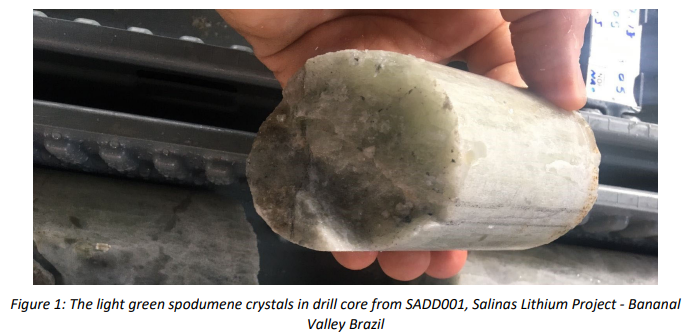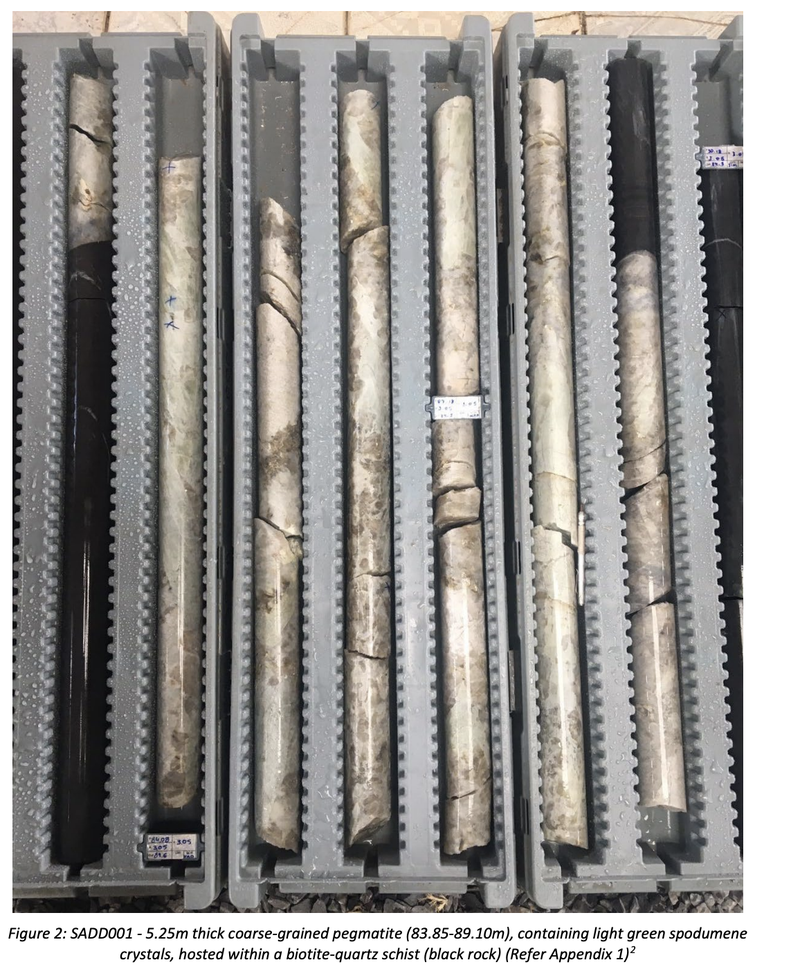 We expect to see the more visuals from the drilling program come back over the next four weeks before the focus turns to the assay results.
We have mentioned before that LRS have spent years looking for lithium in South America. During the last fieldwork program LRS managed to sample two pegmatite outcroppings right above where this spodumene intercept was made.
The significance of this is that spodumene generally has one of the highest lithium contents of all known minerals and is a proven source material for battery production.
LRS has only just started the drilling program with the two diamond drilling rigs arriving on site on the 8th of February. The whole drilling program is expected to run for 14 holes over ~2,000m.
With the first hole and only 90m into the drilling program, LRS has already managed to intersect 5.25m of spodumene bearing pegmatites.
This is an amazing start to the drilling program and if the first 90m is anything to go by, it looks like this could be the start of a new lithium resource discovery for LRS.
Importantly LRS's grounds sit in the same part of Brazil that is home to US$1 billion capped TSX listed Sigma lithium and is home to 100% of Brazil's lithium reserves.
Sigma's project has a resource of ~46mt @ 1.38% lithium and is expected to come online in 2023 - Which we think will bring interest to the region and explorers with lithium projects in the area.
If LRS can turn this first intercept into discovery with a JORC resource then it will enter the conversation as a serious lithium explorer in a part of the world where majors like Sigma are pouring capital into.
LRS still has another 13 drill holes to go before it can confirm today's spodumene intercept as one part of a larger lithium deposit.
Finding traces of lithium isn't enough for LRS to claim a discovery just yet, as with all exploration stocks, the proof will be in the assay results.
We expect to see the assays from this first hole prioritised by LRS and in the meantime are hoping we get more of the same in the remaining part of the drilling program.
If the grades are anything like those rock chips picked up from surface, then LRS is definitely onto something interesting here.
How will LRS fund this?
Now before diving into yesterday's results we should point out that diamond drilling doesn't come cheap and we know that LRS was cutting it close with its cash balance.
LRS at the end of the December quarter had $643k in cash but has since brought in $201k through option conversions.
This is unlikely to be enough to fund the drilling program in its entirety - so LRS will need to raise some cash soon. We think this could be done either via pulling in the "in the money" options it has, or tapping the market.
After yesterday's positive reaction to the news, as long term investors we would like to see LRS deliver a few more decent drill holes before they consider which funding strategy to go with.
LRS still has ~477M in options all deeply in the money from 1.2-3c which if exercised could net LRS ~$6.5M.
Of course, it is unlikely all of these options get exercised especially given the majority of them are listed and so the holders could just sell them on market, but LRS option holders in CY21 converted almost ~$2.3M.
Should any more of these options get converted it would give LRS some more time to drill out the lithium project and maybe look to raise capital after it is more clear what the company has on its hands - and by that time the share price could be a bit higher.
As with all "in the money" options, they normally get exercised so that the holders can sell some of these shares on market.
So even though it would provide LRS with cash, it is likely to create some selling pressure and maybe mean the share price moves sideways for the periods of time after the exercising happens.
If LRS can continue to put out more speckled spodumene drill intercepts, and the market continues to be bullish on lithium, then these funding issues and option exercises will matter less.
Below is our 2022 Investment Memo for LRS where you can find a short, high level summary of our reasons for investing.
The ultimate purpose of the memo is to record our current thinking as a benchmark to assess the company's performance against our expectations 12 months from now.
In our LRS Investment Memo you'll find:
Key objectives for LRS in 2022
Why we invested in LRS
What the key risks to our investment thesis are
Our investment plan
To read our LRS Investment Memo simply click on the button below:
[READ THE INVESTMENT MEMO HERE]
More on yesterday's news:
LRS' current diamond drilling program has been set at 14 holes over 2,000m, primarily designed around targeting the areas of outcropping high grade lithium bearing pegmatite structures.
LRS found these targets in the previous mapping and geochemical sampling programs where rock chips taken from outcropping spodumene bearing pegmatites returned lithium grades of 2.71% and 1.45%.
These are high grades when talking about hard rock lithium deposits like Sigma Lithium's and other the ones typically found in this area.
For some context, Sigma's deposit has a 46mt resource @ 1.38% lithium and WA based lithium miner Pilbara Minerals Pilgangoora project has a 309mt resource @ 1.14% lithium.
Of course, those LRS grades are just in some rock chips, and we will find out the grade in the drill core once assayed.
And the more holes drilled, the more the average grade goes down, especially at the resource identification stage. However, what the rock chip grades can give us is some indication of what we might expect to see in assays.
LRS previously put together all of the data gathered during these sampling programs and managed to put together a 1.2km strike length over its project area which the company geologists thought should be prioritised for drill-testing - which is happening right now.
We covered all of this when LRS first got the results from that sampling program in a previous note which you can check out here.
Below is that 1.2km strike length shadowed in red. The small yellow squares represent the rock chips that were collected.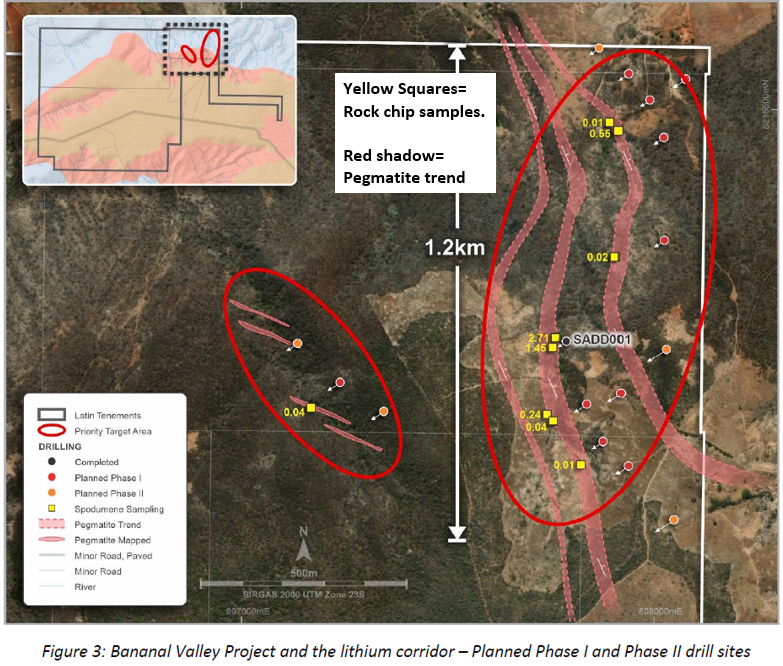 LRS is now drilling straight down this 1.2km long area and with the first drill hole (right next to the high-grade outcrop samples) and has already managed to hit a spodumene intercept.
The idea is that where the outcropping pegmatites returned high grade lithium, drilling beneath would show an extension to that high grade structure.
LRS is drilling to try and prove that this is the case - so far so good with hole 1.
If LRS can hit anything in between the grades of the rock chips then LRS could really be onto something substantial.
To get an idea of what the potential is we can compare hard rock spodumene in this part of Brazil's Jequitinhonha Valley to the lithium mines in the Pilbara, WA.
In the Pilbara typical spodumene grades are 1.1 to 1.3-1.4% whereas the hard rock deposits where LRS' project sits average grades of ~1.5-2%.
For the current round of drilling, an amazing result for LRS would be if the spodumene intercept made today and any other intercepts LRS might strike return ~1.5-2% lithium grades when assayed.
However, given where spodumene prices are trading at all-time highs we think anything >1% lithium grades and a continuation along strike will be enough for LRS to confirm this as a new lithium discovery.
What's next at the Brazilian lithium project:
14 hole, 2,000m diamond drilling program 🔄
LRS is only 1 hole into the 14 hole drilling program with ~90m drilled as of today's announcement.
We expect to see some more visual drill cores from the drilling program come back over the next 4 weeks before the focus turns to the assay results.
We are hoping to see more spodumene intercepts and then the assays confirming that they are lithium rich with grades >1%.
How are LRS funding all of this?
With only $643k in cash on December 31st 2021, we can already hear investors saying "the company needs to raise cash" or "dilution is coming", and this would be a valid concern.
But it doesn't mean LRS don't have financing options available to them.
LRS since the end of the December quarter has had $201k in options converted and in CY21 had almost ~$2.3M in conversions take place.
After taking a look at LRS' capital structure, we calculated that there was $6.5M in options in the money. Meaning if all of the options were exercised today then LRS would net $6.5M.

Hypothetically if all of these were exercised today (which we don't expect to happen), LRS would have no issues financing at least two or three drilling programs and if a discovery is confirmed maybe even through to a JORC resource estimate being put together.
We also went back and calculated that in CY2021 LRS option holders converted ~$2.3M in options, so it has been happening in the past.

It's also worth noting that LRS also holds ~$2.5M in ASX listed Solis Minerals at yesterday's market close price of 31c. As major holders of Solis Minerals, we don't expect them to sell this down for cash, but it gives the company some optionality, whether that be via short-term loans against the shareholding or some other sort of financing arrangement.
Diamond drilling isn't cheap, so we know LRS needs to get some money in the door somehow, and we will be hoping this is resolved without a capital raise at a discount to the current share price in the near term.
If LRS can announce a large lithium discovery and the market continues to be feverishly bullish on lithium, then we suspect the share price will move even higher - this would mean that option holders have more of an incentive to convert their options into shares.
It's a fine balancing act LRS is navigating here, as the lack of cash might be scaring away sophisticated investors who are waiting for a big capital raise to come in.
We haven't listed 'funding' as part of our 2022 Investment Memo because junior explorers need to raise capital all the time and it isn't specific to this year, but ideally, we would like to see those options converted and LRS with a solid cash balance - enough runway to give them plenty of cash for value creating exploration.
What about that WA Halloysite project?
A key part of our investment thesis has always been structured around LRS's halloysite project in WA.
Since making our first investment LRS has done several drilling programs and has already managed to define a maiden 207 Mt JORC resource of kaolinised granite - one of the largest kaolin/halloysite deposits in Australia.

LRS currently have multiple studies progressing over this project including:
Pre Feasibility Studies on a potential DSO operation 🔄
LRS is currently doing desktop studies to see if there is potential to put the resource into production via a direct shipping ore (DSO) mining operation.
The study should include detailed metallurgical test work, mine design and all of the other permitting/logistical solutions that need to be worked through before a PFS can be announced. We expect there to be a lot more news flow from this over the coming year.
The ultimate aim of the study is to see if LRS can get the project into production with low upfront CAPEX. LRS in the presentation done yesterday said this should be done by mid 2022.
Resource update being reviewed 🔄
LRS is also working with mineral resource consultants RSC Global to see if it's possible to get a resource update.
To arrive at this resource update, RSC can use new resource measurement technologies and the samples from the recently completed infill drilling program.
This fits in well with the PFS update that is happening, as any upgrade in the resource would translate into a more positive PFS.
Methane Suppression using halloysite 🔄
In the last note we wrote on LRS we covered the $3.2M research agreement LRS signed to explore methane suppression possibilities using halloysite.
Solving global methane emissions is a very real problem to solve and success here could deliver an outsized return to LRS.
LRS' hypothesis is that by adding halloysite as a feed additive to cattle, the halloysite will store greenhouse gases (including methane) during the digestion process.
Then after digestion, the waste could be used as a biofuel.
This is an interesting application for halloysite if the research and development yield anything.
What we want to see from LRS in 2022 and our Investment Memo:
Our key focus for LRS in 2022 will be based around its Brazilian lithium project and the advancement of the halloysite project in WA.
Below we have set out the key objectives we want to see LRS deliver in 2022: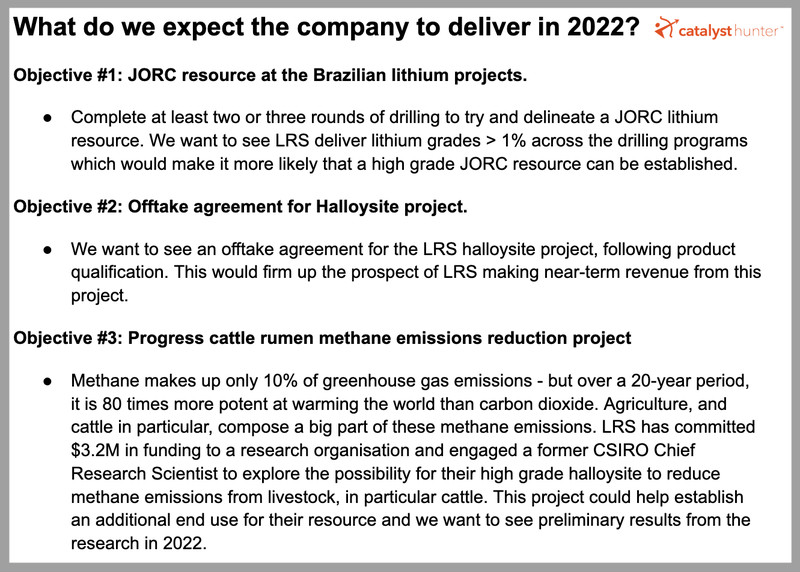 Check out the full memo below where you can find:
Key objectives for LRS in 2022 (The screenshot we mentioned above)
Why do we continue to hold LRS
The key risks our investment thesis
Our investment plan.
Click the button below to read the LRS Investment Memo:
---