Lithium deposit getting bigger - plenty more drilling to come
Disclosure: The authors of this article and owners of Catalyst Hunter, S3 Consortium Pty Ltd, and associated entities, own 5,755,000 LRS shares at the time of publishing. S3 Consortium Pty Ltd has been engaged by LRS to share our commentary on the progress of our Investment in LRS over time.
The fundamentals for the lithium sector continue to get stronger each month.
Chinese lithium imports were up 68% in May on a month on month basis, signalling there is no slowdown in demand for lithium globally.
ASX listed Pilbara Minerals even announced last month an auction for 5,000mt of spodumene concentrate fetched the highest price they had ever managed to achieve.
With the build out of downstream battery capacity increasing, the lithium market is faced with a demand/supply imbalance where new mine supply just can't keep up with demand.
With all of this in mind, our lithium exploration Investment Latin Resources (ASX:LRS) is currently in the middle of a 25,000m drilling program with the ultimate aim of producing a JORC lithium resource over its new lithium discovery in Brazil.
Today, LRS took another step towards achieving this with drilling results confirming that LRS's deposit continues to show commercially viable lithium grades and an increase in the size of its discovery.
Importantly, LRS put out the assay results from its thickest intercept to date returning 25.24m with a lithium grade of 1.25%.
An intercept with both thickness and grade to rival the sort of drilling results LRS's neighbour Sigma Lithium (capped at $2.3 billion) was getting across its project.
This isn't the only good news packed away in today's announcement though.
LRS also announced the following:
Drillholes 19 & 20 both hit multiple new pegmatite structures ranging from 1m to 12m in thickness - The significance of this is that the deposit continues to grow both in terms of WIDTH and DEPTH.
Metallurgical test work has already started - By doing this LRS is effectively fast-tracking the works required to get a JORC resource estimate completed and feasibility studies commenced.
All of this is part of LRS's strategy to get a JORC resource defined on its discovery as soon as possible.
After raising ~$35M recently, LRS is looking to have four drill rigs drilling around the clock to get this done before the end of this year.
In doing so LRS would be following in the footsteps of Brazilian lithium major Sigma Lithium which is currently developing its own project ~100km to the south of LRS.
With a ~$2.3 billion market cap Sigma's project has a total mineral resource of 86mt lithium at a grade of ~1.4% and has a six year offtake in place with LG Energy Solution.
LRS on the other hand is currently running a 25,000m drilling program to fast track a JORC resource for its project.
We think that once LRS has a JORC resource established, the market can start to compare its discovery on a resource vs resource basis against Sigma and other lithium explorer/developers globally.
LRS is currently capped at only ~$131M giving it plenty of room to move higher off the back of a maiden JORC resource announcement.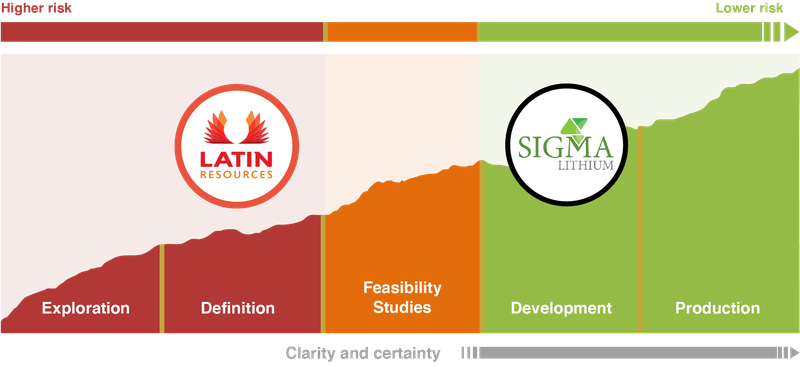 Armed with a ~$40M+ cash balance, LRS is using its financial firepower to fast-track the important maiden JORC resource estimate with drilling and metallurgical test work being done concurrently.
We are Invested in LRS to hopefully see it catch up to its regional neighbour Sigma Lithium as it executes its business strategy.
Below are the key objectives we want to see LRS achieve to get this done. To see the key objectives together with some milestones we set, check out our 2022 LRS Investment Memo by clicking on the image below: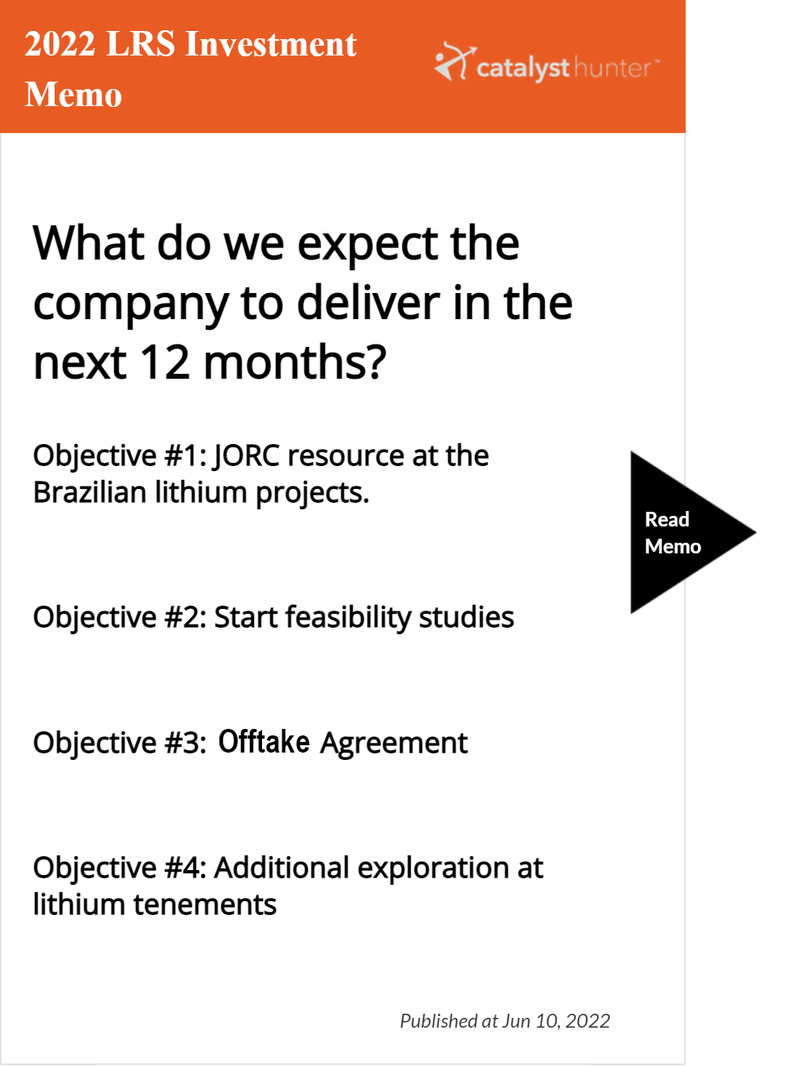 More on today's announcement:
Today's update by LRS can be summarised based on three key takeaways, those key takeaways are as follows:
First is the assay result from drillhole 16:
Today, LRS put out the assay result from the biggest intercept made at its discovery to date, measuring 25.24m with lithium grades of 1.25% from a depth of 94.14m.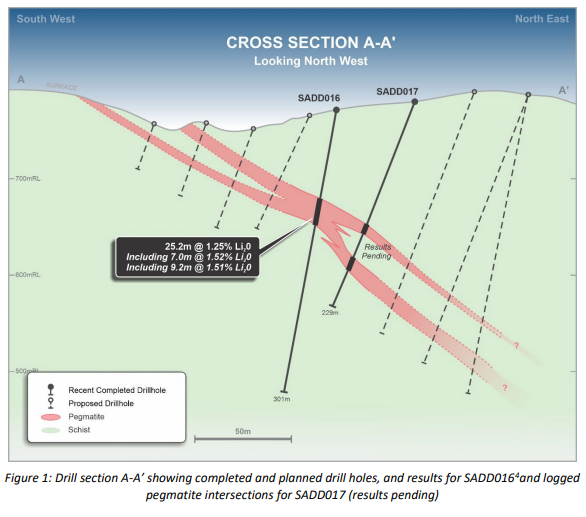 For some context, the majority of Sigma Lithium's resource sits inside orebodies where drilling results delivered average thicknesses between 12m and 20m.
As an example, the second largest resource Sigma holds sits inside the "Xuxa" deposit where pegmatites average ~12–13 m in thickness down to depths of ~259m.
That "Xuxa" deposit has a 17.5mt resource with lithium grades of 1.55%.
LRS's results today measure almost 100% thicker than the average thickness of that Xuxa deposit at 25.2m.
The obvious caveat here is that this is only one drillhole, whereas Xuxa's is an "average" number of many drill holes.
We think that the Colina prospect is now starting to throw up results with grades and thickness on par (if not better) than its neighbour Sigma Lithium (capped at $2.3 billion).
We also note that drillhole 17 has also hit more spodumene bearing pegmatites down dip from the intercept we are focused on.
This is a positive sign indicating that the thickest structure intercepted to date is showing that it gets bigger to the northeast.
Second is the drilling results from drillholes 19 & 20 :
Today's announcement also showed that both drillholes 19 and 20 intercepted NEW spodumene pegmatite structures ranging from between 1m to 12m in thickness.
These two drillholes were done immediately to the east of the first discovery holes where we would have liked to see LRS's discovery grow.
Surprisingly, LRS not only proved that the structures do in fact extend to the east but the drilling has now identified what looks like seven different spodumene bearing pegmatite structures.
Yes, seven different spodumene bearing pegmatite structure.
With assays pending from both drillholes, we will need to see just how much lithium there is in these new structures, but the early signs are promising and seem to indicate that LRS's deposit is getting bigger with every new drillhole completed.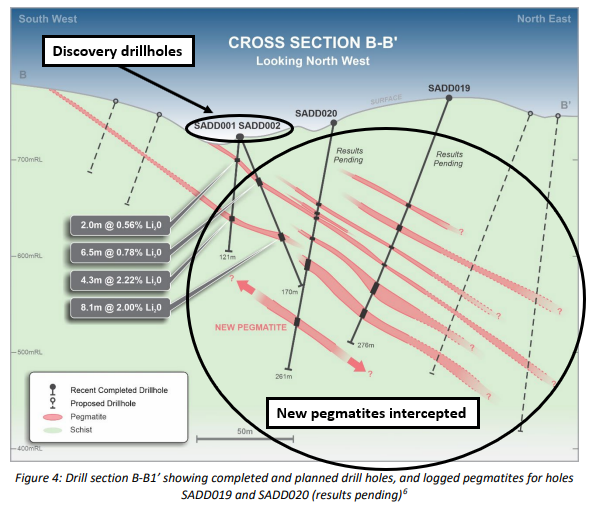 We also noticed that in the "drill collar table" (which is just a summary of all holes drilled to date), the last four drillholes were continuously hitting "cumulative pegmatite intersections" that are some of the thickest we have seen at LRS's Colina discovery.
All four of these hit pegmatite interceptions above 21m and as high as 41m.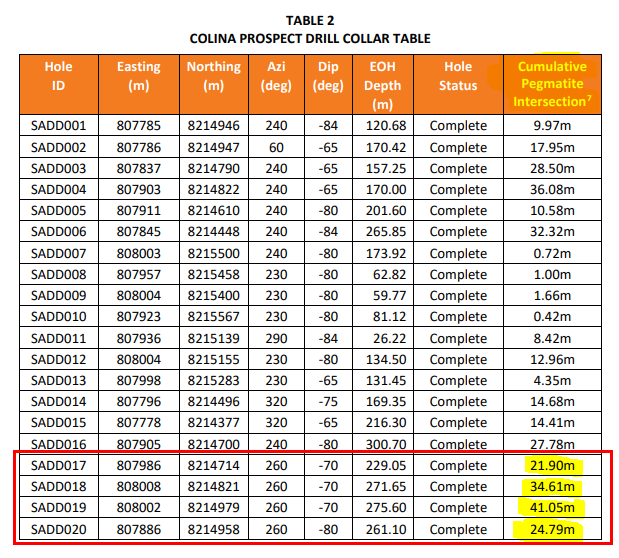 The significance of this is that the thicker the pegmatite structures are, the higher the likelihood of increasing the size of the discovery on hand.
When it comes time to put a JORC resource behind LRS's discovery, the main parameters being modelled will be the strike length, depth of mineralisation and importantly, the width of mineralisation.
Given we already know the project sits across a ~1km strike, these new drill results are pointing towards the deposit growing both in terms of width and depth.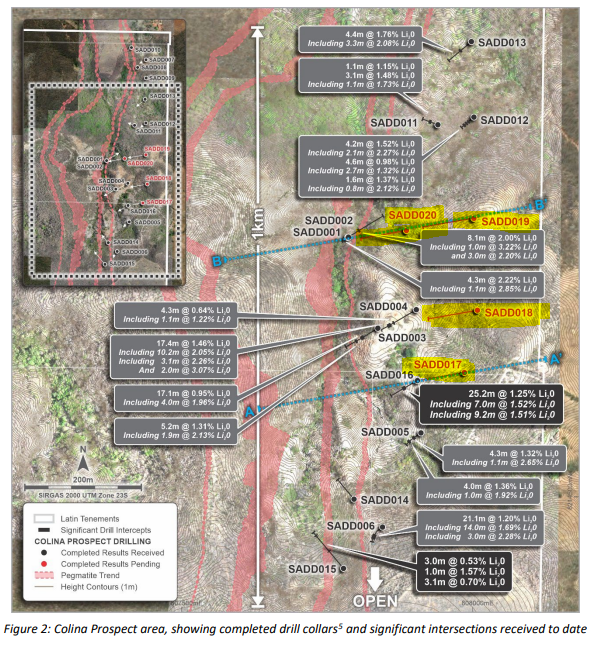 Finally, LRS has commenced metallurgical testing.
This is one of those developments that is taken for granted in the exploration space but the more important takeaway for LRS is that the metallurgical testing has started well in advance of any feasibility studies or a JORC resource.
When establishing a JORC resource, companies are only able to include in the resource estimate, mineralisation that it believes can be commercially produced.
This means that without any metallurgical test work results, LRS wouldn't be able to put together a JORC resource.
By getting this done well in advance of its drilling program being completed LRS are effectively fast-tracking the resource estimation process.
The head start means that when it comes time to do feasibility studies, LRS can lean on these results to put some financials behind its discovery.
At this stage, we are more interested in seeing LRS confirm that its project can be processed commercially and the booking of that maiden JORC resource.
In summary, these three key takeaways all contribute to an increase in the size of LRS's discovery and the fast tracking of a JORC resource over it.
With the thickest intercept to date measuring 25m, LRS is showing its project is displaying signs of scale comparable to its neighbour Sigma Lithium's deposit.
On top of this, the latest drillholes are intersecting NEW pegmatite structures indicative of the discovery increasing in size to the east.
With metallurgical test work underway and LRS expected to bring in four different drill rigs as part of its fast tracked resource drilling program, we think there is a good chance to see a maiden JORC resource before the end of the year.
So how is LRS's discovery shaping up in terms of size?
In a previous note, after only six drillholes, we started to compare the size of LRS's discovery to projects that are a lot more advanced and that have gone through tens of thousands of meters of drilling all the way through the resource definition stage.
The first of these was ASX listed Pilbara Minerals' (capped at $6.6BN) Pilgangoora deposit which has a JORC resource of 309mt at 1.14%: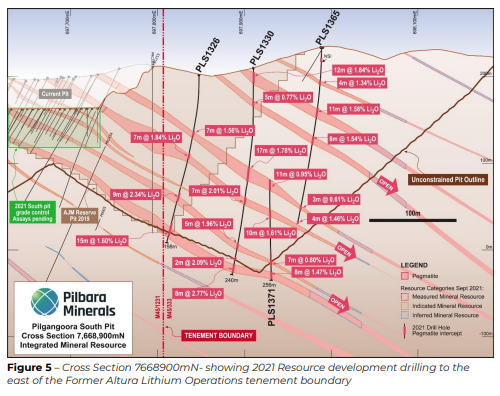 Pilbara's project has an almost identical look to LRS's discovery with the various layered pegmatite structures.
Pilbara's project is made up of 11m-18m lithium bearing structures that, almost identically to LRS, extend down dip and along strike.
The obvious difference between the two projects is the size, scale, and the well-defined JORC resource. LRS's project also sits across a smaller strike of ~1km compared to Pilbara's ~8km strike.
With LRS capped at only $131M after today's news it trades at a market cap that is 50 times lower than Pilbara Minerals.
Another comparison we made was with ASX listed hard rock lithium explorer Core Lithium (capped at $1.6BN).
Core Lithium's Mt Finnis project in the NT has a JORC resource ~15 million tonnes (mt) at 1.3% lithium grades.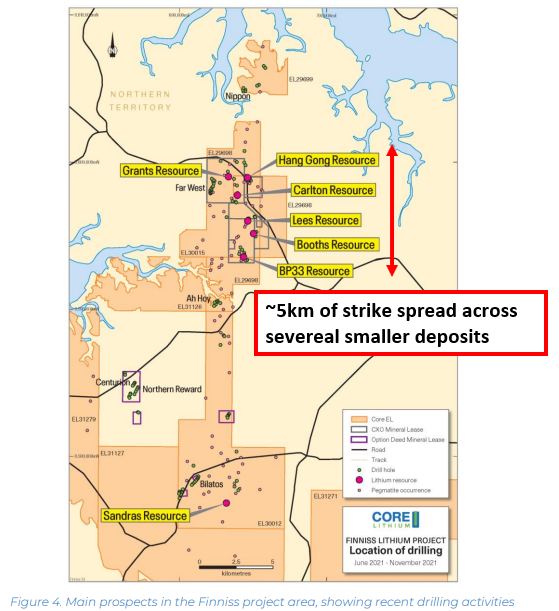 Core's project is again a lot more advanced than LRS's having had multiple rounds of drilling work done on it, but the current size of its resource is at a level where we think LRS can put out a JORC resource.
We set our expectations for a JORC resource at LRS's project based on the following scenarios:
Bullish case (Exceptional) = >15mt JORC resource
Base case = 5-15mt JORC resource
Bearish case= <5mt JORC resource
If LRS can hit the upper range of our expectations then there is a good chance that the market will start to make comparisons between LRS and Core on a resource vs resource basis.
Again LRS has a market cap of only $131M, compared to Core's $1.6 billion which leaves plenty of room to re-rate higher.
The obvious final comparison is LRS's Brazilian neighbour Sigma Lithium (capped at $2.3BN) which is currently developing its hard rock project ~100km to the southeast of LRS's project.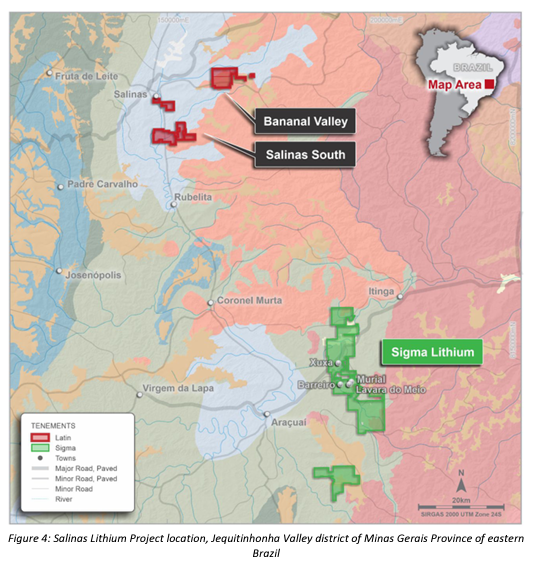 Sigma's project has a total mineral resource base of 86mt lithium at a grade of ~1.4% which sits across four main deposits.
All of the deposits range from a 300m strike to a ~1,700m strike.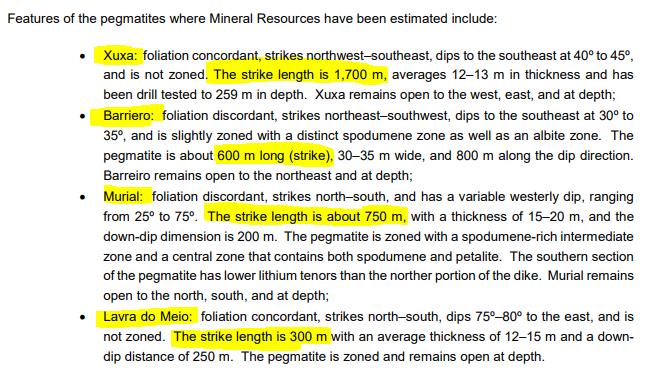 At the moment LRS's project sits over a ~1,000m strike but is yet to have seen any drilling done to test for extensions to the east, west or south meaning the discovery is "open" in three different directions.
LRS has instead prioritised getting a maiden JORC resource done first with ~25,000m of infill drilling after which we expect to see LRS go back and test for extensions.
This, along with any potential new discovery, could result in LRS building out a project base comparable to Sigma's.
Here is how LRS stacks up to its other lithium peers: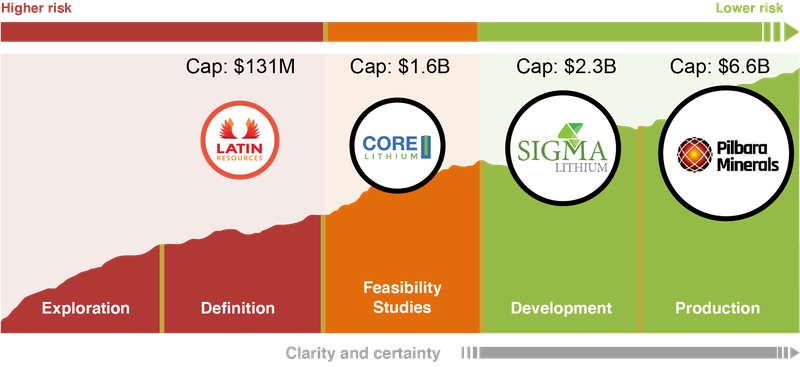 Again, we think that once LRS has managed to define a JORC resource of its own, the market will be able to better compare it to its peers, opening up the prospect of a further re-rate.
Our 2022 LRS Investment Memo
Check out our 2022 LRS Investment Memo to find a short, high level summary of our reasons for investing.
The ultimate purpose of the memo is to track the progress of our portfolio companies using our Investment Memo as a benchmark, throughout 2022.
In our LRS Investment Memo you'll find:
Key objectives for LRS in 2022
Why we continue to hold LRS
What the key risks to our investment thesis are
Our investment plan
---